Bucak Deniz Marina, Kas, Turkey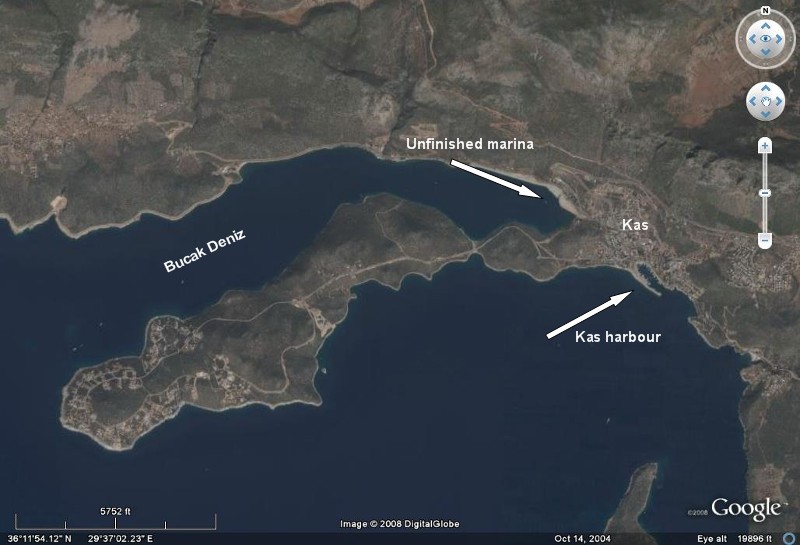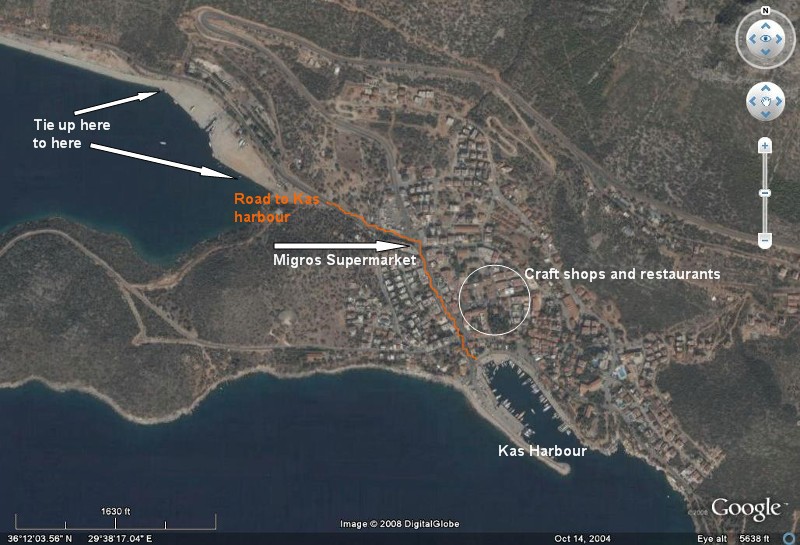 Not to be used for navigation
DESCRIPTION
Bucak Deniz is a long fjord-like bay with good protection and yet another unfinished marina at its head.  The principal attraction of this mooring is that Bucak Deniz backs onto the attractive town of Kas.  During our visit in mid-October Kas harbour was completely full, mainly with local Gulets and day-tripper boats interspersed with around 5 or 6 cruiser boats.  Unable to find a place to tie up in Kas, we turned into Bucak Deniz to find it nearly deserted with only one cruising boat and a couple of local fishing boats tied up there.  
MOORING
The long concrete bulkhead contains numerous rings and bollards to tie up to.  There are tire fenders in several places to use, or avoid.  Our visit was in calm conditions and both we and the other cruising boat tied up side-to.  There is ample water-depth at the bulkhead.  There is quite a fetch in the bay and in windy conditions it might be more comfortable to anchor out and tie up stern-to.
ASHORE
Bucak Deniz is a peaceful bay, only interrupted by occasional traffic along the coast road, which follows the perimeter of the marina.  The large concrete apron of the unfinished marina is occasionally used during the day as a landing pad by the paragliders that take-off from the mountain that backs up against the town of Kas but it is deserted at night.  There is some lighting at night from the street lights along the perimeter, but not enough and you would be wise to take a flash-light if returning at night.  There was some evidence of broken car window glass on the apron so it is possible that there is some vandalism here, and although we felt quite safe, it would be wise to lock everything up here.  
FACILITIES ASHORE
There are no facilities at the marina.  It is only a ten minute walk to the edge of Kas town and a further 5 minutes to Kas Harbour.  Kas is a pleasant town, with a good feel to it.  It is more authentic than Kalkan just along the coast.  The streets are occupied by 'real' shops for the local inhabitants and interspersed with residences.  It has a bohemian reputation and the side streets near the harbour are filled with small shops and craft stalls selling mainly good quality local crafts and products. 
Strangely the town is full of loose dogs!  Some were strays, but many seemed to be well looked after with collars, but they were running loose and in packs everywhere.  As we had dinner in the square near the harbour a large group of them engaged in dog behaviour (fights, coupling, chasing and barking) which was a little intimidating.  The waiter told me that the constable rounds them up and "takes them up the mountain" periodically.  It was no more than a nuisance, but if one were afraid of dogs, this would be a place to avoid.  
LAUNDRY: 
There are several laundries in the town
WIFI:
  Many of the restaurants and cafes in Kas offer wifi to their customers.  There is also an internet cafe "Computer World" which only charged 1YTL for 40 minutes of wifi use.
UTILITIES:
  None in the unfinished marina.
PROPANE/BUTANE:
  There is a butane distributer on the main street on the right past the Migros supermarket.  They did not seem to have the ubiquitous blue tanks that we have been using in the Med., but they had plenty of tanks in various sizes and may be able to refill your tanks.
GROCERY STORES:
   There is a Migros supermarket and several other supermarkets on the main road into Kas from the marina, about a 10 minute walk. In Kas town there is a small street-side fish market (not very good when we were there) and a good butcher shop. 
RESTAURANTS
There are tons of restaurants in Kas selling the usual Turkish fare, as well as a creperie which we enjoyed.