Unnamed Cove Anchorage, Kekova Roads, Turkey
Coordinates 36.10.24N 29.49.10E
Kekova Roads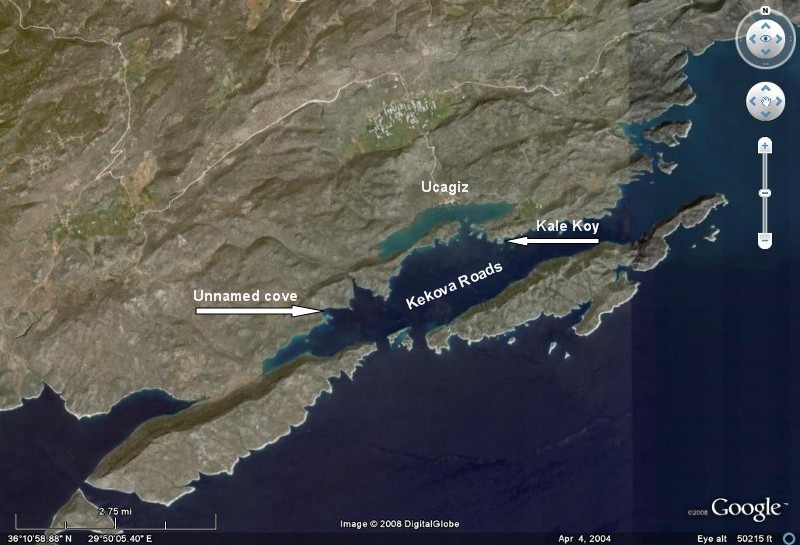 Unnamed Cove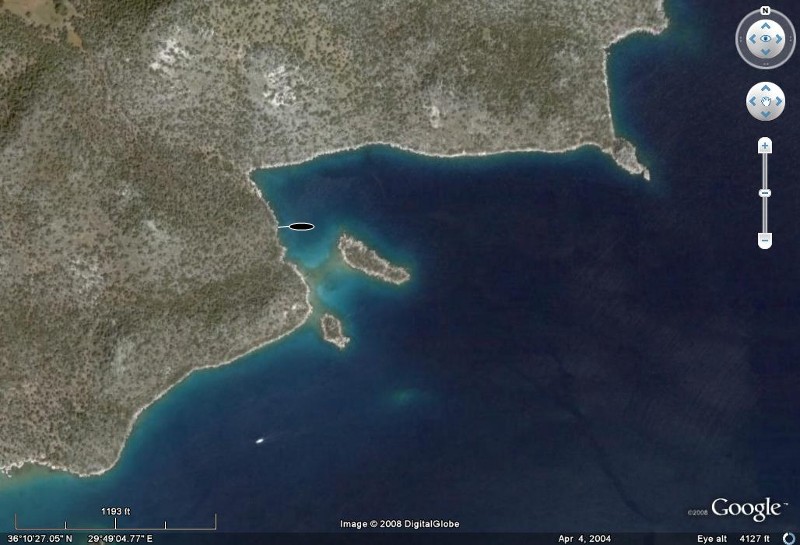 Not to be used for navigation
DIRECTIONS
This cove, protected by two small islets is on the north coast of Kekova Roads, near the west entrance, about half a mile west of the Olu lighthouse on the northern shore. Enter the cove from the open East side and work your way partially behind the larger islet where you can anchor in about 20-30' with a line back to one of the many rocks lining the shore on the west side of the cove. Do not go too far behind the islet as depths reduce to only a couple of feet here.
DESCRIPTION
Kekova roads is perhaps the best cruising area in Turkey with some of the best anchorages. Heikel marks this tiny cove with an anchor symbol in our edition of his book, but it is not named or mentioned in the text. This is a lovely cove, protected by the hills surrounding it as well as by the small islet. It is a peaceful place, perfect for a swim in the hot summer as it has delightfully cool water. The top few inches of water are appreciably cooler than the water below. The cove is fed by a freshwater source and the water is only slightly brackish, despite Kekova Roads being open to the sea. Nothing much happens here except for goats foraging on the craggy maquis covered hills.
GETTING ASHORE
We did not go ashore. There is a fenced-off area with a small shack marked private, that is hardly noticeable from the anchorage. Other than that the pristine coastline is very rugged and difficult to access. There is a microscopic sand beach on the islet - perhaps large enough for one body!
FACILITIES ASHORE
The nearest facilities are the restaurants and castle of Kale Koy 1.5 miles to the East, or the small town of Ucagiz about the same distance away. If you were anchored off the castle at Kale Koy (which Heikel describes as a day anchorage with ify holding) this would be the perfect place to retreat to for the night as an alternative to Ucagiz Limani, another excellent, but larger and more popular, anchorage.