Kemer Marina, Turkey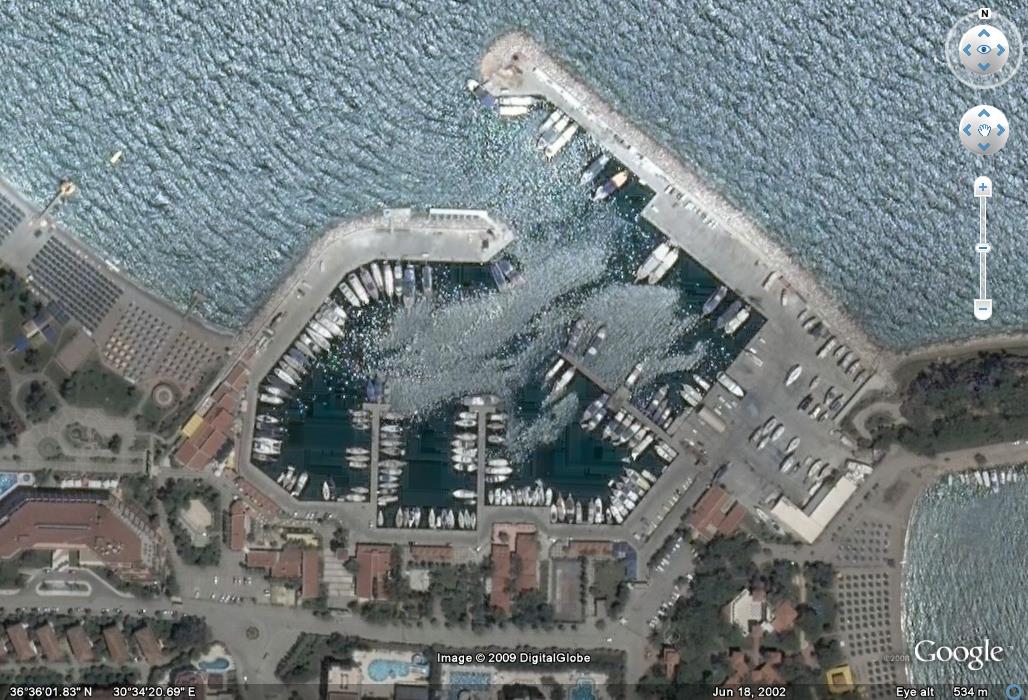 Not to be used for navigation
DIRECTIONS
This full service marina has marineras to lead you to your slip, they will help with the laid lines and they expect to be called before you depart so that they can properly reattach the laid lines to the dock when you go.  Call the marina on Ch 73 (or 72? the channel number is painted on the Marina control tower) when you get close and they will meet you.  Most slips are laid lines and bow or stern to.  There are some side-tie slips for smaller (30') yachts. 
DESCRIPTION
The Marina is completely protected from swell and surge and is a popular wintering-over spot.  It is a full service facility. 
Kemer is a small town that has remade itself into a package destination resort for mainly Eastern European tourists.  The town is nondescript and full of touristy shops and small and large hotel complexes. 
This region of Turkey is an area of outstanding natural beauty.  There are dozens of worthwhile destinations within driving range.
GOING ASHORE
The town is adjacent to the marina.  Close enough to hear the discoes at night in the summer months.  The town is relatively deserted in the winter and no discoes to disturb your sleep. 
FACILITIES ASHORE
MARINA SHIPYARD:  The Marina has a full shipyard with a large travelift, engine workshop, steel fabrication and paint workshop.  Most repairs can be undertaken here.  The  yard currently (04/2009) allows owners to do their own work.  Stainless steel fabrication can be exceptionally good value, but get prices confirmed in writing before commencing.
MARINA RESTAURANT/BAR: The Navigator bar is onsite.  This bar with a separate restaurant caters mainly to the liveaboards in the Marina.  There is a daily happy hour with half price drinks and a daily "staff" lunch is served at a discounted price.  
VHF NET:  The resident liveaboards organize a winter net on Ch 69 at 08:30 each morning (except sunday).
WIFI:  The marina will provide you with a password to access the marina WIFI service (included in rates).
ELECTRICITY AND WATER:  Available at all slips.  Electricity is metered and charged monthly.
ORGANIZED ACTIVITIES:  The liveaboards organize a plethora of hikes, bus trips to sights and nearby towns and longer multi-day excursions throughout the winter months.
CHANDLERY:  There is a small, expensive chandlery just outside the marina gate.  Cheaper goods can be found in ANtalya, a 45 minute drive away.  Bear in mind that import duties make any imported parts quite expensive in Turkey.
GROCERIES:  During the summer a small supermarket operates outside the marina gate.  There are three larger supermarkets in Kemer, none are better than mediocre.  There is a large and very good fresh market every monday in Kemer.
BUTANE/PROPANE:  The tobaconist shop adjacent to the Marina will arrange for your bottles (USA or Euro Spec) to be refilled.  The tobacconist is one of the few places where (expensive) pork products such as bacon can be bought.  He offers discounts to the marina customers and has a reasonable (for Turkey) selection of drinkable wine.
RESTAURANTS:   There are a number of restaurants in Kemer.  La Luna is good for steak and a change from the ubiquitous Turkish fare served elsewhere.
FLIGHTS:  The nearest airport is Antalya about 45 miles away.  There are flights to Istanbul and to many European cities (especially in Germany).
CAR RENTAL:  The town is full of car and scooter rental offices.  Going rate for a car in 2008/9 was about 35 euros per day.
WARNING:  Although all the staff are very friendly and accommodating and staying here is a pleasant experience, a number of cruisers have experienced instances of sharp practices with billing.  Do not sign anything that you have not read carefully as prices have been known to change on check-in from those previously confirmed.  If paying in advance for a winter reservation make sure your payment is recorded before the cut-off date for any discounts.  Check that the payment went through, they have been known to delay processing credit card payments so as to vitiate the discounts.  Get prices confirmed for any shipyard work before the actual work starts.