The Aegean - A Rude Awakening
Alan's Log:
Joan's Log:
June 2008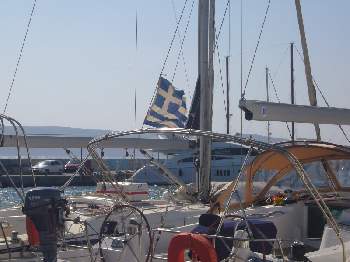 We transited the Corinth Canal and sailed past Athens to the mainland port of Lavrion where we caught up with boat maintenance and resupplied. On the way to Lavrion we experienced our first Meltemi. The wind stayed over 20kts for three days, reaching 35kts at times. Once it died down we started our exploration of the Aegean Sea with the Cyclades Islands of Kea and Kithnos. The second & third Meltemis followed not long after in Siros & Naxos.

Kea & Kithnos
These are typical Cyclades islands, They are barren, rock-strewn parched islands, devoid of vegetation in the summer and crisscrossed with low stone walls that date back many centuries. Each has a port and a few sleepy villages dotted around the coast and a hillside town or two. The coastal villages are quiet and pleasant and serve the island's population more than they do the small tourist trade. The visitors here are mainly greeks from the mainland, together with a sprinkling of young back-packers. The restaurants serve good food and are cheap enough that the backpackers can find something within their price range. "Low-key" describes these islands to a "T".

Oops or Opa!
I might have been a little quick to pass judgement on retsina. We ordered one with lunch in Kea. We asked for a half liter of wine but they only had bottles - and the retsina was much cheaper so, we were like, "what the hell, why not" it turned out to be more than drinkable, it was actually very nice. A lot like a full bodied California chardonnay, but with a hint of pine instead of oak. Obviously more research needs to be done by the TWTT (Teed Wine Tasting Team). To be continued...
Meltemi Moments 1 - Siros

On the bright side, the heatwave that we experienced in the Ionian has let up and the temperature is now far more pleasant. On the dark side, we have discovered that the meltemi is a serious force to be contended with in the Aegean. This wind blows from the North. It can blow for a few hours or for over a week with steady winds up to 30kts and gusts to 40kts.

This is not an area for casual sailing. There are no flotilla charterers here and most of the charter boats come with a knowledgeable local captain. Even when the meltemi is not blowing there are strong winds around the lee-side of the islands. When we sail we prepare the boat as if for an ocean passage. Everything has to be stowed away and the china and glass protected from breakage. But the real problem is not with the sailing - Moonstruck was built for winds such as these - but with the harbours and marinas. When there is land exploring to be done it is more convenient to be tied up in a harbour than at anchor. The harbours in the Greek islands are cheap or free and being tied-up gives us easy access to the shore-based facilities. Unfortunately the harbors are not good places to be in these strong winds. There is no escaping the wind, even in port, and the combination of raking winds and particularly the surging waves strains our tackle (ropes and cleats) and causes us to rock and roll far more than when we are at anchor in a well protected bay. Last night we were tied up in Ermoupolis Harbor on Siros, a lovely town (see below) as the meltemi began to blow. This morning the swell from the meltemi found its way into the harbour and eventually it became so bad that we could not imagine sleeping on board. As it got worse during the afternoon I knew we should leave, but I hesitated. The F1 race was on TV at a cafe just across from the boat and I wanted to watch it. While we were away our stern was pushed hard into the stone harbor wall, overwhelming the stern fender and bending some steel. No longer a question of comfort, the harbour was unsafe for us, we would have to leave.

This video
Ermoupolis Deathroll
gives some idea of the surge inside the harbour before it became untenable. Notice the water. It looks totally calm, protected from the strong wind by buildings all around, but the swell got into the harbour as you can tell by how much we and the motor boat in front of us are rocking and rolling.

We left around 6pm to find a protected anchorage for the night. Unfortunately a boat that had tied up after us had laid his anchor chain across ours, so when we tried to pull up our anchor to leave, it caught on his anchor chain. The wind was howling over 30kts with gusts to 40kts and whipping up waves inside the harbour as both boats charged around the harbour, while we first disentangling the anchor chains, then hoisted our dinghy into the stern arch and put away all the fenders and ropes before we could safely head out into the Meltemi for the relative sanctuary of an anchorage an hour away on the south coast of the island.
We were tied up to the quayside, on the island of Syros, in Ermoupolis named for Hermes, the greek god of commerce. It is the capital of the Cyclades and was Greece's leading port in the 19th Century. It is a stunningly beautiful city, it is also the very first really "Greek" looking city I had seen.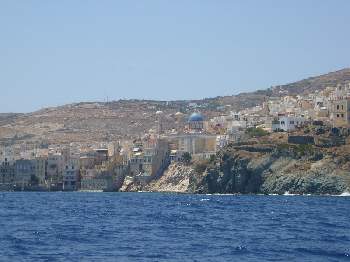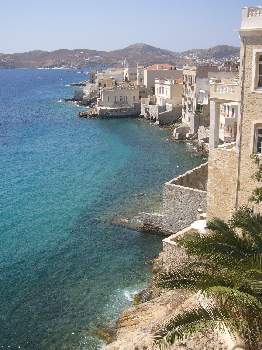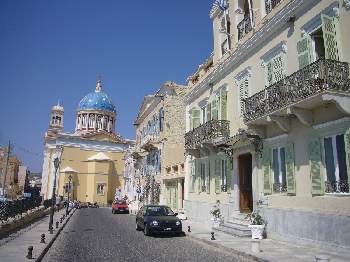 What I'm trying to say it was an introduction to what many people associate with when they think of a Greek city or town, stark white blocks, stacked upon each other, rather like childern's building blocks, desending a steep hill. Only in this case, there are two hills, twins, one with a Catholic church on top the other with a greek Orthodox church and the streets are paved with pure white marble. This was and still is an affluent city with a large cental plaza of white marble, filled with white doves.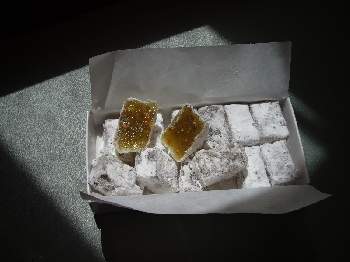 Meltemi Moments 2 - Naxos

We are securely tied up in Naxos Town on the Island of Naxos. It is a lovely town, not as grand as Ermoupolis but our favorite island in the Cyclades so far (more on Naxos below). The harbour is well protected with an outer and inner breakwater. We chose to sit-out a Meltemi here while we wait for our daughter, Courtney and partner James to arrive.

The Meltemi was forecast well in advance and we had an opportunity to cherry-pick our spot in the harbour - coming to an arrangement to move from one spot and take the place of a boat that was heading out. It was a maneouver we had to complete quickly because boats are arriving all the time seeking shelter. The harbour is completely full and several of the late arriving boats have chosen to tie up on the outside of the inner breakwater having failed to find a place inside. The outside of the inner breakwater is protected from waves by an outer breakwater over half a mile away, but it offers no protection whatsoever from the swell. One of these boats, a 47' Catamaran, nearly sank last night. While its charter crew spent the evening ashore having dinner, the swell from the meltemi picked up the boat and threw it hard against the concrete pier, splitting one stern below the water-line.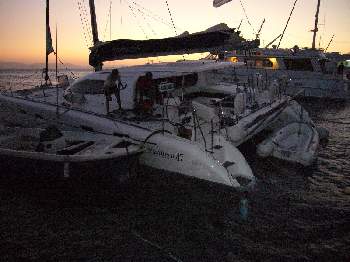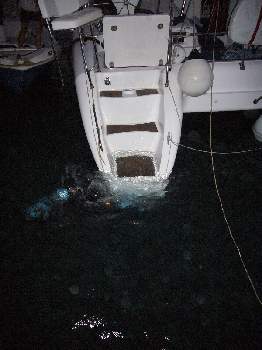 By the time we arrived, returning from dinner, one pontoon was nearly full of water and the boat was heeling over 25 degrees. A small crowd had gathered, including three members of the greek coastguard, but no one was doing anything until a brave individual stripped to his underwear and leapt aboard with a portable electric pump. He was able to get the starboard engine started and loosen the lines to stop the boat from crashing into the pier but the pump was not enough to keep up with the inflow of water. Within an hour a diver arrived, and a larger gasoline-powered pump was put on board. The diver was able to fashion a temporary patch and the situation was deemed under control as we went to bed.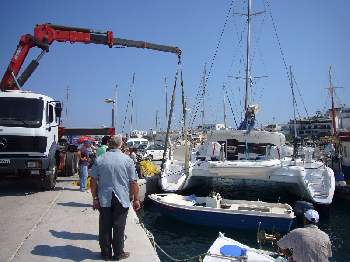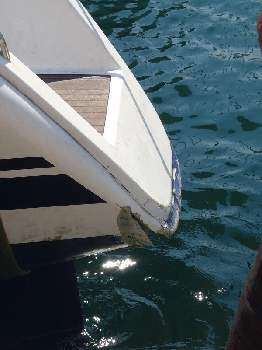 By the time we awoke the next morning the boat was inside the harbour being lifted on a sling. By lunchtime the fibreglass was repaired and painted and in the afternoon a mechanic was working to de-water the port engine. By evening the boat was gone . A day in the life of a charter boat!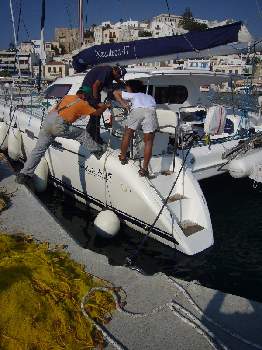 Mykonos or Mykanot?

We say Mykanot! Equally barren as Kea and Kithnos but enjoying a jaded worldwide reputation as an international party spot, Mykonos was simply awful. It is hard to find any kind words to describe it and to be fair to the land-based holiday trade, it is simply not a place to bring a boat, nor anyone over 25. Mykonos actively discourages visits by sailing boats and has no facilities for them.

We left Siros in a strong Meltemi anxious to get to the new marina on Mykonos, I was really looking forward to being tied-up safe during this blow, plus having water! Our tanks were nearly dry, Moonstruck was completely encrusted with salt, which was driving me crazy and I really wanted her to be nice and clean before Wendy and Bill arrived.
We arrived at the new marina to find it was a dump! It had never been finished and looked like it had just been abandoned. There were large signs saying no mooring allowed! There was no water, no electricity, no internet, nothing to tie-up to, but big rocks. We ignored the signs along with many others and had to drop our stern anchor in a hole in the concrete and then tie our dock lines to it in order to get securely moored. Lots of boats were tied up to construction debris and rocks, there was just no other option. What a disapointment! A French couple on the small boat next to us were a big help getting our lines tied, thank goodness. We started chatting, then ended up asking them over for some wine. They are a young couple living on their boat which I always find intriguing, only 29 and 30. She is a medical doctor, born in Monterrey, Mexico, and he is a naval architect from France. They live in Montpelier in the south of France and are just taking some time off to travel and enjoy life before settling down to serious career/life. We found them to be charming and refreshing and ended up spending the afternoon together drinking wine and exchanging stories. After the difficult nose-to-the-wind sail and the disapointment of the marina, it just seemed like the right thing to do.
Reprovisioning with groceries for our visitors was first on the agenda. It is a 45 minute walk from the new harbour to town on a busy narrow road with no sidewalk. Cars and trucks roared past us and we could not help but get the impression that many of the locals seem to delight in trying to scare us off the road and into the ditch. There is a limited bus service but there are probably 30,000 visitors on the island in the summer and only 31 taxis which DO NOT pick up unless called on the phone. The taxi phone number however is continually busy....

Our second reason for coming here was to wash the boat and to fill our water tanks. We quickly found that water is not available in the new harbour and we cannot run our watermaker in dirty harbour water so....


...the next day we tried to find water in the main port of Mykonos, where we were yelled at as we tried to tie up and told in no uncertain terms by the harbor-master to get the hell out! So we headed to Tinos. According to our cruising guide there was water in the harbor in Tinos, an island north of Mykonos. Eight miles later we reached it just as they were closing for the day! We filled both tanks and I took the hose and started spraying it on our salty windshield and decks only to have a big finger waved at me, NO! Oh well...I thought I would try. We then sailed back to Mykonos and found a protected anchorage in the late afternoon, in the bay of Ornos.
We splashed a little precious water around, and were able to make Moonstruck somewhat presentable, but nowhere up to our normal pre-guest standards.
On the day of Wendy and Bill's arrival we took the dinghy ashore from our anchorage and parked it at the fishing boat dock and then walked into Ornos village where we planned to catch a cab to take us to the ferry dock in old Mykonos Town where Wendy and Bill where arriving by fast ferry from Santorini. Yeah, right...the few taxis we saw were full or wouldn't stop. Infuriatingly the empty ones would sarcastically wave back as they drove straight past us. We tried phoning for a taxi but the line was constantly busy. Time was slipping away, and we were beginning to realize that a taxi ride just wasn't going to happen. With growing concern we bought some bus tickets, knowing it would get us there late. At the last minute Alan was able to flag down a taxi who said he could only take us as far as the edge of the old town, and from there it would be a 20 minute walk to the ferry terminal. OK, fine. He let us out and gave us directions, "just follow that street to the water". Well, that street abruptly ended at a fork, into a narrow maze of tiny twisting alleyways, which were purposely designed that way to confuse marading pirates in the 1700's. Left or right? We guessed right. Twisting and turning, we practically race-walked in the 90 degree heat, until we finally reached the water. From there we could see the ferry dock. We got there just in time! But the ferry was late. No problem, we needed to cool off and ducked into a nice dark bar, and had an icy cold beer.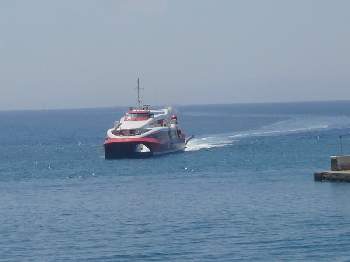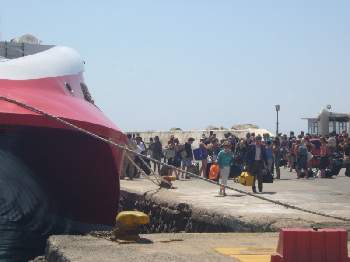 The ferry arrived, we met up with Wendy and Bill and tried to hail a cab to take us back to Ornos...yeah, right. Maybe if you were 21 and blonde you could get a cab. There was no taxi stand and no queue or sense of order, just frantic hailing as occasionally a taxi would breeze by, usually already at least half full! After about 20 minutes, Alan found a guy with a 3 wheeled scooter, with a small flat-bed on the back (sort of a miniature pickup truck) to relay us back. It could only carry two people so Wendy literally squeezed into the miniscule single-seat cab with the driver, where she was complemented on her pretty eyes, even though she was wearing dark glasses, and got a free mammogram. While I on the other hand, got the honor of riding in the back, surrounded by the bags, leaving Alan & Bill behind. At one low point, as we slowly wound our way around the twisty coastal road, a jeep with 3 attractive 20 something girls came up behind us. I'm thinking "oh, this is great" suddenly they start pointing at me and laughing. One of them took out her camera and started taking pictures of me. Lovely. What could I do? I just smiled and flashed a peace sign. Then to add injury to insult, our driver charged €15, for a trip that would have been €5 in a real taxi if we could have found one!
Meanwhile Alan and Bill were still at the ferry dock, failing to attract the attention of any taxi drivers. After 40 minutes or so, our little three-wheeled scooter buddy made his way back to the ferry terminal and picked them up for the ride back to the boat. They negotiated a better price - €10 but sans mammogram.
By the time Alan & Bill arrived at the anchorage with the rest of the bags Wendy and I had found a nice cafe on the beach and were enjoying a cold beer, while in front of us a young guy was taking pictures of his attractive topless girlfriend. The whole experience must have been quite a culture shock for our friends from suburban Dallas!
Once on Moonstruck, we all had a swim in the clear, refreshing water to cool off and wash away the toxic day. The next morning we embarked on a fun 5 day visit of catching up, reminiscing, laughing and exploring Mykonos, Delos, and Naxos.
I had to return to Mykonos a week later to sort out our transit log. I took the high-speed ferry which docked at the unfinished new harbour a few miles out of town. With a limited amount of time to get to the customs office in town before the siesta I made sure I was the first person off the ferry to be sure to be able to grab a taxi. There were NO taxis waiting for the ferry. I couldn't believe it. Here on Naxos there are 20 taxis parked waiting for every ferry. I had no choice but to stick out my thumb, whereupon to my amazement the very first car stopped, picked me up and the local driver was even able to tell me where to find the customs office in town.

I am revising my opinion of the islanders, but not of Mykonos. The main town and its iconic windmills are attractive, but it is overwhelmed with the tourist trappings required by the 20-25 year-old crowd of party-seekers that throng to this island. With nothing to offer for us in town, and not being interested in the throbbing nightlife we are left pondering the remaining attractions. The beaches are OK but by no means are they world-class and they are very crowded.

Delos
As soon as Bill & Wendy got acclimatized to the boat we left Mykonos for Naxos. En route we anchored at the island of Delos. It is the geographical center of the Cyclades and at one time was the center of all trade and religion in ancient Greece.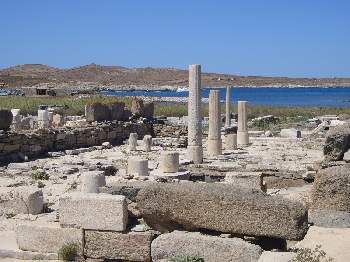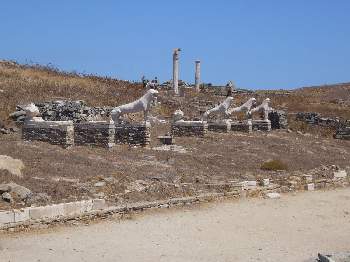 It is the mythical birthplace of Apollo and his twin sister Artemis. It is hard to believe that this tiny, barren and now uninhabited island was once a beautiful, sophisticated city and home to 30,000 people. It had a thriving port, dozens of temples and sanctuaries to the Greek gods, a man-made lake, two huge sports stadiums, a hippodrome and gymansium and an enormous amphitheatre.
There is a wonderful archaeological museum loaded with statuary, mosaics, and artifacts that rivals the treasures of Pompeii and Herculaneum. All that remains of the city now are the ruins. After years of being repeatedly sacked and looted, the island was gradually abandoned. The looting has continued to recent times and we learned that many of the houses on nearby Mykonos are built of marble and rock that was taken from Delos.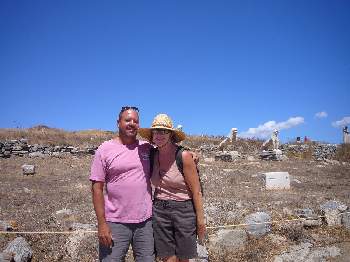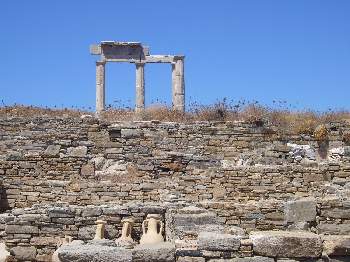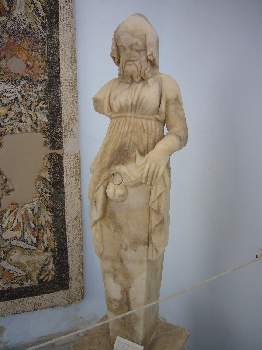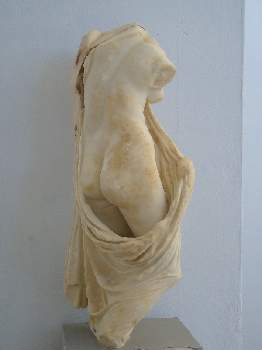 Naxos

Finally a Cyclades island we can sink our teeth into!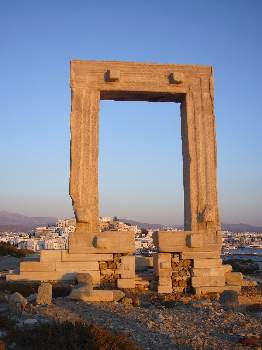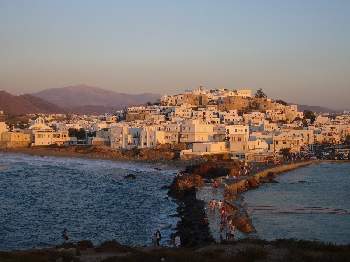 We arrived at Naxos with guests Bill & Wendy and tied up in the harbour just in time for a walk around town and dinner at a great fish restaurant Meze2 .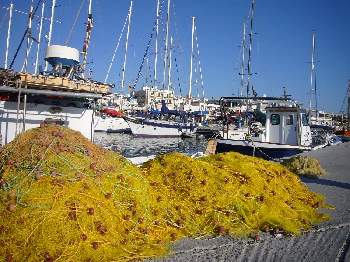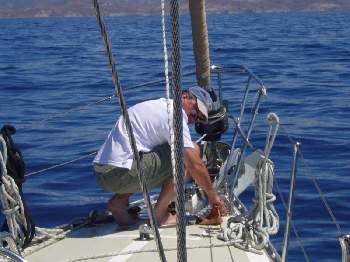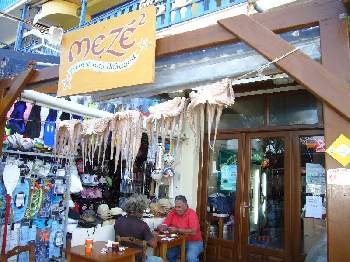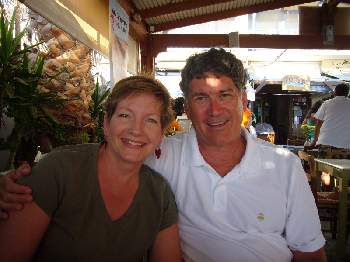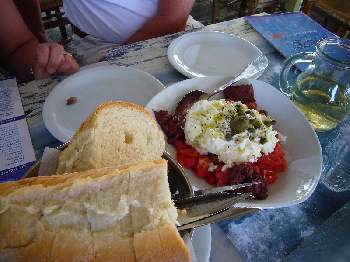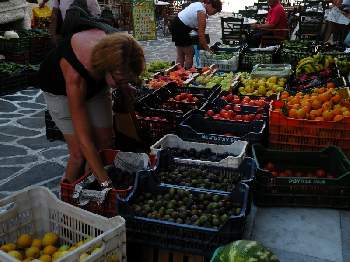 The next morning we headed straight to the beach where we anchored for the afternoon. We found a nice sandy 3km beach with plenty of room for all. A pleasant contrast to Mykonos. Back in town for the evening we found that the harbour town of Naxos had much more to offer. One of the larger island towns, it has an upper town called the Kastro of twisting narrow alleyways and low arches and a lower town with marble streets and a thriving tourist trade. The buildings are an irrisistible combination of immaculately maintained and painted houses juxtoposed against medieval looking ruined homes with broken walls and decaying ancient doors and shutters.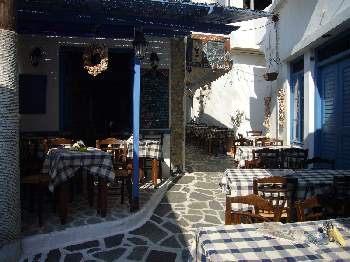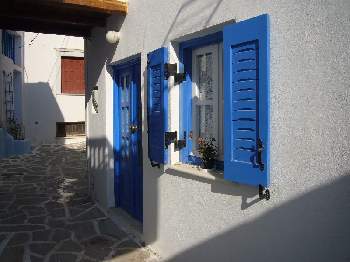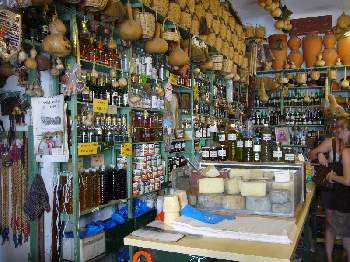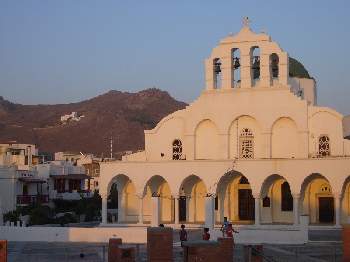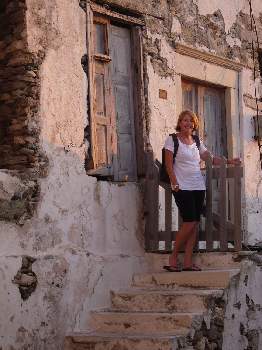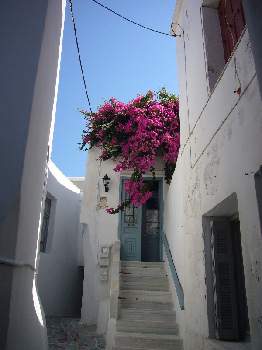 The tourists here are mainly Greek with some German and the occasional Scandinavian thrown in and the flavour of the town is defiantly Greek! The predominant colors are white and blue - the colors of the Greek flag. It is a classic harbour town in that we are in the center of things at our mooring. From our boat the hustle and bustle of the front street with the town soaring above it is just across the water from us, and a few hundred yards away the impressive gate of Apollo, built in 522 BC and intended to have been the entrance to a temple that was never completed, dominates the horizon..

We rented a car and drove around the island discovering small villages in the highlands and tiny fishing harbours.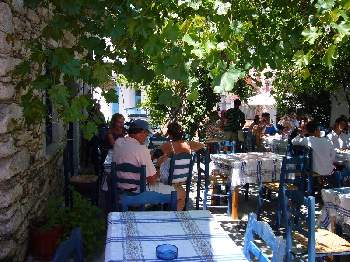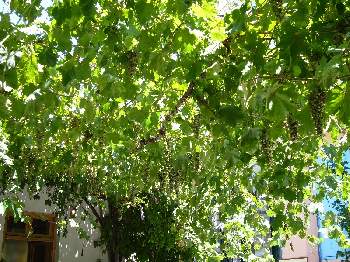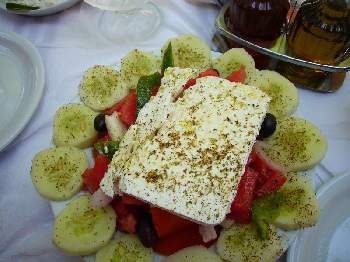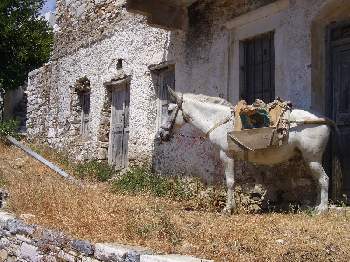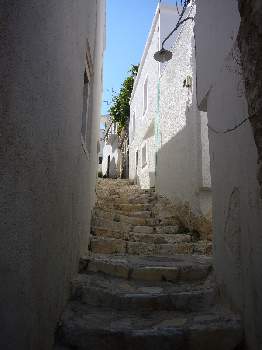 We came across an incomplete colossus statue of Dionysus dating from 600 BC in an ancient quarry on a hillside overlooking one village. Over 35 feet long, weighing 30 tonnes and carved from a single piece of marble, I wondered how they moved and raised these enormous hunks of rock.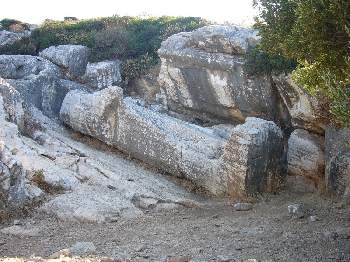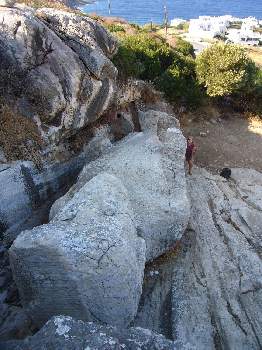 Wendy and I went into a butcher shop in Naxos Town. We had decided we wanted steak on the grill for dinner. Inside two burly men were butchering, in the true sense of the word, a large unidentifiable piece of meat on a huge bloody wooden butcher block. I noticed both men's hands were caked with dried blood. I'm thinking, "maybe steak for dinner wasn't such a good idea after all, maybe now would be a good time to become a vegetarian." One of the men turned to me with a questioning look, I hesitated for a moment, and blurted out "3 sirloin steaks, please", I might as well have asked for 3 yards of cotton. He stared at me for a moment and said, "you want beef? Beef steak", I nodded meekly, "yes, beef steak". With an enormous bloody meat cleaver, he hacked three slices off the mystery meat on the chopping block. Obviously cross-contamination or hygene weren't a priority here. As we left the shop we were both thinking the same thing, we'll cook this meat until it falls apart before eating it!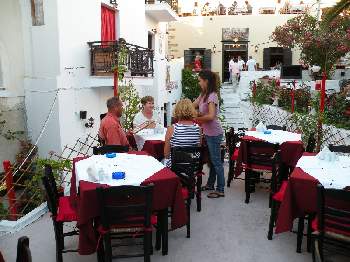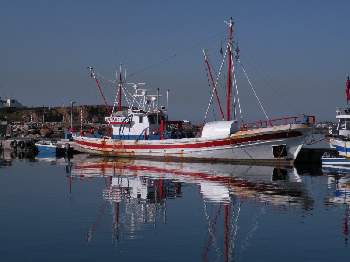 We enjoyed our five days with W&B and saw them off at the ferry dock just as another predicted meltemi was closing in. They were lucky to have avoided the meltemi during their visit.
MAMMA MIA
Our stay in Naxos coincided with the opening of Mamma Mia the movie, which was filmed on Skopelos in the Dodecanese Islands of Greece. I had seen and loved the stage musical in London but Joan hadn't and what better place to see the movie than on a Greek Island! After our guests left we caught a taxi to the open-air theatre where it was playing with greek subtitles for a mixed audience of islanders and tourists. The setting was wonderfully simple. A piece of sloping ground covered with gravel; camp chairs set out in front of a large white-painted wall and the area enclosed with a bamboo fence. The atmosphere was effervescent, helped by the cheap rose wine sold at the concession stand. There were several purely greek moments in the film that had the local crowd cheering. For those that haven't seen it - even those that dislike ABBA's music - it is a refreshing, joyous, funny and energetic show. Go see it!
SINGING THE PRAISES
Religion plays a large part in island life in Greece. The Greek Orthodox Church has a very strong presence which is felt everywhere we have been so far. I have never seen so many churches in my life. A tiny village will have three or four Greek Orthodox Churches and little family chapels are as numerous as Starbucks is in the States. Stark white monastaries cling to the tops of cliffs overlooking the Aegean and balance on the peaks of inland mountaintops. Strolling priests, in their flowing black robes, long beards and pillbox caps are permanent fixtures of village life. The day after services they can be seen calling on the homes of those who, for whatever reason, were unable to make the service the previous day. In larger towns there is no need for concern if you sleep in on Sunday morning as church services are broadcast over loudspeakers for all to hear. The priests sing the services in a trembly, warbly cadence for (seemingly) hours accompanied at intervals by loud peals of bells.
COURTNEY & JAMES' VISIT
Naxos was such a good base that we arranged for Courtney & James to get the night sleeper ferry here from Athens when they flew in to spend a week with us.
Many of the visitors arrive without hotel reservations and as they leave the ferry at all hours of the day or night they are descended upon by a throng of booking agents waiting with flipboards showing photos of their available rooms. They have vans at the ready to scoot their customers away to small domatia located all over town. It is pretty chaotic! We decided to attract C&J's attention with a home-made sign of our own....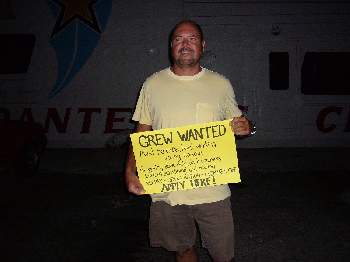 We met them at 6:00 am and spent several days exploring the town with them while waiting out the meltemi.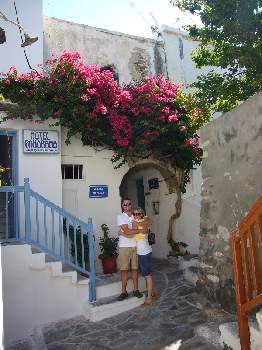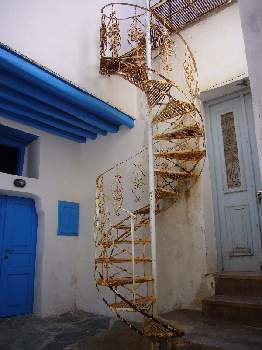 We rented a car for the day and drove to an inland village and on to the fishing village of Moutsouna
.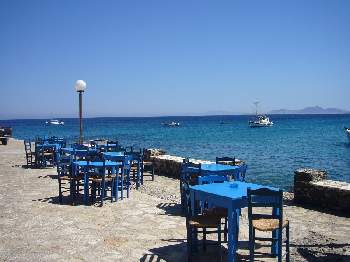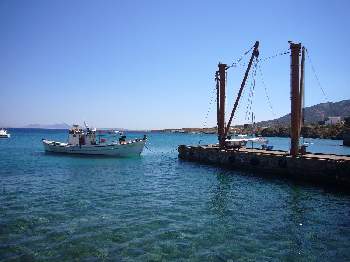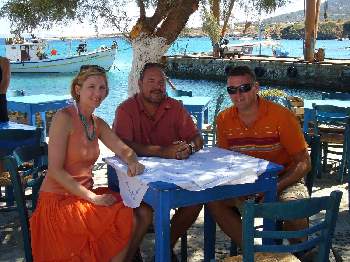 It is peak summer season here and back in Naxos town a cultural festival is going on. One night the harbour-front was filled with children watching a puppet show. The streets were packed and the whole place had a small-town, home-made appeal. There were the inevitable small boys selling varnished seashells; the corn sellers; gypsies selling jewelry; old men carrying long sticks of lottery tickets for sale and one enterprising young man was renting out rides in battery powered toy cars for €6 a pop.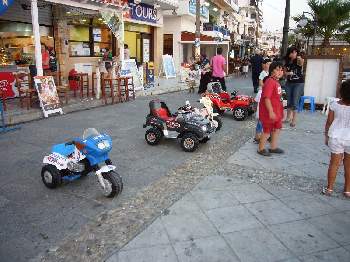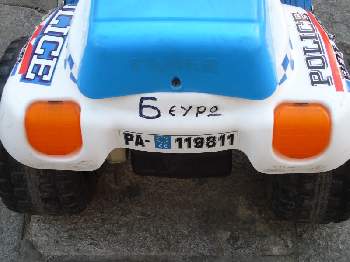 After the hustle of Naxos we decided to head down to the little Cyclades Islands of Koufonissi & Schinoussa which are visited mainly by young back-packers. Its a three hour sail but with the Meltemi against us once we cleared Naxos and turned east we decided to anchor overnight at the remote south end of Naxos in a quiet bay with a beach and a single taverna overlooking a newly constructed but empty harbour.
We swam and C&J visited the taverna where they were charmed by the owner's thirteen year old daughter who translated their order to her father. "One? Two? You buy?" A little later her younger brother arrived at a fast trot on a small donkey. A few people were camped out on the beach. The wind was blowing the sand off the beach so we retreated to the boat for the evening.
The next morning we were awakened by the sound of hundreds of sheep bells and we watched a shepherd drive his flock of sheep to a barren looking pasture in a cloud of dust, led by a single goat!


Koufinissi & Schinoussa
These islands are part of the Little Cyclades, a few miles south of Naxos. They are served by smaller ferries and are considered a "chill-out" destination. There are a few small villages and beaches, rooms to rent, a couple of small hotels and not much else. We made an early morning dash through the Meltemi from our bay on Naxos to Koufonissi harbour where we found the harbour full, but were able to anchor just outside. We dinghied to shore through the warm spray of saltwater in 30kts of wind.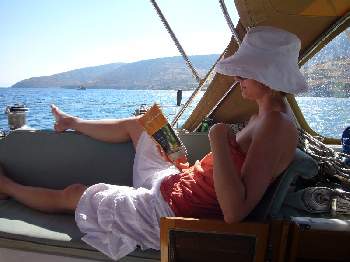 Although the town is tiny it is exceptionally attractive. The streets are cobbled and some are charmingly painted with primitive designs of hearts and flowers. Every building is painted white and is cool to the touch, even in the heat of the day. The walls are thick and keep the interiors cool. We walked to the top of a small hill where a windmill overlooked a panorama of small islands and the turquoise Aegean.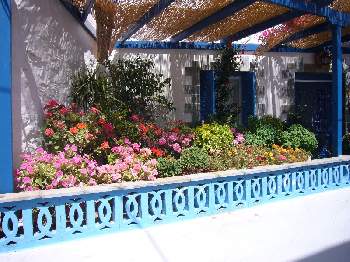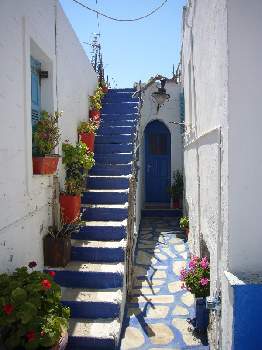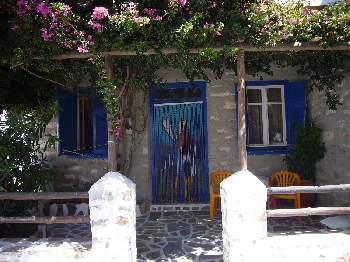 Courtney and I spent several hours exploring the island's shops which surprisingly had the best local art and craft that we have yet seen in anywhere in the Greek islands. We returned to the boat several hundred €'s lighter but happy with our purchases.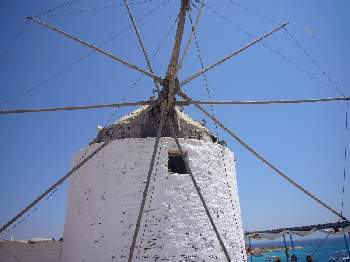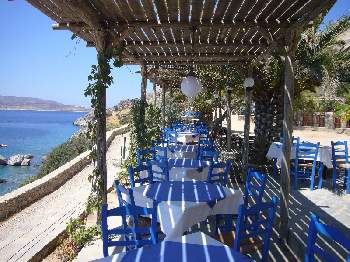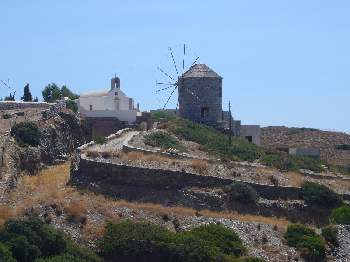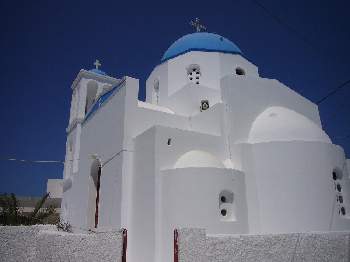 After two days at Koufinissi's beaches the meltemi took a breather and we found a small anchorage on Schinoussa with a boutique hotel overlooking the bay. We enjoyed a leisurely breakfast and James chatted with the bartender who, it turned out, was half Greek half Canadian and was marketing a nutrition business in Canada using Schinoussa's seaweed as a prime ingredient. I was persuaded to try the opaque green liquid, but have to admit I prefer my seaweed wrapped around a tuna roll!


Paros
Paros is a sister island to Naxos. Only 7 miles away it is a similar size and shape but it is completely different in its atmosphere. Instead of the shouting and harsh Greek and German syllables heard in the street, we were surprised to find that everyone in the fishing harbour town of Piso Levadi was speaking lyrical French! Even the waiters would address us first in French. It turns out that the majority of tourists to this island indeed come from France and amazingly enough there seems to be very little cross-pollination between the two islands of Naxos and Paros. The food on Paros was the typical Greek fare also found on Naxos but with a discernable French flair.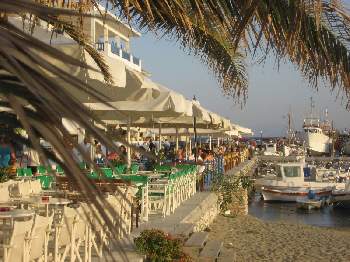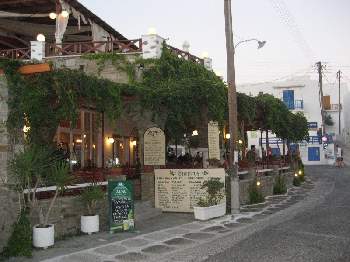 Ironically it was on Paros that we experienced the worst example so far of charterers behaving badly. We had spent the morning snorkelling at the north end of Paros before tieing up in tiny Nousa harbour. After we were settled-in a group of German charterers raced into the harbour, determined to find a space in the late afternoon. There was only one space left a few boats up. Another charter boat had already dropped anchor and was lining-up to back into this space when the Germans barrelled right into it without setting an anchor first, forcing the second boat to take avoiding action. The neighbouring Greeks erupted into a chorus of "NO. NO. NO! GO OUT. GO OUT. GO OUT!!! The shouting brought everyone up on deck and pretty soon all had chosen sides. The Germans decided that they would ignore everyone and calmly tied up and rowed an anchor out into the middle of the harbour, leaving the dumbfounded crew on the first boat to pull up their anchor and find an anchorage elsewhere. The Greeks had their revenge. After allowing the Germans to fill their tanks with water from a hose-pipe on the pier they let it be known that the water was non-potable! Every 10 minutes or so another argument would break out along the pier as Greeks on neighbouring boats reprised the event.

We left the arguments in the harbour for a lovely meal in town.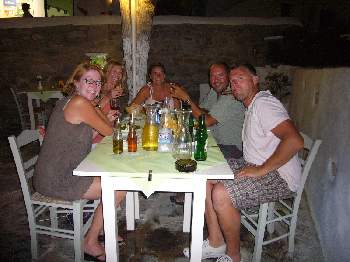 It was our last evening with C&J before dropping them off the following morning in Naxos to get the ferry to Athens for a few days of R&R before heading home.

Neither Paros nor the Meltemi were quite done with us. When we pulled away from the quay and tried to retreive our anchor we were unable to get it off the bottom. A neighbouring boat had (like in Siros) dropped his anchor chain over ours, This was worse than the first time though and I had to dive to find that the anchor was wedged under a ledge, then the chain was caught underneath the taut chain of the other anchor, preventing us from backing the anchor out of the ledge, all at the murky bottom of the harbour. Many dives later I was able to free the anchor from the concrete ledge, then drag it to the offending chain, lead it back underneath that chain and give the order for Courtney to hoist anchor. It was strenuous work at 7:00 am but not as challenging as Joan's task of keeping Moonstruck in exactly the right position in the increasing wind in the tight confines of the crowded harbour to allow me enough slack to complete the job.

Next....We leave the Cyclades and head to the Dodecanese and Lesvos where we will meet up with Lauren & Ben.