The Ionian coast of Greece
Alan's Log:
Joan's Log:
June 2008
Route from Paxos through the Ionian to the Corinth Canal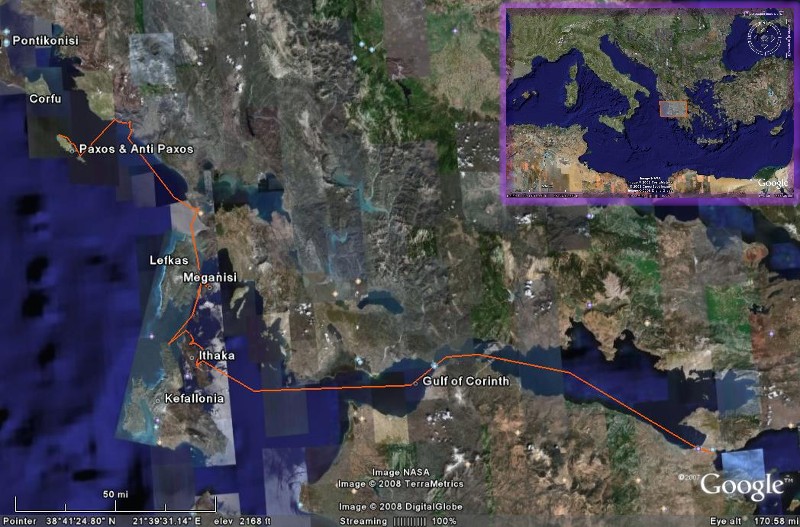 Not to be used for navigation.
For the past few weeks we have been drifting around the Ionian Islands on the west of Greece, before we move through the Corinth Canal towards the Aegean Islands where we will meet up with our friends and family.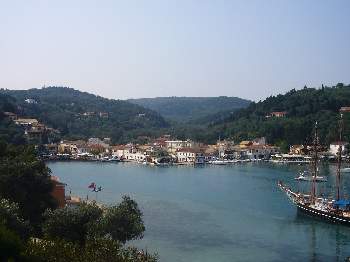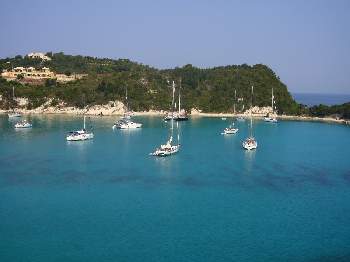 The Ionian Islands are olive-green humps in a shimmering, peacock blue sea, covered in pine, olive trees, and fragrant maquis. A hot, gentle wind blows us from village to cove, where crystal clear water begs us to swim. Tiny beaches of pure white smooth limestone pebbles wait to be combed for "precious" beach glass. In the villages there is no shortage of friendly tavernas, bustling with tourists, charter boaters, flotillas back-packers and day-trippers, but there is never a feeling of being over-crowded and the tavernas have room for all.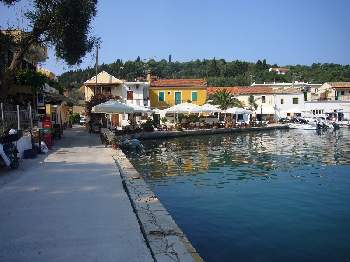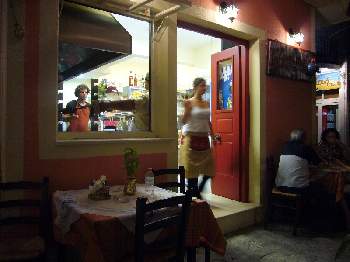 Yet behind the scenes in each village a quiet undercurrent of everyday life reveals it's true personality as you glimpse an old man strolling with his hands behind his back, fingering a strand of worry beads; A priest in long black robes and long grey beard chatting with the newspaper kiosk woman; Two men playing backgammon in the dark shadows of a cafe; The widow dressed in black from head to foot, tending the tomato plants in her front garden; A fisherman patiently sorting his tangle of nets on the quay, beside his brightly painted boat; The stray cat and her kittens playing in the dry weeds of a vacant lot as a chorus of one million cicadas provide the background music from sun up to sun down, when the crickets take the night shift and play a symphony of lullabies until dawn.
Now that we are in Greece we are officially on vacation! Everyone else is, why shouldn't we? Now I know why the ancient Greeks didn't wear much in the way of clothes, it's insanely hot here! We are living in our swim-suits, island-hopping, and tavernaing...it's too hot to do much else. We have reverted back to our old habits of last summer. The Greeks keep the same hours as they do in southern Spain. Rise fairly early before the heat sets in, siesta after lunch during the hottest part of the afternoon, then a late dinner around nine or ten and bed around midnight.
Greece, of course is a major vacation destination for Europeans and it has been fun seeing the flags of all the different countries flying off the sterns of all the boats. We are excited that we have guests coming all the way from America to spend their vacations with us! Wendy and Bill, from Dallas, Texas...Daughter Courtney and partner James, from Port Orchard, WA. Daughter Lauren, boyfriend Will and son Benjamin, from CA and WA... My sister, Julie "Dewi" and husband Steve McCarty from League City, TX...It's going to be a fun summer, I can't wait to see them all!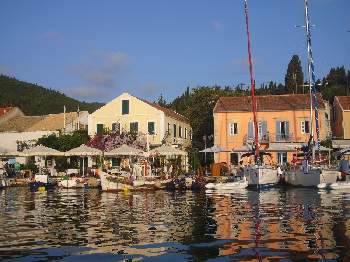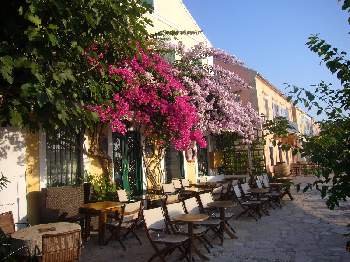 We often opt for a taverna meal on the waterfront rather then heat-up the boat cooking, I love how friendly and welcoming the taverna owners are, they greet you personally and show you a table. Then they invite you into the kitchen to see what is cooking for the evening and take the time to proudly show you each dish on the menu. I've noticed how they are always afectionately touchy with Alan, in a friendly/manly sort of way of course, placing a beefy hand on his back or his shoulder. Most of the tavernas we have visited so far have identical menus, and are a great deal, €€ wise. The food is always wholesome, healthy fare, with wonderful salads. You can always count on the inevitable stray cats, one or two at least, prowling the tables for handouts, which is a sure thing if one comes to our table.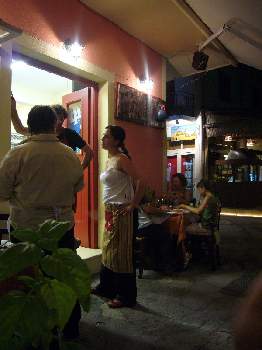 Most of the tavernas/restaurants are family-run affairs run from the home. It is common for the teenage or younger children to serve the food while mama or papa and the uncles and aunts do the cooking and Grandpa sits at a corner table folding napkins and issuing instructions. Most restaurants encourage you to visit the kitchen to see all the dishes and ingredients before ordering. The one restaurant in Paxos where we were not invited back to the kitchen we had a lousy meal. Visiting the kitchen is a big help because some of the menus are only in Greek and even those with English translations are somewhat lacking in their descriptions of the dishes. "Fish" & "Meat from oven" are typical menu items. Not much to work with!
It's all Greek to me!
In every country we have been to, we study the language. I write cheat sheets and keep them in my bag. I think we both did really well with Spanish, of course we had lots of time to practice. French was easy, Alan is nearly fluent and I got an F in it in high school, so we averaged out nicely. I admit we both struggled with Italian, the only thing we were really fluent with were the menus! But things are different here in Greece; we have a phrase book, it isn't much help, we've tried, maybe not hard enough...Greek is hard!!! We can't make sense of the signs, menus (thank goodness, they're in English too), food labels, etc. We are in way over our heads this time, so we just guess, or point and smile and nod, and hope for the best outcome.
Back in the 1980's when I was living in Texas and working at the Space Center, my doctor once told me that he and his family would go to Greece every summer and do a charter flotilla. At that time in my life I could not imagine anything could possibly be more exciting or exotic. The flotillas are still going strong and are a common sight. They make perfect sense for those who are unfamiliar with sailing, course-plotting, anchoring, etc. The flotilla follows a mother-ship, which is in constant radio contact with the followers. They remind me of a mother duck with her ducklings, all in a row, and believe me, Mama Duck has her hands full! In the late afternoon after we are securely anchored and tied stern-to on a town quay, we get a few hours of free entertainment as we (smugly, I might add) watch the flotilla leader stand on the quayside and talk her "babies" in. In the blazing sun, she'll be yelling at the top of her lungs, with a clipped British accent "drop your anchor....NOW!", "No! turn around and do it again!" , "straighten up!" "slow down!" One after another, usually six or seven, she will catch each of their stern lines and tie them off, until all are safely tucked in for the night. What a job, I only hope they are well paid!
The flotilla captains are taught to drive their boats backwards by facing the stern and holding the wheel behind them. Facing the stern makes it easier to figure out which way to turn the wheel. It all becomes easy and you simply turn the wheel the way you want to go. One flotbot (flotilla boat) took this to extremes. Stopping well outside the port he turned his boat around and approached the port in reverse, backing half a mile in to the harbour and straight into his alloted space! It was a textbook example of backing in a straight line and he was righfully proud of his straight wake. Unfortunately he was one of the ones that forgot to drop the anchor on the way in and was told "No! Go back out and try again!". Whereupon he drove a half mile straight back out of the port before repeating the approach.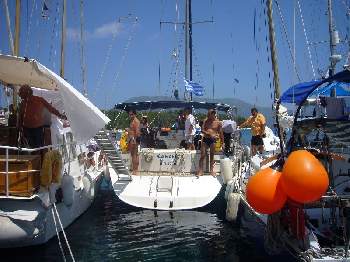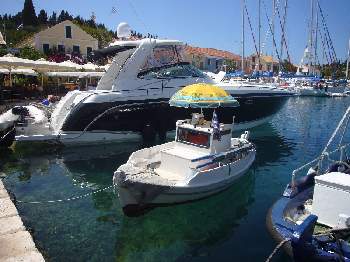 Lakka Bay, Paxos Island
Paxos was a lovely introduction to Greece and Greek life. A small laid-back island with several small villages twisting lanes and a couple of nice anchorages. We spent three nights in Lakka Bay, where we landed - I hesitate to say "caught" - a nice tuna (See "A Very Fishy Story.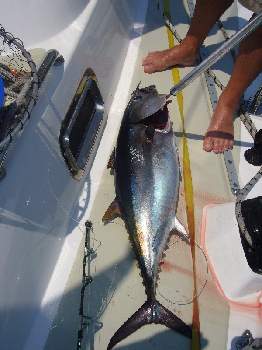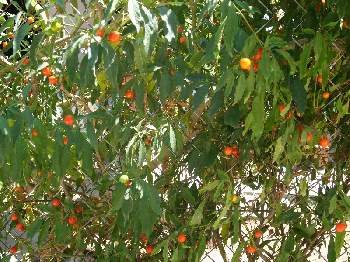 The water was clear and clean and the village a just short dinghy ride away (see the first two pictures on this page). We could have tied up Moonstruck to the quayside, which in this tideless area is only 1' above water level, but after the marinas of Italy it was nice being at anchor in the bay where we enjoyed the slight breeze and were able to swim from the boat. We hiked around the headland and through native maquis and small olive groves on trellised slopes. The ground is so stony and steep that it has to be cleared and leveled even to grow trees. The removed stones are built into low retaining walls that support each tier and turn the hillside into a series of small terraces. Many of the olive trees are old and gnarled. Nets are stored below the olive trees ready to be spread out at harvest time. The sound of cicadas fills the air. It is hot, very hot. We are in the middle of an unseasonal heat wave.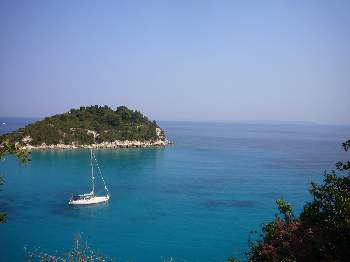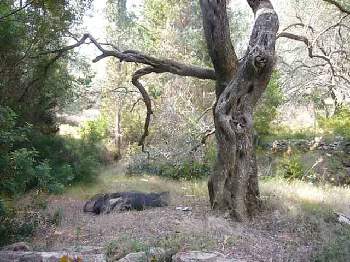 Gaios, Paxos Island
After a few days decompressing in Lakka we headed in to Gaios. It is the capital of Paxos but is really just a pretty village alongside the waterfront, about three streets deep with Port Police and a Customs office where we were able to check-in to Greece and complete our paperwork. As a non-EU foreign flag boat we have more formalities to complete than most.

The village quayside stretches out for a mile or so and is protected by two small islands. The effect as we sailed in to Gaios was that of entering a small river. An unusual sensation for us in Moonstruck.. We completed our first Greek mooring (drop the anchor out in the middle of the harbour then back in to the harbour wall, being careful not to lay our anchor chain across any of the others lying invisibly on the bottom, then jump ashore from the stern and tie up to the bollards/rings provided). We had only done this once before, while stopping in Bermuda during our ocean crossing. At that time we had two extra crew on board to help with the anchor and lines and helpers on the dock. This first time on our own was stressful, but like so many small steps along the way with a bit of advance planning it proved to be easier than I had anticipated. There are a number of charter boats sailing in these protected waters and later sitting in a cafe on the harbour front we saw plenty of examples of how not to do it!

Every morning and afternoon two small fuel trucks and two water tankers drive along the harbour front, looking for customers among the boats. We filled our water tanks, the charge was €12 and I had exact change of €11. As I searched my pockets for the additional €1 the water seller, to my surprise, said "No, €11 would be fine". This experience was to be repeated time and time again in restaurants and even in shops. The shopkeepers would round-down the price to a convenient amount. So €21.75 would become €20. Restaurants would do likewise and, perhaps because we were being served by the owners, tips were not wanted. This is the only place we have traveled so far where we have experienced this.

Although Gaios is just a village, it is home to probably thirty tavernas. Here and elsewhere in the Greek islands it seems that every other home becomes a summertime taverna or rents rooms to travellers. The rooms are cheap (€30) and basic, but clean. Here in the Ionian islands a taverna can be anything from a cafe to a proper restaurant. It is not a bar however. The bars are called Ouzeries (because they specialize in the national drink Ouzo).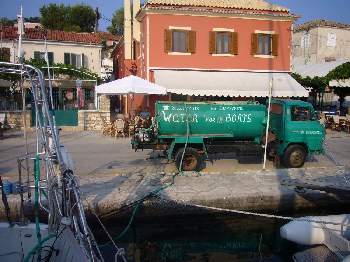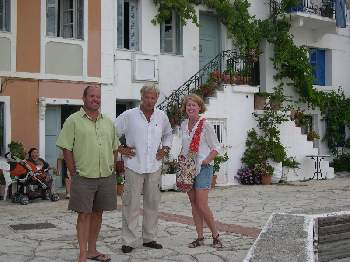 One of our first real Greek meals was on Paxos with our friends Wil and Jeannine of WINDSWEPT, who are old pros when it comes to Greek food. They have spent many summers touring Greece in their Alfa Romeo spyder. Now the Alfa is sold and they are boat-centric. They picked the taverna and sat us down to a feast! After a tour of the kichen, they ordered everything from starters/mezes to main course to dessert. For starters we shared an assortment of tzatziki (yogurt, cucumber, garlic and dill) keftedhes (meatballs) and grilled aubergines and courgettes (eggplant and zucchini). For our main course we also shared a beef stifada (kind of like a stew) yummy mousaka, souvlaki (grilled kababs) mayirefta (a meat casserole), rotisserie grilled lamb and patates taganites (Greek fries). Dessert was plain yogurt mixed with honey and chopped walnuts! Pretty amazing. Our share of the bill, including retsina wine only €35.00!!! The Greek yogurt is not the kind you get at Safeway, or even Whole Foods for that matter, it's other-worldly! Thick and creamy. The Greek feta cheese is also nothing like you get in America, which to me, I know this sounds revolting, has a slight after-taste of vomit. The Greek feta has a fresh, clean, and mild taste.
Wil and Jeannine also introduced us to the agony and the ecstacy of Retsina, the traditional white Greek wine made with...ugh, pine resin! Personally, west coast wine snob that I am, I prefer aged American oak! Retsina is definitely an acquired taste, it must be icy cold to get past the initial shock of astringency, then after a glass or two and I resign myself to the fact that it isn't going to get any better, oddly, it sort of does and it starts to grow on you, as only jug (or sometimes barrel) wine can.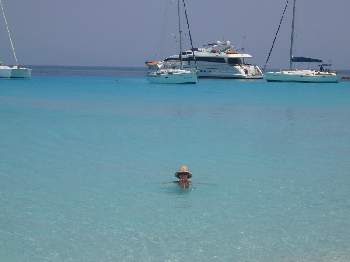 After Paxos we made a brief stop at Anti-Paxos searching for a caribbean style beach. We anchored in a deserted cove but before we could swim to shore, three day-tripper boats arrived, music blaring, one after the other, discharging hundreds of people into the water. We retreated to the cockpit and bided our time and after half an hour they were all gone again and we had the beach to ourselves with a few other cruisers. The beaches here are beautiful. White pebbles against turquiose water, however they are not for lying on! They are composed of small round limestone rocks and there just doesn't seem to be a way to get comfortable.

Parga, The River Acheron and the mythical River Styx
Parga is a pretty harbour town with labrynth-like alleys snaking up the hillside towards the remains of a venetian castle. The town really comes to life at night and the streets are thronging with locals, tourists, backpackers and children of all ages.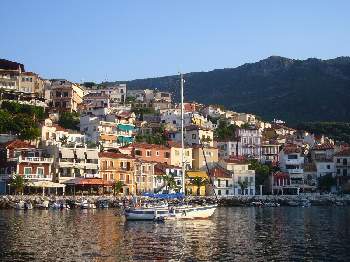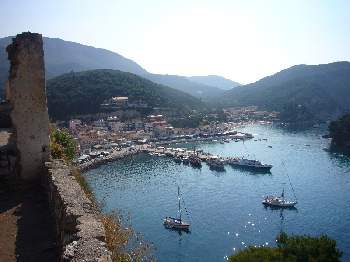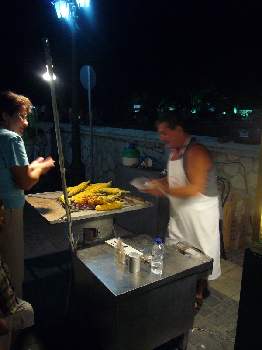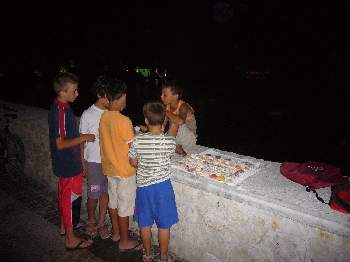 Near Parga is an ancient temple devoted to the divinity of the dead. We set off in our dinghies up the Acheron river towards the Nekyomanteion of the Acheron. The Acheron river is said to connect to the mythical River Styx, one of the five rivers of the underworld across which Charon ferried dead souls to Hades. It is mentioned in Homer's The Odyssey as the place where Odysseus enters the underworld to meet Teiresias, the fallen hero from the battle of Troy.

Beneath the walls of an 18th Century monastery excavations have revealed a subterranean arched chamber and various preparation rooms. A religious cult operated here in the 3rd century B.C. offering communion with the dead. Believers would travel to the Nekyomanteion in order to communicate with and gain knowledge from the souls of the dead. The priests required that believers perform a series of rituals including fasting and the unknowing consumption of halucinogenicdrugs prepared by the priests for several days "to be cleansed of impurities" before entering the chamber, then they were lowered into the underground chamber where indeed they were able to commnicate with the dead. The hallucinogens fed them by the priests for three days ensured that they had a realistic experience!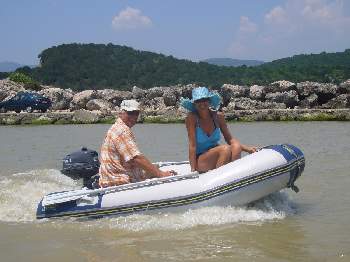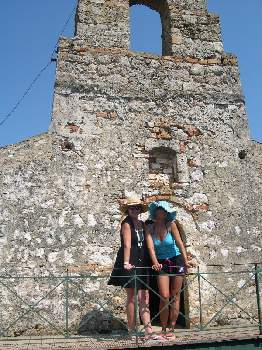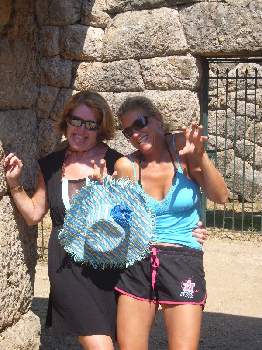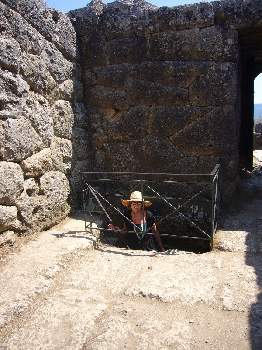 Meganisi and Skorpios Islands
Meganisi is a delightful island with a deeply indented North coast that provides secure moorings for the night. It even has some coral, the first we have seen growing in the Mediterranean. The bays are too deep for easy anchoring so the local taverna owners have built wooden piers with laid lines to attract yachts. The piers in Spilia bay are free to use, but it is expected that you will eat, or at least have a drink, at the adjoining taverna. Porto Spilia Taverna is owned by Pano & Babis, two enterprising brothers who help the boats moor during the afternoon, then take the dinner orders in the evening. The next morning they are busy serving breakfast and taking delivery of fresh fish from a local fishing boat. The taverna also serves as the ferry terminus for one of the smaller inter-island ferries. They even have a clothes washing machine available for use!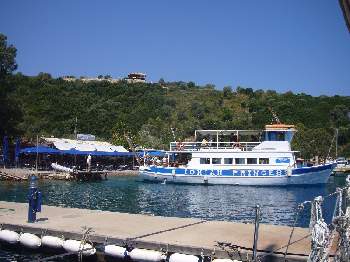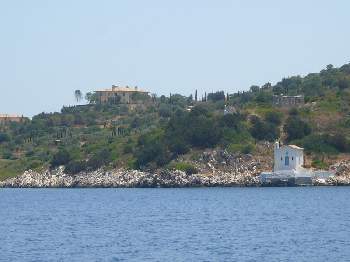 Next to Meganisi is the Onassis owned island of Skorpios where Aristotle and Christine Onassis are now buried. There is a small white beach house where Jackie Onassis used to like to hang out, but the island is strictly private and landing is prohibited.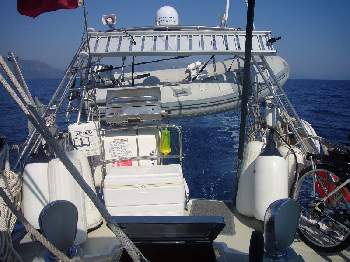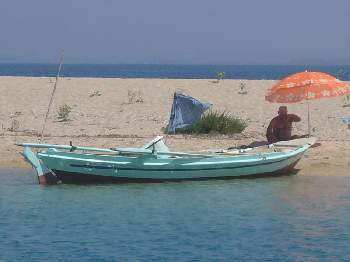 Frikes & Vathi, Ithaka Island
We coasted along Ithaka, a thinly populated island with a number of private chapels lining the waterside. Many wealthier Greeks build chapels next to their houses. These small simple buildings are used for worship of course and also for family weddings. Ithaka is home to Vathi, the largest town in these islands. Vathi has a large harbour and countless restaurants as well as a full range of useful shops.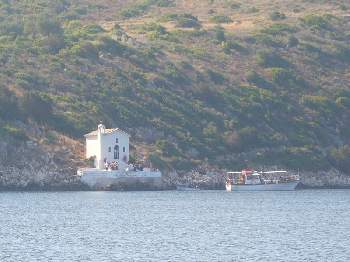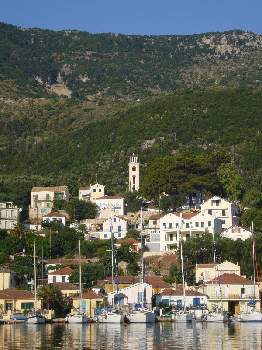 Corinth Canal
The Ionian provided a gentle introduction to the Greek Islands. The Ionian Sea is known for its mild winds and easy sailing. Most of the Greek islands are still to the east of us on the other side of the Peleponese peninsula in the Aegean Sea. This is where we will meet up with all of our summer guests and it is time for us to start moving in that direction. To get there we could sail all around the Peloponese peninsula, or take advantage of the short-cut offered by the Corinth Canal.

Emperor Nero of Rome first ordered the construction of the canal in AD79 but his slaves didn't get very far before he was toppled and work stopped and started repeatedly over the centuries. It was only completed in 1869. It cuts about a week off the journey to the Aegean and we decided it was well worth the expense, although it was not cheap at €233 for a transit. Unfortunately it was also expensive on fuel as the wind did not cooperate with our plans and we had to motor the entire distance to Athens. It is a boring route, not close enough to the coast to see very much, although we did spot a large forest fire, like those that hit the headlines near Athens last year.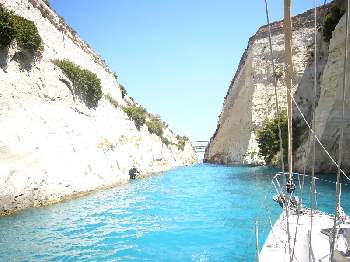 >

As we approached the canal we called ahead on the radio and learned that if we kept up our speed we would only have to wait half an hour before transiting the canal. Near the canal entrance we saw APHRODITE (a catamaran that crossed the Atlantic in the ARC with us last year) coming the other way! We spoke on the radio and exchanged tips on anchorages for our respective destinations, but the wind was blowing 20kts and we both had places to be, so we continued on in opposite directions. The canal is short but stressful. The officials put us in line behind three large motor yachts and told us to make our maximum speed to try and keep up. We steamed through the canal at about 8 knots through water swirling from the passage of the boats in front of us. The canal is narrow and not very deep and it was a relief to get out the other side and tie-up to complete our formalities and make payment.

Finally we are in the Aegean!


NEXT....We enter the Aegean and meet up with friends and family and the feared meltemi.