---
BARCELONA, Spain
Marinas
The choice of marinas in and around Barcelona is large and well covered in the cruising guides.  What is not so obvious is how overbooked they get during the winter months.

We planned to spend the winter of 2007/8 in Barcelona, six months earlier while we were still in the Caribbean we found that the most popular marina, Port Vell was already booked to capacity.

Port Vell promised to put us on a waiting list, but we later found out that this is their default response, and means little.  Others told us that if we simply arrived in Barcelona we would be able to talk our way into a slip.  Ultimately we did not put this to the test.

There are marinas up and down the coast including Badelona and nearby Port Olympic only a mile or so away, but we had set our hearts on spending the winter in the city of Barcelona and although Port Vell had put us on a waiting list, it didn't seem to be doing us any good.  So we tried calling Reial Club Maritim de Barcelona RCMB and Reial Club Nautico de Barcelona RCN B.  These are private clubs, in the same location as Port Vell.  They cater mainly to their members, but each has a few berths available from time to time.  RCNB were completely unhelpful on the phone.  Even at RCMB it took persistence and patience and a total of 6 phone calls just to get to talk to Sergio, the person in authority at RCMB.  However once we spoke with Sergio on the phone we found him to be a charming and helpful gentleman with good English.  He reserved a spot for us, and was good enough to warn us that its location would put us very close to the pedestrian bridge with its crowds and persistent siren.  


Reial Club Maritim de Barcelona (RCMB)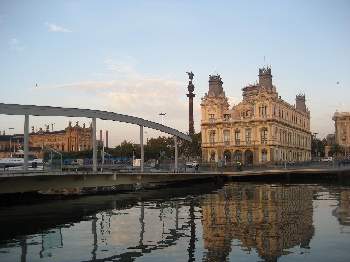 RCMB is ideally located for access to the tourist areas of La Rambla, Barrio Gottic and El Born, and you will probably pay less here than at Port Vell, however you will have to fight your way across the pedestrian bridge to get to town, which is generally crowded with tourists.  RCMB is on the Moll d'Espanya opposite the Mar Magnum shopping center just across from the famous La Rambla pedestrian street.  Bear in mind that this is a crowded, tourist-oriented area of town and while the views and location are spectacular, slips on the west side, close to the opening bridge in particular are subject to crowd noise as well as the beeping of the pedestrian bridge siren when it opens each half hour during the day.  Slips nearer the opening footbridge are also subject to considerable swell from time to time from tugs passing outside the marina. 
Security
RCMB is secured with electric gates/doors and 24/7 attended reception/nightwatchman governing access.  As a 'guest' and not a member you will not be issued with an access card and will have to request admission each time you return.  The reception staff are friendly and helpful but only one speaks any English and a little Spanish goes a long way here.  Although security appears tight, we interrupted an attempted burglary on board when we were in a slip just inside the marina fence and very close to the public pedestrian bridge.  Later one of our bicycles was stolen while locked in the bike racks.  The whole seafront area of Barcelona (as well as many other areas of Barcelona!) is prime "ladrone" territory and petty theft seems endemic.  We think the thief climbed over the fence and targeted our boat which was "low hanging fruit".


Facilities
Most of the resident boats are locally owned weekenders, one-design racers, small cabin cruisers and fishing boats and are in the 25-35' category for which RCMB provides finger piers.  Larger boats are accommodated bow or stern to with laid lines tailed to the dock.  There are probably 6 or 7 side tie slips and we were moved to one of these (to get further away from the bridge/surge) after a couple of months here.  The largest boat here is around 55'.
Dockage rate includes electricity and water.  We got a sizeable discount for making a four month minimum commitment.
WIFI is provided by RCMB for free in the clubhouse and bar area.  There is no password/code.  Simply look for RCMB on your brower.  Free wifi extends to the boats within range of the transmitter (probably 25% of the berths).
24/7 attended reception desk who will help with mail/faxes etc.
Marineras are very helpful for docking etc. They will take care of boat chores and wash your boat and handle boat watch while away etc. for a separately negotiated fee with the individuals.  David was very helpful to us during our absence over Christmas and speaks pretty good English.
Racks are provided for bicycles and guests are not allowed to use bicycles on the piers.
No Laundry onsite, although management has approved the installation of a washer and dryer (January 2008 this had not been installed).


Nearby
Butane (blue tanks) can be purchased and empty tanks exchanged at the hardware store Ferreteria Bras.  It is on Passeig de Born de Borbo in Barcelonetta  a block or two from the Carrer de Maquinista intersection and the Fastnet Pub, near Port Vell marina.
There is a very good self-service Lavapress laundry across the pedestrian bridge on Carrer Nou de St. Francesc.  It has 6 new washers and 5 new dryers at around €3.50 per load.  If you use their card payment system you save €.50 per load.
Groceries.  For fresh vegetables, fruit, meat, fish, preserved meats and cheese as well as frozen products the Barceloneta fresh market is superb.  It is a new purpose-built market and is clean, and closer as well as cheaper than the famous Boqueria market on La Rambla which tends to fill with tourists.  It is closed Sundays and every afternoon at about 3pm.  Built into one end of the Barceloneta market is a good grocery store (Appearances are deceptive, most of the groceries are out of sight - take the elevators on the right).  The grocery store is open much later than the market.  Around the market are several specialist shops selling Bread, Eggs, Preserves etc.
Restaurants.  For breakfast you should go to El Quim in the Boqueria at least once.  Their Tortilla (Spanish omelette) is huge, amazing and good value at €7.  Equally good are the fried artichokes and fried chipirones (although the latter were pricey at €15 in 2007/8.)  A much cheaper breakfast can be had at the restaurant in the Barceloneta market (opposite end from the grocery store), try their Bocadillo con Tortilla for about €3.  For a mid-priced dinner we can recommend the various Taller Tappas outlets scattered around the city the best one is in the Born, as well as Irati tapas just of La Rambla.  Generally however we were unimpressed with the midrange restaurants that we visited.  Quality is so-so and the menus uninspired with almost all restaurants in the area catering principally to tapas tourists.  Very few restaurants will serve much in the way of fresh vegetables and we often got our veggie fix at Fresco, a self-service soup, salad and pizza kind of place with an all you can eat buffet currently priced at €8 weekdays €10 weekends.  Their fresh vegetables are excellent (but some restaurants in the chain are better than others).
There is a Marine Chandlery nearby, directions are posted on the RCMB noticeboard.  There are also several chandleries close to the land entrance to Port Vell. 


Cycling tips
Car drivers are generally polite to cyclists and are aware of bicycles riding on the street.  There seems to be little or no aggresive driving and no road rage. 
Cycle trails.  There are cycle trails throughout Barcelona.  The only area where they are absent is in the very busy La Rambla area.   There is a nice trail that leads along the beach from Barcelonetta heading East and many of the main thoroughfares in Barcelona have dedicated bike paths.  In addition the authorities seem to have no problem with people walking on the bike paths; bikes  riding on the pedestrian paths; bikes ignoring all traffic signs, or bikes using pedestrian crossings.  It can get a little out of control and you should always be on the lookout for pedestrians, cars and bicycles whether you are on foot or on two wheels or four and whether you are on the road, a cycle path or the sidewalk!   
Security.  All bikes should be locked with at least two chains or solid U bolts and not the cheap ones either.  The best are solid steel and bought in another country so the keying is unfamiliar to the all-pervasive ladrones.  Lock the frame to an immovible object then lock the front wheel to the frame or (better) to the same immovible object.  Remove the seat if it is a high-end one and finally do not leave your bicycle locked in a public area at night.  We have seen countless vandalized bikes left chained to posts and abandoned.  We guess this is happening at night.


Port Vell Marina
After 3 months in RCMB we moved to Port Vell. on February 1st 2008.  The main reason for the move -  more liveaboards in Port Vell mean more neighbors and a more social atmosphere.  As soon as we arrived we were welcomed and invited to the weekly pot-luck Barbecue party!  The Marina is quieter than RCMB, being located a little further away from the main throngs of tourists.  It also has less traffic noise at night.  It is worth noting that persistence pays off.  When we stopped by PV to check on the availability of a slip we were first told that this would be "very complicated, because as you can see we are completely full".  We politely empathized and lingered, asking what might be available and when.  We were told there may be a space in May!  We said we really wanted one tomorrow (February)!  After some checking a slip was surprisingly found and we moved in.  A little less persistence and we would not have got in.  It turned out that the slip we secured was being held for someone else.... 

PV is a commercial marina and it is unfair to contrast its pricing philosophy from that of the yacht club we were previously staying at.  Suffice to say, at PV if you want anything you will have to pay for it.  This applies to Water, Electricity, Internet and Laundry.  We are on F dock, a wide concrete dock with plenty of room to store bicycles next to the boat and stands to lock them to.  We are allowed to ride along the docks.  Some long-term visitors have even installed satellite dishes on the dock.  Separate storage is available for dinghies and other equipment, although our dinghy remains on the foredeck. 


Location
PV is in the same former commercial harbour complex as RCMB and is shown on the Google map above.


Security
Security appears to be better than at RCMB.  This is a much larger marina, with substantially larger boats.  There are two card key operated gates separating the finger piers from the general public and a security detail on duty 24/7. 


Facilities
The Marina is usually completely full during the winter and boats range from some in the 30-35 foot range to the majority at around 45-55' and on up to several hundred feet.  We no longer stand out from a crowd of smaller boats and this also makes us feel more secure.  All the boats are moored bow or stern to, with laid moorings tailed to the dock.
PV is pretty well protected from swell, and the only swell we have noticed thus far comes from the commercial fishing boats when they return from their daily work at around 4:30p.m. for half an hour or so.
WIFI is available through PV at the extremely high charge of €12 per day.  The Marina is experimenting with a type of fiberoptic cable internet but this is currently on trial and only available to a few boats.  We can receive a weak WIFI signal to Telefonica on F dock, which we have not subscribed to.  We have purchased a Vodafone 3G USB modem that we plan to use while here.
Laundry is located in the Ladies bathroom, and consists of a commercial size washer and dryer. There is also an iron and ironing board.  Tokens are sold in the marina office.  The charge is currently about €4 per load.  We prefer to continue to use the commercial laundromat mentioned in the RCMB section above which allows us to use several machines simultaneously and significantly cuts down on our laundry down-time.


Nearby
This marina is closer to Barceloneta but all the comments above for RCMB apply here also.