Espalmador/Formentera, The Balearic Islands, Spain
Espalmador Anchorage and Beach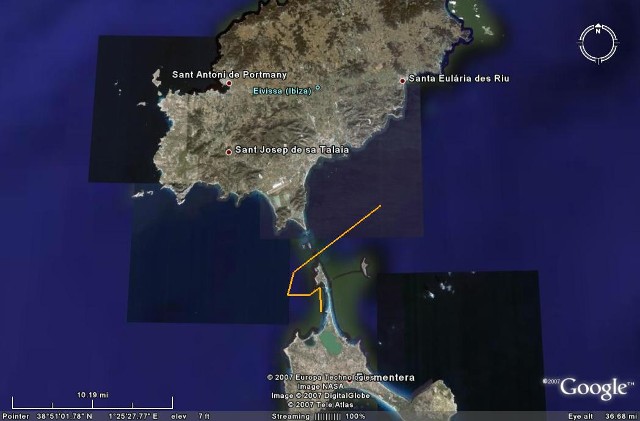 Not to be used for navigation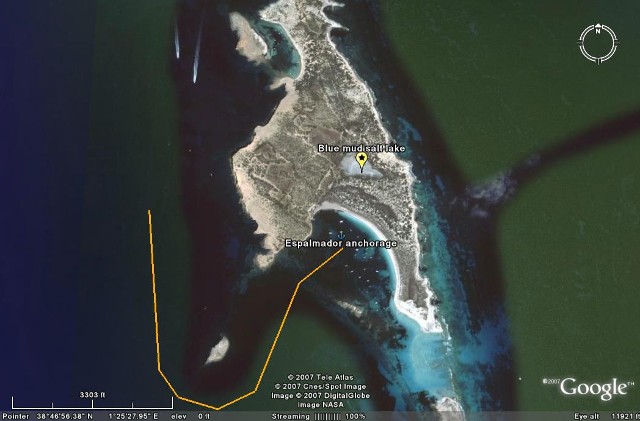 Not to be used for navigation
DIRECTIONS
After rounding the small Islet to the SW of Espalmador enter the bay favoring the north west side of the bay as there are submerged rocks to the SE. Once in the bay, depths shelve gradually towards the beach. This is a very popular anchorage. The bay is managed as a marine park and dozens of new moorings have been laid throughout the bay. Day tripper charter tour boats pull up at the SE end of the beach, and consequently the NW end is generally quieter. The moorings are free for day or overnight use so there is really no reason to anchor unless the all the moorings are occupied, in which event there is a small anchorage area in the approximate location of the anchor in the above photo. Although the moorings are free, they can be reserved so make sure you check whether your proposed mooring buoy has a reserved label on it before tieing on. The coast of Formentera immediately to the south of this anchorage is also suitable for day stops, or over-night with a decent forecast
DESCRIPTION
This is a great overnight anchorage. It is almost completely protected from any direction, particularly towards the SE of the bay (but see note regarding day trippers above). If you are anchoring the bottom is light weed over sand with good holding. This is a private island and visitors are only allowed on the beach areas, although many make the trek inland to the mud bath (see below). The beach is fine white sand and the water clean and sometimes weedy. During one visit the bay was plagued with small jellyfish.
With the exception of another anchorage which can be seen in the photo above at the NW corner of Espalmador which we have not yet explored, this is the only protected anchorage on Espalmador or Formentera. There is a marina at Formentera but it is the most expensive we have yet seen in the Med so this bay gets pretty full in season.
GETTING ASHORE
There is a designated "swimmers only" zone along most of the beach. There is an area at the SE end of the beach which is used for beaching dinghies and is also used by the tour boats. Despite the swimmers-only zone, most cruisers choose to dinghy to shore at the NW end of the beach. The beach has some gradient to it and perhaps because of this many cruisers anchor their dinghies in knee depth water and wade in to shore.
ASHORE
This is a completely undeveloped beach with no facilities. You are welcome to stroll along the beach, but the rest of the Island is off-limits. Despite this, there are a number of well trodden trails through the scrub and many visitors make the short hike to the mud salt flats in the middle of the island where the famous "Blue Mud" is found. The mud is reputed to do wonders for the skin and you shouldn't be surprised to find naked blue people wandering around! If indulging in the mud, the usual technique is to daub it on all over, let it dry, then wash it off in the sea. It comes off surprisingly easy and does not stain fabric as far as we can tell.