Mallorca, Spain
Es Trenc Beach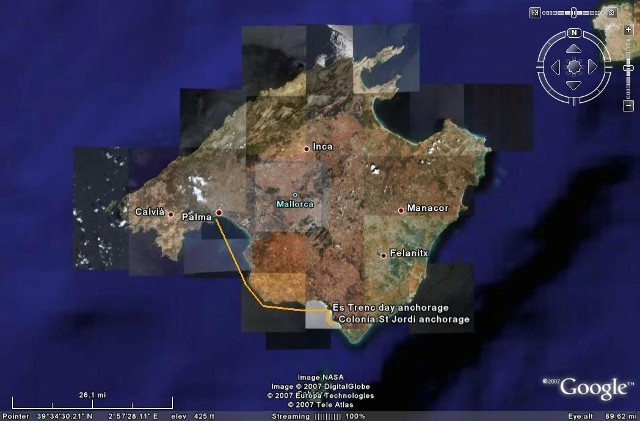 Not to be used for navigation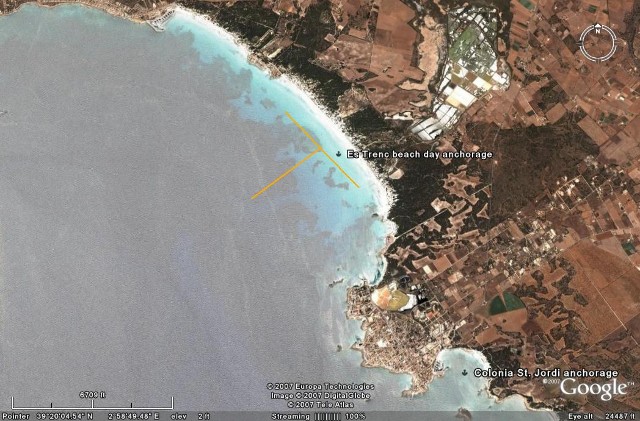 Not to be used for navigation


DIRECTIONS
Approach to the beach is straightforward, The bottom is pure white sand which shelves gradually to about 10' at the line of floats delineating the swimmer zone.  Anchor anywhere outside the swimming area.


DESCRIPTION
This is a day anchorage only.  We have seen larger boats anchored here overnight but there is no shelter from any wind direction.  Nearby Colonia St. Jordi offers a good overnight anchorage 3 NM to the South East.    The beach tends to attract quite a number of yachts, but the anchorage space is essentially limitless.


GETTING ASHORE
There are several clearly marked dinghy channels to the beach.  There is a shallow sandbank running along the beach about a hundred feet out, so be prepared to lift the outboard and hop out well before you reach the beach.  The typical inflatable will ride over this sandbank with the engine up.  The sandbank serves to protect the beach from small waves and so cruisers commonly leave their dinghies pulled-up ashore while visiting the beach. 


ASHORE
Es Trenc is perhaps the best beach on Mallorca.  It is several miles of pure, clean, white sand and clear weed-free water.  As close to a Caribbean experience as we have found in Spain.  It offers a range of experiences.  There is an unassuming beach bar/cafe mid way along the beach.  One of the dinghy channels leads straight to this bar.  To the right of the bar is a developed beach with chairs and umbrellas for hire, and to the left are miles of undeveloped beach.  You will find considerable nudity on this beach, particularly the further you get from the beach bar.


FACILITIES ASHORE
Facilities are few.  There is a basic beach bar and restaurant serving snacks and lunches.  The beach has a pleasant remote feel to it, as it is backed by sand-dunes and marshland with no roads or development in sight.  This makes it very unusual for Mallorca.  Mosquitos from the marshland are reported to be a problem after dark, another good reason to find a better anchorage for the night.


RESTAURANTS
There is only the beach bar.  Nearby Colonia St. Jordi offers a broad range of restaurants and a good overnight anchorage.