Mallorca, Spain
Colonia St. Jordi Anchorage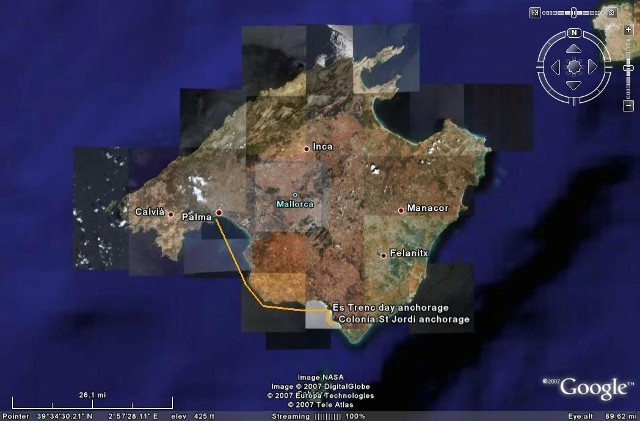 Not to be used for navigation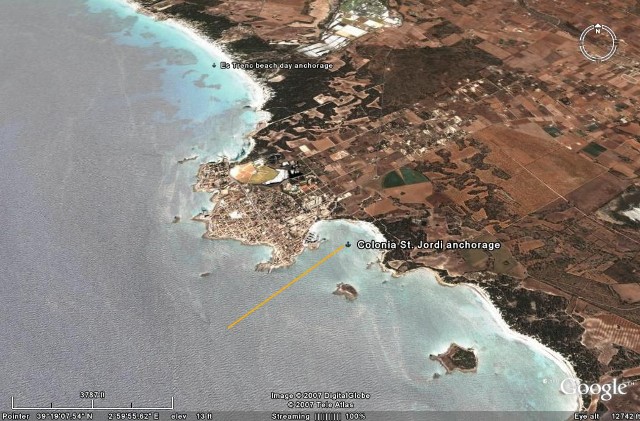 Not to be used for navigation
DIRECTIONS
Approach is straightforward, being mindful of the islets and rocks outlying the town of Colonia St. Jordi. Anchor in 12-15' over rocks, weed and some sand. There are shallower patches on the E side of the bay. It may be worth setting an anchor trip-line due to the rocky bottom in places, although we have never had a problem retrieving our anchor here.
DESCRIPTION
This is a good overnight anchorage. It is well protected from N, W, E and SE winds. There is room for probably 20 boats here, although we have never seen more than 7.
GETTING ASHORE
Colonia St. Jordi marina is a short dinghy ride from the anchorage. The marina is bordered on the north/beach side by a long low wood pier which is reserved/used by the day-boat rental firms operating off the adjacent beach. Off season you may be able to tie up here. We asked and were allowed to tie-up at the shallow end of this pier. Later we learned that in most conditions you can also tie up at the seaward end of this pier below the Green marina entrance beacon, where you will see a small platform surrounded by rocks.
ASHORE
Colonia St. Jordi is a pleasant, unassuming tourist town with a small marina/fishing port. It has two developed beaches and many restaurants/cafes. The restaurants cater to the domestic Spanish tourists (all summer) and the, mainly German, foreign tourists (September). It is a family-oriented place. We were told by our American waitress at the busiest restaurant in September that we were only the second Americans she had served all summer!
FACILITIES ASHORE
BEACHES
There is a town beach, Sa Platja des Port, in front of the sea wall, as well as a second, larger beach at the north end of the bay. Both beaches are developed, with beach chairs and umbrellas for hire. Along this stretch of coast are also Ets Estanys,
Es Trenc
, Es DolÁ and Es Carbů, which are widely regarded as being the best beaches on Mallorca.
BOAT RENTAL
Small motor and sailboats can be rented by the hour or day from the pier next to the town beach.
RESTAURANTS
There is a good selection of restaurants in all price ranges along the waterfront. Most have menus in Spanish, German and English. We particularly enjoyed two restaurants. MARISOL is a very smart family run seafood restaurant open since 1964 right at the end of the pier, and another elegant restaurant just to the North of it (forgot the name). At Marisol we enjoyed a superb Clams Marinara, Grilled Whole Sole and Paella. The other restaurant served a great Paella. There is a Chinese restaurant on the seafront (unusual in this part of the world) which we did not try.
GROCERIES
There is a small grocery market a few blocks inland with all necessities.
NEWSPAPERS
A newspaper shop on the seafront sells all Spanish, English and German papers as well as the Herald Tribune and USA Today.
WIFI
We were able to pick-up and use unlocked wifi signals from the seawall on 3 of the 7 days we spent here. We had no luck trolling for a connection while walking through the town though. Most of the town has been overun by short-term condo rentals, with little apparent use of wifi.
INTERNET CAFES
We found two internet "cafes". A cramped grubby set of booths adjacent to one of the waterfront cafes (signposted "Internet" on the cafe's canopy), and a cleaner nicer facility on the same block as the grocery store. There is a small hotel on the waterfront opposite the tourist information booth that has wifi for its guests and they may let you have the password if you eat there.