Naples Bay, Italy
The North half of Naples Bay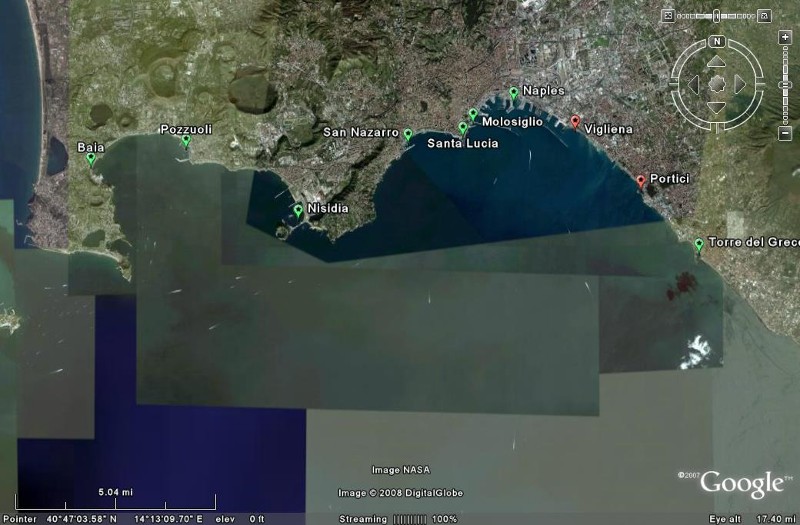 Not to be used for navigation
OVERVIEW
At first glance at the chart Naples appears to have an abundance of places to anchor or tie up your boat.  We found the reality was quite different. 
High speed ferries and commercial ships constantly transit the bay and all anchorages we found in the bay were very rolly - far too rolly to get a night's sleep.  The Marinas were generally full and were very expensive in June.  Most did not answer the phone or the radio.  We visited 7 marinas between Torre del Greco (S of Naples) and Baia (near Ischia) before finding a marina at Baia that would take us for a week.
This page is a brief summary of what we discovered.
MARINAS & ANCHORAGES
(anti-clockwise from Sorrento)
SORRENTO DETAIL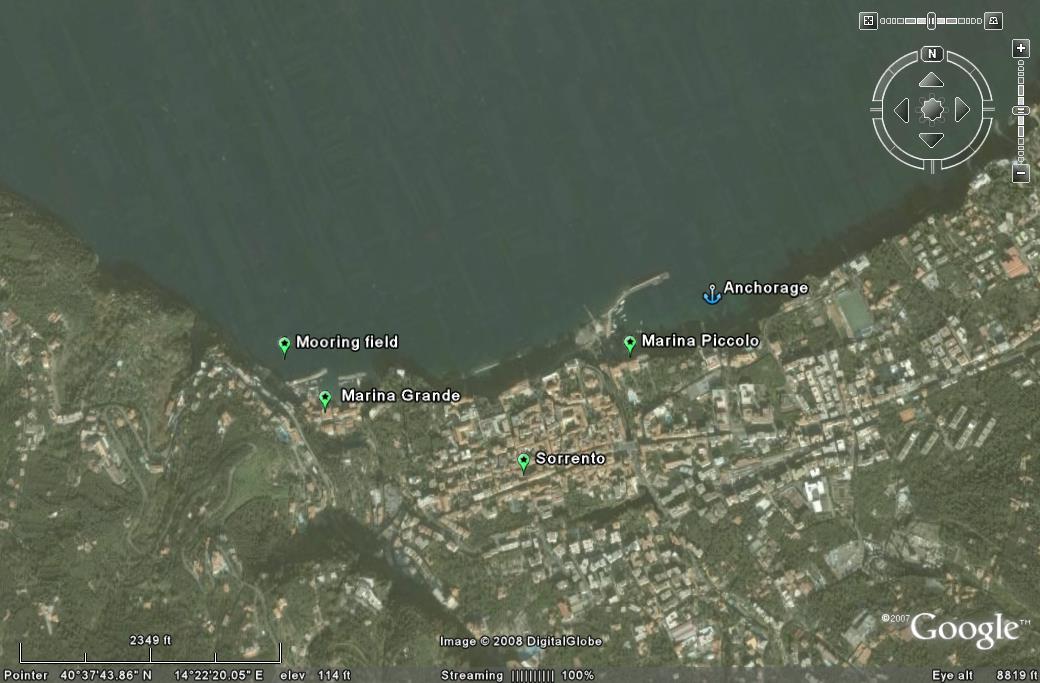 Not to be used for navigation
SORRENTO HARBOURS
We saw a few motor boats and only one sailing yacht in Marina Piccola. It looked as though we might be able to find a space here, but the cats-cradle of lines securing other boats completely surrounded the only space.  Marina Grande, despite its name, is a shallow small boat harbour only.
SORRENTO ANCHORAGES
1.  West of Marina Grande.  There is a deep water mooring field with large painted floating buoys.  You are required to moor bow to one and stern to another and have to be on the lookout for lines trailing from some of the occupied and unoccupied buoys.  There is no fee to use the buoys but stay away from those used by the fishing boats which have lines already attached.  The buoys are large and tall and are themselves a hazard in rough conditions.  A long boathook will be helpful to get your line over the top of these buoys.  This mooring field was in constant motion (from ferry wakes?) and we rolled all night despite the sea being calm.  Access to Sorrento is at Marina Grande.  This is a primitive harbour with a small beach. We tried to land on the beach but were waved off although local dinghies are beached.  When I got out a stern line to anchor the dinghy against the rock breakwater he relented and said I could tie up on the beach!   I tied up against the rock breakwater on the right below the restaurant next to the steps.  The only way ashore from here is through the restaurant.  The restaurant staff were very pleasant and did not mind my coming and going (perhaps because we had eaten there earlier in the week). 
2. East of Marina Piccola.  There is a narrow patch of 20-30' water to the East of the harbour.  Stay out of the harbour entrance where ferries turn around.  Although this looks viable and is marked as an anchorage on the chart, there are fishing traps laid along the seabed here with no floating buoys to indicate their presence.  We only realized that we had picked one up when I dived to check on the anchor.  Holding is good in sand but you are very close to the rocks.  We did not stay long.
TORRE DEL GRECO HARBOUR
The Ormeggiatori will direct you to a berth.  We had one of the last two spots when we arrived in mid-June.  The electrical supply was overtaxed and insufficient for us to charge our batteries.  Water was OK.  The Ormeggiatori charged us €90 for the first night with a discount to €70 per night if we had stayed longer.  We only stayed one night.   The harbour is in a very slum-like part of town, run-down with few facilities.  There are a couple of sparsely stocked mini-markets near by and several restaurants.
PORTICI
A small boat harbour only.
MARINA VIGLIENA
Just inside the Eastern entrance to Naples commercial harbour.
Although this marina is shown on our updated chartplotter and in our outdated Heikell, this marina no longer exists.
MARINA MOLOSIGLIO
Just west of Naples commercial harbour.  This is a small marina.  The largest boats inside were 15m.  The marina was full when we visited and no one was around.  It seems to be private.
MARINA SANTA LUCIA
Southwest of Molosiglio.  Another small marina although some large boats are squeezed-in here.  It was completely full.  No one paid us any attention when we entered but it was clear that there were no spaces available.
MARINA SAN NAZARRO
They answered a radio call, but had no spaces available.  This is an upmarket marina catering to large powerboats.
NISIDIA
No one was around to ask about spaces.  There appeared to be a few spaces against the harbour wall, some of which was sectioned off with 'no mooring' signs.  The location is remote in an area of abandoned or disused factories and there appear to be few if any facilities.  This location might have worked if we had rented a car, but we could find no one to discuss mooring with.  We decided to find somewhere less remote.
POZZUOLI HARBOUR AND MARINA
The harbour was hopelessly overcrowded with boats moored two and three deep.  The Marina adjacent to the harbour had a couple of spaces but they were only available for a night or two and the price was too steep for us at €120 per night.  Pozzuoli is an active town with plenty of restaurants and facilities.  It would make a decent base if it were cheaper.
BAIA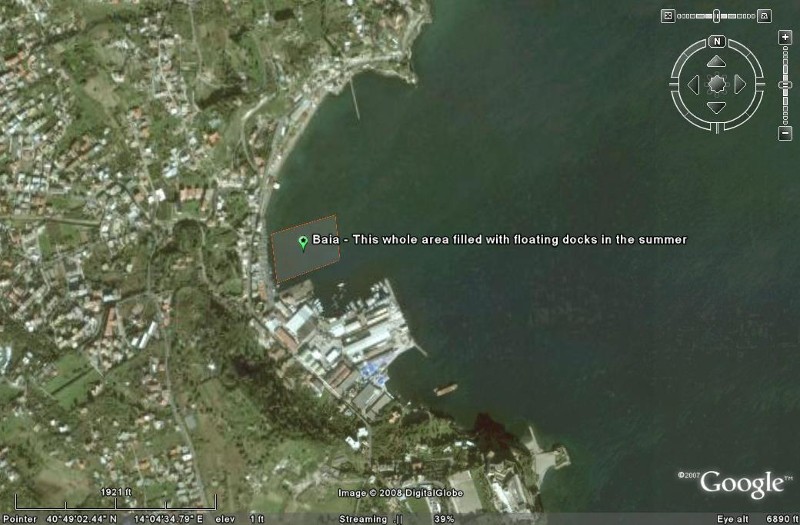 Not to be used for navigation
Baia is across the bay from Pozzuoli.  There are a number of independently run floating piers installed in the bay during the summer months. We were waved off the first one we tried, which was reserved for charter boats. We tried several others before finding one that would take us and then only "for a few days".  We eventually parlayed that into a 10 day stay at a rate of €50 per night (no discount for multiple nights).  There is electricity and water on every pier and motorboats are constantly coming and going.  There is a boat factory in the village.  The floating piers dampen the swell considerably so it is worth trying to get a space inside several layers of piers.
SHOPPING: The village of Baia has a pharmacy, an ice-cream shop, a pizzeria and a couple of restaurants that seemed to be closed most of the time in June.  The restaurant next to the chandlery was OK.  We could find no Grocery store in Baia.  There is a large supermarket 5 miles away in a brand new shopping mall outside Pozuoli.  You will need a car to get to it.
LAUNDRY: There is a laundry on the west end of the village street which charges by the item and was very expensive. 
CHANDLERY: There is a decent chandlery in front of the floating piers and a hardware store to the west of the parking area next to the boatyard. 
CAR RENTAL: You will probably want to rent a car if you stay here.  Hertz has an office in Pozzuoli and will deliver a rental car to you in Baia.  There are trains and buses into Naples, but only a few trains go as far as Baia so the best way to get into Naples is to get to Pozzuoli (we had a rental car) and take the train into Naples.  Although we did drive in Naples, we cannot recommend it due to the lack of parking and severe congestion.