Olbia Harbour, Sardinia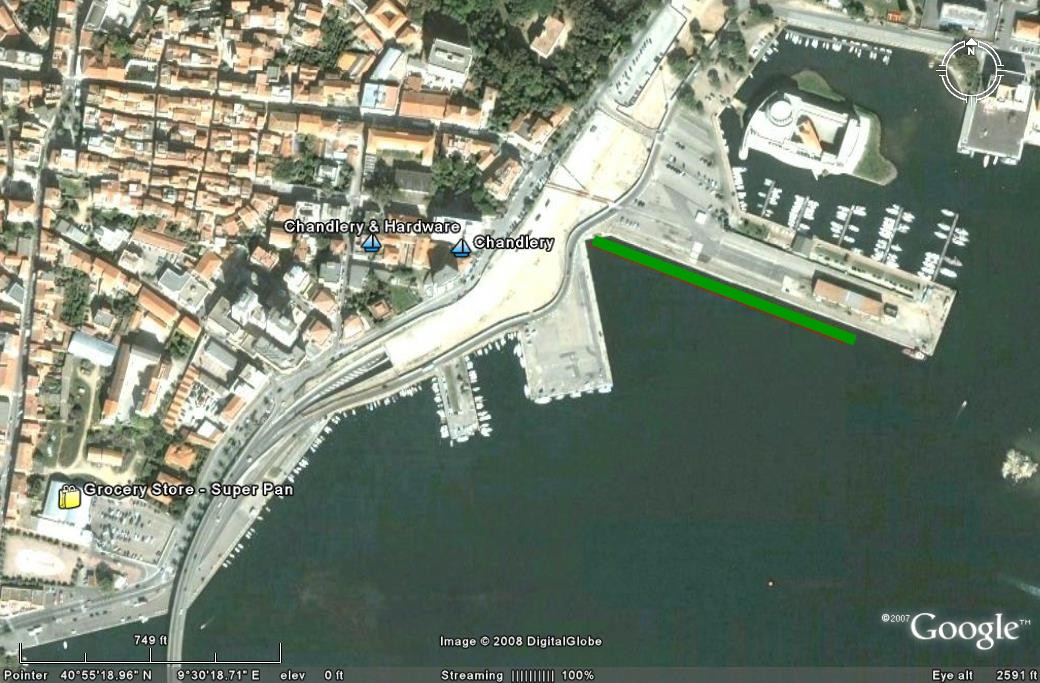 Mooring area shown in green.
Not to be used for navigation
DIRECTIONS
The channel is well marked. The free harbour wall was not easy to spot as a first time visitor. The free mooring area IS NOT the boxed and enlarged area shown in our Heikel Pilot. It is marked on the Google image above. The harbour wall is made of very rough granite blocks, some blocks protrude from the wall more than others and there is also a ledge which protrudes just above water level (where we tied up it protruded 8-10"). There are a few old mooring rings but you may well have to improvise your mooring using the hinges of the heavy duty hinged cable conduit that runs the length of this disused railroad pier. If you decide to use the industrial-size mooring rings set infrequently in the wall remember that your lines can pull them a good 1' or so away from the wall. We dented our toerail here when our boat rose in the swell and hit our mooring ring, which our spring lines of course had pulled away from the wall. If the weather turns bad, this is a prime spot to ride it out, so get there early and try to space your boat sensibly to allow others to get in.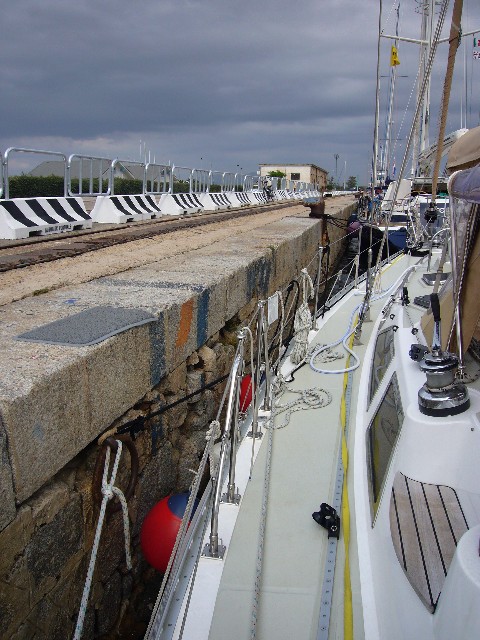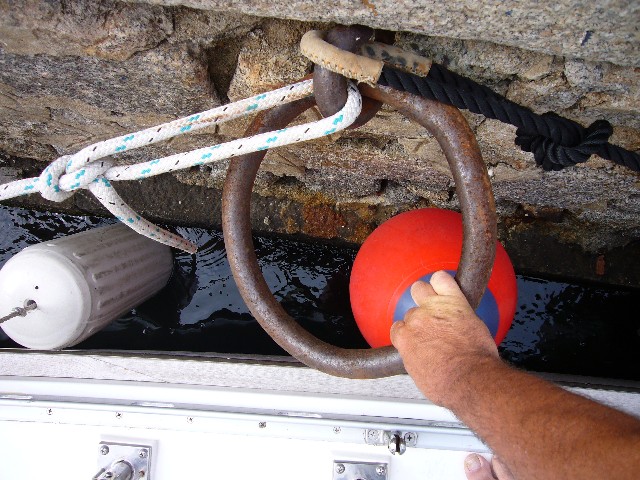 DESCRIPTION
This is a shabby but improving town. It's not a touristy destination, its main attraction to sailors is the free wall (but see warning below about the Garbage fee) and several quite good chandleries. There is an airport nearby that serves Porto Cervo.
GETTING ASHORE
The harbour wall is quite a bit higher than our deck. Doable, but not convenient.
FACILITIES ASHORE
There is no water or electricity provided. This is essentially an abandoned pier with no facilities. Also it was reported to us that occasionally the port officials may need the wall and will ask everyone to move off. In this event there is an anchorage adjacent.
WIFI: There is an internet cafe in town, it is part of a video game arcade on the harbour front. We were able to find a free unsecured wifi signal near the entrance to the Marine Chandlery.
GROCERY: There is a good supermarket just past the start of the bridge to your left as you look towards the town from the harbour.
GARBAGE: There are dumpsters in the nearby private yacht club, as well as municipal ones which we used, on the first city street you come to.
WARNING: As we were getting ready to leave Olbia, two enterprising gentlemen tried to hit us up for a "garbage disposal fee" of €5 per day. We refused to pay and they walked away. We later learned that they had tried the same trick on another boat, but asked them to pay €10 per day! A third boat paid them €40 for their 4 day stay. These men were not in uniform but they were driving an official municipal truck and looked official with clipboards and receipts. The discrepancy in the fees requested and the ease with which we were able to put them off suggests that they were free-lancing.
CHANDLERIES: There are two good chandleries in town. The closest is called Nautica and is visible from the harbour area. This one also sells and exchanges blue butane tanks. This chandlery was quite a bit more expensive than the combined hardware & nautical chandlery Ferramenta a few blocks away. The Ferramenta is quite hard to spot although it is marked on the photo above. It is not visible from the street, although its small sign is. You have to enter a driveway to its parking spaces in order to see the entrance.
SAILREPAIR: North Sails have a representative in town who will pick up from your boat. Contact Giancarlo Campus at Sailboard Olbia, Via Torino 21, Olbia. Mobile Phone +39 335 8425730.
RESTAURANTS
The town is full of restaurants. We had a good lunch at Restaurante Paolo and a good dinner at Officina del Gusto (but don't let the maitre d' order the wine without getting a price check first!).