Provence, South France
Port Miou / Calanque Miou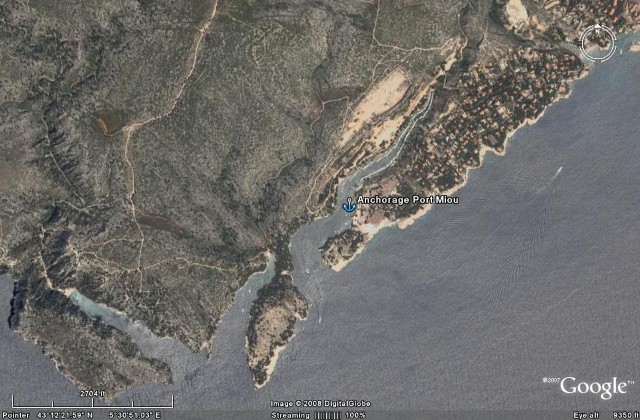 Not to be used for navigation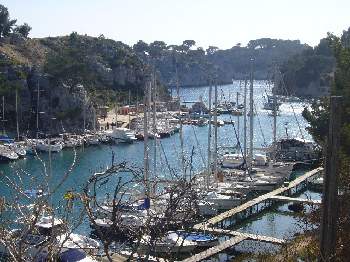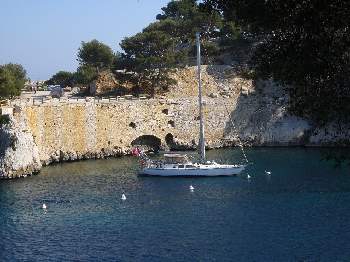 DIRECTIONS
Approaches to the Calanque are clean and deep,  The former anchoring area has been planted with about 50+ mooring buoys, very close to each other and to the walls on the West and East sides of the Calanque.  It is a lovely calanque with an ancient quarry used by the Romans providing shelter on one side, and an old stone wall embedded with iron rings as a lovely backdrop to your yacht. 
DESCRIPTION
This is a very sheltered anchorage.  Our outdated cruising pilot indicated this was an anchorage, but there is no longer any room to anchor due to the mooring buoys.  We were instructed by the Port boat to use two mooring buoys for the bows of our 49' yacht as well as a stern line to a ring in the wall ashore.  The price for our boat in the Spring of 2008 was €20 per night.  The Capitanarie were friendly and handled our stern line to shore.  They also gave us 5 oilzorb pads as a gift (these sell for $5 each in West Marine!) and a small promotional dry bag.  So while we had planned to anchor for free, we did not feel cheated.
GETTING ASHORE
As you head further into the bay it narrows and there are literally hundreds of local boats anchored either side of the calanque as it peters to an end.  There is a boardwalk on either side, and at the end is a small area of the boardwalk where you can tie your dinghy.
ASHORE
There are ample hiking opportunities to the nearby calanques and coastline.  The port maintains a small shed which might have brochures etc.
FACILITIES ASHORE
There are no facilities in the Calanque.  It is perhaps a 15 minute walk into Cassis.  In April, there was not a lot going on.  We were the only boat on the overnight moorings and it was a delightful quiet place, despite the tourist boats that periodically come into the Calanque on their tour of the coast.
RESTAURANTS
The cruising guide mentions a restaurant to East of the calanque.  We did not explore it.