Porto Anchorage, Corsica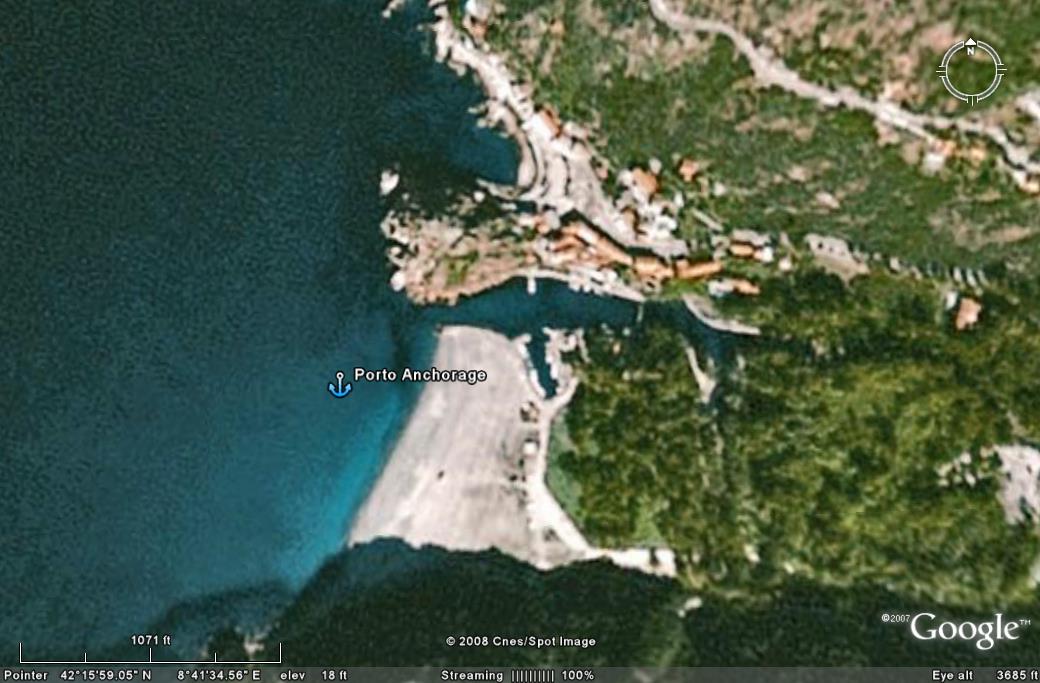 Not to be used for navigation
DIRECTIONS
Porto is at the head of the Gulf of Porto. Approaches are wide open with a sand bottom. We anchored in 23'. Just off the beach.
DESCRIPTION
Our cruising pilot guide warns that this is a rolly bay and that all anchorages are subject to the swell from the SW & W. We found this to be true and used the anchorage to leave the boat for the day while we hiked part of the Mare e Monti trail nearby (rent a scooter to get access). The village of Porto is totally tourist oriented with ferry trips, dive boats, inflatables for hire and numerous small hotels and restaurants. Note from here it is about 7NM to Taura and Girolata, and about 15NM to Carghese all of which offer a better degree of protection from the swell.
GETTING ASHORE
Porto is at the mouth of a river. Enter the river to the North of the beach just below the lookout tower and tie up at the quayside, being careful not to impede any of the commercial spaces for ferries etc.
ASHORE
There is a popular but unremarkable beach, the small town of Porto and within easy scooter range there are several spectacular hikes including the Pont Vecchju - Ponte Zaglia hike which follows the course of the river between two Geonese bridges dating from 1797 through a gorge. Also within scooter range are the spectacular Callanches. Spiralling pinnacles of rock that can be hiked or seen from the road that winds around the cliff face between them.
FACILITIES ASHORE
TOURIST OFFICE: Porto has a tourist office one block up from the water.
GROCERY STORES: There is a small Superette grocery store by the water. About 1km heading up the hill out of town there are two reasonably well stocked grocery stores next to one another. One is a SPAR, the other one sells butane gas in the usual size tanks
RENTAL SCOOTERS: You can rent boats and scooters at the waterfront.
WIFI: We did not search for wifi access but the tourist office told us that one of the hotels (can't remember which one) offers wifi.
TRASH: There are dumpsters for trash disposal next to the small fishing port and boat ramp.
There are campsites behind the beach and numerous hotels and gift shops in the village.
RESTAURANTS
Many