Marseille, South France
Vieux Port (Old Port)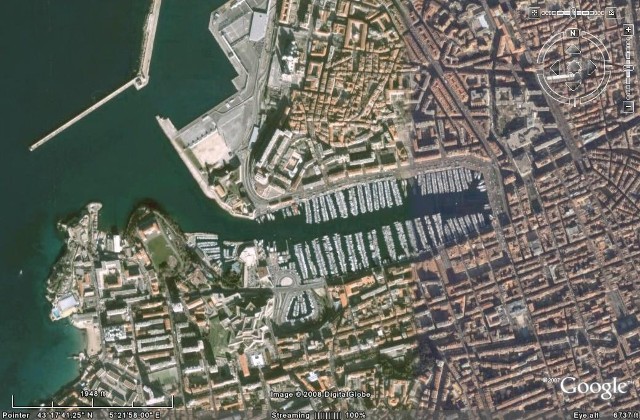 Not to be used for navigation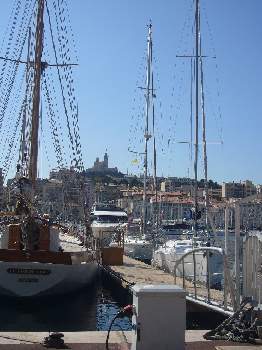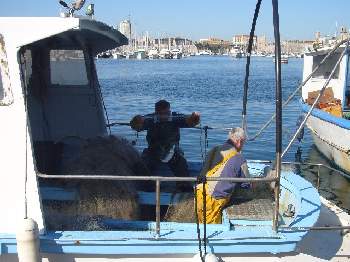 Directions
As you approach Marseille it is quite likely that you will be contacted by the French Navy. They will want detailed information on your vessel including Radio Call sign and IMO number. So it is as well to have these handy. The entrance to Marseille Vieux port is well marked on all charts. As you approach, call the Port Authority on Channel 9. They will direct you to a berth, or meet you and escort you in.
Description/Location
Vieux Port is in the heart of and is surrounded by the city of Marseille with 6 storey buildings all around. Most have restaurants on the street selling the famous Bouillabase. It is a scenic and frenetic place, particularly during daytime with hundreds of pleasure boats arriving and leaving as well as fishing boats (which sell fresh live fish from the boat on the dock) and the frequent ferries that run out to the Calanques just south of here. Most boats here are stern or bows to floating pontoons with lines tailed to the raft. There are a few side ties, including the semi-public float in front of the Mairie where we were assigned. When we arrived in 30-35 knot winds, the wind died almost completely as we rounded the entrance to the port. After a few days in-situ we noticed that some gusts do get into the harbor although it is very well protected in every direction. Put out all your fenders.
Security
Marseille has a long reputation as a hotbed of crime. We took our security seriously and always set our alarm. However we felt quite safe and we did not experience any problems whatsoever. Some slips have lock gate access, others do not. On our dock the lock is broken and the gate tied open. Even the locked gates would be easy to circumvent so it would be wise to assume that you are in a public place and lock everything up. The Capitanerie said we would be quite safe on our pier despite the lack of a gate-lock - however when he noticed our bicycles on deck he advised us to keep them locked up.
Facilities
This is in no sense a Marina and there are no facilities on site, other than those available within the town itself.
Dockage includes water and electricity and for us in April 2008 for 49' was €37 per night. All other facilities are provided by the city itself:
TOURIST OFFICE:
Is located two blocks from the port on Rue Cannebiere and have excellent maps of the city.
WIFI:
Vieux Port has free wifi which will show up on your computer as "Marseille sans fil". Although we were able to connect to the service, we found that the service was not connected to the internet. There is an internet cafe near the corner of Rive Neuve and Quai des Belges which has a number of computers available for internet use but does not allow wifi. Ultimately we found that the McDonalds at that same corner offers free unlimited wifi for the cost of a cup of coffee. Even this however was not a perfect solution as their site does not permit ftp (website up or downloads). Marseille is the second largest city in France so there are a number of other internet cafes dotted around the city that may allow ftp.
GARBAGE:
Some of the piers have containers for boat garbage. The local collection service picks up from the street each week day night, and it is OK to place your securely wrapped garbage next to one of the city trash cans after 7pm in the evening for collection on weekdays.
GROCERIES:
There are two good grocery stores within easy walking distance of the port. One is part of the department store "Galleries Lafayette" in the large shopping center at the head of the harbor (marked on the tourist maps) The other is part of the MonoPrix department store and is located off Rue Canebiere. The Grocery department is upstairs.
GUIDE BOOKS IN ENGLISH:
FNAC in the same shopping center as Galleries Lafayette see Groceries above) has a good selection of books in English, including guidebooks etc.
RESTAURANTS:
Are everywhere. Some around the port are tourist traps. Others offer world class fare. Those offering the true Bouillabase will charge at least €35-45 a plate and have a certificate on display to prove the authenticity of their product.
LAUNDRY:
We did not find a laundry within convenient range of the port.
MARINE CHANDLERY:
There are several specialist chandleries on the Quai de Rive Neuve.