Nice, South France
Vieux Port (Old Port)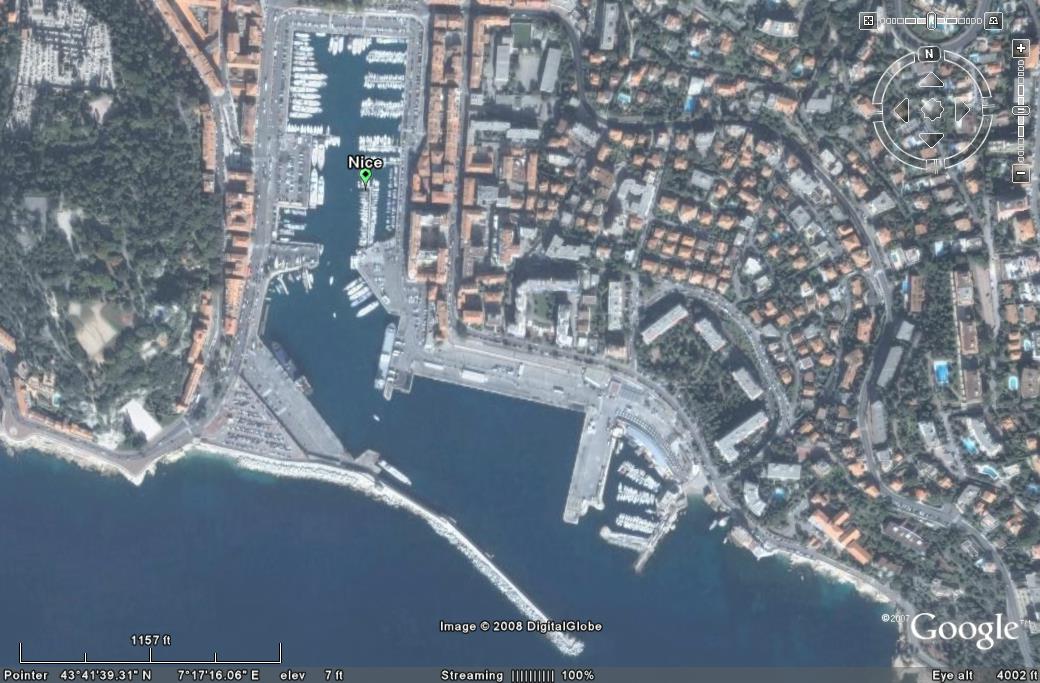 Not to be used for navigation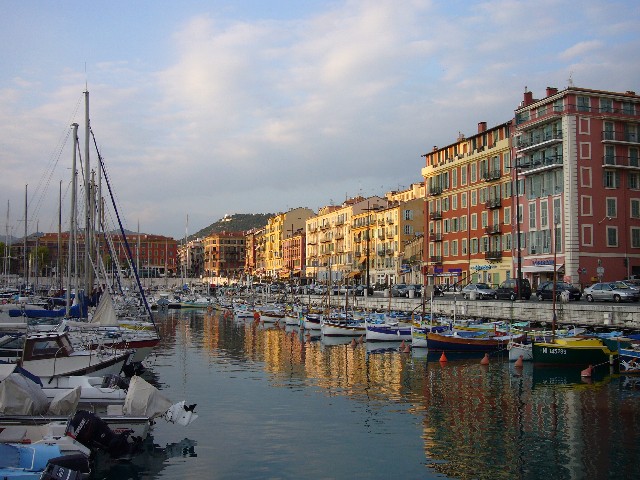 Directions
Nice port is fairly small and busy with fast ferries arriving and leaving for Corsica & Sardinia. The marina expect you to call them on Ch 9 before coming into the harbour. They will then check with the commercial port and let you know whether to come on in or to await a commercial ferry etc. arrival/departure. The yacht marina is on the right but is past all the commercial docks. Do not make our mistake of taking the first turning on the right into the small boat harbour.
Description/Location
The port is in the heart of and is surrounded by the city of Nice with attractive 6 storey buildings all around. Most of the harbour is taken up with small fishing/pleasure boats. You are in the center of town and can walk to most of the attractions. The slips are a combination of side tie and bow or stern ties, with lines led to the dock.
Security
There are signs around the harbour warning that the area is under video surveillance. The piers do have gates with signs to discourage passers-by but there are no locks or active security measures other than the video cameras. We locked up the bikes on deck and felt quite secure.
Facilities
The port offers some marina type facilities, but is primarily a harbour which is shared with the passenger car ferry to Corsica/Sardinia and small oil tankers.
Dockage includes water and electricity and for us in May 2008 for 49' was €24 per night.
TOURIST OFFICE:
The Capitanerie, who were very helpful and spoke very good English, provide an excellent brochure detailing the facilities, a map and local information.
WIFI:
The port has free wifi. You will be given a password for the duration of your stay when you check in at the capitanerie.
GARBAGE:
There are garbage and recycling containers in a central location.
GROCERIES:
There are two OK but old and grubby grocery stores within walking distance of the port as well as bakeries and butchers within a block of the harbour.
RESTAURANTS:
Are everywhere. Some around the port. We had a great cheap meal in the small and very popular (make a reservation) Restaurant Palmyra on Rue Droite in the Vieux Quartier. We also had a lovely meal in the open air restaurant in the square in front of the church in the old quarter.
LAUNDRY:
We did not explore the laundry opportunities here.
MARINE CHANDLERY:
There are several specialist chandleries on the south side of the harbour as well as dive and fishing shops.