Calvi, Corsica
Calvi Anchorage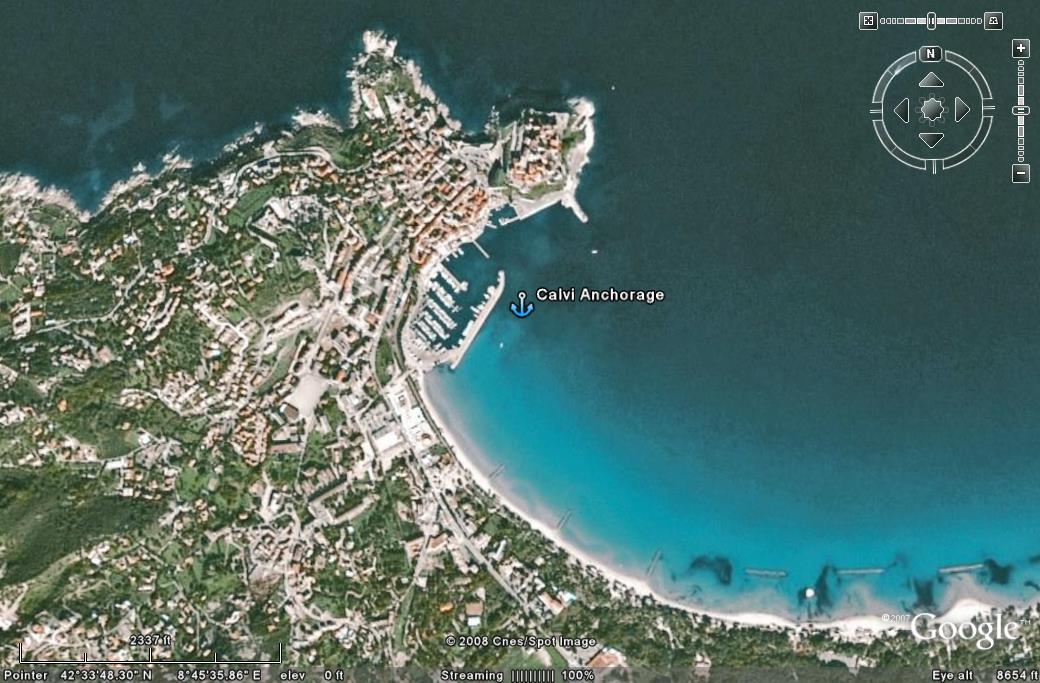 Not to be used for navigation
DIRECTIONS
Approaches to Calvi are clean and deep, The entire bay is used for anchoring. The area close to the harbour is preferred, but much of this space is occupied with mooring balls from June to September. During our visit in late April there were no mooring balls and only one or two yachts anchored. Anchor in sand in 20-25ft.
DESCRIPTION
The anchorage is sheltered from the north. Winds do blow in over the hills on the west, but seas remained flat even in 25 knot sustained winds.
GETTING ASHORE
One section of the harbour wall (near the capitanerie office) has a low hanging chain for you to tie your dinghy and stern lines led to this chain to keep you off the wall.
ASHORE
Calvi and its citadel are worth exploring. The Balagna region and its hilltop villages are also worth a road trip. Calvi is a good place to leave your boat for this. The beach is long and has nice sand, the water is clean. There are large areas of natural beach as well as areas with restaurants/loungers/umbrellas for hire.
FACILITIES ASHORE
TOURIST OFFICE: The tourist office is adjacent to the capitanerie and has maps and brochures.
SCOOTER RENTAL: There is a scooter/4 wheeler rental office next to the tourist office.
GROCERY STORES: The best grocery store is the Super U, a block off the beach just south of the harbour. There is a small morning fresh market in the marketplace marked on thetourist map, you can pick up some basics there. There are several butchers and a number of bakeries in the small town.
WIFI: The port offers wifi for a charge of €4.50 per hour which we were able access (with an external antenna) from the anchorage. There is a cafe on the harbourfront that offers 'cybercafe-wifi' however their charges were nearly twice as high as the port's rate.
RESTAURANTS
There are numerous restaurants in all price ranges in town and several on the beach.