Bonifacio Harbour, Corsica
Not to be used for navigation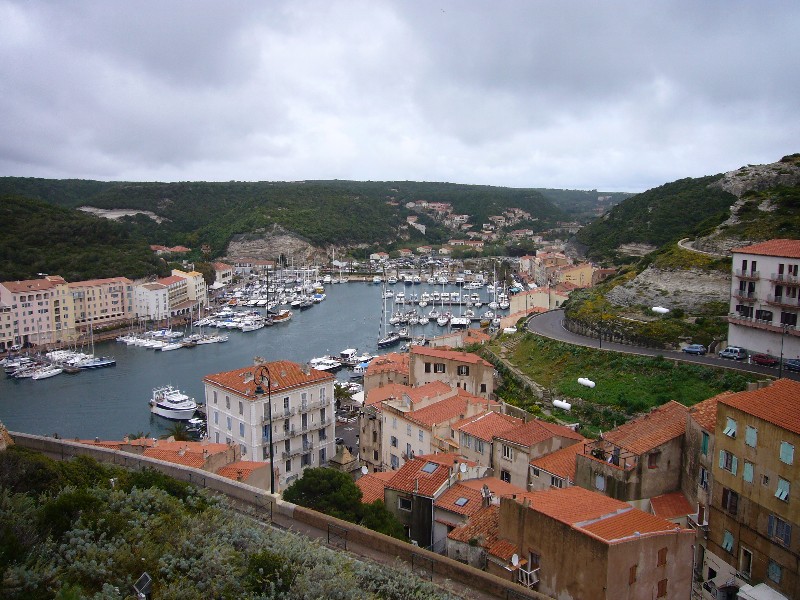 DIRECTIONS
Approaches to Bonifacio are clean and deep, This is a busy port with most of the traffic being local ferries, day tripper tour boats and charter yachts from Sardinia. It is also a cruise ship destination. The larger cruiseships anchor outside the port and ferry the passengers in. The Port monitors VHF Ch. 9 but didn't answer when we arrived (they close for lunch). Usual practice seems to be to just find an empty slip on one of the pleasure boat piers then check in with the capitanerie at the head of the bay. We saw one boat forced to move because the skipper had apparently chosen a slip that was 'occupied'. The signs of occupation being a coiled shore power cord on the dock. So if no one is there to guide you, try and find a slip with no signs of occupation! It is the usual Med-moor arrangement with lines led to the pier. The west side of the harbour is new construction. There are fewer shops and it is less lively than the east.
DESCRIPTION
The harbour is sheltered from all directions and is like a Fjord with steep sides. Winds can gust in from the North but this is a very well protected natural harbour. It is a major charter boat destination so there are yachts coming and going all day long. Most only stay one night.
ASHORE
Bonifacio's sea approach is guarded by an imposing citadel and the haute ville contained within it is well worth exploring. The citadel and its inhabitants (mainly women and children, the men having been killed previously) once succesfully withstood a 5 month seige. This part of the coast is undermined with caves and grottoes, some of which are reachable by dinghy from Bonifacio (you will see them and the associated tourist boats on your way into Bonifacio).
FACILITIES ASHORE
GROCERY STORES: There is a butcher, a baker and a small SPAR grocery store on the harbour front on the right.
LAUNDRY: There is a self-service laundry a few shops from the grocery store. The laundry has 5 or 6 washing machines and 3 driers (one out of order on our visit). It is one of the more expensive laundries we have come across at €6.10 for a small washing machine and €9 for the large one. Joan also experienced a worrisome episode with a local transient here, who was trying to put his soaking wet dirty clothes (it had been raining) in her dryer! She refused and got yelled at in abusive French. We stayed and guarded our clothes while the machines did their work! As we were motoring out of the harbour we noticed another self-service laundry on the left/west side of the harbour that might be better.
WIFI: The port provides wifi within the harbour area for €5 per hour or €10 for three hours. You can sign up and pay online. We were able to access this from our slip at the opposite end of the harbour from the Capitanerie where the transmitter is located. There are also a couple of restaurants/bars that claim to offer wifi but neither was working during our visit. Note that although the smart looking B52 cafe/bar puts out a strong wifi signal, it is encrypted and intended solely for their electronic ordering system and not available to customers as we found out after having sat down and placed our order!
RESTAURANTS
There are numerous restaurants along the harbour wall but it is well worth the very steep walk up to the citadel where the selection and variety of restaurants and shops is more interesting. There are a number of restaurants in all price ranges including some very elegant looking ones. We enjoyed a very good 'peasant style' three course meal in Cantina Doria on Rue Doria for €15 each including a carafe of wine.