Cargese Port and Anchorage, Corsica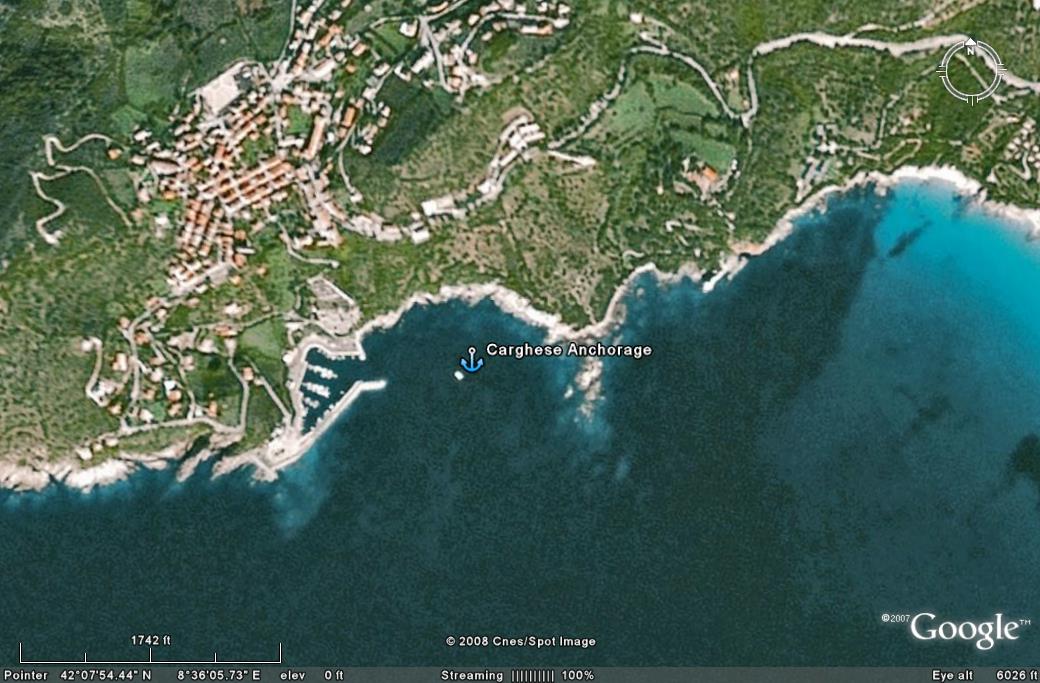 Not to be used for navigation
DIRECTIONS
The anchorage is just past the entrance to the harbour entrance.  Give the harbour breakwater plenty of clearance for the rocks immediately off the southern end.  The white blob shown in the above Google photo next to the anchor is (presumably) an anchored vessel.  It is not a rock.


DESCRIPTION
This anchorage is protected from the Westerly swell (tuck well in behind the breakwater).  We anchored in 25' in the middle of the anchorage. The main attraction of this anchorage is that it is a convenient stopping place en route as you work down (or up) the west coast.  It is one of few anchorages with any protection from the prevailing westerlies in this stretch of coast. The protection however is marginal and you are anchored very close to the rocks. It is a fair weather anchorage. The harbour would be an obvious refuge in deteriorating conditions


GETTING ASHORE
Dinghy-in to the harbour which has rings to tie dinghies to adjacent to the two restaurants.  Note:  At the time of our visit the harbour smelled strongly of sewage.  We were glad to be anchored away from the smell!
 

ASHORE
Up the steep hill is the greek-influenced village of Carghese. There is a fine Greek orthodox church overlooking the water and a grocery store at the top of the village, as well as a few touristy shops and a brocante.  


FACILITIES ASHORE
WIFI: We were able to access the FREE WiFi kindly provided by the Port of Carghese from our anchorage using our external antenna.


RESTAURANTS
Many in the village up the hill, plus there are several restaurants in the harbour, including U Rasaghui where we had a good and well-priced dinner.  It also has a bar and features music and singing several nights a week..