Chania Harbour, Crete, Greece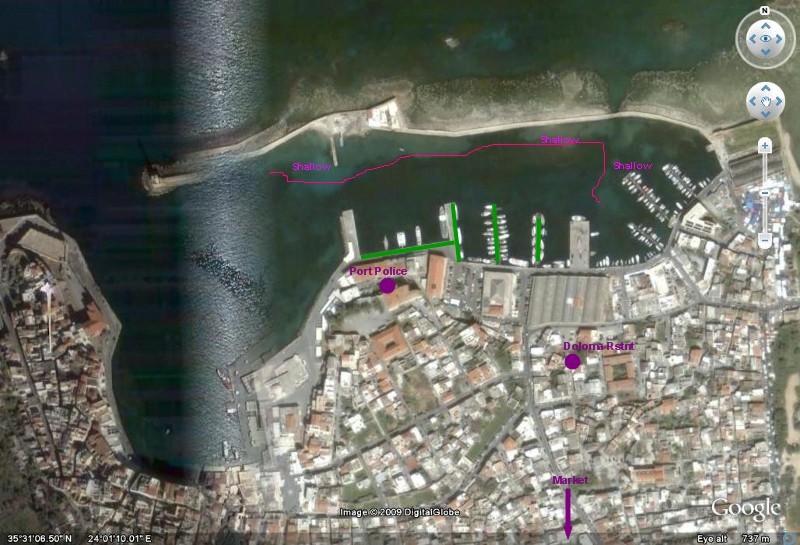 Not to be used for navigation
DIRECTIONS
There is a semi-submerged breakwater on the starboard side of the approach, it is marked on our chart. Be aware of extremely shallow patches in several areas inside the harbour. During our visit some (but not all) were marked with small white buoys.
MOORING
The most likely locations are shown in green. There area a number of laid lines which can (should) be used if mooring bows/stern to. However there are also some laid lines which are detached, so it helps to have someone on shore to check before getting too committed to a location. We and several others anchored before realizing that there were laid lines available.
DESCRIPTION
The harbour is well protected from swell. This is a lovely harbour, with restored old stone buildings, converted in one case to an art gallery, cobbled streets and restricted traffic. You can really sense what the place would have been like in times gone by. This is what Rethymnon could look like if the town had exercised more control over the unbridled inner town development. The only traffic passing our quayside mooring were the occasional horse & carriage. There are a number of tavernas and cafes, but a clear effort has been made to make sure that they blend well into the ambiance and most are so much more attractive than those in Rethymnon. Considering that Chania is a large town, the harbour area has been developed in a very sensitive manner. On the downside it does get noisy at night as the tavernas etc fill up. On one saturday night the music was still playing at 6 a.m.
GOING ASHORE
The town is adjacent to the harbour. The Port police here are very pro-active and make their rounds in the late afternoon. They are likely to find you before you find them.
FACILITIES ASHORE
WIFI: The town has free wifi access. Connect to "C.A.M. Hotspot"
LAUNDRY: There is a Self Service laundry a few blocks away from the harbour on the street with all the knife sellers. Like most of the shops it closes early at 2pm on Mon/Weds/Fridays.
ELECTRICITY AND WATER: Available at most if not all slips. There is a 'waterman' who will unlock the boxes and help you hook up.
CHANDLERY: None found
GROCERIES: There is a fresh market some distance from the harbour, but it has mainly given over to touristy shops with only a couple of fresh vegetable stalls, butchers and fishmongers left.
RESTAURANTS: There are a number of restaurants in town. Doloma is worth finding for cheap traditional vegetable-based dishes. Their Okra and their Giant Bean dishes are worth trying.