Pigadhia Harbour, Karpathos, Greece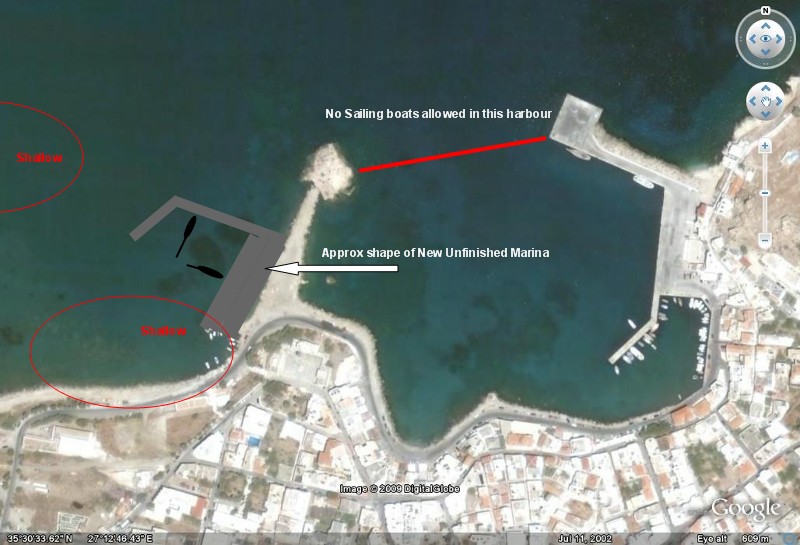 Not to be used for navigation
DESCRIPTION
This is a new (but unfinished) Marina adjacent to the main harbour in Pigadhia.  It has a separate entrance from the main town harbour which is off limits to pleasure boats.  Care must be taken of several above water rocks and shallows.
MOORING
The marina shoals on the south side, but as long as you stay in the concrete bulkheaded area you should be ok.  There is a tangle of lead lines installed by fishermen, however they are mostly secured to the bottom too close to the bulkhead to be worth considering.  Bottom is rocky and contains obstructions, such as concrete blocks, so when anchoring definately use a retreiving line/buoy on your anchor.  This can be a pretty windy place and getting a good set can be difficult due to the bottom conditions.  Find a space between the mostly small fishing boats and moor stern or bows to.  Be careful of the numerous ropes in the water.  There are good bollards to secure your boat and some of the blue boxes actually have working electricity and water connections, for which there is no charge.  There was no charge in 04/2009 to moor here. 
FACILITIES ASHORE
WIFI:
  We were unable to pick up an unsecured wifi signal in the marina but the closest cafe "Traffic" 100 yards away in the harbour offers free and unsecured wifi. 
UTILITIES:
The marina has a number of blue boxes dotted around with 220v electricity and water hookups.  Only a few are operational.  Electricity and water (if you can find it) was free in 04/2009. 
GROCERY STORES:
  Pigadhia is a large town and has a number of stores of all description.  Most, including a supermarket, an excellent Bakery and Butchers and Vegetable shops are located on the long one way street 1/4 mile inland that runs parallel to the shore.
CAR RENTAL:  The closest is Billy's car rental located up the road that leads due south (follow the marina perimeter road to the right).  They are friendly and have fairly new 4X4's which you will need to get to Olympus, for 30 euros a day (off season price).
RESTAURANTS:  A wide variety in town.