Fri Harbour, Kasos, Greece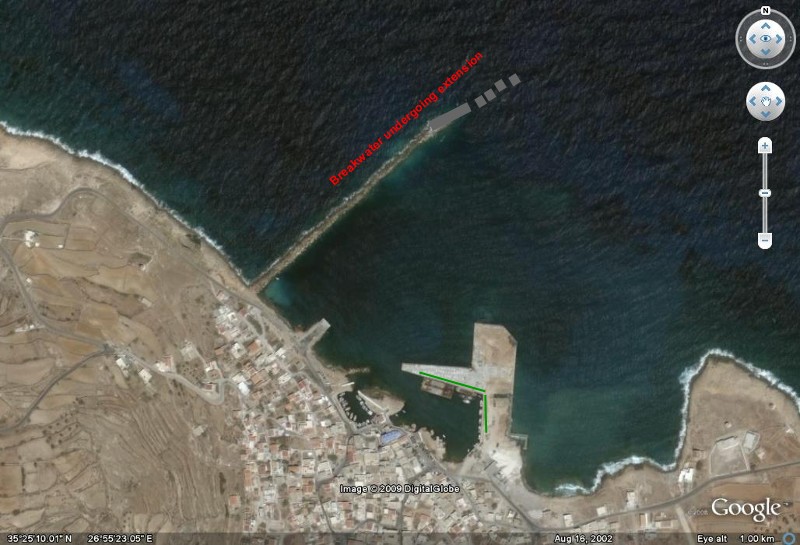 Not to be used for navigation
DESCRIPTION
This small harbour is in the middle of a substantial outer breakwater expansion project as of 04/2009. Large trucks drop riprap into a barge which is currently moored in a 'T' at the very end of the harbour wall (partially blocking the narrow entrance). A tug tows it out to the breakwater and back periodically.
MOORING
The main obstacles here are the resident fishing boats in the shallower south part of the harbour, the crane barge currently moored alongside the north wall of the harbour, and the dump barge tied up at the end of the harbour wall partially blocking the entrance. During our visit this dump barge was tended by a tug and was constantly in motion. It was moved out of the way for entering vessels. When we departed (in calm weather) we were able to snake around it. Good depths exist in the entrance, surprisingly close to the rocks. However the tugboat captain is friendly and will move the barge if needed. During our visit there was room for 4 or 5 yachts plus rafted boats inside the harbour. It would also be possible to moor 3-4 boats alongside the crane barge overnight if needed. Anchor out and stern tie, or side-tie and be prepare for boats to raft to you as needed. We side-tied. The one boat that we saw anchored out had some difficulty getting a good set. The orange buoy in the middle of the harbour is connected to the harbour wall with a black (hard to see) line. Leave that space free for the tripper boat that stern ties from it daily. South of that buoy the space is best left to the local fishing boats.
FACILITIES ASHORE
WIFI:
We were able to pick up an unsecured wifi signal in the harbour.
UTILITIES:
There are no utilities available in the harbour.
GROCERY STORES:
Fri Harbour is a tiny town with only the most basic supplies. However, incongrously there are several hardware stores.
CAR RENTAL: The Ferry ticket office also rents cars and is a source of information.
RESTAURANTS: A scattering of small tavernas around the harbour.