Rethymnon Marina, Crete, Greece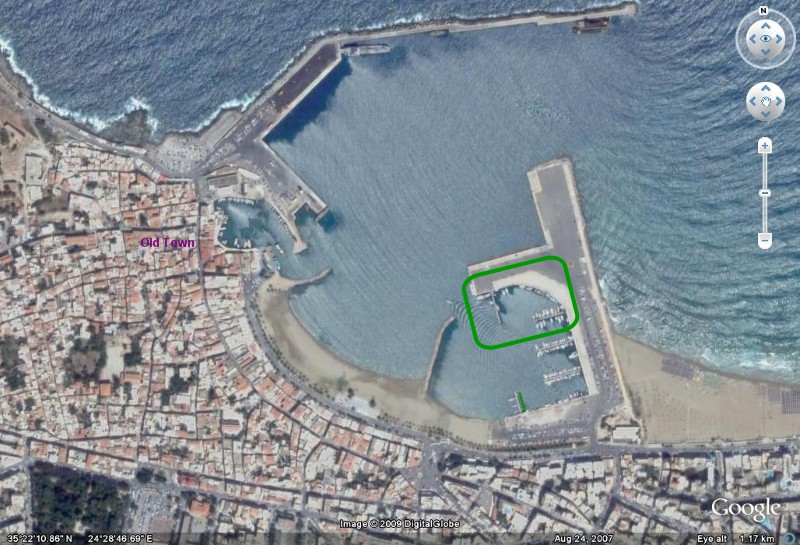 Not to be used for navigation
DIRECTIONS
Entrance is wide and clear into the main harbour then turn left.
MOORING
Most of the marina mooring space is allocated to small motor boats, so take a good look at the google photo above before coming in. The area closest to the entrance (circled in green) is suitable for cruising boats and there are also a couple of slips dotted around the haulout area (green line) that might work at a pinch. Berths are stern or bows-to with good quality if overly large (too big for some cleats) laid lines (04/2009) tailed to the pier. There is no one on duty at the marina so find an empty space and tie up.
DESCRIPTION
The Marina is completely protected from swell. It is a half mile walk to the most interesting part of town around the Venetian harbour. Rethymnon has a split personality. On the surface it looks like a typical budget tourist town with all the tacky hotels on the approaches, waterfront shops selling junk, cafes and music blaring. However a few streets back into the old town, the character changes. There are high quality shops, good restaurants and tavernas and a much more pleasant feel. This is a good safe place to leave your boat while exploring Crete by land. Although this is called a marina and looks the part, with finger piers, laid lines, water and electricity - there are no staff nor infrastructure buildings (office/toilets/showers etc) yet on site (04/2009). Port police charged approx 13 euros per day (for 15 metres), plus electricity and water at a hefty 20 euros per day (but no one showed up to collect from us!).
GOING ASHORE
The town is adjacent to the marina. There are no marina staff on hand. Payment should be made the the port police who are at the very far end of the Venetian Harbour. There is a man on a scooter 'Niko' who collects payment on site for use of water and electricity.
FACILITIES ASHORE
BEACHES: There is a pleasant town beach adjacent to the marina.
WIFI: The town has free wifi access. Connect to "Porto-Rethymno"
LAUNDRY: There is a laundry one block away from the harbour.
ELECTRICITY AND WATER: Available at most if not all slips.
CHANDLERY: Several along the waterfront, most cater mainly to diving and fishing interests.
GROCERIES: Several small stores dotted throughout town.
RESTAURANTS: There are a number of restaurants in town.
CAR RENTAL: The town is full of car and scooter rental offices. The closest, Arkadi, is at the end of the pier and is recommended by a fellow cruiser.