Plomeri Harbour, Lesvos, Greece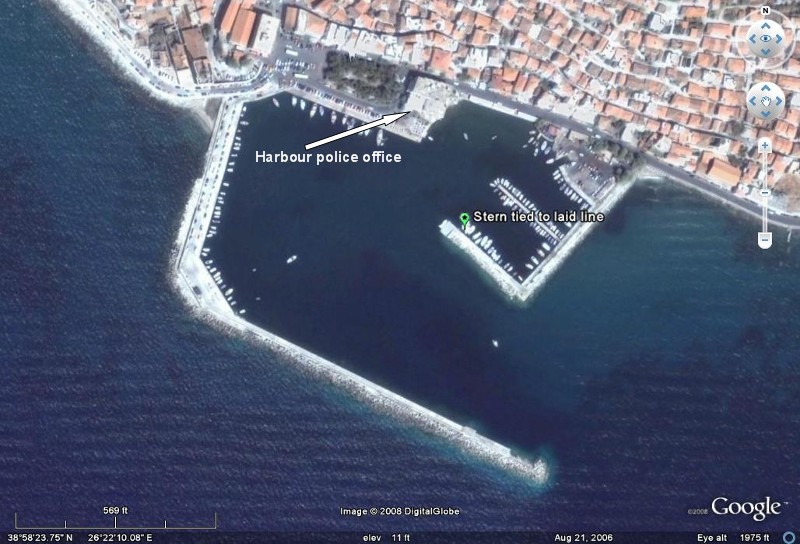 Not to be used for navigation
DESCRIPTION
This is an attractive little harbour in a very attractive small town.
MOORING
You can anchor out and tie up bow or stern to the harbour wall in front of the harbour police office, some swell gets in here. Better, we found a laid line that was available on the inner breakwater. It was the third position in from the end of the breakwater, and it was offered to us by the owner of the day-trip boat which moors at the end of this breakwater.
FACILITIES ASHORE
WIFI:
We were unable to pick up an unsecured wifi signal anywhere in town. There is an internet cafe "Afrodite' in front of the fishing boat harbour which is shared with a video game arcade - not too good for those skype calls!
UTILITIES:
The harbour offers 220v electricity and water at the location we were tied up. However the electrical connection is a large 5 pin red plug. Our normal size 5 pin plug would not fit. Water is also available, also with an unconventional fitting. We understand that this is intentional on the part of the harbour to restrict usage to local boats (who have the special plugs which ARE NOT for sale in the hardware store). If you need water the only conventional faucet is on the harbour wall 60m to the west of the harbour police office in an unmarked blue box. As for electricity buy a large red 5 pin plug before you leave home!
GROCERY STORES:
There are a couple of basic minimarkets in the harbour area. There are a number of specialist shops for in the village, mostly tourist oriented, however there are good fish and vegetable shops and a number of butchers. Some fishermen sell their catch in the mornings on the harbour wall.
CAR/SCOOTER RENTAL
There are at several car rental agencies in town. We highly recommend Chris(tine) at Imperial Rental Car (Ph +30 22520 32898) a few hundred yards along the road out of town to the East just past the disused factory building. There is no problem parking cars anywhere on the island and the prices (which are negotiable) are around €35-40 for a one day rental including full insurance and unlimited mileage. As noted elsewhere, this is a big island and cars make more sense than scooters here. Some of the best and most scenic routes involve long stretches over dirt roads - be warned!
RESTAURANTS
You are surrounded by traditional Greek restaurants in the harbour. There is a really nice square in the center of the village shaded by a large tree called Platari square which has a number of pleasant restaurants and a live band plays Greek music some evenings in the summer. The restaurant with the large horizontal mirror on the outside wall has a slightly different menu from the usual greek dishes and is worth trying.