Sitia Harbour, Crete, Greece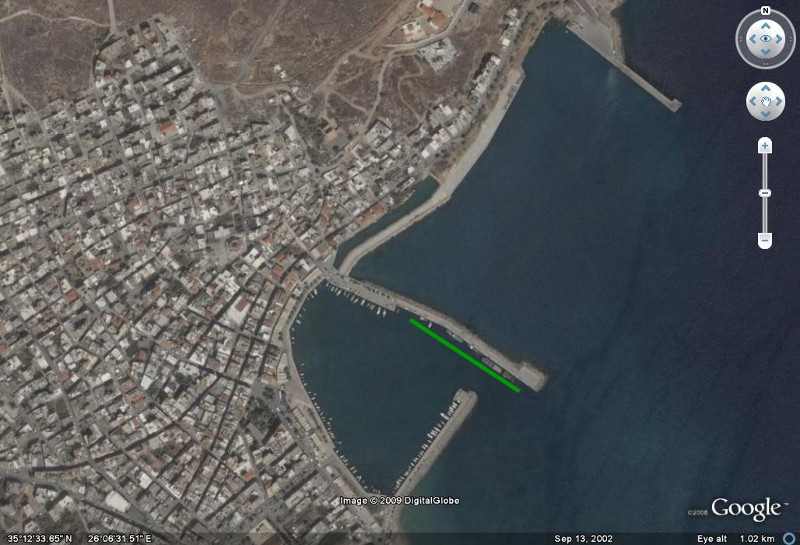 Not to be used for navigation
DESCRIPTION
This is a large harbour but with surprisingly few facilities.   Entrance is wide and clean.  Transient boats side-tie to the inner breakwater as shown (green line).  Note:  The wind picked up gravel and dust from the inner breakwater and plastered our boat with it.  The breakwater is currently the home of construction concrete blocks and a good amount of related debris is strewn around.
MOORING
The inner wall of the breakwater appears well protected both inside and outside the harbour proper.  There are ample bollards for side-tieing. 
FACILITIES ASHORE
WIFI:
  We were unable to pick up an unsecured wifi signal on the boat.  Most of the cafes around the harbour offer free wifi. 
UTILITIES:
There is no electricity available in the harbour.  There is a water faucet buried in the breakwater pavement about halfway along.  We did not test it.
GROCERY STORES:
  Sitia is a large, if uninspiring, town.  It has ample shops of all description.
CAR RENTAL:  Many.
RESTAURANTS:  Many.  The best is reputed to be "The Balcony" near the harbour.  We did not try it but the menu looked inviting.  Opposite is a small organic food shop with the same ownership.