Croatia
Alan's Log:
Joan's Log:
June 30th 2009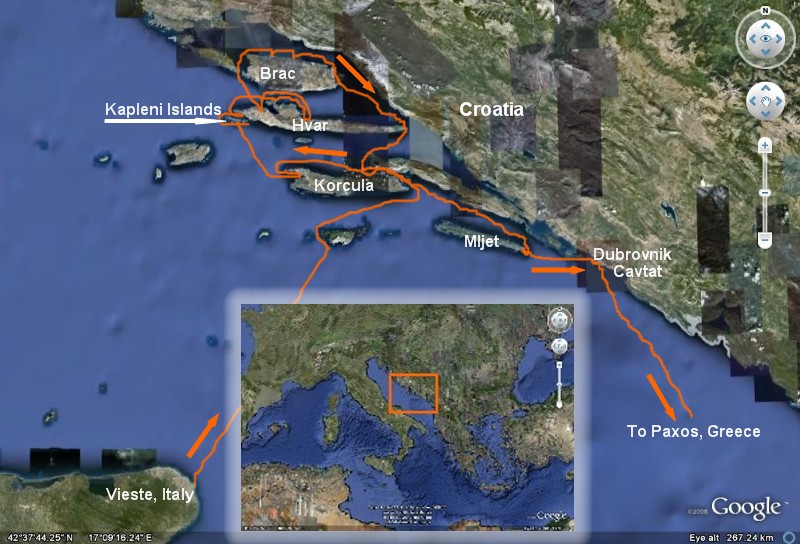 Not to be used for navigation
First steps
We had hummed and harred for months before deciding to include a visit to Croatia.  Initially we had planned to spend a month covering the entire coastline and perhaps head as far north as Slovenia, but our need to return home for a wedding in August meant that this would be reduced to a week or two at most.  We solicited input from our cruising friends who all had very fixed opinions on Croatia - they either loved it or they hated it - there seemed to be no middle ground. 

The reasons for this disparity are only likely to be important to you if you are thinking of planning a visit.  Croatia is being hyped on TV and in magazines as the next great vacation destination and we have had tons of requests for our input, so for those of you that are interested in that discussion, we have outlined our impressions on a
separate page
.
Because we really didn't have a lot of time to spend in Croatia, we decided rather than stress ourselves-out by seeing and doing as much as possible, that we would just concentrate on a small area and then see only the best  parts of that.  It turned out to be a good plan and we had a fantastic time.  Well...except for the fifty-six knot wind day, which Alan describes below.  He got a huge charge out of it, I on the other hand, was not good crew.  When you've got a mayday situation going on in the same locale, it's a pretty good indication that it isn't a good day to be out on the water.  I nearly kissed the ground when we arrived in Vela Luka. 
My reward for that hellish experience was meeting Shannon and Andy on the quay, where they helped us with our lines.  When I realized they were Americans... smiling, friendly Americans.  I thought, "wow!  This just never happens"  Later that evening they came by the boat and we hit it off right away!  They knew all about Hylas Yachts;  love them;  dream of owning one some day;  and had even talked to Kyle Jackney (co-owner of Hylas Yachts) on-board one at the Oakland Boat Show.  That never happens either, most people we meet in Europe are not familiar with Hylas as they are rarely seen in the Med.  We became instant friends and spent a very enjoyable few days together.  They are a bit younger than us in years, but I'd say we are the same age in spirit.  Shannon even shared the same exhilaration as Alan on the fifty-six knot wind day!  They are seriously motivated to do what we are doing.  I'm positive that in a few years they'll be "wintering in Barcelona", on their own Hylas!
Korcula Island - Forty, the new Twenty (knots that is)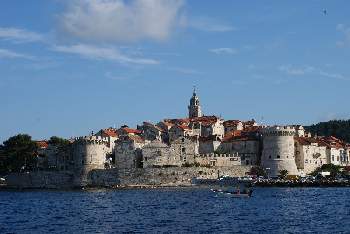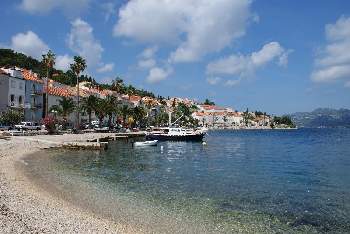 We spent our first night in Croatia in Korcula Town, a lovely miniature version of Dubrovnik. 

Korcula is a lovely town to walk around.  Nice and compact it has interesting architectural motifs on the walls and some intriguing statues, especially on the main church in the center of town.  Are Adam & Eve really doing what it looks like they are doing?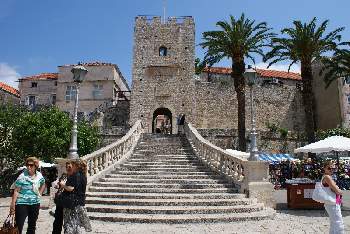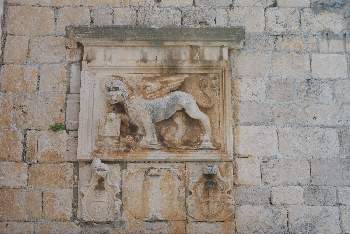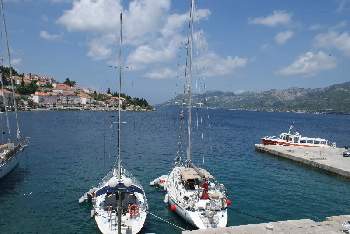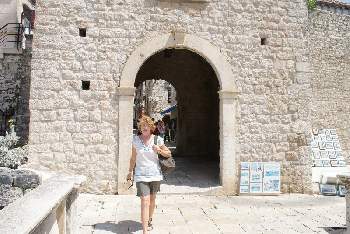 After a couple of days in Korcula Town we left for a gentle 30 mile day-sail along the island to the other end.  We anticipated three hours of idling along the coast while scoping out some good anchorages along the route.  As we left harbour and shut off the engine we had 10 knots of wind astern and I opened the main and gently eased off at about 3 knots.  Twenty minutes later the wind was 20 knots.  Half an hour later it was 30 knots and we were creaming along at 8-9 knots through the water, 10 knots over the ground.  I reefed the main down to its smallest size (about the size of a pup tent) as the wind hit 40 knots where it stayed with occasional gusts to 56 knots (62 miles per hour)- a new record for Moonstruck.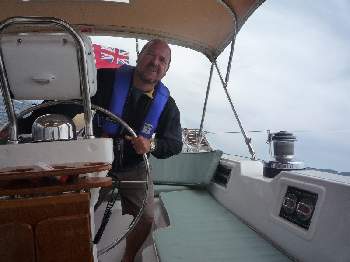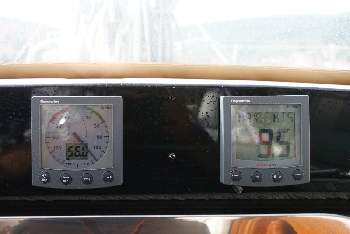 It was a hair-raising, exhilarating, downwind sail, perfect for excitement and thrills, but with the knowledge that a single mistake would spell disaster - an adrenalin rush for sure.  It lasted 3 hours but the wheels came off when we rounded the point at the end of the island and had to motor 4 miles in the opposite direction into Vela Luka bay against 35 knots and large close waves.  For a while we made only 0.5 knots forwards while leaping up and down about 10-20 feet every few seconds. Wind-driven spray made visibility practically zero.  At this time we saw a French yacht BALOU in distress, he was tacking to and fro in the entrance to the bay.  He called in a mayday.  He was unable to make any progress, had unidentified other problems and his engine had failed.  We were powerless to help him, and could barely make progress ourselves for an hour or so, then we managed to get to the comparative shelter of the hills where the seas moderated allowing us to crawl into harbor, synapses snapping, adrenalin rushing and with just a little bit of fear ebbing away. 

Eventually a Croatian rescue boat arrived to the aid of the BALOU and we could shut off the radio and relax. A couple of hours later the bedraggled BALOU arrived in tow of a policeboat.  As I helped them tie up I looked into two very tired faces etched with fear. 

A little later Shannon & Andy dropped by the boat.  They had chartered a small yacht and braved the same conditions on a far smaller, lighter boat - and they were still smiling.  A young couple from Lake Tahoe, their eyes danced with ideas of a future life sailing around the Med full-time.  It was fun talking with them, they reminded us of ourselves a couple of dozen years ago!  Full of dreams and questions.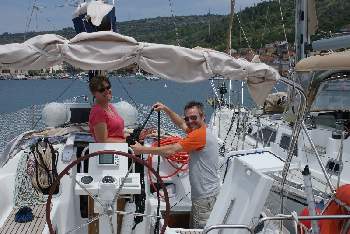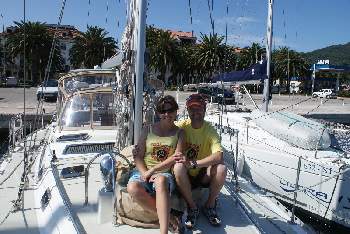 The next day we had breakfast on board their boat and shared stories.  They had been beaten-up pretty bad coming in to Vela Luka shortly before us, their light boat was thrown around far more than ours and on a strange (chartered) boat they heard loud unexplained noises.  Over breakfast the conversation drifted to anchors, as it often does with sailors, and I went to the bow to look at their tackle.  I did a double-take, there was no anchor on the bow!  Opening the chain locker revealed no anchor there and no chain either!  I wondered how to broach the subject as I returned to the cockpit. 

"Umm, so where do you keep your anchor then?" 

I asked, feeling quite stupid.  Andy came forward with me and we both stared silently into the empty chain locker.  Apparently the anchor had come free in all the pounding the previous day and taken all their chain with it, eventually wearing through the strap that secured the bitter end to the boat.  It was all now at the bottom of the ocean.  Andy recovered quickly -

"No wonder we were so slow coming around the peninsula, we were dragging an anchor and 250' of chain."

Hvar Island
- Hvar Town
Hvar Town bustles with tourists of all kinds.  There are ferries, day-tripper boats, coaches and it almost seems like a mainland town rather than a small island town.  The harbour is incredibly congested.  At night, the day-tripper boats were rafted 10 deep off the quay.  We tied up along the harborfront with a grandstand view of all the activity.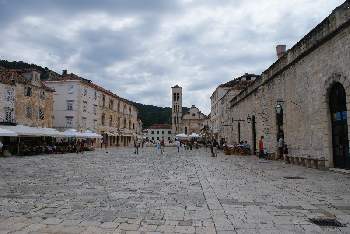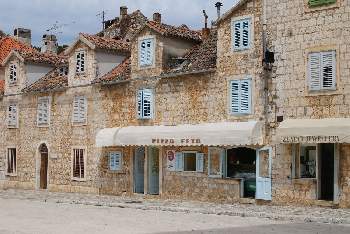 - Kapleni Islands

The low-lying Kapleni Islands form an intricate ink-blot shape and are just a couple of miles south of Hvar Town.  With their convoluted bays every mile or so, they provide lots of anchorages, but not much to see except on diminutive Jeralim which is a nudist island.
We anchored for three days in Vinogradische Bay on the main island of SV Klement.  It is a great anchorage, no more than 15' deep and well protected with warm water for swimming.  Every day a new crowd of charter boats anchored for the night, leaving early the next morning.
Vinogradische is also accessible from Hvar town by foot ferry and the antics of day-trippers at the waterfront bar made for an entertaining afternoon one day.
- Vrboska & Jelsa, Hvar Island 
We anchored outside these two villages for three days.  We found a nice protected anchorage midway between the two villages and about a mile from each.  We had clear water to swim in, small limestone slab pocket 'beaches' within swimming range and a pretty trail through pine forest for exercise.  There is a large family-style hotel hidden in the trees.  It looks quite rundown and about the only disturbance came from its concrete beach - children laughing, a lovely sound.  On Saturday night for a few hours there was a disco which played a bizarre mix of music and then abruptly shut down at about 11pm.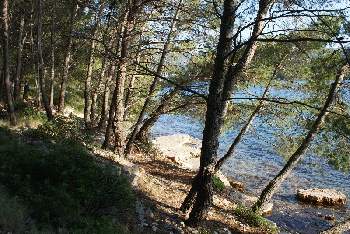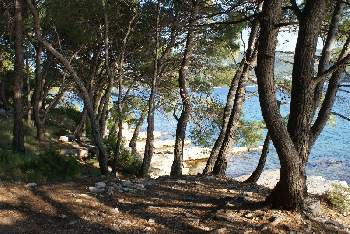 Vrboska promotes itself as the Venice of Croatia for its bridges.  That's quite a stretch.  It would better have been called "The Budleigh village of Croatia!"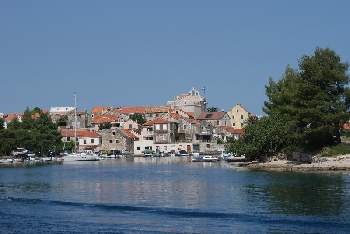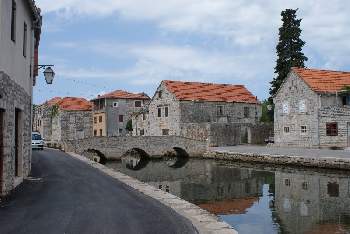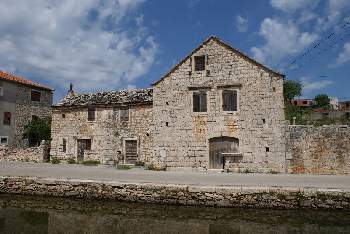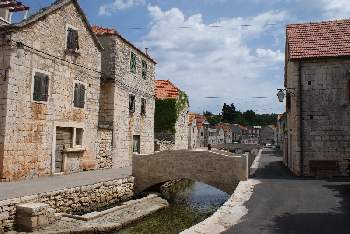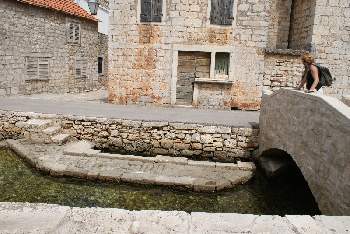 It is a small, quiet village with a notable Norman church and a stream running along the main street.  Next to one bridge are the remains of  an old stone clothes-washing area in the stream.  Very pretty.  No one in the streets and not much going on.

Jelsa is just a mile or so away and is larger than Vrboska with more varied architecture and the island's main ferry terminal.  It also seemed a little livelier than Vrboska, with several shops, a tourist office and a stall selling vegetables.  


Texas BBQ!
For tha past few days Joan has been craving Texas Barbecue & Potato salad.  The more she talked about it, the better it seemed.  After a couple of extremely mediocre restaurant meals we had given up any idea of eating out and this seemed like a good cooking project.  We knew it would be an improvisation so we set off to see what we could find.  Jelsa has only one butcher and fortunately he was open.  Joan had looked inside earlier and reported no meat in the display cabinets, but there was a cold-storage locker in back which looked promising.  We got the butcher to open it up for us and looked inside.  There was nothing that we recognized hanging-up, but there was a large chunk of what looked like pork brisket (if there is such a thing), so we ordered half of that and took it back to the boat with some fixins (ketchup and a fennel bulb to use instead of celery for the potato salad).  A few hours later the air was redolent with the smell of BBQ roasting in the oven.  We fired up the grill and finished it over the fire.  Joan doctored up the ketchup base with garlic powder, brown sugar, colmans mustard powder, apple cider vinegar, chilli powder, instant coffee, worcestershire sauce, fresh lemon juice and fresh ground pepper.  It was an unlikely but heavenly mix and we discovered that fennel bulb is a great substitute for celery in potato salad.  Its anise flavor goes really well with the sweet BBQ sauce that we made.


- Stari Grad, Hvar Island 
Is a medium-sized town and harbour.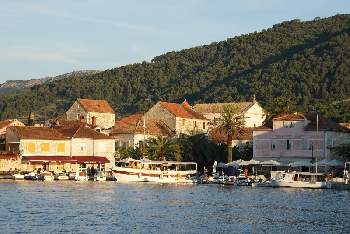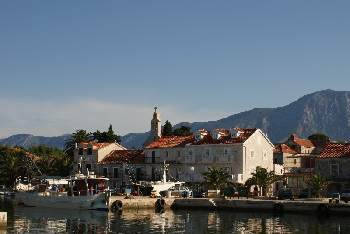 It is very attractive and the first place we have come to in Croatia with a vegetable market so we stocked up our dwindling fresh supplies here and managed to connect to the internet for a short while where we learned via Facebook that we have friends in the neighborhood.  


Brac Island
Time is running out for us in Croatia, we have places to go and people to meet!  We did a quick circumnavigation of Brac before heading back south, and found a lovely quiet anchorage in an isolated bay with just three fishermens cottages dotted around it.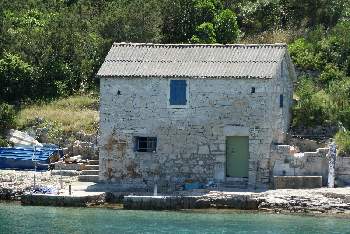 The bay had no road access and no electricity.  After a swim and a rest we moved on, waiting out a windy day in another quiet, protected anchorage before sailing down to Sucaraj at the extreme SE of Hvar.  Sucaraj was also the cheapest harbour of our visit to Croatia, at about $30 per night with water and electricity.


Hitchhikers
The next day we hooked up with sisters, Abbie and Jess; the charming young nieces of good friends of ours Jayne and Martin Seabrook (Martin crewed with us on our voyage down to the Caribbean and then across the Atlantic)  A & J have spent the last four months backpacking through northern and eastern Europe.  We were both impressed with their ambitious itinerary and the sheer number of countries they have visited.  I was almost jealous, like..."how come I never get to travel!?!"  They have been staying in youth hostels, budgeting their money carefully and even working for a while in a taverna in Greece to extend their travel kitty.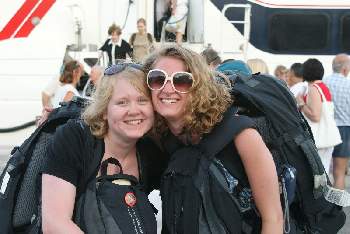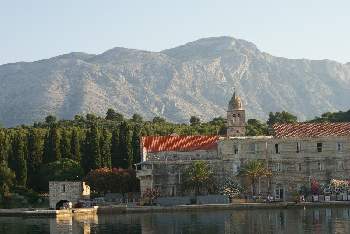 We met them off the ferry in Korcula Town.  The wind had been building during the afternoon at our mooring on the harbour wall so we immediately set sail for a nearby quiet anchorage for the night, then the next day sailed on to Dubrovnik with them.  En-route we stopped for a swim in a nice protected bay with a sand beach! - our first and last - at the very end of Mljet island.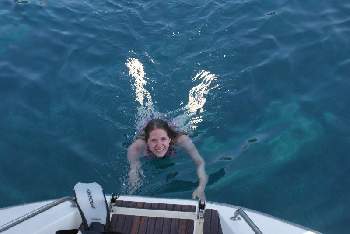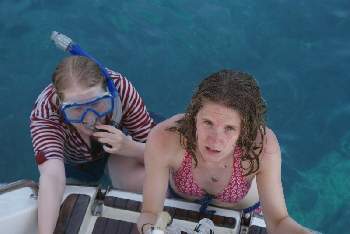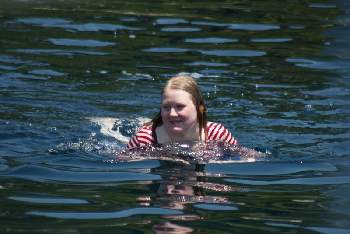 Dubrovnik
We visited Dubrovnik together.  A beautiful city in a stunning location and one of the highlights of all of my travels.  It was in Dubrovnik that we also met up with good friend Sarah and her husband Robert, along with their son and daughter and a posse of five young friends.  That night the whole group (13 of us!) wandered the side streets in search of a place to have dinner.  Under a billowing white canopy we found an atmospheric restaurant tucked into a medieval back-alley and in the shadow of a centuries old church.  The perfect mix of ambiance and company more than made up for the rather bland food.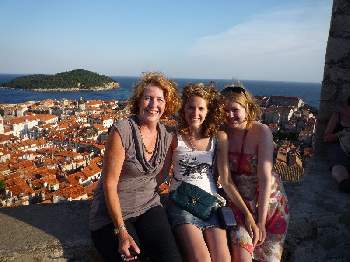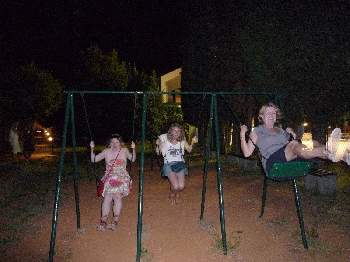 A&J decided that Moonstruck made an acceptable floating hostel and they hung out with us in Dubrovnik for a couple of days where the marina has a swimming pool and a swing set (sweet!).  Sadly we couldn't convince them to sign on as permanent crew, and before we knew it they were off to the bus station for the next bus to Bosnia. 
Reluctantly I had to say goodbye to Croatia and my new friends Abbie and Jess, I could have kept them on indefinitely, but we had time constraints, places to go and people to meet, and so did they.  We were leaving the next morning for a long voyage back to Paxos, Greece, where we will rendezvous with Wil and Jeanne our good friends from Holland for a few days, before another long passage to Sicily then Malta and home.
As much as I enjoyed the beauty of Croatia, I wonder was it the jouney and the places visited; or the people we met along the way that made the difference?   Definitely it was the combination of the two that made the whole experience that much sweeter.  I  know I will always treasure the memory of our short stay there.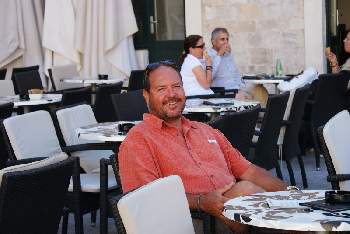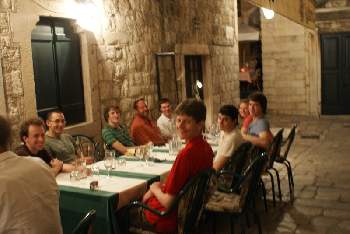 Go to pros & cons of Croatia
Next.......Sicily & Malta, Sardinia