The Balearics to Gibraltar to Lagos, Portugal
Alan's Log:
Joan's Log:
NEW: Lauren's Nest:
September 20th 2009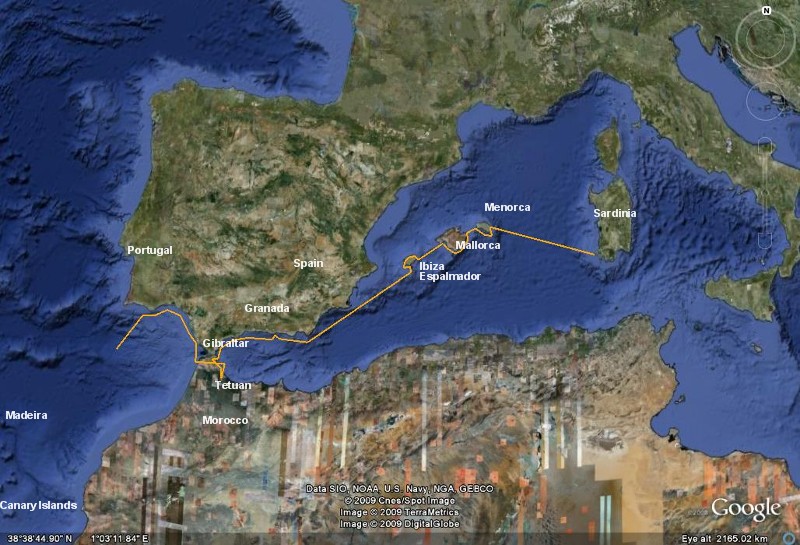 Not to be used for navigation
Passage to Menorca
Moonstruck is behind the 8-ball again! We dawdled around Malta enjoying the company of our friends on GYATSO and now we have put ourselves on a tight schedule and have to hustle to make Palma, Mallorca in time to pick up Syl, a friend from Washington State. We also want to visit Menorca on the way because it is the only Balearic Island that we missed two years ago when we were heading east. According the guidebooks Menorca is less developed than the other islands in the group. We set sail from Sardinia and arrived at Mahon on the east coast of Menorca after an overnight passage of 190 NM taking 28 hours.

We were able to sail the first 5 hours before motoring the rest of the way. Motoring makes night watch simpler but more boring. We look out for lights from other ships and we watch the radar screen to track them and ensure we stay out of their way. Staying awake is the main challenge and here the VHF radio can help. As we enter the Spanish Mediterranean, radio traffic increases significantly. Fishing boats call each other using nicknames and whistles and then chat the night away adding to the Italian radio traffic and an American accented newcomer;

"This is NATO warship 39 calling XYZ (ship's name)."

During the night this American NATO warship spoke with at least half a dozen cargo ships (using AIS he is able to identify the name, position and course of any commercial ship within range of his AIS receiver). He had a set list of questions to ask each ship in turn, however his first question was usually the dealbreaker.

"Captain, are you aware of the NATO operation ACTIVE ENDEAVOR?"
The reply sounded like "Gorhen?"

"Are you aware of the NATO operation ACTIVE ENDEAVOR?"
"Zlot?"

"Sir, operation ACTIVE ENDEAVOR" is a NATO program of awareness. All ships transiting the Mediterranean are asked to report any terrorist activities to NATO Mediterranean command. Do you have any suspicious activity to report?"
"Gorhen fligmap!"

"Captain, Operation ACTIVE ENDEAVOR" is a NATO program of awareness. All ships transiting the Mediterranean are asked to report any terrorist or suspicious activities to NATO Mediterranean command. Do you have any suspicious activity to report?"
Long silence

"Captain, does anyone on your vessel speak English?"
"Moment"

Five minutes later an obviously sleepy crewman takes over the radio responses...
"Yes"

"Captain, Operation ACTIVE ENDEAVOR" is a NATO program of awareness. All ships transiting the Mediterranean are asked to report any terrorist or suspicious activities to NATO Mediterranean command. Do you have any suspicious activity to report?"
"No"

"Captain, if you see any suspicious activity while in the Mediterranean will you report it to NATO Mediterranean command?"
"No, No see notting"

"I understand, but Captain, if you DO see any suspicious activity while in the Mediterranean WILL you report it to NATO Mediterranean command?"
"No NOT report! No see notting"

"I understand captain, but IF you DO see ANYTHING will you report it to NATO central command?"
"See NOTTING!"

"Sir, the phone number for NATO central command is XXX-XXX-XXXX. Will you call this number if you see anything suspicious?"
No call. See notting"

"OK Captain, thank you for your cooperation, have a safe watch. This is NATO warship out."

While empathizing with the obviously frustrated NATO radio operator, several somewhat obvious thoughts occurred to me;
~ This area of the Mediterranean is trafficked by Moroccan, Tunisian, Greek, Turkish, Philippino and Indian crews. Can't a U.S. warship assigned to the Mediterranean specifically to make contact with these ships arrange to have someone on the radio that speaks a language other than English?
~ The sole purpose of the communication we overheard was to raise awareness; at no point did the NATO ship approach let alone board any vessel. Surely there are more effective, cheaper means of raising awareness than driving a huge warship around the Med in the middle of the night. Perhaps mailing a pamphlet to the shipowners would be a good start?


Balearic Triangles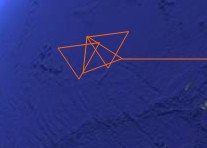 Early the next morning Moonstruck was on auto-pilot when she inexplicably turned through 1080 degrees (three complete rotations). The track on the chartplotter clearly showed a trail of three distinct equilateral triangles in our wake!

She then set off on the opposite course back to Sardinia without our noticing for several minutes. We have no rational explanation for this. The auto-pilot remained engaged throughout and has worked flawlessly before and since this event.





Menorca
We pulled into Mahon at 4:30 pm and marveled at this attractive town bordering a long cala. The town of Mahon is a very civilized place and it only took a short trip ashore for to Lauren announce that she could live here.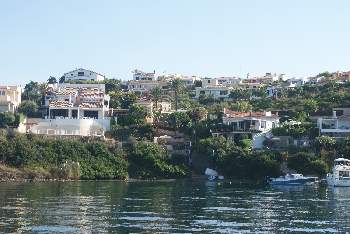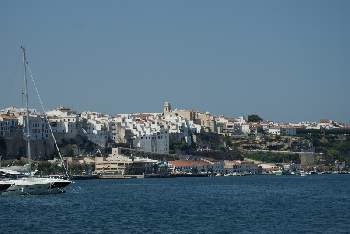 Unfortunately it also houses the most expensive Marina we have yet come across at $180 per night. I was able to negotiate a small improvement to $150, but clearly we were not going to stay here more than a night at these prices. The next morning we found an anchorage on the other side of the cala that allowed us to dinghy ashore and do a little exploring. We then headed south around the island for a couple of days stopping at 5 undeveloped calas with lovely beaches where we were able to anchor and let Lauren have some beach time.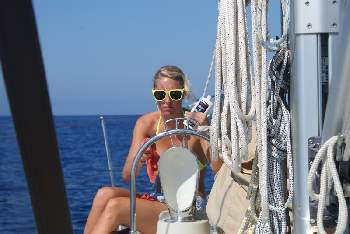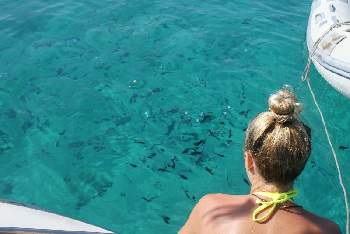 The calas were uniformly pretty with nice sand; however they were all quite small and crowded.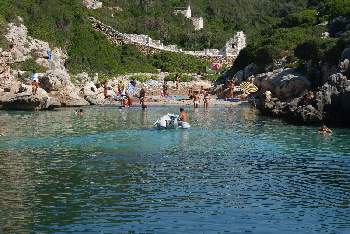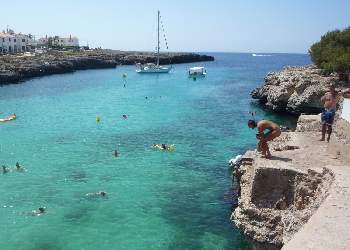 Finally we pulled into Cala Blanca on the west coast for a lunch stop and an internet hookup before the short three hour 22NM sail for Mallorca.


Mallorca
Cala Molto looked like a great anchorage for our dusk arrival in Mallorca, completely protected from the prevailing wind, however we spent a sleepless night as the swell rolled in at right angles to the wind and Moonstruck rolled through 60 degrees every few seconds ALL night.

We moved down the coast and the next night was spent at Porto Colom where we should have anchored, but instead we found a marina and were charged $110 to tie-up in a smelly bay with inadequate electricity (89 volts will not trigger our charger or air-conditioning).

The next morning we moved on to an anchorage on the south coast of Mallorca that had previously served us well, just off the quiet resort town of Colonia St Jordi (link to our visit in 2007 ). Unfortunately this too proved to be subject to swell on our return visit and yet another sleepless night ensued.

The next morning we motored in to Palma - the lovely capital city of Mallorca. We had reserved a slip at the Reial Club Nautico de Palma which is the most convenient of 5 marinas for the old city. Approaching our slip there was quite a strong wind blowing from exactly the wrong angle, we were all tired and perhaps that explains why it took us an hour to get tied up. The wind made it impossible to pull into the slip assigned to us; the bow thruster quit from overuse; we destroyed one of our dock lines and our nerves were also quite frayed by the time we eventually tied-up in a different berth. Within minutes Syl arrived for her vacation stay with us, to find us sitting in a sweaty funk, surrounded by huge piles of laundry needing urgent attention.

Eventually we all relaxed, the air-conditioning cooled us down, the laundry pile assumed a less frightening dimension and a bottle of chilled Cava certainly helped before we headed in to Palma for a nice relaxing Tapas session at Lizzaron.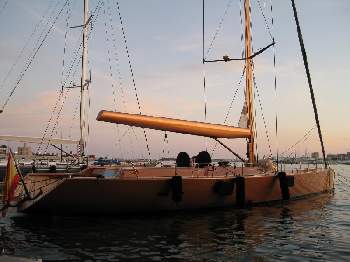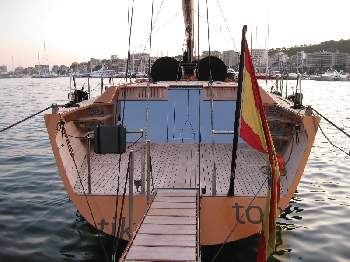 We spent a few days basking in the civilization of Palma. We replenished our stores, finished the laundry and left for Ibiza with three solid air-conditioned nights sleep behind us.


Ibiza
It's a full day's sail to Ibiza from Mallorca so we left early in the morning and arrived at the NE coast of Ibiza at dusk. We chose this location as the chart showed no less than 4 anchorages in the vicinity and we felt confident one of them would have calm water. We weren't quite done with sleepless nights however, as the best of the anchorages at Cala Vicente proved to be just as rolly as our earlier Menorcan/Mallorcan anchorages - our pattern of sleepless nights at anchor continued.

We decided we would sail down the west coast of Ibiza that we had not previously visited. It looked more interesting on the chart than the east coast and proved to be so. The next morning we headed around the top of the Island heading west. We anchored in tiny Cala Serra for lunch while I continued to work on the forward head which had become blocked in Palma. I eventually had to remove the entire pump from behind the paneled wall (not easy in 90 degree heat, working at arm's length with only room for one hand behind the paneling) and replace all the seals in the pump before we could pronounce it fit for duty.

The west coast of Ibiza is almost completely undeveloped and extremely rugged with massive rock islets and overhanging cliffs in pleasing colors. It reminded me of the NW coast of Corsica around Girolata Nature Reserve. We saw the occasional house or small development tucked away in a valley but overall we were amazed that "The Party Island" was proving to be so beautiful.

Sleepless nights and protracted toilet repairs do not make for a happy crew.........It was time for our luck to change! We pulled into Cala Binirras for the night. At last - a wonderful calm anchorage with no swell! There was also a busy beach and a series of caves in the cliffs along each side which had been converted into boathouses and taken over by hippyish groups of naturists. Ashore were a couple of bars playing good music. We swam off the stern and fed the fish while Lauren went to the beach for some rays. In chatting with another cruiser anchored nearby we learned that the bay is famous for its sunsets and that every Sunday the sunset is serenaded by dozens of local drummers who set up camp for a night of partying on the beach. It happened to be Sunday and my first thought was that having finally found a calm anchorage, we would be kept awake by the sound of bongos echoing across the water all night. Fortunately it was not to be. We watched the sunset from the boat where the pleasant rhythm of the drums was quite muted, and then we headed to the beach for some local color and watched the drumming and dancing for a while.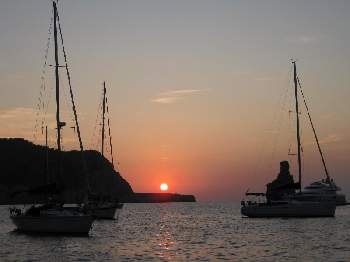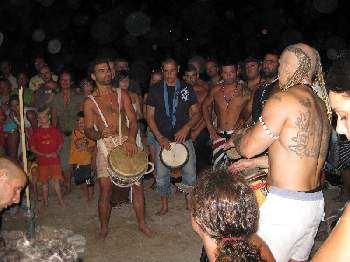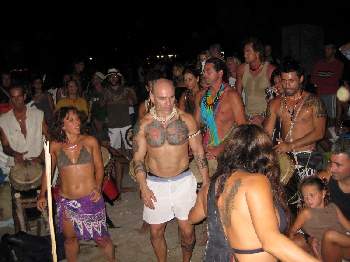 It all seemed to quiet down at around bedtime and finally we slept undisturbed.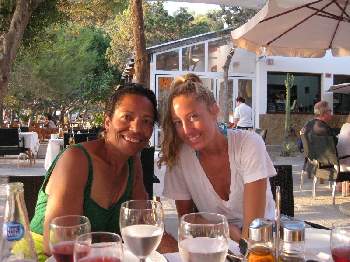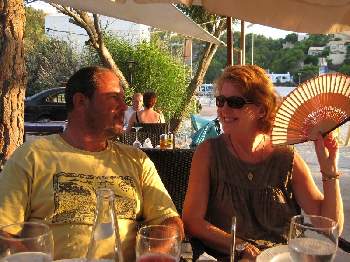 We moved on to Cala Vadella. Most of the bay is taken up with private moorings but there was, just, room for us to anchor near a large motorboat (we had to move several times as the contrary current brought us uncomfortably close) at the mouth of the bay. Ashore was another nice beach, less crowded than the earlier beaches, with a small village and several stylish restaurants. We took the advice of a British couple anchored nearby and enjoyed a good meal at the prettiest restaurant.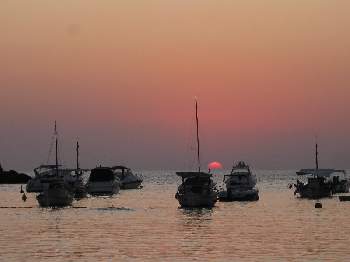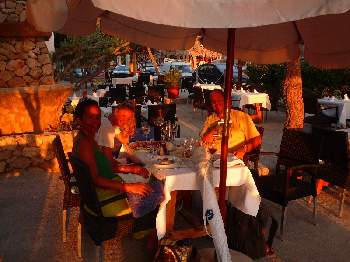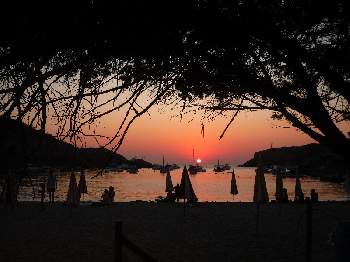 Syl's last 3 days on Moonstruck were spent in Ibiza town where we tied up at the Yacht Club Marina, a friendly disheveled, down-market kind of place within easy walking distance of Ibiza town.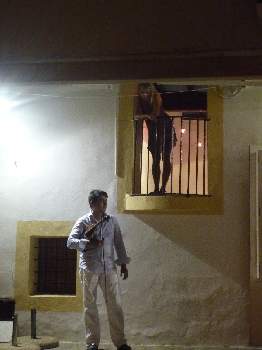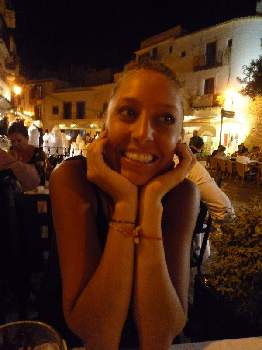 Espalmador
I simply can't visit Ibiza without a stop in Espalmador. Syl flew home from Ibiza and the next morning Lauren took the helm and plotted a course for tiny Espalmador. Espalmador

is a small privately-owned island with a lovely protected bay surrounded by a scythe-like white sand beach. For me the fascination with Espalmador is two-fold. It is one of the few beaches in the Mediterranean that can hold a candle to the Caribbean beaches, and when that gets boring, there is the constant parade of naked blue people walking the beach, putting it on a par, at least in that respect, with St Martin or St Barts.

There is a saltpan in the center of the island containing a blue clay which is reputed to do wonders for the skin. At least half the island's visitors head for this natural 'spa' and daub themselves all over before returning to walk the beach while the mud dries, sucking out all their impurities.

What fascinates me is the effect that the mud has on the participants. It seems to provide them with the illusion of clothes, and a certain degree of anonymity. Most of the daubees are wearing swimsuits on their way to the salt-pan, but after a slathering of mud they are only too keen to parade up and down the beach enjoying their freedom protected by the anonymity of the mud.

We did this a couple of years ago, but on this visit I was content to sit and watch the parade, while Lauren plugged in her ipod, closed her eyes and tuned out.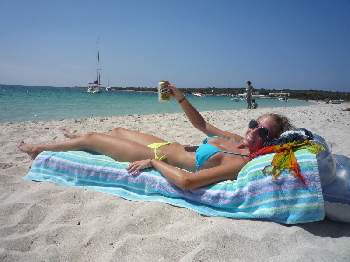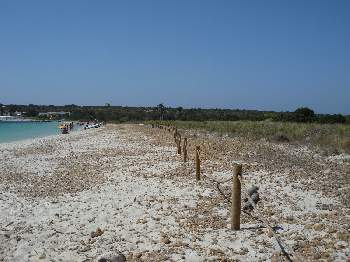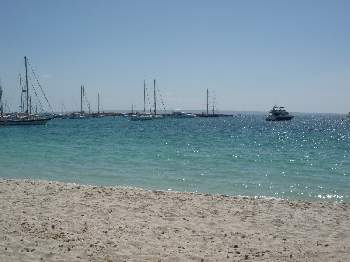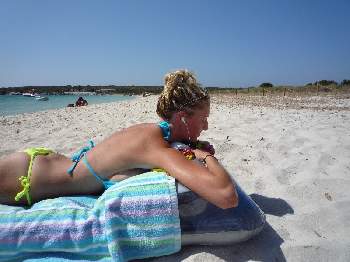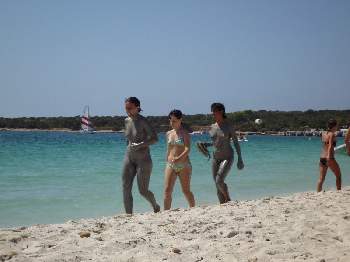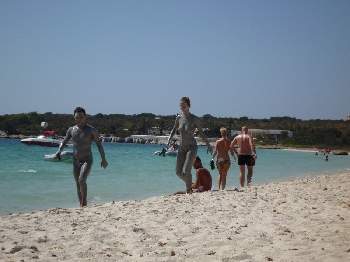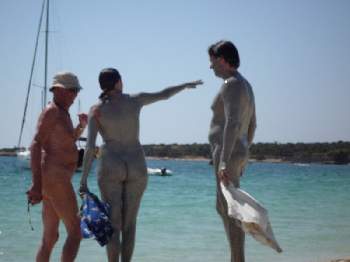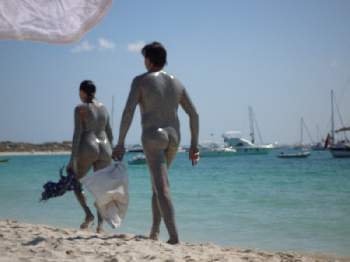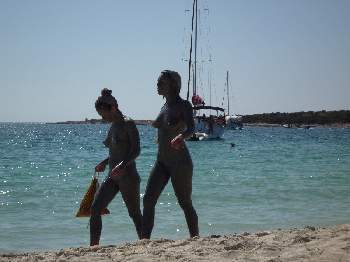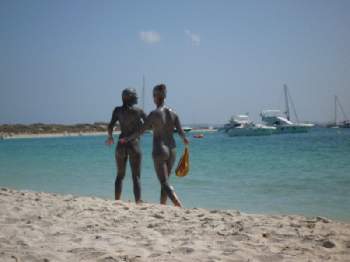 The next morning the wind picked up and veered to the East just as forecast and we stepped out into it and had a wonderful downwind sail 237NM from Espalmador to Almerimar Spain at an average speed of 8.33 knots.


Southern Spain
Our days of finding a free cove to anchor in for the night have come to an abrupt halt. From the sailor's perspective the Southern Coast of Spain offers few, if any, decent anchorages, but it does have plenty of reasonably priced marinas with good facilities. Our electrical system benefited from being plugged in to a full 110 volts for the first time since we entered the Med.

We stopped at Almerimar, the cheapest and probably the largest marina on this coast and replaced several worn sheets (sheets are the ropes that attach to the sails) and our overstressed, chafed dock lines. Almerimar is a self-contained marina/condo development with a good small supermarket and all necessary facilities for living while having no real atmosphere at all. It was a perfect base from which we were able to rent a car and drive inland to Grenada, home of the fabled Alhambra of the Moors. We had been impressed by our visits to Moorish towns and fortresses since our arrival in Portugal in 2007 and were able to visit the highly impressive Alcazar in Seville, but the pinnacle of Moorish civilization was created in the city-state of Grenada in 1333-1391.


Grenada and the Alhambra road trip
We started off with a bus up the hill to Sacromonte. High on a cliff overlooking the Alhambra is cluster of cave dwellings, no longer inhabited, but as late as the 1950's, was home to the gypsies of Grenada. It is here it is said, that the origins of flamenco began. Long ago in the evenings by the light of campfires with the twinkling lights of the palace in the distance, spontaneous dancing would erupt to the accompaniment of vigorous handclapping and Spanish guitar. Today flamenco is big business in Grenada and touristy shows are easy to find. Finding the real deal takes a bit more effort. If you want to have a more authentic experience, I suggest doing a lot of homework; you can still find serious dancers, performing late at night in tiny out-of-the-way bars. We didn't have any luck, the shows we wanted to see were either on the wrong night for us or the venue itself was closed, as we discovered after walking up and down the back streets for an hour or so. Not a huge disappointment, we have seen flamenco before and it gave us a chance to explore the city after dark. Grenada is a university town, so there was a party vibe going on, the bars were busy and the kids were spilling out onto the streets, having fun.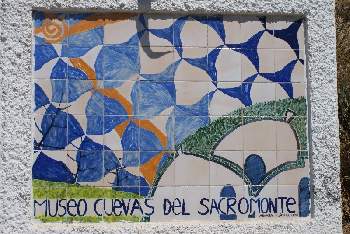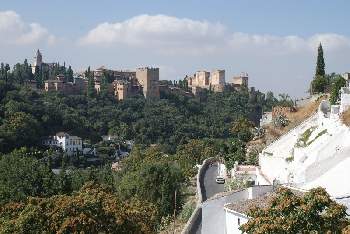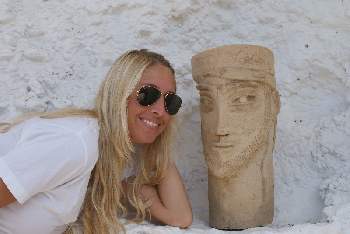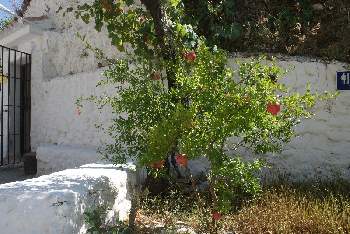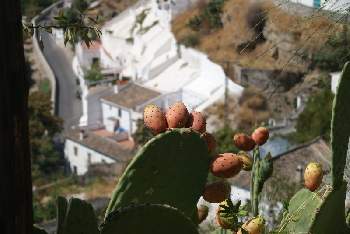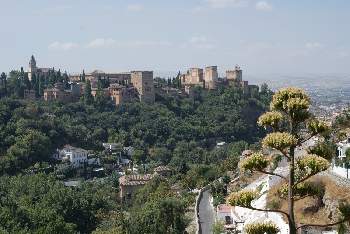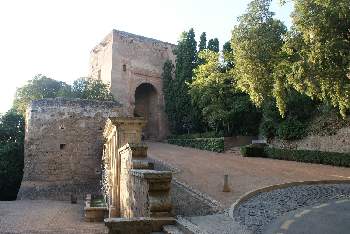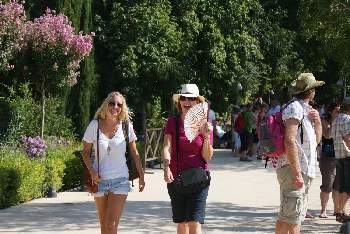 "Nothing in life could be more cruel than to be blind in Grenada" an inscription on a wall in the Alhambra
Fairy tales are what come to mind in the hauntingly beautiful palace of Alhambra; the romantic music and stories of Scheherazade, The Arabian Nights, Ali Baba and the Forty Thieves, Aladdin and the Magic Lantern. The American author, Washington Irving, who wrote The Legend of Sleepy Hollow and The Story of Rip Van Winkle, was so inspired while visiting Alhamba that he stayed and set up a studio within the palace, writing stories of Arabic lore and intrigue.
Southern Spain was occupied by the Moors for centuries. Gradually they were pushed out by the forces of Christendom, leaving their homes, palaces and cities behind as they retreated back to Northern Africa. Their influence remains in the architecture and cuisine of the Andalusia region. Grenada was one of the last strong-holds of Moorish culture, with the opulent palace of Alhambra, home of a long line of sultans, as its crowning jewel, sitting on a bluff overlooking the city. In 1492, Boabdil, the last Sultan to occupy the palace was given the boot by King Ferdinand and Queen Isabella of Spain, who wanted to set up housekeeping in the palace themselves.
Boabdil, rode away from the city with his entourage of wives and court to Cadiz where they would board a ship for Africa. He turned to take one last look at his beloved home and burst into tears when he saw the Spanish Flag flying over the palace walls. His mother, who was riding with him, said in disgust, "Do not weep like a woman, for what you could not defend like a man!"
Later that year after Ferdinand and Isabella were comfortably settled in, it was in the Alhambra that Christopher Columbus paid a famous visit to the King and Queen before setting off to discover the New World. In later years Alhambra suffered at the hands of various residents; Ferdinand and Isabella's son Emperor Carlos V caused a tremendous amount of destruction while redecorating and adding on. At one point it was nearly blown up by Napoleon's troops.
Today having been painstakingly restored to its former glory, it is a major tourist attraction. To preserve the integrity of the palace, visitation is allowed in strictly controlled sessions throughout the day. I cannot over-emphasize the importance of getting tickets early. Even though it was mid-September, and we ordered tickets four days in advance, we still had trouble booking a session that worked for us. We got the 6:00pm session, and arrived at 5:00 as we were instructed to pick up our tickets, to find a huge crowd ahead of us waiting in line for the same 6:00pm session. I admit we've been spoiled and prefer a more intimate experience when we visit historical sites, being herded through like cattle is not our idea of fun. Yes, it is an impressive palace in a beautiful setting but to be honest, we were disappointed with our visit; there was no signage explaining the rooms, and there were so many people in our session that we simply gave up trying to take pictures. I think all of us preferred the Generalife with its dreamy gardens and pools where the sultans would go to seek peace and quiet, and drama. It was in the gardens that one of the sultan's wives was discovered in a liaison with a secret lover, which ended in tragedy, ruin and deaths of all her children. On a lighter note, the gardens of the Generalife were gorgeous and there were less people interfering with our photography.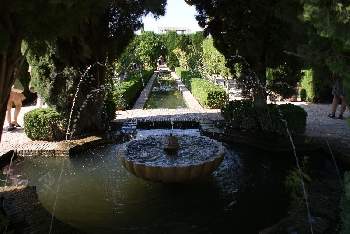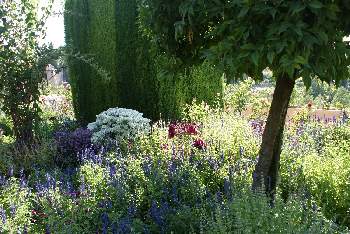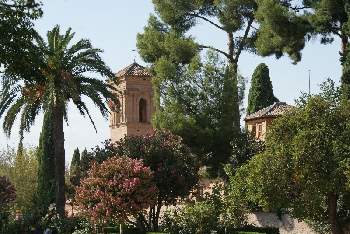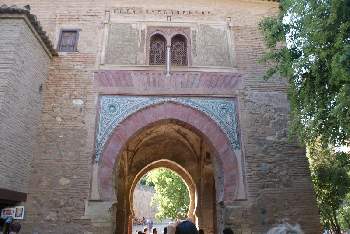 Our photographs end at the entrance gate to Alhambra because unfortunately we were processed through the interior in a large group and it was impossible for me to take pictures that reflect the beauty and more importantly, the serenity of the place.

After Grenada we hustled onwards towards Marbella stopping for a night enroute in another soulless marina at Benalmadena. We then spent two nights in Marbella where we were able to meet up with Bruce, an old friend from my 20 years in Houston, Tx. Bruce just happened to be in Spain on a business trip. We spend a very relaxing day reminiscing and telling stories.


Gibraltar, coming and going
Gibraltar is not one of our favorite places, but with new crew on board it made sense to stop off and let Lauren draw her own conclusions while taking in the obligatory trip up to the top of the rock to see the view and the monkeys. It's also a good place for a curry! As we rounded the rock we saw a Crowley barge working to salvage the "NEW FLAME" a ship that had been wrecked during our previous visit to Gibraltar in 2007.


Tetuan, Morocco and the Medina
We were making such good time along the coast that we found ourselves with an extra day and no place to put it. Our Moroccan guidebook indicated that Tetuan, Morocco is close to the coast, only 10 miles inland from a modern marina at Smir, which is within a half-day's sail of Gibraltar. We left Gibraltar and headed south to Africa.

Marina Smir turned out to be a very pleasant place. It was nearly empty as the season ended a month earlier, but the staff were friendly, even the immigration policeman was helpful.

Our outdated tourist guide to Morocco sternly warned;
"Tetuan shares the dissident mentality of the Rif tribes and has a reputation for harbouring the most assertive and aggressive tourist hustlers as well as some rather crude pickpockets."

Duly warned we hired a guide and a taxi at the marina and took off for the Medina (market) of Tetuan.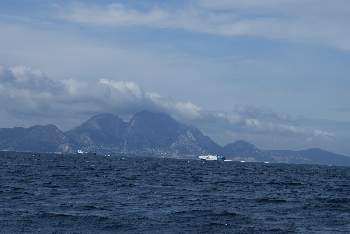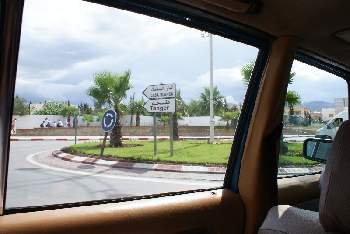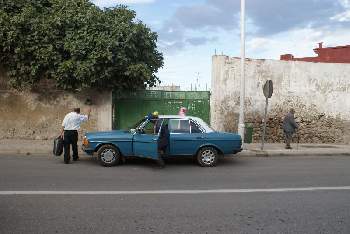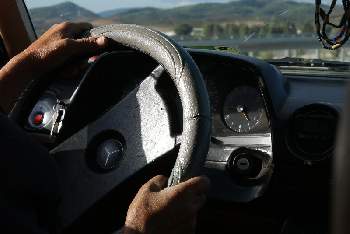 Do you remember the scene in the first Star Wars movie where Luke Skywalker and his robot buddies R2D2 and C3PO were at an intergalactic deep-space trading post? They were about to meet up with Hans Solo in a little hole-in-the-wall bar. As they traversed the busy narrow passageways, they encountered all sorts of strange characters from far-away galaxies. That is exactly how it felt in the old medina of Tetuan. Only in this case, we were the strange beings from another galaxy; everyone else was just going about their daily lives. This was by far the most exotic experience of our travels.
We had arrived that morning at the pretty but very quiet marina of Smir, Morocco; having left Gibraltar in our wake several hours earlier. No more than two hours after a cheerful and speedy check-in, we were off to the town of Tetuan, with a driver and an English-speaking guide, Ahmed.
We had only one afternoon and we knew we would need help and lots of it in order to communicate and find our way through the impossibly narrow maze of alleys which makes up the old Medina. Tetuan is where the Moors settled after being expelled from Alhambra and Grenada and the town reflects the architecture of their beloved old home with elegant arches and keyhole gateways.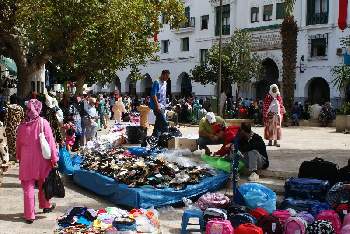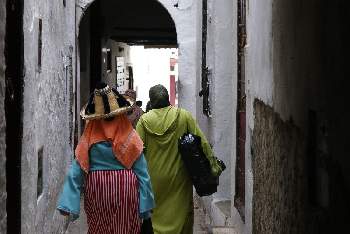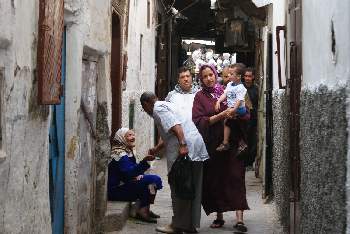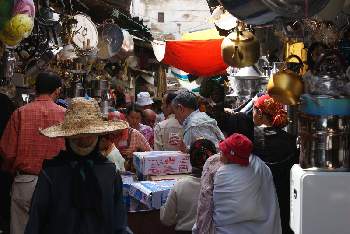 Like baby ducklings we followed the stooped figure of Ahmed, single file, side-stepping debris and rubbish; pausing to let old women pass, dodging and maneuvering through the crowds, trying to keep up; while eyeing the colorful spectacle of life all around us. We couldn't have felt more out of place, the only "tourists" amid hundreds of traditionally dressed men and women. The men wore long flowing caftans, pointed toe slippers and fezzes on their heads, every woman was dressed in long robes and head scarves, some women wore tribal Bedouin dress, with quant-looking, black tasseled straw hats. Others passed us covered from head to toe, heavily veiled, in black; with only a small eye slit. We stumbled along like wide-eyed children.
Lauren and I paused to gawk at a small pen crammed with live chickens. Lauren leaned in to take a picture, while the proprietor angrily waved his hands in her direction, obviously saying "No photos, no photos". He then reached into the quivering mass of dirty feathers and extracted a loudly squawking chicken. We didn't stick around long enough to see what happened next, but we could hear it clearly as we hurried to catch-up with Ahmed past the food vendors on the left and right, while narrowly avoiding stepping into the drainage trench filled with muddy water in the middle of the passageway.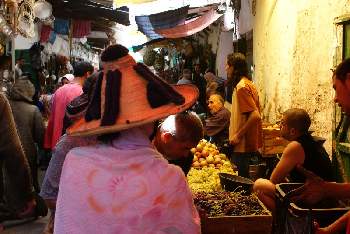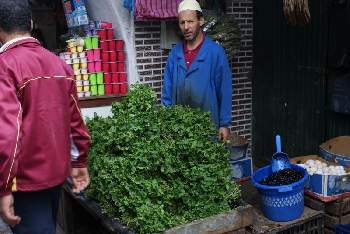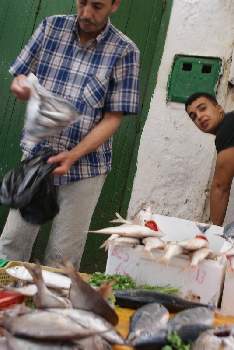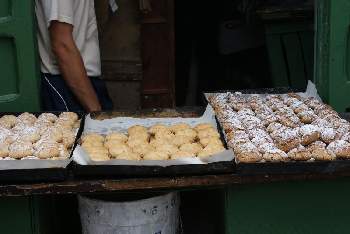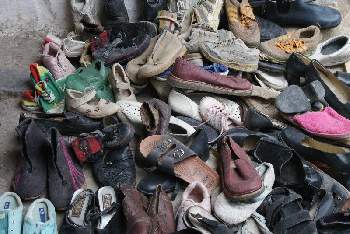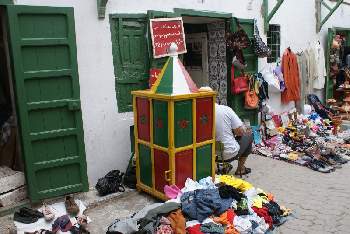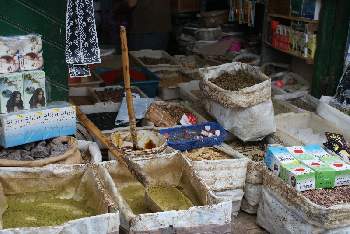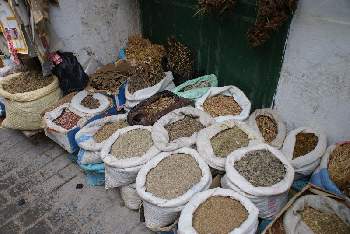 Further on we passed tiny shops the size of closets, filled to the rafters with tanned leather, cooking pots or ceramics; past small mosques where inside the open doors men kneeled towards Mecca; past workrooms where little boys operated dangerous-looking machinery.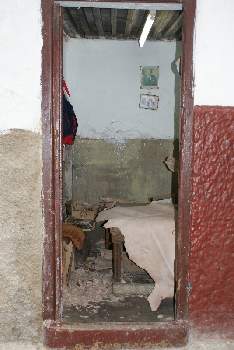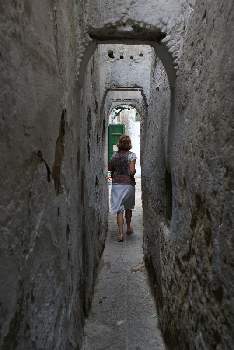 Eventually after many left and right turns down long dark corridors Ahmed led us to a restaurant, which he said was once upon a time the home of a sheik. The interior was fabulous, every surface was ornately tiled, the wood trim heavily carved. It was easy to visualize how it must once have looked, the floors covered with thick carpets and opulently upholstered divans scattered with velvet pillows, while the harem women attended to the sheik's every need. We dined on chicken tagine with couscous and lamb shish-kabobs and drank syrupy sweet mint tea.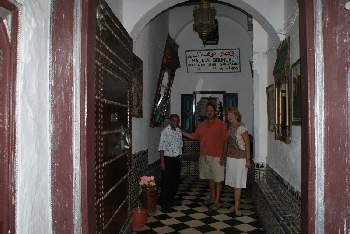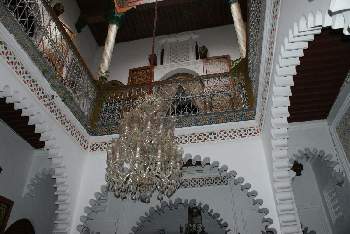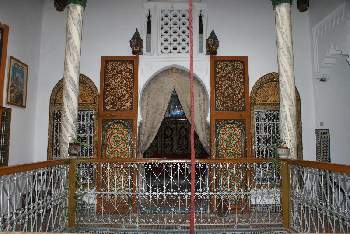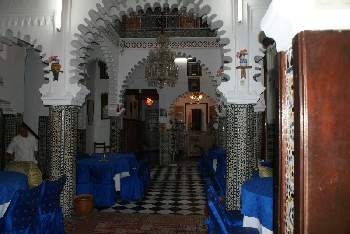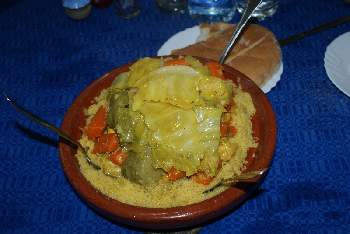 After lunch, flashing a toothless grin, Ahmed wanted to show us the view of the medina and Kasbah from the roof-top of an old house. We climbed up several flights of stairs in an old palace and on to the roof where before us spread a sweeping view of the old Kasbah where the descendants of the ousted residents of Alhambra live to this day. What the crafty little guy didn't tell us was to get down from the roof-top we had to pass through his friend's carpet shop on the second floor. Once we reached the shop on the way down we were accosted by the proprietor.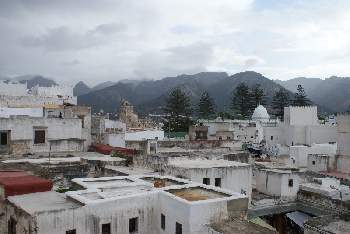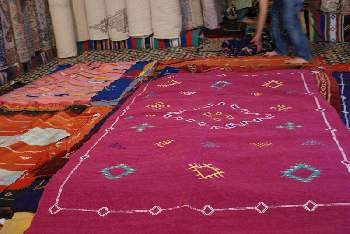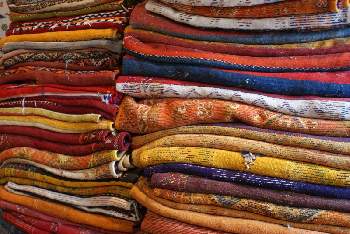 He welcomed us with open arms, instructed us to sit while mint tea appeared immediately, and explained both his obligation to serve us food as guests in his home, as well as our obligation to partake....."Would you please relax while my assistants show you beautifully hand-crafted rugs, no obligation to buy".
We were there a long time, there were a lot of rugs! I had no intention to buy anything and maybe it was something in the tea, but I slowly felt my resolve dissolving! After all it was our fifteenth wedding anniversary. After narrowing down our choices from two hundred and fifty, to seventy-five to twenty-five to ten, I broke his heart and bought only two! Fittingly one was a Bedouin dowry rug, presented to the groom's family on the marriage of the betrothed couple. I love its bold colors and primitive geometric patterns and will use it to cover our bed once we return home.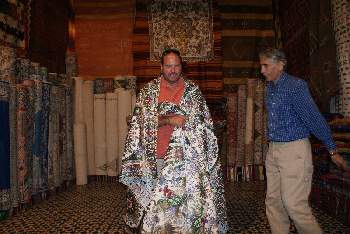 Sailing out of the Med
We have sailed the Mediterranean for the last two + years, covering over 7,000 NM in this sea. We have grown used to the Med and her moods. The sea is crystal clear and an incredible deep blue; the sun shines almost all the time and rain is almost non-existent. The tidal range is an imperceptible 1-2 feet and there is usually very little current to worry about. All this was all about to change.

We left Marina Smir, vowing to return to Morocco one day for a longer visit. We headed north around Jbel Musa, one of the Pillars of Hercules and into the strait of Gibraltar.

The Med is replenished from the Atlantic Ocean and there is a constant inward current through the funnel - The strait of Gibraltar.

We turned west towards the Atlantic and against the wind, tide and current. The strait is full of ship traffic heading East or West and intersected by fast ferries heading North and South. The adverse current topped out at 3.5 knots. The wind was around 20 knots in our faces and the waves built to several metres.

The crew weren't very happy, but Moonstruck is in her element in conditions like these. She took no notice of the waves, simply slicing through them and we made better than 5 knots over the ground most of the day. Eventually we arrived at the end of the strait and rounded Cape Tariffa and out of the Mediterranean. Here the seas were confused and large, the wind increased and the adverse current rose to over 4.5 knots for a couple of hours.

Suddenly we are back in the Atlantic. The coastal Atlantic water is a distinctly different color, usually green and not as clear as the Med. The sea is suddenly full of clumps of weed and there are hundreds of fishing buoys close to shore. The cry of gulls can be heard again and the wind and waves here come several thousand miles from the East Coast of the U.S. The tidal range is around 12 feet and near the coast we can once again smell the ozone of tide-exposed seaweed which for a sailor is the smell of land and for a land-dweller is that "smell of the sea".

We turned north-west and after a long day's motoring, headed in to Barbate for the night. The next morning we left Barbate and were able to turn off the motor for the first time in several days and we sailed around 60 NM to Rota at 8-9 knots in heavy conditions.


Barbate and Rota
Barbate provides a safe refuge along the coast but little else. The marina is protected by a huge breakwater which makes you feel that you are floating at the bottom of a large well. It is some distance from town, the staff are neither friendly nor helpful and Barbate would be completely unmemorable if it did not stand in complete contrast to Rota, our next stop.

Rota was one of our favorite small towns on this coast two years ago, and again it lived up to our expectations. We were greeted at the marina with a friendly smile, and helpful locals assisted Lauren in the complicated (to us) logistics of getting to Cadiz train station on the other side of the bay in time for her early morning train to Madrid. Rota provides free wifi in the town center and library and is a delight to wander through. The streets are paved with marble and several are pedestrianized. In September the restaurants are still doing most of their business at the outdoor tables. Dinner lasts until around midnight and one evening a wedding reception manifested itself all around us. There is a U.S. Naval base just outside town but the troops tend to stay on base and in this most Spanish of places it is very strange to hear an American DJ on the radio extolling the troops to maintain their personal hygiene; look after their dental health, stay fit and ALWAYS engage the parking brake.

We spent 5 days in Rota taking care of laundry and cleaning and routine maintenance while Lauren visited a friend in Madrid.
Lauren's Nest...
Lauren's Madrid Adventure:
Ernest Hemingway has a quote about Madrid that rang very true for me;

"Nobody goes to bed in Madrid until they have killed the night."

I loved Madrid! It had such an amazing vibe, so full of energy, art, fashion, love and culture. All things I thrive on. Oh, and did I mention I had a very nice, very handsome tour guide showing me around the city…yep, sure did… it made Madrid that much more special. Actually, he is just a friend I met along the way through traveling with Moonstruck. We met in Palma, Mallorca and hit it off. He lives in Madrid and told me I should come visit him. Madrid wasn't on the MS itinerary but it seemed like an easy enough place to get to by train from one of the ports we'd be at along the way, that is if I can get on the right train without speaking the language! Plus, I thought it would be a nice little getaway from my parents and being on the boat…let them have some alone time and vice versa. Piece of cake right? Yeah, not so much. It was no easy task getting there. The gods seemed to be against me going and tried everything in their power to stop me. It goes a little something like this:

No internet to buy the train tix, finally, I have internet, but the ticket I need is sold out, change up the times and buy a ticket but somehow missed the step to print out the boarding ticket because everything was in Spanish. Can't figure out how to go back and print ticket, call RENFE and have them try to explain how to go back and print my ticket online because you couldn't do it at the train station of course. Finally, boarding pass printed!

Now, I just need to catch a ferry the next morning to the next town over to get to the train station. The first ferry in the morning was cutting it very close to my train departure. I had about 5-10 minutes to get off the ferry and walk across the street to the train station…which I still thought was do-able but considered getting a cab to the train station instead, that way I wouldn't be cutting it so close but that was quickly out of the question when I found out the cab fare…50 euros for a cab…5 euros for the ferry… enough said.

Woke up the next morning bright and way too early (6am) and walked over to the ferry dock and was the first in line to buy my ticket. Soooo the ferry's not running this morning….shit…due to the heavy winds they said. But a bus was coming instead. Naturally, the bus wasn't getting to the train station until after my train departs. Double shiiit. Screw it! I'm taking a taxi. I raced over to the marina and asked them to call me a taxi…pronto! The taxi arrives and I jump in and tell him where I need to go. At first he was driving somewhat slowly and I knew I only had 40 minutes to get there. So about 5 minutes in I tell the driver I need to catch an 8 o'clock train and asked him if we'd make it. He starts grunting and looking at his watch and then grunts again. He says "we maybe make it but I don't know" and then starts driving like a bat out of hell weaving in and out of traffic. Normally, I hate that kind of driving but that morning I was all for it. The faster and crazier the better! I was determined to make that train! The poor driver was grunting and panicky the whole time. He was trying so hard to get me there in time and was doing everything he could, but sadly morning traffic was not having it.

We eventually made it to my train station a mere 5 minutes too late. My train was gone. My stomach sank. I knew from booking my ticket online the previous day that the next and ONLY other train going to Madrid that day was all booked, as that was the one I wanted in the first place. All that…for nothing I thought. I decided to walk up to the ticket counter anyway and just see what they'd say; I mean, I had nothing to lose right? I tried to explain that I missed my train and was there anything available on the next train? To my delightful surprise there was! I couldn't believe it. Of course, there was a 20% fee of the original ticket price but I didn't care…I'll take it!

Upside- I'm actually making it to Madrid! Downside- the next train doesn't leave for another 9 hours. So I proceed to spend my day...sitting…waiting…cold…bored. Now, I would have explored the city I was in, Cadiz as it had a lot of attractions but it was so terribly windy out and I thought it would be best if I just sat there and wait, THAT WAY- there would be NO POSSIBLE chance of missing my train. Like I said, I was determined to make it there. Viva Madrid!

Madrid was cold, rainy and perfect. Bautista was waiting for me at the train station with open arms…well…arm I should say…He broke one of his arms in a biking accident a couple days before I arrived. So, yes, it was kind of difficult getting there but so totally worth it. I'd do it all over again if I had to. I had an amazing time. :) And to think, my only worry in the beginning was not speaking the language and getting on the wrong train. Guess it's all part of the adventure.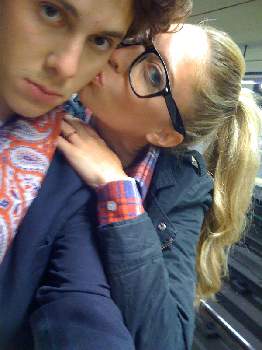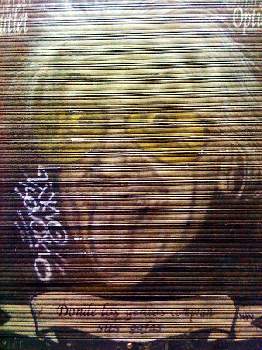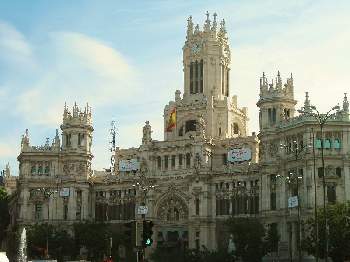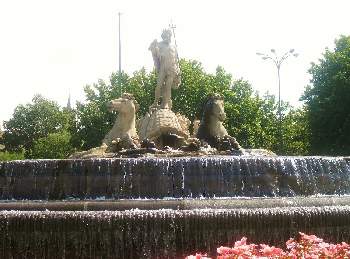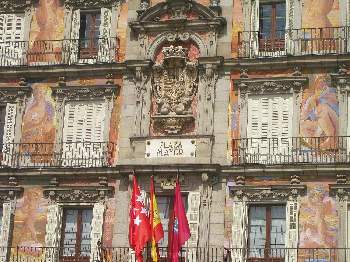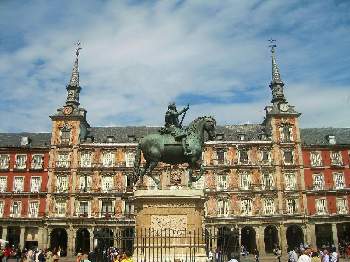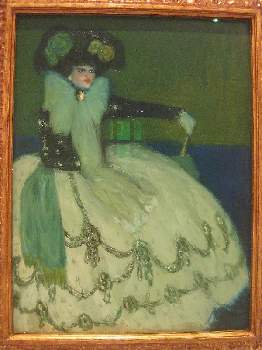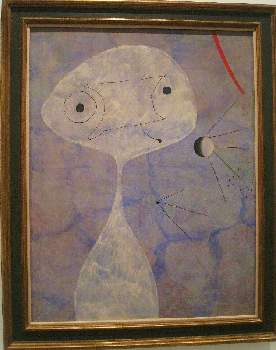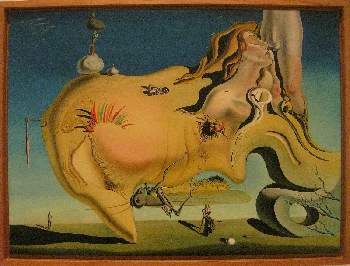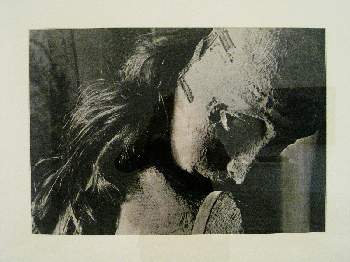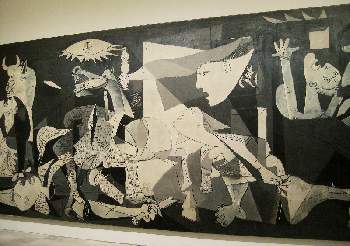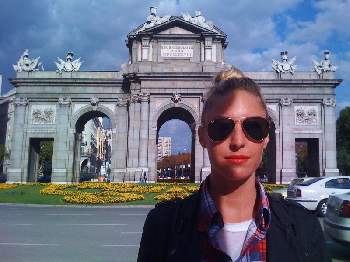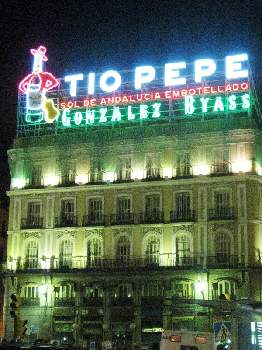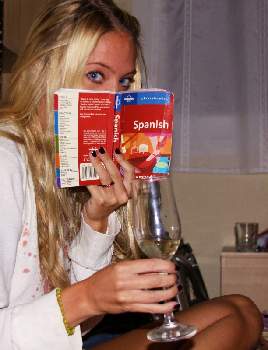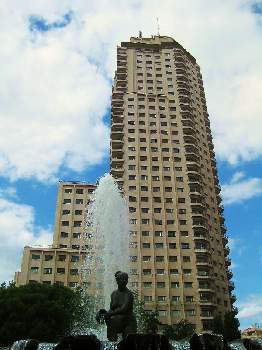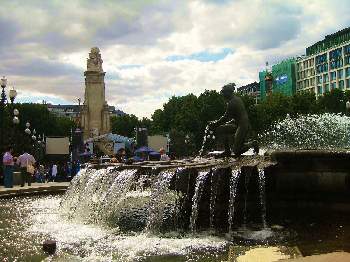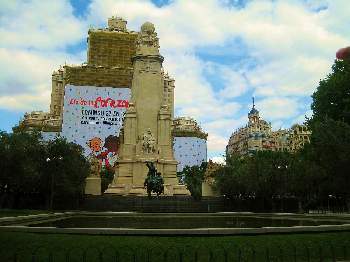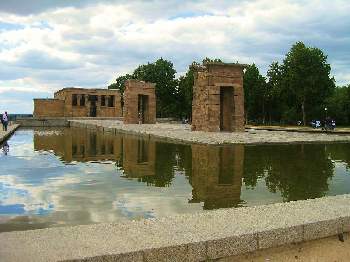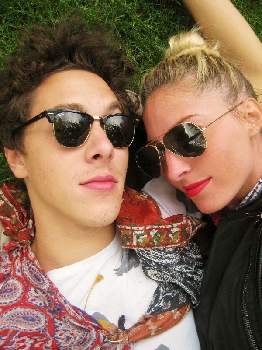 Lagos and farewell to Europe
Lagos was our port of arrival in mainland Europe in June 2007 and it is also our point of departure. Lagos marina is large, well organized and has all the needed facilities. We planned to spend a few days here preparing the boat for an ocean crossing and waiting on our additional crew, Sam, who will join us for the 800NM passage to the Canary Islands off the West Coast of Africa, then for the long passage across the Atlantic Ocean from the Canaries to St. Lucia in the Caribbean. Sam is an experienced sailor with his own yacht KALESSIN that he and his family have sailed in northern Europe and as far as Barcelona from England. That was quite a voyage and included a Biscay crossing and return home through the canals of France, but this will be his first ocean crossing.

Check back with us in a month or so and see how it all went!
Next...Madeira, The Canaries, the ARC and our Transatlantic Crossing.