Florence, Italy
Alan's Log:
Joan's Log:
Travel Musings
January, 10th, 2009
Living on a small boat is a rewarding but challenging existence. We go through occasional spells of wondering if we shouldn't have just booked flights to a slew of rented apartments in distant cities for our travelling adventures, but every now and again something reminds us with gin-clear clarity why we put ourselves through the wringer periodically with a lengthy sea crossing to get to a new locale, and it's not just the pristine destinations or the lack of crowds, It's the horrors of dealing with commercial air travel!

Since we began living aboard, our commercial air travel adventures have been few and far between. In our previous lives I was on a plane at least once a month, and made up to half a dozen transatlantic round trips per year. It didn't seem so bad back then. With frequent business travel came all those wonderful perks of first class upgrades, executive club lounges and a concierge to help with crises.


No longer!
After spending Christmas and the New Year at home in Gig Harbor, we set off on January 7th for Florence, Italy from Seattle with a stop in Paris to change planes. Sounds great doesn't it! Arriving at the Air France check-in desk in Seattle we were greeted with the comforting words;
"Your reservation has been cancelled!"
After a moment to regroup and some fevered bashing away on the keyboard the AF representative managed to retrieve and reinstate our reservations and continued the boarding process.
We had 3 large bags to check in between us, one we knew was overweight. We are always pushing the weight limit. We return to the boat with a year's worth of essential books, boat and personal supplies, clothes, laptops and hardware and replacement parts for Moonstruck and we always anticipate a discussion during the baggage check-in. Today was no different, but the weight limits seem to have reduced yet again. Each of our bags was overweight and one weighed a hefty 38k (84lb) which turned out to be over the maximum limit to load on the plane!
"Mommy why do those people have a big rope with a noose in the end?"
Faced with one bag that would not be shipped and $50 penalties for each of the remaining bags, we whipped out an unused backpack and endured the humiliation of being forced to repack our bags in public, loading it up with the heaviest items; while our pile of heavy rope and a year's supply of medicines attracted unwanted attention from the impatient line behind us. Finally after countless weigh-ins, we were good to go. Whew!
We finally had 4 bags to check-in that each weighed around 23k and we managed to avoid a penalty. All of this will become a larger problem when we fly from Florence to Turkey (via London) in March, as we will only be allowed one checked bag each on those flights. Anyway that's a problem for another day and we settled in at the airport for our somewhat delayed departure to Paris.
Seattle to Paris is a pretty long flight at 10 hours, but the time passes remarkably quickly with friendly and efficient service from the oh-so-cute petite stewardess and a welcoming glass of champagne, as well as a decent bordeaux with the boeuf bourguignon. We scored window/aisle bulkhead seats with no passenger between us and had tons of legroom in the first row of coach. Coach doesn't get much better than this I thought as I sipped the champagne and Joan found that two movies she had been unable to see in Gig Harbor were on the list for our watching pleasure. "Vicky Christina Barcelona" & "Miss Pettigrew lives for a day". The French babies in the seats across from us settled down quickly and almost before we knew it we were over France.
The flat Normandy fields were crisp and white with fresh snow as we crossed the French coast and the contrails of a multitude of other planes criss-crossed the clear air approaching Charles de Gaulle airport. It was a very hard landing. A cold 24 degrees F outside, and a couple of bus rides to get from the plane to the terminal, then to our departing terminal, where we found ourselves stripping for the second time to get through security. Shoes off, Jacket off, two laptops each in separate containers, all portable hard drives (3) in separate containers. Just as all these items were sliding into the X-ray machine, Joan realized that she had left her warm Nordic jacket somewhere.
The airport security guard could not have been more helpful as he retrieved all our possessions from the X-ray machine and we dashed back outside into the crisp morning to retrace our steps to the plane. Joan was pretty sure that she had left it on the transit bus, so we waited as these buses arrived every 5 minutes or so and searched each one to the amusement of the drivers. After about 25 minutes a bus pulled up with a familiar looking driver. Joan dashed on board and found her jacket, lying right where she had left it - Yey! Back to security where we were welcomed with a smile and a thumbs-up from the helpful security guard and escorted to the front.
We were feeling tired but pretty good at hour 24 of our long day as the short-haul plane landed in Florence. No sooner had it stopped than the mainly Italian passengers ALL got up at once and started struggling in different directions up and down the aisle, gathering bags that for reasons unknown to us, they had stashed in overhead containers yards and yards from their seats. It was a complete scrum, all we could do was hang on to our stuff and smile tolerantly.
An hour later in the terminal it became apparent that one of our large bags, the one containing all of Joan's clothes, was not going to arrive. We joined the long forlorn line at lost and found where we spent another hour with a dozen or so similarly debagged passengers. An Italian girl in line in front of us had no bags at all having endured an equally long flight from Salt Lake City. Having filed our report we called Marianna, the lady that rented us the apartment, to advise her of our late arrival. No problem she said, in fact she was not at the apartment waiting for us as had been agreed, so it was good that we hadn't shown up at the apartment on time as there would have been no one there to let us in!
Yes, I agreed that this was good. And in the miraculous way that events often pan-out in Italy, when all the planning falls apart but things seem to turn out well despite the chaos, she said that she was also at the airport only about 100 feet away from us meeting another passenger. It was almost inevitable that Marianna was waiting for the attractive Italian girl from Salt Lake City that we had been waiting behind in the lost luggage line. It turns out that they are both waterpolo players and the manager of our apartment is also the coach for Florence's first division water polo team. We learned that Florence has long had a first class water polo team, back to at least 1933 when they set up goals and played in the River Arno right outside our apartment.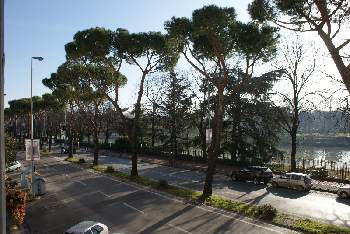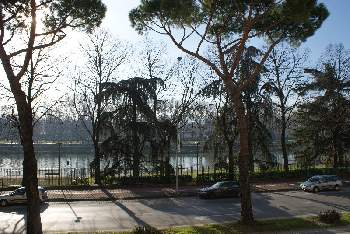 Finally we are at the apartment, it's hour 27, the two girls have left us, with strict instructions not to leave any lights on or upset the sick man downstairs; we have most of our bags and can start to relax. Where was I? Oh yes the horrors of commercial air travel. When we set sail, we leave when we are ready and when the conditions are optimal. Before we leave, we stock the boat with the best products of the region. There is no rush, no schedule, no connecting flight to catch...or miss, no bags to pack or check or security or machines to process our belongings, no hard decisions on what to bring or not to bring, no lines except those that we cast off from the dock. It's a very different world....
Next....The continuation of our Tuscan adventure