Crete to Italy to Croatia
Alan's Log:
Joan's Log:
June 4th 2009
Route from Crete to Italy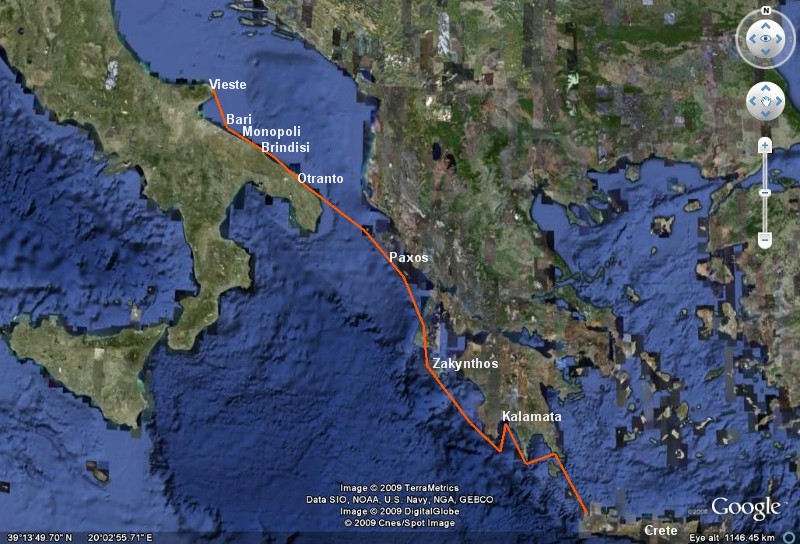 Not to be used for navigation.
After leaving Crete we headed north past the island of Kythira to the Peleponese peninsula and soon arrived at Kalamata, where the delicious black eponymous olives are grown. We called in here to get our outboard engine fixed which wound up taking longer than we had anticipated which in turn gave us an opportunity to look around the area.


Kalamata
Sailing into Kalamata we thought that the surrounding peninsula to the east looked remarkably like Tuscany; very green, with tons of cypress trees and small villages featuring many towers. Vegetation however was sparce above the lower valleys. We rented a car and drove to the end of the peninsula. This area is the home of the Mani. A people well known to the Romans, who gave us a word for our language when they called them 'Maniacs' and left them well alone. They were a vendetta-driven people, usually at war not only with the next village but also with their neighbours. Thus they built their homes as defensible towers and lived at the top, with space for their livestock on the ground floor.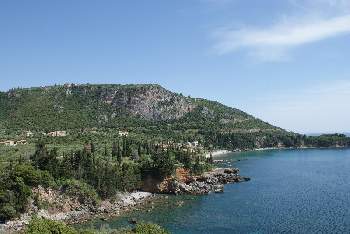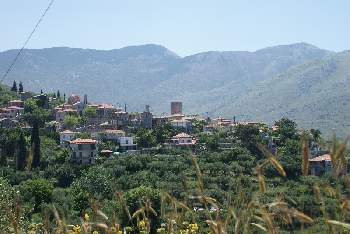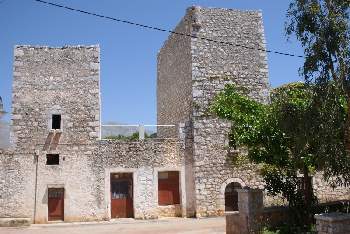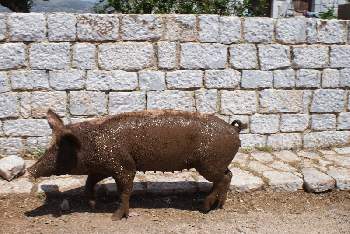 Fortunately this style of building has been maintained to this day, and the majority of homes, even new weekend homes for the wealthy, use the same stylistic elements giving a pleasing consistency to the area. We noticed many communities of ex-pat Brits in this region. It seems like a pretty good place for a sunseeking European to have a summer base.

After Kalamata we rounded the second cape of the Peleponese and headed up past the Ionian islands of Zakynthos, Keffalonia, Ithaka Lefkas and Paxos. We had already covered much of this territory
last year
, so just a few notes here.

We stopped overnight in Navarino Bay on the West coast of the peninsula. It is a lovely safe anchorage - or so thought the Turks. In the late 1800's the Turkish fleet were anchored here when Admiral Coddrington of the British Navy sailed in with a dozen ships-of-the-line and engaged them in what turned out to be the last major naval battle ever fought between sailing ships. The British victory paved the route to Greek Independence, although it was a pyhrric victory for Coddrington who was recalled and court-martialled for his actions.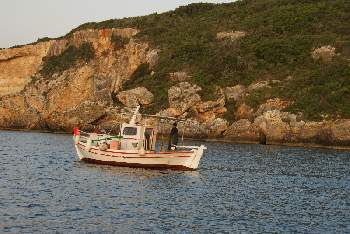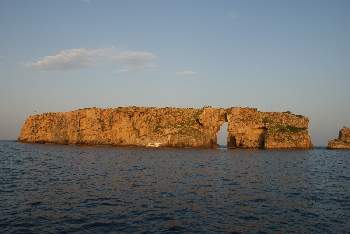 Zakynthos
At Zakynthos, against our better judgement, we decided to check-out famous 'wreck bay' This picture-postcard bay is featured on just about every program on the Ionian, and was the backdrop Anthony Bourdain's "No Reservations" program on Greece. It is an inaccessible pure white beach, backed by high white cliffs with turquoise crystal clear water and the rusting wreck of a smuggler's ship as a centerpiece. Here is a picture of the bay from a magazine....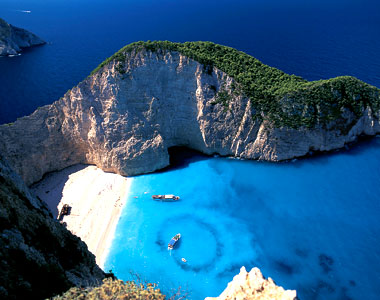 Of course it is also a tourist mecca. Despite being only accessible by water, there seemed to be hundreds of people on the beach. Music was blaring from several of a dozen tripper boats anchored off the beach and to cap it all the wreck was covered with graffiti. Oh well.....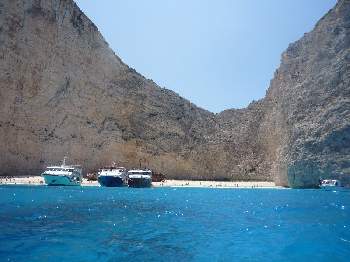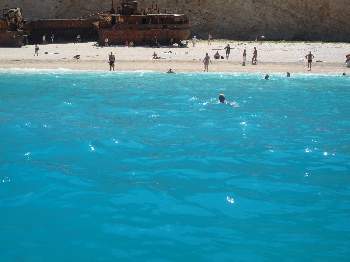 Paxos
After this we headed to one of our favorite places, Lakka bay tucked into the northeast corner of Paxos Island. The water there is just as clear, but it is calm, well protected from any wind and free of crowds.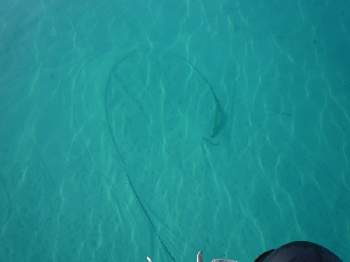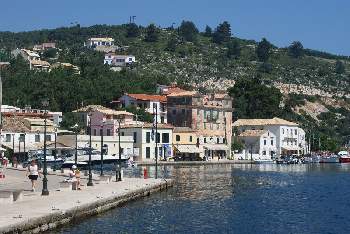 You might say we have come full circle in our travels through the Greek Islands. Paxos was our very first island last year in late June and it is also our last. It also happens to be one our favorites as well. We have been in Greece and Turkey for almost a year, we've visited thirty seven islands in that time, not too bad for a whirl-wind tour, and it literally was at times. We get a lot of raised eyebrows from those seasoned sailors who have spent the last ten years cruising these waters and "haven't even scratched the surface yet", but I have no regrets, well...maybe one, I really wish we had done the EMYR (Eastern Med Yacht Rally) but my life has been so profoundly enriched by what we HAVE done, it's not that big of a deal. Paxos is our jumping off point on our path to Croatia. After departing Kalamata, we did four long days of motoring, (no wind) to get here; we are on a rather tight schedule this summer and there won't be a lot of lingering in one place. This summer and fall will be our swan-song with Moonstruck, we are winding down this most excellent adventure and heading home to Gig Harbor in December this year. We have a lot of nautical miles to cover and a lot still to see. We have been living aboard for three years and I would be lying if I said I wasn't yearning to be back in the Pacific Northwest. I love travel and adventure but I also love home and family and home is calling me now. We have a new addition to the family, grandbaby Austin, whom we haven't met yet and a long anticipated wedding taking place in early August is causing me major distractions. I don't think Alan is as keen to give up our life afloat, he has salt water coursing through his veins and if it were possible, I think he would happily continue on indefinitely. But back to Paxos, it's a very tiny Ionian island just south of Corfu. To me it's the perfect chill-out island, you won't find any hilltop horas or fortresses, no meandering medieval streets or remote monasteries, you also won't find our old nemesis, The Meltemi.
The villages are very attractive, built in the Venetian style, lots of good tavernas and shops selling high quality items, and best of all it doesn't have an overly touristy atmosphere, day-tripper boats arrive a few times a day and the towns fill up a bit, but by evening they have all left and the lovely peacefulness prevails. Paxos has a little bit of a New England (U.S. east coast), look about it. It's very green with a rocky, boulder-strewn shore-line, minus the seaweed, but unlike New England it has beautiful white sand beaches with gin-clear, perfect turqoise blue water. There isn't a lot of development either, no package resorts, no big hotels, just one small hotel, a few privately owned villas and summer homes. The island is criss-crossed with paths and hiking trails and is densely covered with olive trees.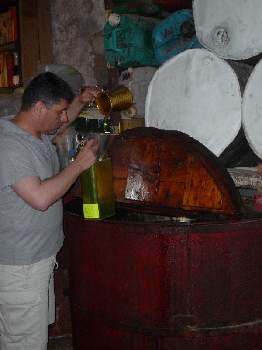 The production of olive oil is the island's biggest business, some of the best olive oil in Greece is quietly produced here to be sold at Harrods, the famous London department store.
One of our all-time favorite anchorages is the bay outside of the village of Lakka, it is only ten feet deep with a white sand bottom with crystal-clear aqua blue water. It's like anchoring in a giant swimming pool! One evening in Lakka Bay, as we were having a glass of wine and watching the sun set, a dinghy started blasting around the anchorage towing a waterskier, although making a lot of noise and creating a small wake it was entertaining to watch, but the real entertainment began as the next time he passed by the water skier was butt-naked! Just another day in paradise.
We have spent more time in Greece than any other place since we left the USA in 2006. It is a beautiful, multi-faceted country with truly friendly people. It has challenged our patience at times and our fortitude at others, but overall it has been a privilege to spend so much time here. It is remarkably beautiful, very cheap by european standards, and really the only thing we can find to complain about is the uniformity of the food in the restaurants.
Greeks are loud and hearty, robust people. It takes a while to realize that everyone is not shouting at you. They just talk that way! Of course sometimes they ARE shouting at you and then you can tell the difference. A good example happened during our recent visit to Symi.
When Worlds Collide
He had no idea what we were about and no way to communicate with us. We understood what he wanted but had no way to convey our situation to him. Sound familiar? You must be a sailor in foreign waters!

The fisherman had anchored out his boat in Gailos bay in Symi for the winter with two large anchors out in the harbour and two long lines ashore.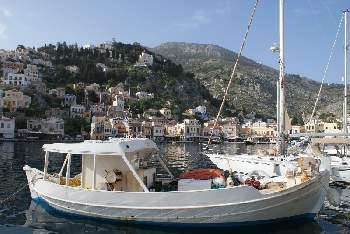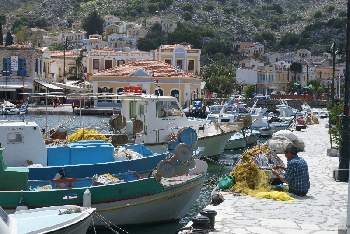 He was well secured, safely off the harbour wall and in a great pattern to deal with the winter storms. As we arrived with the spring he came on board to start those chores that all boatowners must do before heading out into the deep. We were anchored and tied back to the wall somewhat close to him and, since his lines were obstructing 100' of harbour-wall space that other boats would soon want to use we tried communicating with him. He spoke no English, we speak no real Greek. Through an interpreter we suggested to him that his beautiful boat would be equally well secured if we pulled up the anchor that ran lengthwise along the waterfront and secured him in a more typical summer (good weather) mooring. He didn't like this suggestion one bit and his gesture rather implied that we should all evaporate and leave him alone....which we did.

A week later four more boats arrived and anchored and tied back all around us. We enjoyed an explosive
Greek Easter
in Symi and after it was all over he was ready to leave for his first, month-long fishing trip. He heaved on his anchor and quickly found that it's chain was trapped under our anchor chain and those of three boats tied up alongside us. Language skills would have helped at this juncture. He pointed at us, pointed at the bottom of the ocean, made an emphatic and possibly obscene gesture and shouted loudly at us! I knew that he wanted us to pull out, over his chain so he could leave. What I was unable to explain to him was that the 80' gullet (a Turkish wooden sailing ship) anchored on the other side of the harbour the previous night, had dropped his heavy chain over ours and that we would be unable to retreive our anchor chain and move until the gullet left. What I could also not explain is that his chain was almost certainly also under the chains of the other three yachts moored in line with us.

He fumed and steamed back and fro in front of us, trying unsuccesfully to winch up his anchor chain with his net windlass and pulling up on our chain, and that of the boat next to us, while gesticulating and shouting and, unknown to us at the time, tieing all the yachts' chains together at the bottom of the harbour in a large metal knot. It was loud and impressive, but brute force was for once ineffective and he was stuck, unable to clear the tangle, or pull up his chain. Stalemate.

Stalemate in Greece usually involves a lot of shouting and more gestures, and so it was. Feeling very inadequate and unable to respond as colorfully as the fisherman in either language or gestures, I grabbed a passing scooter rider who spoke both Greek and English. I explained our quandary to her in detail and she relayed it to the skipper of the fishing boat. She listened to his response and then, with the utmost tact, told me. "He is a local, he has very little schooling and there is a reason that he is a fisherman. He understands what I have told him, but he would prefer to ignore the information I gave him. He would rather shout at you. He thinks that you should move. Even though you can't!"

Impasse is the word that comes to mind. We could do nothing, he could not leave, so after time to steam a little more he revved up his engine and gathered another anchor on his chain, that of another yacht next-but-one to us. We sailors were all on our foredecks, waving and gesticulating, but he had us beat with a gesture that I cannot even describe well, but will recognize if I ever see it again, as coming directly from the heart of a Greek fisherman. An emphatic outward thrust of both hands towards me, palms up that could only mean, "Idiot - see what you have done!"

There was nothing for it but to try and find the Turkish Gullet owner to get him to move his boat, so we could move, thus hopefully allowing the fisherman his wish. Eventually we located him (luckily he spoke English!) and both the Gullet and Moonstruck danced a jig around the harbour untangling our two chains. We then tied up on the opposite side of the harbour, near the Gullet and with a perfect view of our previous location, where the fisherman started hauling again on his chain. This time all three remaining yachts moved in unison towards him, as if genuflucting. The metal knot remained. Luckily we had not become entangled in it but I felt somehow responsible, and got in the dinghy to try and help. One of the captured yachts' captains, a North-Sea helicopter pilot in a prior life, had the same idea and together we latched on to the fishing boat and with more constructive gestures this time we worked together with the fisherman to haul the knot of chains up from the deep, at least far enough to start untangling it. It was an awful mess of two heavy fishermans' anchors and 5 chains, two from the fishing boat and three from the yachts. It was all covered in stinking mud, which soon merged with the helicopter pilot's blood. As we were trying to unmesh the chains I was very much aware that if the fisherman, who was holding the entire 150 kilo mess at deck level, were to misunderstand our gestures (Up. Down a little. Up again!) and let go while one of my hands was entangled, the whole mess would drag me to the bottom of the harbour, 40' beneath us. We worked carefully and slowly! Eventually the helicopter pilot and I undid the cats-cradle of chains, released the fishing boat and re-anchored the one yacht whose anchor had been completely pulled up. The fisherman was free at last so we waved at him and smiled. In lieu of thanks, he grimaced, turned on his heel without a word and motored out of the harbour.


Italy
Passage to Otranto, Italy
We set sail from Paxos, for Othonoi, a small rarely visited island that is the most remote outpost of Greece in the Ionian. We did not go ashore and after a night at anchor in Othonoi harbour, we left the next morning for Otranto, on the way up the coast I saw a swordfish leap repeatedly in the air.

It was marvellous to be back in Italy. After our few months in Florence we now felt like returning natives on hearing the lyrical street banter.


Otranto - Brindisi - Monopoli - Villanova - Bari - Vieste
Otranto
We arrived in Otranto where the coast guard officer informed us that "the sea is free, but the mooring ropes are thirty euros a day". The first thing we did was go out to lunch! Grilled sword-fish and bruscetta, yeah! We found the trattoria in the enchanting old city, not too far from the harbour and inside the walls of a massive fortress, surrounded by a deep moat. You would think it was inpenetrable, but the Normans took it in 1070 and then in 1480 the Turks stormed in and slaughtered all but eight hundred of the residents, who were told they would be spared if they renounced Christianity; they refused and the martyr's bones now lie in the duomo. Somehow the amazing old castle and city is still intact despite its history and heavy bombing in World War II.
We continued up the coast in the loosely knit company of several other boats. An Italian charter boat packed with middle-aged chain-smoking Italians who always seemed to be on hand to help us with our lines; A friendly Scottish couple from Orkney Island on a nice HR46 (HALCYON) who were travelling with a New Zealand couple in a catamaran (NINE LIVES). We got to know HALCYON's crew quite well over the next few days as we jointly dealt with the challenges of sailing in Italy.

Brindisi
In Brindisi we ended up in a remote marina, around four miles from where we wanted to be in the city. After calling five rental companies we were told there were no cars available, and no internet, and no laundry! Our laundry at this point was at critical mass. We love Italy, but sometimes I get the feeling it doesn't love us back!
Monopoli
In Monopoli the Coast Guard man smilingly checked our papers our second morning in the harbour while saying nothing, then waited till 7:00 pm before telling us we would have to leave the harbour immediately (with the next safe harbour 4+ hours away and the wind picking up from the north). We argued our case and he went away. We took it as a reprieve till morning and left at first light.

We saw two wedding parties in Monopoli. The bride & groom from one wedding came out to the harbour for their photographs and we became the unwitting backdrop to their happy day.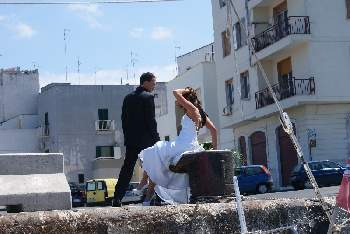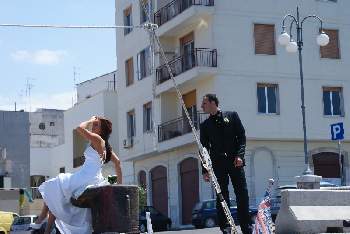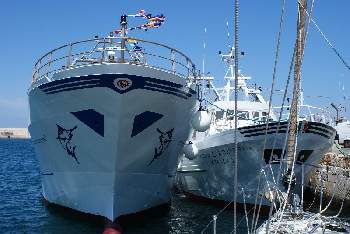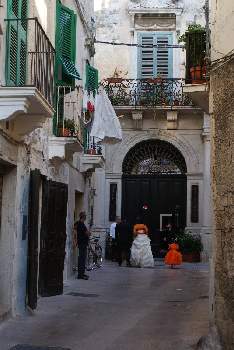 Earlier the same day a brand new swordfish boat was christened and launched and tied up behind us. Harbours are so much more interesting than Marinas!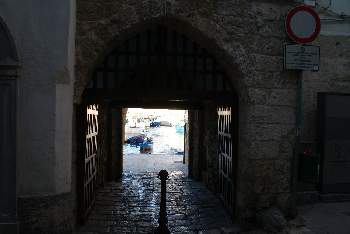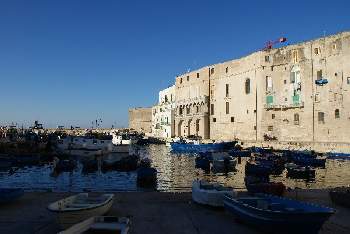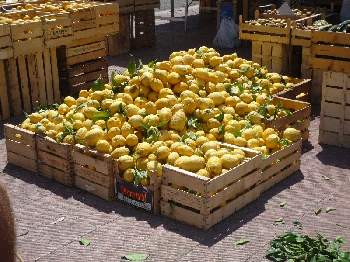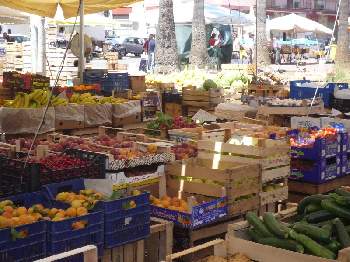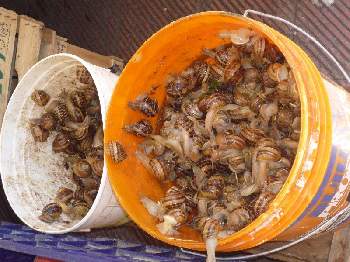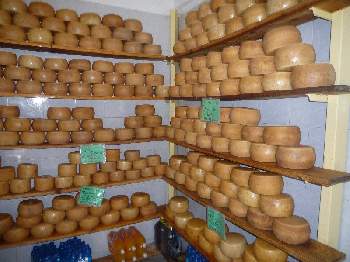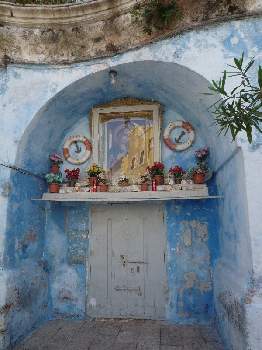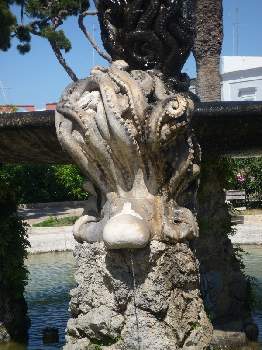 I absolutely loved Monopoli, even though there were some serious challenges involved with staying there, and no internet signals, which is always a thorn in my side. The old city, was just that! A wonderful old walled city without a hint of tourism or commercialism. Raw and authentic, the locals stared at us with that narrow eyed "what in the hell are you doing here?" look. It felt like it was straight out of an old Fellini film, or old World War II epic with tanks and jeeps weaving though the narrow streets and John Wayne waving to all the women. We also had a memorable meal in a fantastic little trattoria called Nonna Maria's with the crews from HALCYON and NINE LIVES.
Villanova
Then there was the shallow harbour of Villanova an unmemorable town where we ran aground multiple times, then took a break for lunch before ploughing a trough through the harbour on our escape.


Bari
Finally the tough town of Bari, which is reputed to be the hub of organized crime in the S of Italy, but which we found to be quite pleasant if not very attractive .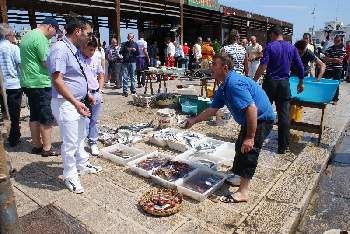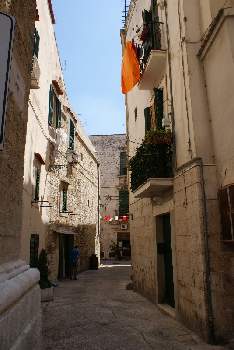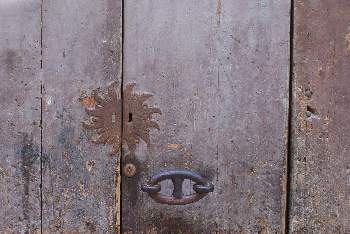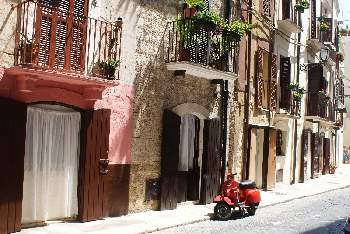 We found a space in a private yacht club. It was a cash-only business and very Mafia. It was full of expensive motor yachts. A surprising number of these had numbers after the boat's name and several of these were up to number 4 or 5. We also saw their lowlier forerunners (the same name, but a smaller boat and numbers 1, 2 and 3). Clearly this was an upwardly-mobile group of well-groomed tan middle-aged Italians that were lazing around the clubhouse on deckchairs.

It would have been nice to lie out around the large patio with them, absorbing the hum of their chatter while being served drinks with umbrellas. Instead we had a mission. We received directions to a rare Italian laundromat a mile or so away which would enable us to catch up with our mounting (3 weeks +) piles of laundry. It took an afternoon/evening of hauling to and from the boat, stuffing and folding but it was finally done much to the Admiral's relief.


Laundry is always a problem for us, but it seems in Italy, it becomes an ordeal. Just finding a laundromat is a major challenge, and when we do find one, it is either closed or not self-service and the full service ones charge one and a half euros per piece, when you've got over three weeks worth of laundry (150 pieces) that works out to a whole lot of euros! But that all changed in Bari, where we found for the first time in Italy, a real do-it-yourself laundromat with just three hours left before closing time before a long holiday weekend. The attendant, Bruno, spoke perfect English, wore a white lab coat and took his job very seriously. He assisted us with everything and was a stain-removing expert! Which worked out wonderfully for two American girls, who came in with a red wine stain emergency! Bruno was unphased, he immediately dissapeared into his laboratory with the dainty stained blouses and returned triumphant! For me the real treat was getting to chat with Americans for the first time since we left Turkey! They had just graduated from college, full of fun and mischief, and were on a fantastic "see everything in Europe in thirty days" tour. So we spent a very enjoyable two hours or so, BSing about our travels and their travels and just being Americans in a very foreign place, it was a refreshing tonic.
Vieste
Finally we came to Vieste. A holiday town for Italians from the Naples area, and it had that slightly gritty edge to it that I really love. I don't think I have ever seen more pizza restaurants and gelato stands more densely massed into a small city, than in Vieste. It also has a rather dark history, which involved the Turks...again! It seems the city was sacked in 1554 by the Turks, led by DraugutRais, who took all the young, strong and able people to be sold as slaves, and as for the remaining people who were too old or feeble for the slave trade, they were decapitated on a large stone, five thousand in all. It is said it took a week to get the job done. The stone (The Bitter Stone) is still there and on display in the town.
Vieste is right on the tip of the spur on the heel of Italy and our logical departure point since it is the closest point in Italy to our destination in Croatia. By this time we had become somewhat jaded with our experiences of Italian harbours, but Caterina in Vieste sorted us out with a warm welcome. She is a Canadian ex-pat living in Vieste and runs a pier in the harbour/marina there. She has her marineros very well trained. They took our lines, tied us up, hopped on board to handle the bow lines, then grabbed a hose and cleaned off the decks. Amazing! Especially in Italy where we are used to fending for ourselves. We had earlier tried to rent a car over the phone, but all the cars were taken due to a holiday. "No problem" said Caterina. She made a call and magically a car was made available for us within 10 minutes. Information and advice she had at her fingertips.
A rental car is a real luxury for us. For a day or two each month we can reprovision at a proper supermarket rather than having to rely on the small, poorly-stocked mini-marts within walking distance of Moonstruck. Of course the Italian staples are available everywhere (Cheeses, Salumis, Pasta, Wine, Meats) but to be able to buy milk, paper products, toiletries etc. in bulk is a rare and very welcome thing that only comes with the hauling capacity of a rental car. We also took a trip along the spur and did a little low-key sightseeing.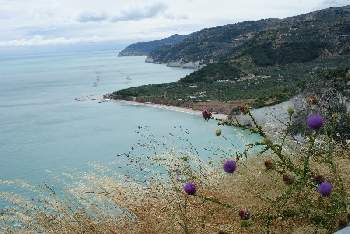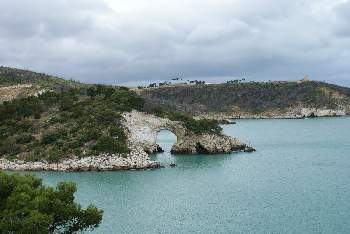 In Mont SantMichel. An improbably large town sited at the very top of a mountain accessible only by a long and twisting series of switchbacks, we visited a chapel that Pope John Paul had graced with his presence.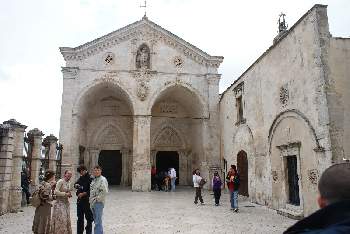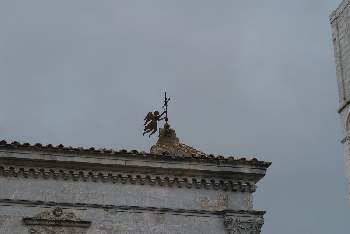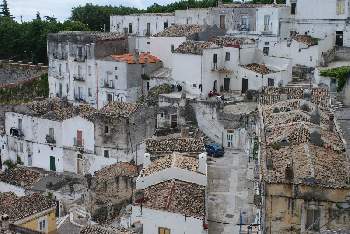 The church led to a deep a cave which was apparently home to Saint Michael the Arch Angel in the 5th C. AD. The cult surrounding St.Michael gained a large number of followers, such that by 1076 massive bronze doors for the cave/church were cast in Constantinople (Istanbul) and shipped here. A church was been built around and above the cave. It is quite odd to go into a church and descend into a cave complete with altar and as chance would have it, a service in full swing.

Then on a more practical note, on the way home we found a wine store selling a local red (similar to Montepulciano) in 5 litre containers for 6.5 euros. After stocking up for Croatia where our instincts tell us the wines will not be as good or as cheap (we were wrong on both counts!), we headed back out into the deep blue for a lovely sail across to Korcula Island, Croatia 84 miles to the east.


Next.......Croatia