Florence, Tuscany, Wine Tours
Alan's Log:
Joan's Log:
February 20th 2009
Only two weeks left! We will soon be leaving Florence and heading back to Moonstruck - patiently awaiting us in Kemer, Turkey.

It constantly strikes us what an accessible town Florence really is. We live on the outskirts, yet it is only a 10 minute bus ride to the center of town, and once there everything is within easy walking distance. It doesn't take too long to get to know the major roads, then the side streets and the location of every Gelato stand comes next.


Visitors!
Wow! Our departure from Italy is fast approaching, it has gone by way too fast. We had a flurry of visitors, first our daughter, Courtney; followed by a great visit with my sister and two girlfriends .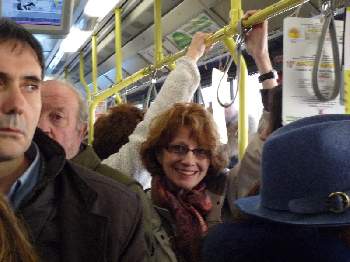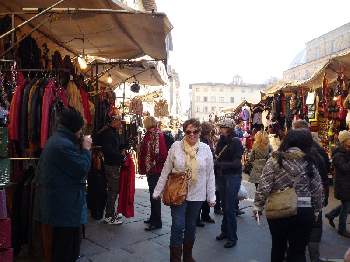 Dewi, Pam & Chris visited us from Texas for a week. They got bus passes and we did the tour of museums and shops and markets. It was great having new company to share the splendors of Florence with! We went back to our favorite market restaurants, Rocco and Mario's and introduced our friends to Ribollita. One day the girls took the bus to Sienna. We filled up with local wine and Prosecco and Joan cooked her new Tuscan recipes for dinner each night.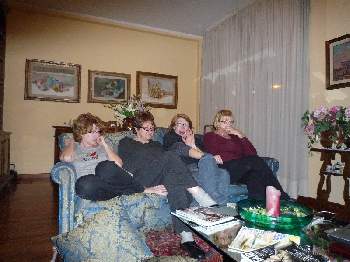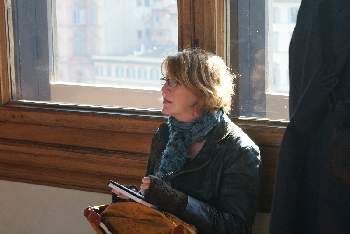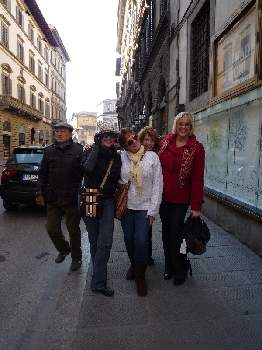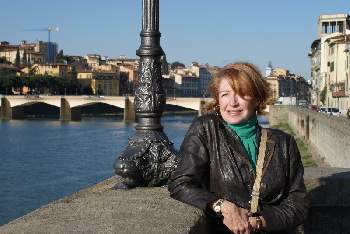 They left with full tummies and bulging suitcases of wine, leather goods, olive oil and Italian cooking utensils.
It was so wonderful for me to get some serious girl-time in! We had a little down-time after they left and on a whim decided to do a wine tour in the Chianti hills just outside of Florence.
Tuscan Wine Tours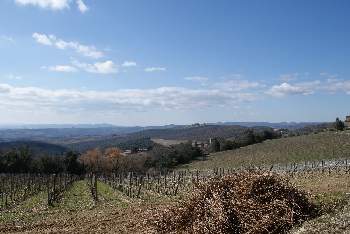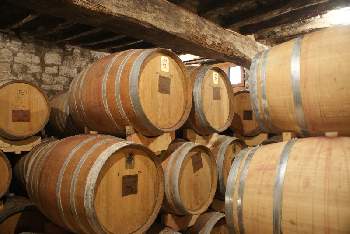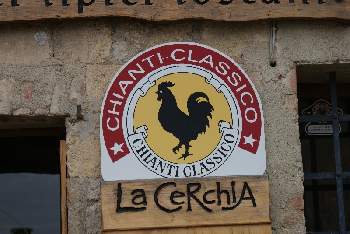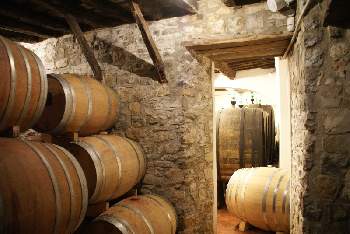 It turned out to be so much fun and educational that after a day to recover we went on another one! The tour (see RESOURCES for links), was led by Rebecca, a charming young woman who spoke perfect English and who obviously loves her job. She has so much infectious enthusiasm for the food and wine of Tuscany, we felt like she was having more fun than us at times. She is extremely knowledgeable, with a deep respect for the craft and care which goes into the science of wine making, and as an added bonus she also told us fascinating stories on the history of the Tuscan region as we bounced along the country lanes. She also shares my interest in food, and subscribes to the Slow Food philosophy, needless to say we became instant friends and talked non stop! On Rebecca's itinerary were tiny, organic vineyards producing lovingly hand-crafted wine, which took us deep into the Chianti hills on unmarked dirt roads to secret little pocket farms that only an insider like her would know how to find.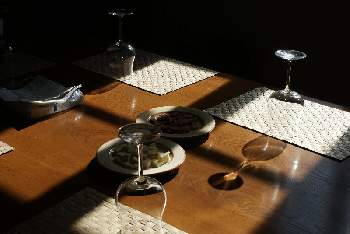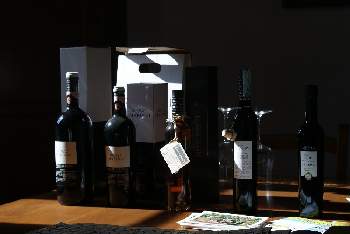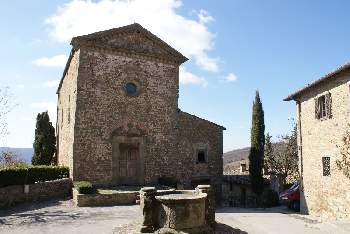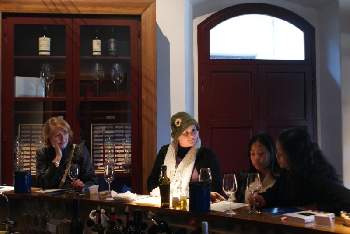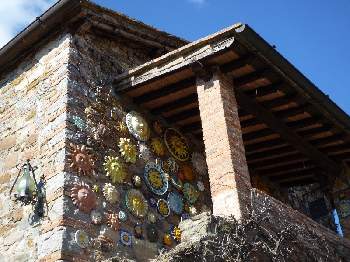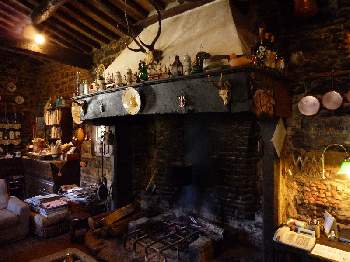 Once at the farm we would be shown the vineyards, cellars, vats and barrels and in the tasting room a long table would be set with sparkling glasses, plates of local cheeses and salamis, olive oil, ancient balsamics and bottles of beautiful wine. Several times we were welcomed into the home and sat down at the family table, where the owner proudly poured the wine and explained the origins of each vintage, along with the history of the home and farm, while the dogs begged for attention under the table and the cats curled up by the enormous fireplace.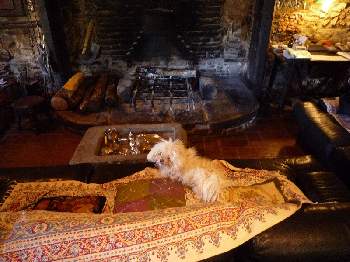 Nowhere in our travels have I been so charmed by the warmth and ambiance of these beautiful rustic Tuscan kitchens and the kindness and hospitality of our hosts. The wine tasted of sunshine and flowers and wind and rain and of the earth. It tasted of life! Now I understand the meaning behind the phrase "nectar of the gods", I apologize if I'm sounding spiritual, but there is a certain amount of spirituality behind the biodynamics and hard work of these dedicated wine-makers which shines through in the taste of the end result.
Just a little background on Biodynamic farming... It goes beyond non-chemical, organic farming practices and is a philosophy of looking upon the soil and farm as a living organism; Where the soil is treated as carefully as the crop and by putting back into the soil the proper balance of organic nutrients such as farm manure and compost; It is an understanding of ecology and a way of living, working and relating to nature, based on common-sense and respect for the uniqueness of each landscape and climate.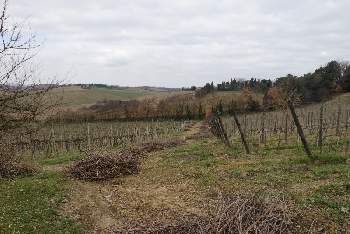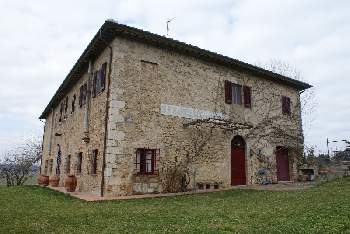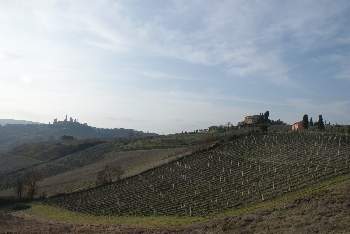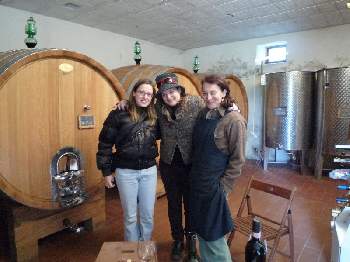 Rebecca, dedicated Foodie, that she is, knew the perfect place to take us for lunch on both days. On the first day we went to a wonderful trattoria and Slow Food establishment called Carlino d'Oro, owned by the same family since 1961. Alan had tagliatelle al sugo di lepre (wild hare) and I had house made raviolis in a sage butter sauce, and roasted pork with beautifully roasted and carmelized cauliflower.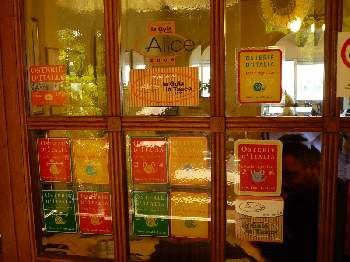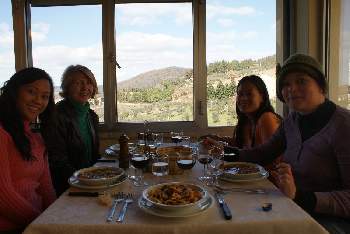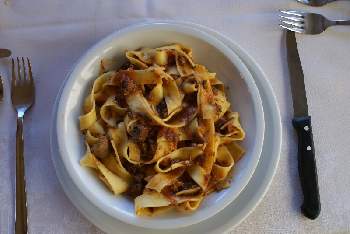 The next day we were treated to a special meal at a farm, which showcased the saffron that the farm produces. The owner served us freshly baked soft saffron-scented rolls warm from the oven, a beautiful antipasti of assorted pastries, pasta stuffed with ricotta and saffron and a lovely pale yellow, delicately flavored saffron gelato for dessert!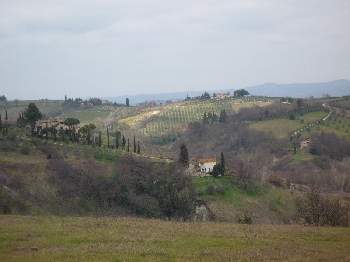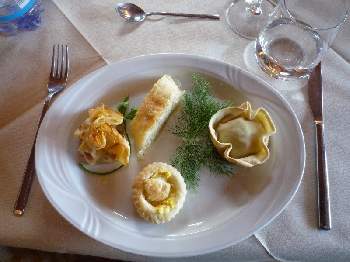 Plus a tiny glass of homemade walnut liquer as a digestif. Did you know that saffron is the stamen from the blossom of a type of crocus? You just might have to go to Il Castelagnolino and experience it as well!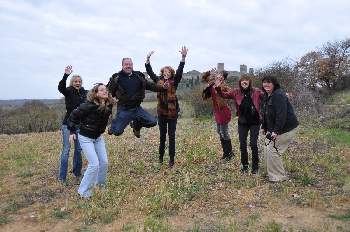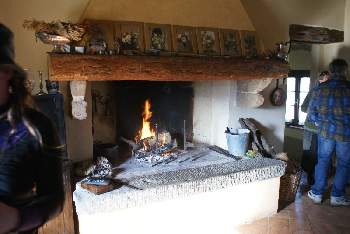 Off to another winery with a long table, laden with salami, cheese and wine...and the cats curled up by the enormous fireplace.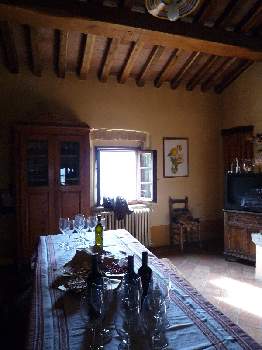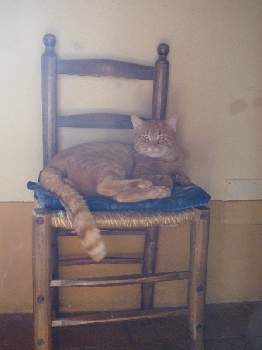 As if Rebecca's tour couldn't get any better, she also included a chocolate tasting at an artisanal chocolate shop. We got to taste about ten different confections and were given a tour of their workshop/kitchen which was gearing up for Easter.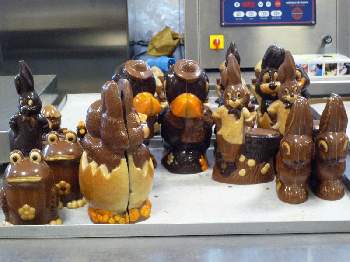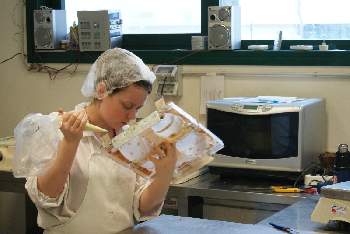 I shouldn't forget the balsamic vinegar. We had a tasting where we tasted balsamics ranging from ten to sixty years old. The older the thicker and better, although even the young vinegar was amazing tasting. Balsamic vinegar will never be the same for me now that I have tasted the best. I'm even more of a food snob and I'll have to throw out all the artificially flavored grocery store kind. Finally she included a few stops in incredibly picturesque villages just for fun!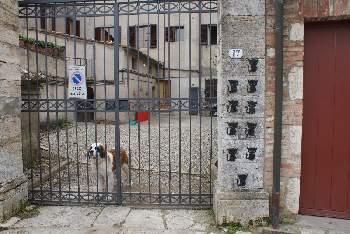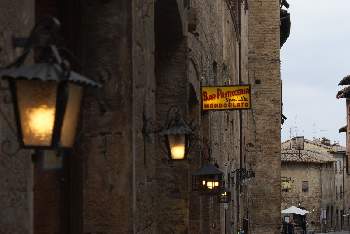 How can you possibly not love her? If you are ever in the Florence area, I can highly recommend taking her tour and no...she did not pay me to say this :0) !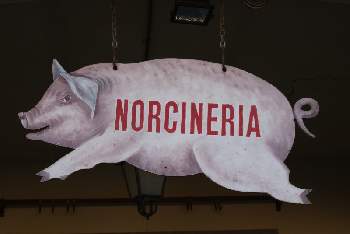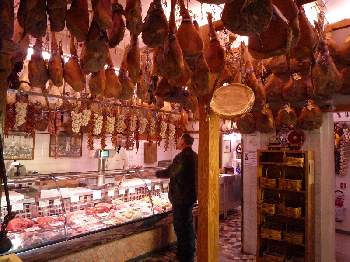 By the way, Rebecca and her boyfriend are opening a restaurant in Colle di Val d'Elsa, a beautiful medieval town close to San Gimignano. It's called 'Officina della Cucina Popolare'. If you are ever in the area you should have a meal there, I have a feeling you'll be very glad you did. The wine list alone will make you very happy!
Back in Florence
I have written before about a uniquely Mediterranean trait of reducing the bill down to a round number. We first experienced it in Greece last summer. Today we had a perfect example. We were out to lunch in Florence and shared our lunch bill of 105 euros with our friends, another couple. Together we left 15 euros as a tip. This would be a minimal tip in the USA, but is a sizeable tip here, where tips are generally not offered or expected. After a few moments, the waiter returned waving two 10 euro notes and handed them to us while explaining that 100 euros would do just fine!

With the warmer weather have come the tourists and students. Almost all the foreign students are American, mainly girls. We hear them laughing and chatting in the streets and we assume that most are art students because we see them with large canvasses, portfolios and sketch pads. There are always a few sketching in the museums and galleries and increasingly outdoors now that the weather is a little warmer.

It's no longer possible to just pop into the Academie to take a peek at David. Now there is a line out the door most of the time. We will have to start thinking about making reservations for meals at popular restaurants and for museum entrances when my parents visit next week.


February 27th 2009
Bologna plans
We have also been doing a little research for our very short visit to Bologna which is coming up in just over a week. Our flight to Turkey leaves from Bologna and we will need to take the train and spend the night there in order to catch the early flight. Bologna has its share of churches and museums but the city is really notable for two things. Food and Ducati motorcycles.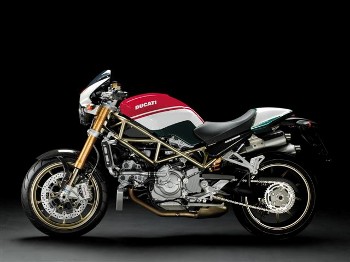 Sadly we have no room on board Moonstruck for a Ducati (trust me I measured) so we will focus on the food. Bologna is the capital of the Emilia Romana region. This region is home to the best ham, parmesan, and balsamic vinegars in all of Italy. It has spawned dishes eaten around the world; bologna, spaghetti bolognese and tortellini and its citizens are not surprisingly coloquially known as "The Fat". After reading up the restaurant reviews in the food blogs we decided on Trattoria Meloncello for our one dinner in Bologna. There were several contenders, including some wonderful sounding and expensive restaurants on Mario Batalli's list when he last brought his NY chefs to Italy. However in the end we were seduced by a description on a new food blog to us. She described a very casual trattoria where the food was cooked and served with love and affection. A slow food trattoria to be sure and far enough out of town that we would be sure to work up an appetite walking to it. We'll tell how it turned out once we get back to Turkey.


Next.....Back on board in Turkey we prepare for our homeward-bound departure and some serious dieting!