Kastellorizo to Symi, Greece
Alan's Log:
Joan's Log:
April 11th 2009
Route from Kemer to Symi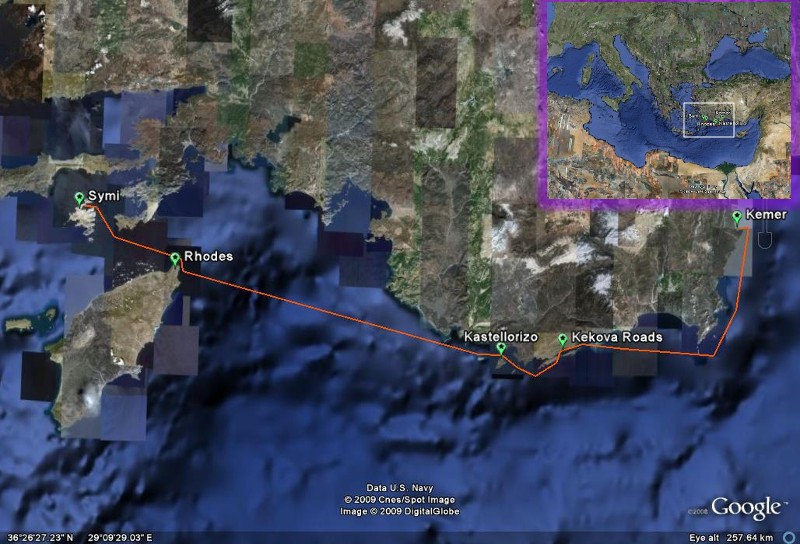 Kastellorizo  (April 10-12 2009)
Kastellorizo (population 430) is an isolated outpost of the Greek nation just off the Turkish coast.  Tiny Kastellorizo is 80 statute miles from the next Greek island of Rhodes.

We sailed right past it last year on our way to Kemer.  To visit it would have entailed checking the boat out of Turkey and into Greece (a day of bureaucracy and fees) then reversing the procedure to continue our route along the Turkish coast. Because of this it is rarely visited by cruising boats, and even less frequently by other tourists.  So on our way back west this spring we decided to check out of Turkey at Kemer and travel only the Greek islands back to the Aegean so that we would be able to call into Kastellorizo.  Kastellorizo is about 90NM from Kemer, a little more than a day sail, so we spent our first night under the Q flag anchored in Kekova Roads, then it was a short 15 mile hop the next morning to Kastellorizo.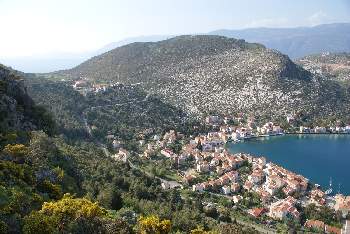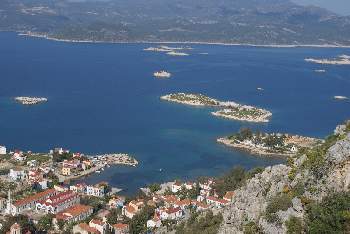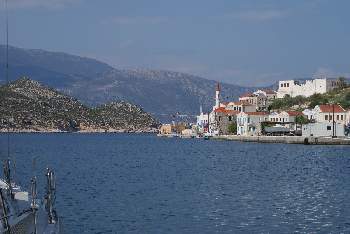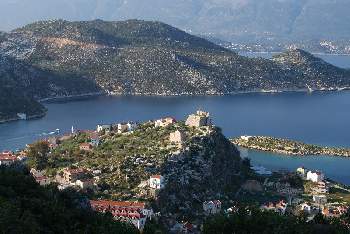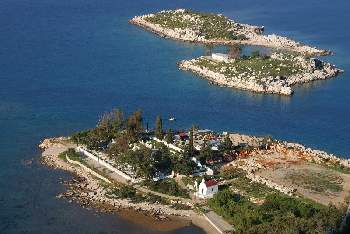 Kastellorizo's only village is draped around the spacious harbour and has an attractive facade of handsome large homes.  It is truly a facade however as the island was evacuated during WWII and most of the citizens returned to see their homes destroyed, and later emigrated to Australia.  Only a few shopkeepers, hoteliers and the inevitable bureaucrats in the customs office remain and a few day trippers trickle in by boat each day from Kas, the nearest Turkish town.  There are no real shops and no market.  The villagers do their shopping in Turkey.  For all that it is a very likeable place.

I hiked to the top of the island while Joan started a painting.  A small abandoned monastery guards the top of the cliff above the village.  There is nothing to see at the monastery but the hike up is a breathtaking (literally) 1200 thigh-stretching steep rough steps directly above the harbour.  On top of the island it is possible to see a few micro valleys where sheep and cattle are grazing.  Goats nimbly leap from rock to rock and the area has the appearance of a moonscape.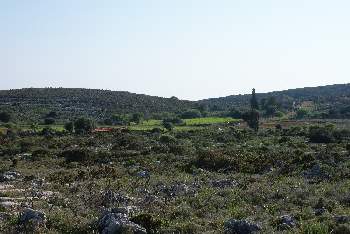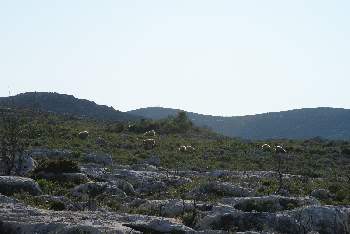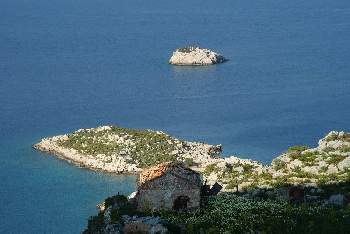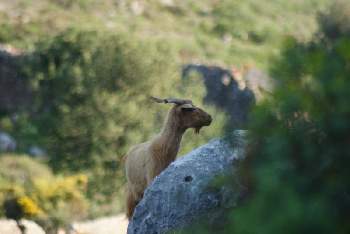 Large flat eroded rocks provide the path.  Each is about 20' long and is surrounded by maquis.  It is a short jump from one rock to the next to avoid getting entangled in the maquis and eventually this 'path' leads to a trail down the mountain on the other side of the harbour cliff offering spectacular views over the surrounding islets and down into the adjacent bay where a small traditional fishing-boat builder is located.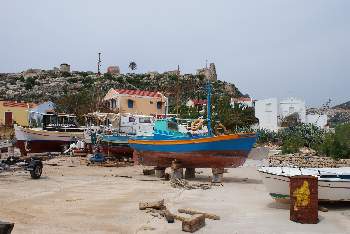 It was the perfect place to check-in to Greece.  The officials are friendly and we are the only visiting boat in the harbour.  We were issued with Transit Log (Cruising Permit) Number 1. We are the first boat to call this year!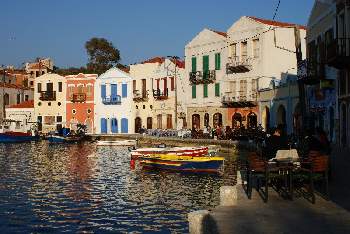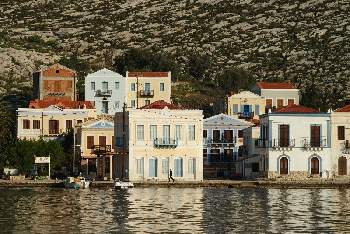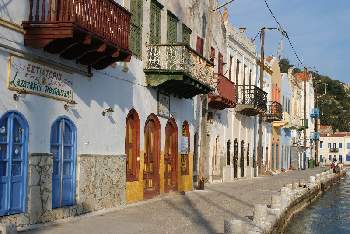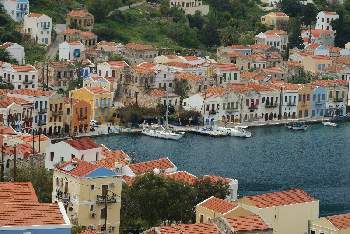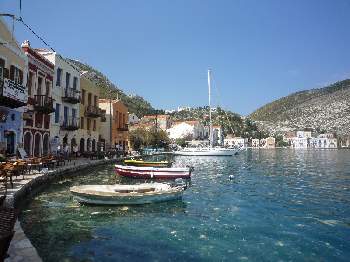 The decaying and the refurbished homes are enormously attractive and make such a contrast from Turkey where the scenery is beautiful but the villages lack character and charm.

From Kastellorizo it was a long day (70NM) of motoring and motorsailing with little wind to Rhodes.  We stopped overnight to fill our tanks with diesel, which is considerably cheaper here than in Kemer, and to reprovision Moonstruck, then continued the next day to Symi.  A 23NM sail with a nice strong wind off the beam.  It was great to be under sail again! 


Symi (April 13th - April 21st)
In Kemer, Pat of MUSCAVADO had told us tales of Easter in Symi (population 2,606)

.  Gunpowder barrels rolling down the hills, Candlight processions at midnight, Firecrackers everywhere.  A town feast featuring roast lamb on the spit.  There are many reasons to visit Symi at any time, and
we called in last October for a week
, but Pat's description captivated us and it is on our Eastbound route to Crete, so we decided to come and experience our first Greek Orthodox Easter celebration.   It takes place a week after Catholic Easter and lasts for a week, with fasting, then feasting and a lot of gunpowder.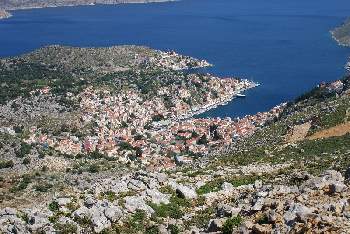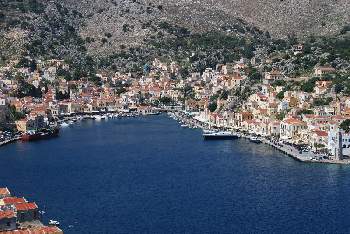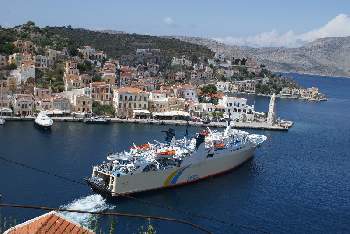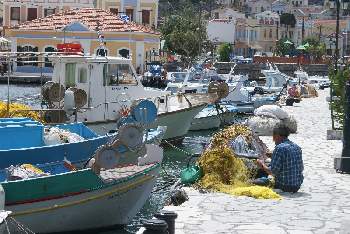 Gailos, the main settlement, is a lovely harbour village, once much larger and wealthier than it is now, it was a center of spongediving and shipbuilding in the 19th Century.  The many tavernas have evocative black & white photographs on their walls showing the sponge-divers and their families.  Often it is their descendants that still own the property, but they have traded their diving gear for aprons.  It was a dangerous but profitable occupation. 

We settled in a few days before Easter.  We rented a motorcycle and drove around the island and Joan started another painting.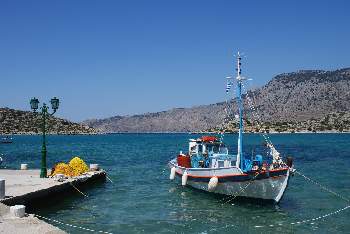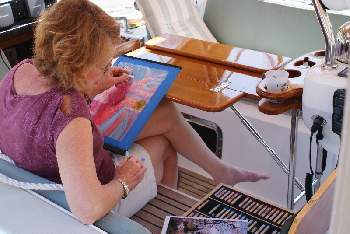 We hoped that Pat and Jennie might join us here, but Pat said that one Easter in Symi was enough for one lifetime!  Saturday was the start of the festivities.  Church bells were ringing and all day explosions thundered in the hills surrounding us, the sound rolling around the bay, vibrating the ground and even felt on the boat in the water. Smaller firecrackers snapped and popped all around us in the streets around the harbour. They were thrown in the street, dropped in oil cans and trash containers each with its unique boom. It sounded like small arms fire.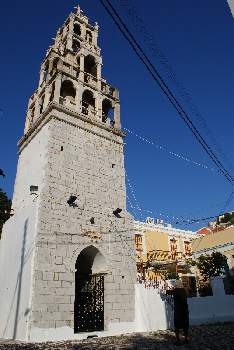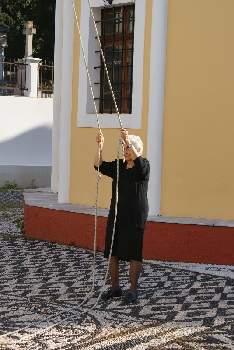 As night fell smokebombs and flares were fired off along the harbour wall.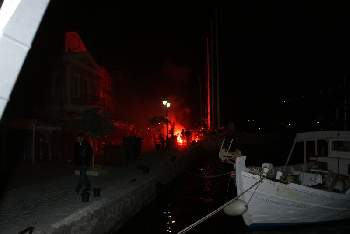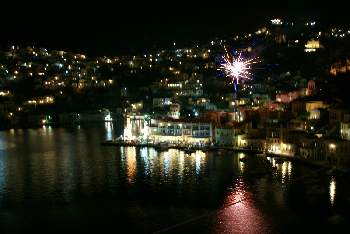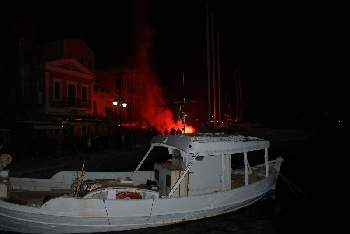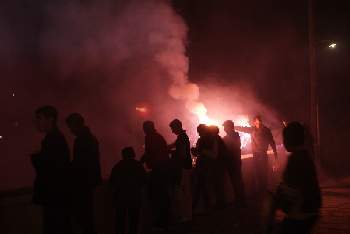 We would look out the portholes after a particularly loud explosion expecting to see smoking ruins and walking wounded, but it seemed to go off without damage.  We even saw a priest handing out firecrackers to children! The intensity of the explosions built during the long evening wait to the 11:00 pm Easter service.  The church was full, everyone was handed a candle, with an orchid tied to it with a red ribbon.  Inside the church we felt like refugees seeking sanctuary from an invading army as explosions crackled and rattled all around the church.  The service ended with two minutes of darkness at Midnight, and then we all joined in a procession down the hillside steps complete with our now lighted candles to carry back to the boat, accompanied by a crescendo of rockets, canons, mortars, firecrackers and parachute flares.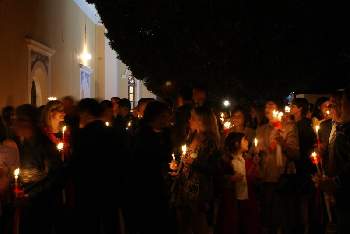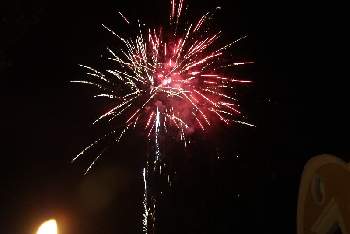 On Sunday we walked up the steep steps to the top of town (Chora) to George and Mary's Taverna where we had been promised lamb on the spit for Easter Sunday Lunch. We arrived with new friends Martin and Isabelle from DE VREIJHEID. No lamb, but goat on the spit is better nea? (yes?). Yes we reply and settle in for a typically lengthy Greek lunch with Greek salad, tsatziki, roast goat and a modicum of white wine. The conversation was enjoyable and ranged from Cruise missiles to Queen Victoria's vacuum cleaner, and the view down and over the harbour was spectacular.  There is an effigy down there, in the town square.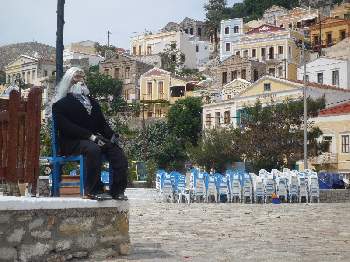 It looks like a Guy Fawkes, but we are given to understand that it represents Judas, and that he will suffer a similar fate as Guy Fawkes later today.  Meanwhile we have urgent business attending to post-lunch (napping).

We awoke to the resurgent sounds of huge explosions in the hills.  But these were far more powerful.  The ground shook, the boat quivered in the water and the air left our lungs as the pressure waves hit us!  It was crazy.  BOOOOOOOOOOOM,,,BOOOOOOOOOOOOOM then a pause (to reload?) then again BOOOOOOOOOOM,,,BOOOOOOOOOOOOOOM.  A pall of smoke drifted from the hills above us.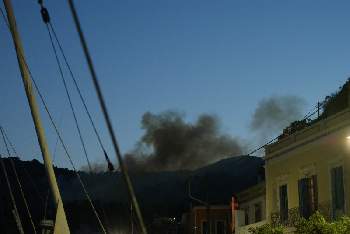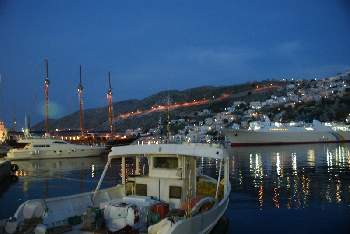 We gathered our wits and headed to the village square where a crowd had gathered.  There was live Greek music,, the square was lit with colored lights and a number of villagers had adopted traditional costumes and were dancing their hearts out.  Just getting there was a challenge.  Small boys throwing firecrackers were everywhere, among them little children wandered around perfectly at ease.  Clearly they are in early training!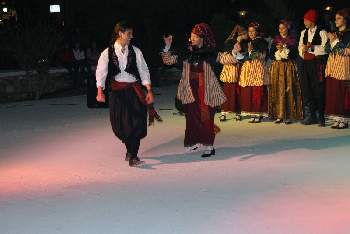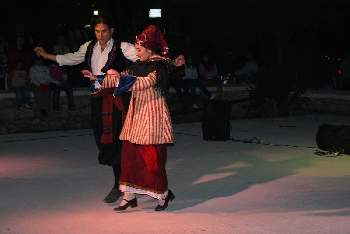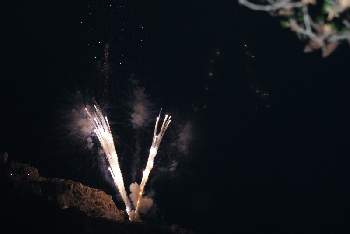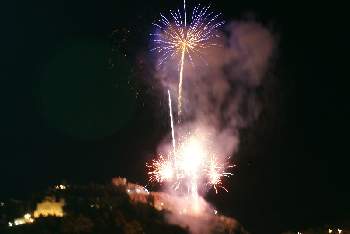 Then a few more explosions in the hills (perhaps explaining the soldiers we had seen earlier in town) and a huge fireworks display was set off next to the Castle at the top of the hill, beautifully lighting it against the black night.

Not to be outdone, the villagers then set light to Judas and as he burned, the village children hurled torrents of firecrackers over the heads of the gathered crowd at the burning effigy.  As the flames died down the dancing became infectious, and the square filled with dancers.


The folk dancing was one of my favorite parts of the celebration.  The costumes were adorable and the girls reminded me of dolls, actually just like the Madame Alexander Dolls I loved when I was a little girl.   They ended their routine with a typical Greek line dance, while the leader, in Zorba the Greek fashion, held a white hankerchief, as one by one, young and old, joined the line, while the haunting mandalin melodies invoked a bygone era.  I wanted to join in too, but had no idea how the steps went.   I felt priveleged just to stand by and witness as they participated in their traditional customs.  They reminded me of one big happy family, which in a sense they were.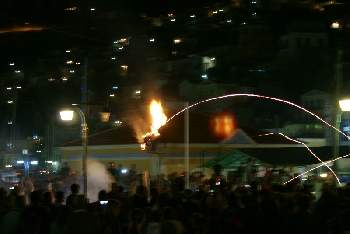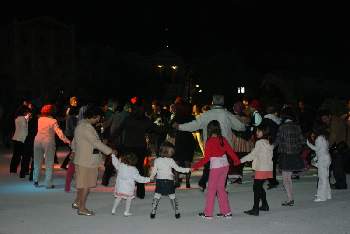 A couple of days after Easter Pat & Jennie on MUSCAVADO showed up (from Kemer) so we delayed our departure a couple more days to spend some time catching up with them.

Greek Easter in Symi was very special, it made July 4th on Wollochet Bay seem quite tame by comparison.  We were chatting about this with a girl who told us we should have gone to Kalymnos.  Apparently in Kalymnos in years gone by it was getting out of control, as one side of the bay competed with the other to make the largest explosion.  As a result there is a now a limit.  Each side of the bay starts out with (only??!) 500lb of dynamite.  By Easter Sunday it is all gone, as are assorted fingers and limbs.  I think that is probably more than we could handle! 
 
After Symi we planned to make passage to Crete, stopping enroute at Tilos and Karpathos, two more little visited islands well off the tourist trail.  However we have been considering a different route through the Aegean, one that will take us right past Santorini (Thira), but skipping Crete.  No decision yet, so you will have to wait for the next installment to see where we went!


Next.......Passage to Crete