Florence, Venice & Tuscany Italy
Alan's Log:
Joan's Log:
February 10th 2009
Our time in Florence is already half over. It is going by way too fast. We have settled into our apartment. It is a nice if rather old-fashioned building with high ceilings and wood floors. It is on the river, with a great view of the Arno and the morning kayakers. The elevator shaft is next to our apartment and makes an old man groan whenever it comes to a halt. We have gotten used to it, Courtney thinks it's hilarious. We are about a 15 minute bus journey from the center of Florence and the buses run every 10 minutes so we rarely have to wait. We have learned our way around Florence and generally take in one museum or church or other sight a day.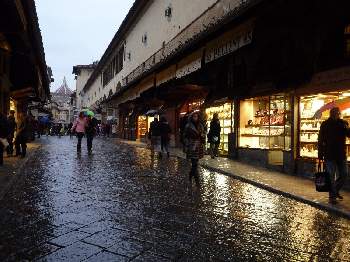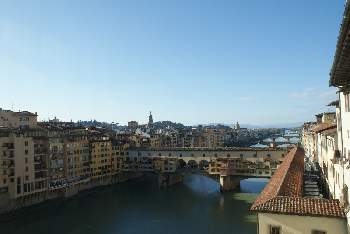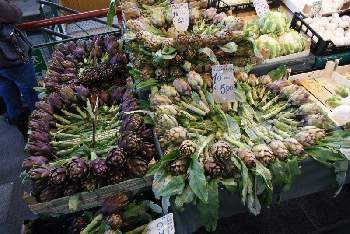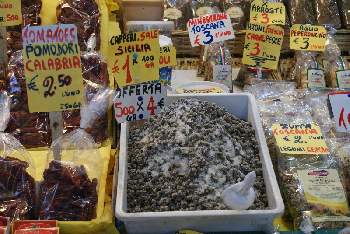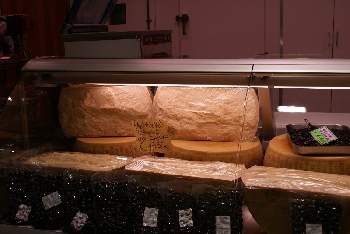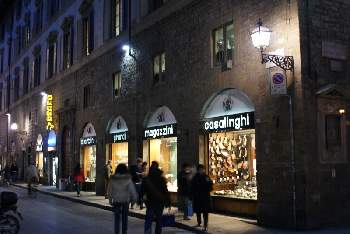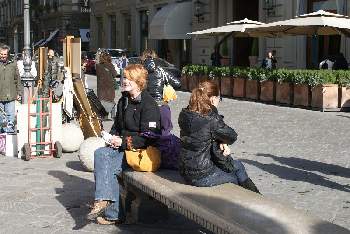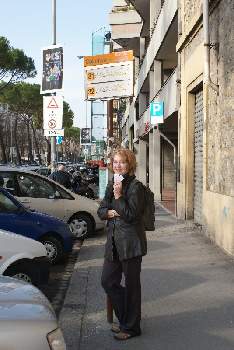 Meandering through the streets we make sure to look in every open doorway, we never know what to expect!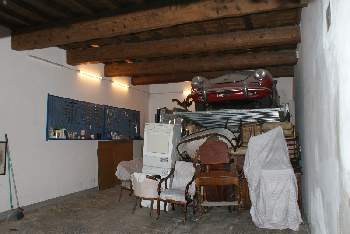 Santa Maria Novella Church
At Santa Maria I was taken aback by the bright, light interior. Instead of dark dreary columns and murky paintings there were crisp colorful frescoes by Michelangelo's mentor Ghirlandaio, with possibly some figures painted by Michelangelo himself as an apprentice to Ghirlandaio.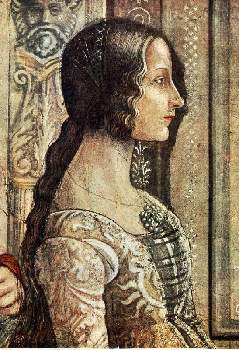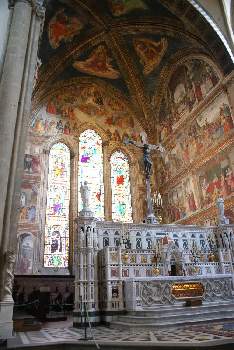 The paintings are beautiful and the depth of color in the stained glass, for which Ghirlandaio also drew the cartoons, is magnificent.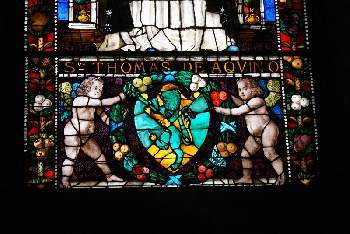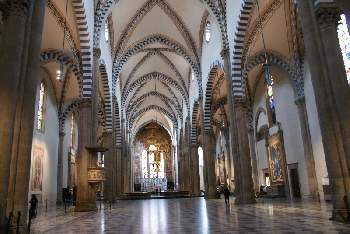 Then back outside for more meandering through the streets where at any moment we might come across a small market stand or an exquisitely rendered chocolate pig!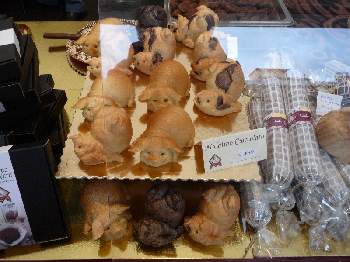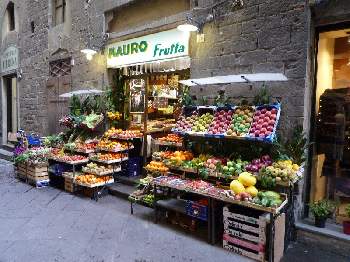 Basilica di Santa Croce
Then over to the darker cavernous Santa Croce church, where the remains of Michelangelo, Gallileo, Marconi and a host of other Italian notables are buried.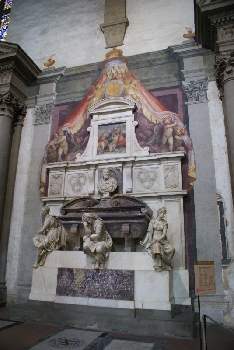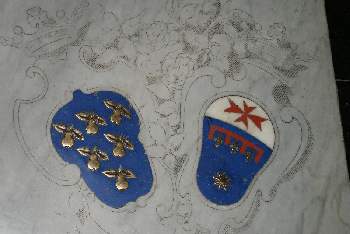 At the weekends we relax and do what the locals do. Go to the antique market, browse the shops and visit the fresh markets. We have already discovered that the markets, while fun to shop in, are more expensive than the grocery store, also every neighborhood seems to have its own wine wholesaler where wine is sold from the barrel. You take your own bottles and taste before you buy. What a great concept! Also everything closes on Sunday except in the tourist-centric center of town. Florence is most fun in the evenings when everyone is out on the streets, window-shopping and meandering from one Aperitivi hang-out to another, while waiting for the restaurants to open.

Courtney has been here for the past week. It has been great to share Florence with her, but the time has gone by so quickly!


San Gimignano
We rented a car for a day and drove to several villages in surrounding Tuscany. First stop was at San Gimignano where we stopped for a wine tasting at the delightful Cantina del Convento, just off the main square next to the convent.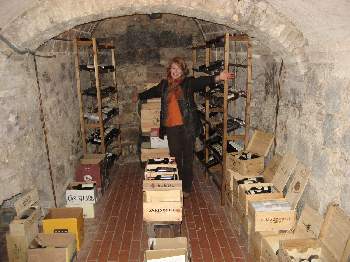 They offer a large selection of very good Tuscan wines (including Super Tuscans) for tasting by the glass. Their wine cellars include some bottles of ancient Chateau d'Yquem and lead to tunnels that are connected to the Convent and Church. Very atmospheric!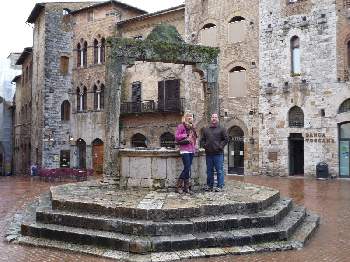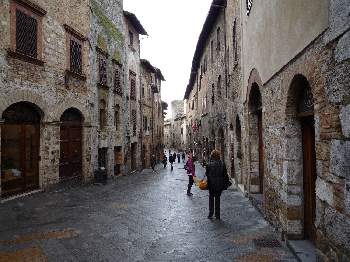 We also visited the Podesta Palace and home to the Civic Museum which offers a twofer!

First came the chance to see the "scenes of private life" frescoes. This is a rare series of paintings of domestic activities from the mid 1300's. It is impossible to guess what the citizens of the 1300's thought when they first saw these paintings, but perhaps their reactions were similar to my own. After a month of wading through a deluge of religious staples of the Madonna, the dying Christ, winged angels' heads and tales from the testaments; interpretations that we have seen over and over; these simple works blew through my head like a breath of fresh air.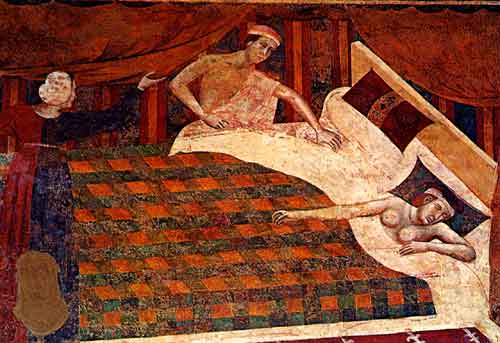 Then a steep climb up The Great Tower built in 1300 for a spectacular view over Tuscany. If anything the ominous clouds and strong wind added to the effect.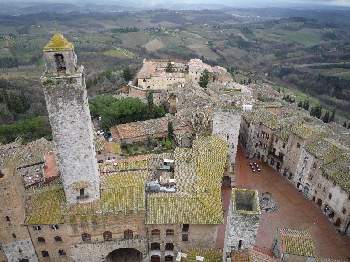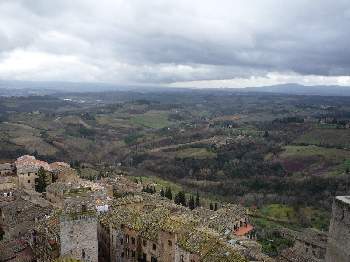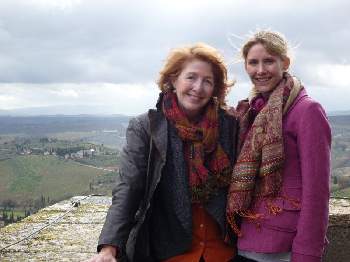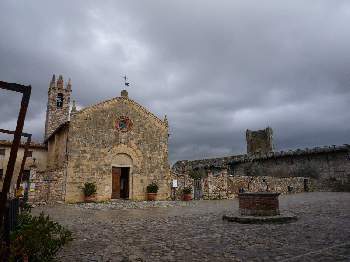 Monteriggioni
Then Monteriggioni which was deserted on this cold, blustery day and where we had a lovely lunch at Osteria just opposite the church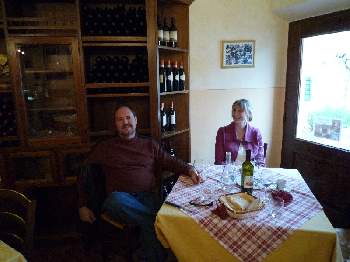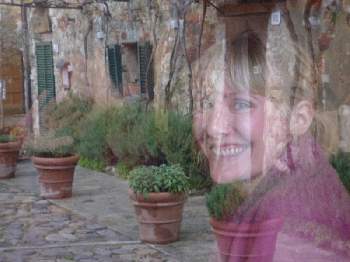 Sienna
Followed by a whirlwind walking tour of Sienna and its main Piazza and Duomo.


Sienna was a big surprise, not what I expected at all. I have a soft spot for medieval towns, I love them, and this one is one of the best, in fact, it is now on my Top Ten Favorite Cities List, plus it got bonus points for having a pedestrian-only city center. The tiny streets twist and turn, higgledy piggledy, with dark mysterious-looking arched alley ways leading off to the left and right. Overhead hung many brightly colored flags, heralding the crests of the seventeen parishes (contrade) that make up the city. We walked along, not really sure where we were going, just following along with flow until we reached a beautiful fan shaped piazza, The Piazza Del Campo. Originally the site of an ancient Roman forum, it is paved in red brick in nine segments which slope gently to a center point where rain water flows into the most beautiful storm grate I've ever seen. At the top of the piazza is a lovely old fountain, The Fonte Gaia, the water is still supplied by a five hundred year old aqueduct! The piazza is fringed with fourteenth century palaces, restaurants, and cafes. How wonderful it must be to be here in the summer and enjoy a cold prosecco while watching the comings and goings of the townspeople and imagining the centuries worth of pageantry, festivals, duels and executions which have taken place here in the heart of the city.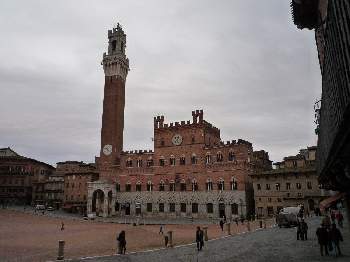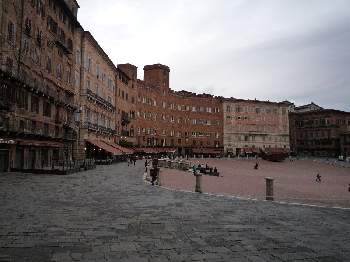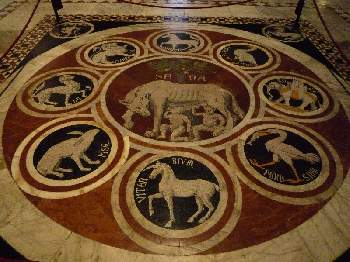 We barely scratched the surface of what Sienna had to offer as we only spent a few hours there. We had only planned to look at the outside of the Duomo but as we scanned the intricate wedding cake exterior, I noticed the door was open and suggested we take a look inside. Oh wow! If you're looking to find religion, you'll find it here! I've seen a few churches in the past and quite frankly I've gotten a little jaded and maybe a little bored. This church was NOT boring! There is not a square inch of it that has not been lovingly detailed by devout hands. Art everywhere, the walls are covered with exquisite frescoes, the marble floors are elaborately inlaid, with scene after scene of stories from the old and new testaments. The enormous stained glass ocula, in the colors of jewels, begged for attention from above. People talked in hushed tones, there was a real sense of intense reverence within the building. An Italian woman approached Alan and whispered in broken English"you must see the pulpit, it is magnificent" then crossed herself several times. It was indeed that, wooden panels beautifully carved in 1265 by Nicola Pisano, depicting scenes from the life of Jesus. There are masterpieces by Michelangelo, Ghiberti and Donatella...and to think we almost didn't go in!
Final words...I will be back!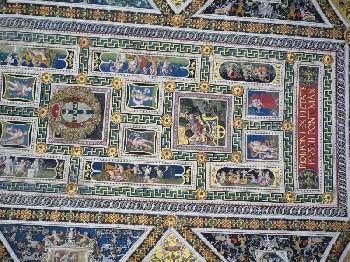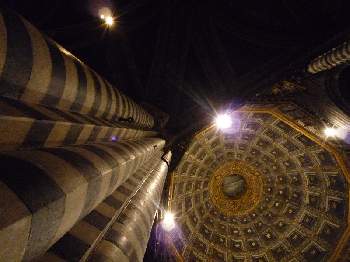 Venice
Another day we visited Venice. Frankly it was a stretch getting to Venice and back from Florence in a day. We took the first train in the morning and returned on the last train. We spent a total of nearly 6 hours on the train, plus 7 hours walking around Venice and taking the No:1 Vaporetto ("little steamer") ferry all the way up and down the Grand Canal.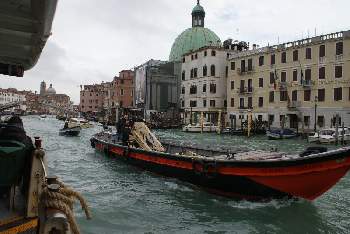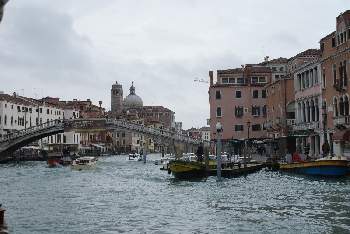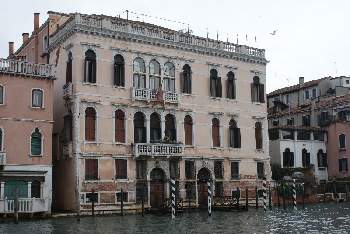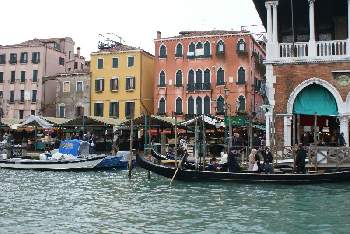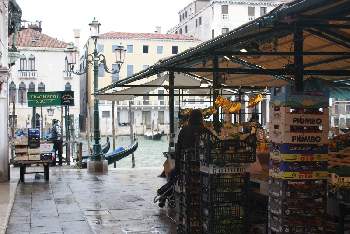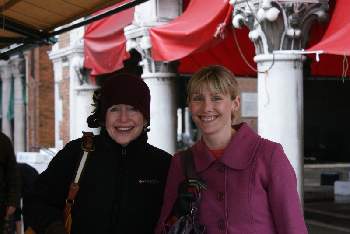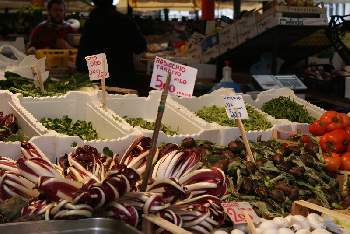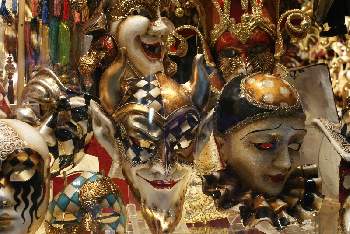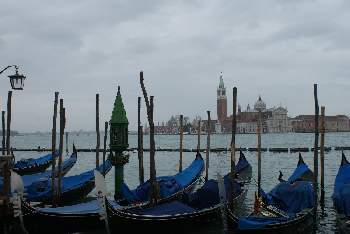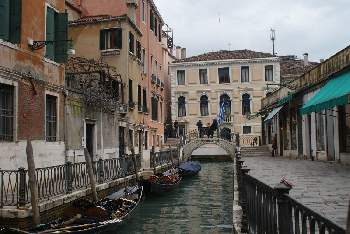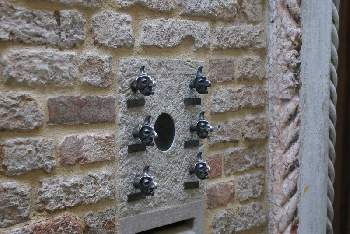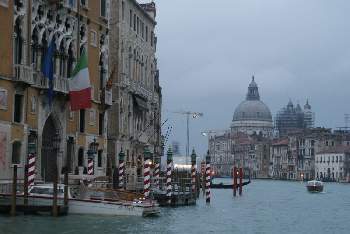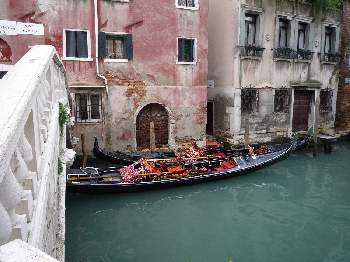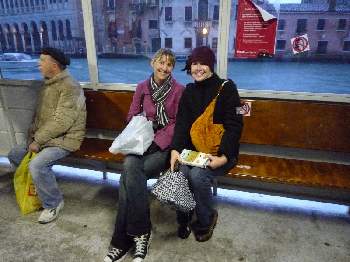 Trattoria Mario
In between trips out of town we revisited Michelangelo's David & The Prisoners at the Accademia, and saw Donatello's David and Michelangelo's Baccus at the Bargello. We had lunch at Trattatoria Mario next to the Mercato Centrale, squashed into a tiny table for four with a suave Italian gentleman for company. He spoke no English and I was too ashamed to expose him to my pidgeon Italian, but we slavishly copied his menu selections and were much rewarded for doing so!


Trattoria del Gato e La Volpe
Another day we were looking for lunch in the super-touristy Via Ghibellini area. Our golden rule of restaurant hunting is:

Consider any venue unless it has outside; A tout; Pictures of food; Non-Italian menus.
and it led us past some better-looking places to a surprisingly good pizza lunch at the unpromising looking Trattoria del Gato e La Volpe (The Cat & Fox). Complementary seasoned foccacia bread hot from the oven and dipped in olive oil and aged balsamic kept us busy while we perused the menu. The Pizzas are the star of the show at lunch-time and the crowd is a mixture of local businessmen, tourists and students. Prices are cheap, the waiters friendly and international students get a 10% discount. A good meal at about half the price of the average restaurant in the area.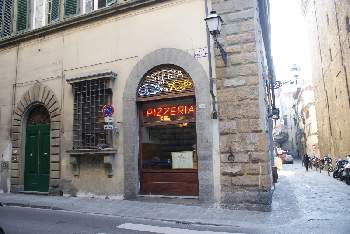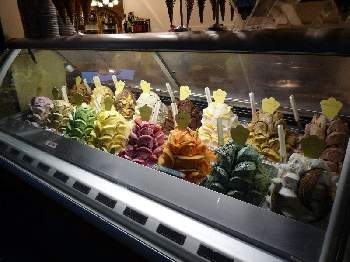 Gelato
So I have been conducting my ongoing gelato research here in Florence, it's tough work, and then there all those calories to burn off, but someone's got to do it! It's coming along quite nicely, I've made some important discoveries, one of which is don't be fooled by all those big fluffy, artfully carved displays of ice cream, sure they look wonderful, but you'll be disappointed in the taste. Bland! I have discovered that the really, really, good stuff is hidden away in bins covered with silver insulated lids, this is something I had learned in my previous studies in Rome.
The best so far...well, for this week is Le Parigine on Via dei Servi, a side street off the Duomo. We just happened to notice it while walking past one day. I saw the silver lids and said "we HAVE to stop here!" We keep coming back and we haven't gotten past the pistachio and dark chocolate, that's how good it is! One thing...never get bright green pistachio, that's for the tourists, it's colored and artificially flavored. Parigine's pistachio is the real deal, it has the slightest hint of green, and the delicate, toasted nut flavor really shines through. The dark chocolate is so sinful, I swear it is made by the Devil himself! Parigine only serves flavors in season, made on site from whole fruit/nuts etc. It being winter the only fruit flavor currently on offer is pear.
But then there is Vestri, another new discovery. I'm pretty sure the Devil works there too. They specialize in everything chocolate, from candy to gelato to hot chocolate. Their chocolate gelato flavors (all under lids) run the gamut of chocolate mixed with orange, cinnamon, mint, hot pepper AND they have pistachio too! Which is just about tied with Le Parigine. So far we have only tried the chocolate/orange, which was incredible! and the hot chocolate is the best ever, I'll be back and I'll have my posse with me...to be continued!
It was outside Vestri, where we were enjoying a pistachio gelato that we ran into a family that we had seen earlier that day in Rocco's (see below). Recognizing that we had at least taste buds in common, I struck up a conversation only to be gobsmacked to find that they are (a) American, (b) living here in Florence for a few months just like us, (c) have a sailboat anchored nearby and (d) are sailing to the Greek Islands for the summer. Small world! I am sure that we will run into them again at a Greek taverna or gelateria.


Trattoria da RoccoWhile shopping one day in the Sant Ambroglio fresh market (our favorite) we came across a cute, if not strange-looking, little trattoria with an unusual (to us!) entry system. It was entirely encased in glass, like a large fish aquarium. Inside were about twelve booths, six on each side, each with it's own glass door. To enter you open the door at the end of a booth and slide in. The first time we went there we walked around it several times, trying to figure out how to get in until Rocco, the owner, noticed our bewildered faces peering through the glass and waved us in. A center aisle connects with the tiny kitchen on one end and a counter at the other; where shoppers can buy meals to take away. This is where the waitresses rush back and forth between the counter, kitchen, and booths and where Rocco holds court, chatting, teasing and flirting with all the women. The service is snappy and as soon as your order is placed, your meal is set before you with a basket of bread, wine is poured into plastic cups from a large bottle, which is left on the table to help yourself from on the honor system, quite a temptation. The food is plain, simple, down-home Tuscan fare and very good, oh...and a great bargain too! I hate to let the secret out, but it's too good not to share the love. Be sure to order the baked pears for dessert, they are served glistening in a crisp sugary creme caramel-like coating, floating in a silky caramel sauce. Yum!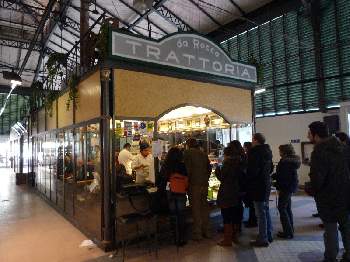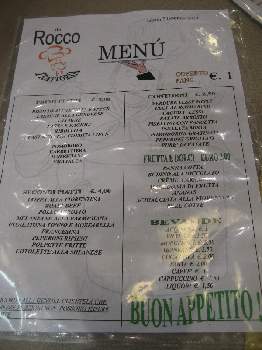 We had dinner at the elegant Trattoria Italiana in San Croce one night. Courtney shopped for wedding accessories and scored some great silk ties for the Groomsmen and shawls for the bridesmaids at the outdoor stalls in the Mercato Centrale.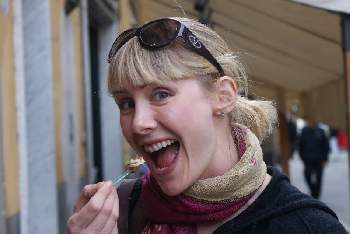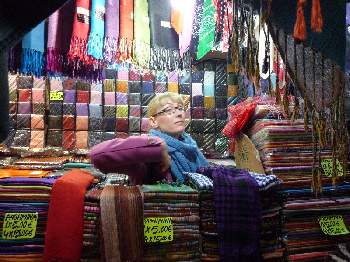 We threatened to eat Lampredotto. A very popular Florentine specialty, usually served sandwiched into a hollowed-out roll, and here is the hard part for us squeamish Americanos, it comes from the cow's fourth stomach! We almost had Courtney convinced, but the Lampredotto stand near our apartment also had a gleaming, golden-hued roast pig on display. Porchetta Panini. Roast Pork and Crackling in a Panini. It proved irresistible, Lampredotto will have to await another day.
A few Florentine specialties worth mentioning:
First and foremost is:
Bistecca ala Fiorentina
- A thick T Bone steak, from white, grass-fed chianima cattle raised near Sienna. Seasoned with olive oil, rosemary and salt, seared over charcoal or wood, served rare and then ( a key ingredient) squeezed with fresh lemon juice. There is something about the combination of the meat and the acidic tanginess of the lemon that is the perfect alchemy...magic!
New Harvest Extra Virgin Olive Oil
- New Harvest is from the fall harvest (September through November), this is something completely different and a new thing for us. Nothing will ever compare to the deep green, grassy, slightly peppery taste of new harvest oil, we are spoiled for ever. The ultimate condiment, it is drizzled on just about everything.
Ribollita
- A thick, hearty soup made with big white canneloni beans, cavolo nero (a black cabbage very much like kale), carrots and stale bread. I don't think we have found a place that doesn't serve it. It is a staple, true Tuscan comfort food and now a part of my repertoire.
Finocchiona
- Salami of pig or wild boar (Cinghale) and fennel seeds. There is a true art-form to processing cured meats and salumis in Tuscany. This one is exceptional. The anise flavor of the fennel seeds perfectly balances the rich greasy meatiness of the boar.
Pear Ravioli
- Yes, ravioli stuffed with ricotta cheese and pear. I will be making this when we get back home because I know we won't find it at Safeway!
Lardo
- Pig Fat! Not your grandma's baking lard. This is cured with salt and herbs in marble tubs in the Carrara area where Michelangelo got his marble. Sliced thin and served warm on crusty crostini it is better than butter, believe me!
Chicken Liver Pate
- Two months ago I wouldn't have touched it, now I love it. Always served on crostini, silky smooth and delicious. When mixed with truffles serious addiction can set in!
Pecorino Toscano
- We love the mature pecorino from Sardinia and thought no other sheep cheese could be better. But this is. Ranges from mild and slightly soft to tart, hard nutty and dry. It's all wonderful especially with pears, apples and a drizzle of balsamic vinegar reduction and a nice chianti!
Truffles
- White or black, at this point in our education it makes no difference to us. We are addicted. Truffles come whole, sliced, infused in oil or butter or mixed with cheese. It's all so good. We are just starting to learn to cook with this gem.
Lampredotto
- From the fourth stomach, hugely popular, served chopped-up in a hollowed-out roll with salsa verde. People line up for them at little Lampredotto trucks all over town, smells delicious but we always chicken-out at the last minute. Gathering courage though... :)
Biscotti and Vin Santo
- The perfect end to a meal. A few biscotti dipped in Vin Santo (Holy Wine), a sweet desert wine, until sodden. How very civilized!
Young Americans Behaving Very Badly…
One night after dinner as we were walking to our bus stop next to the Duomo, a young twenty-something couple passed us, talking loudly to each other. The boy/man was walking several yards ahead of the girl and passed us with his head down, yelling over his shoulder "shut up, I hate you!" At that point I realized they were Americans, they crossed the street behind us and we could hear him yell "stop following me!" We turned to see them actually start hitting each other, then fall to the ground struggling…locked in an embrace of hate, then incredibly, he began to pound her with his fists! We were too stunned to react, seconds later other people rushed in to disengage them. We turned to catch our bus, disturbed by what we had witnessed. What the hell?
Next.....We visit wineries around Tuscany and have visits from Joan's sister and girlfriends and from Alan's parents.