Transatlantic Crossing 2009
Our Transatlantic route with daily position markers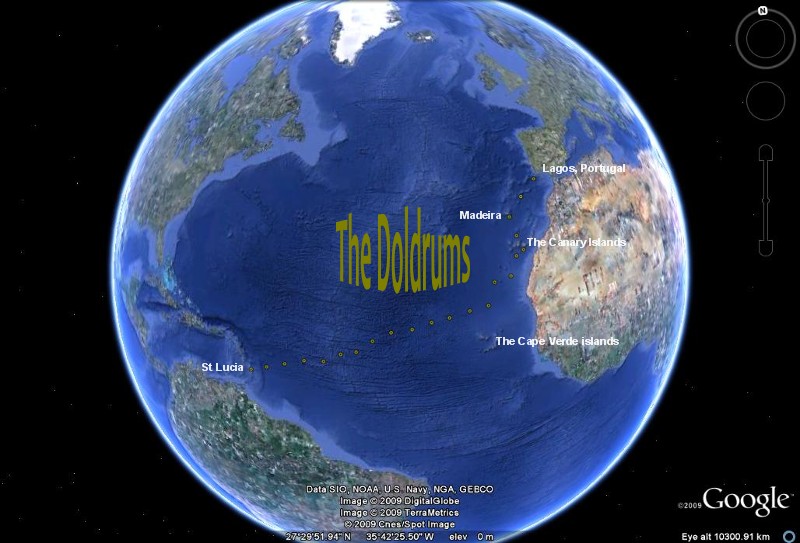 Log
Alan's Log:
Joan's Log:

November 22nd 2009
Distance traveled: 0
Distance to go: 2,900 Nautical Miles(est.)
Position: Las Palmas Marina
READY FOR DEPARTURE
We are ready to go, water and fuel tanks are full as is every nook and cranny stuffed with supplies for the voyage.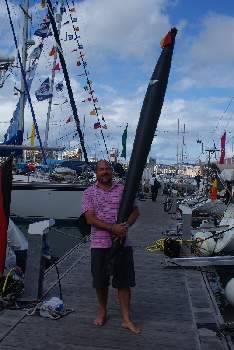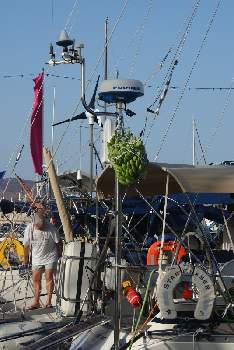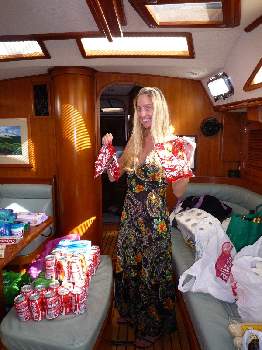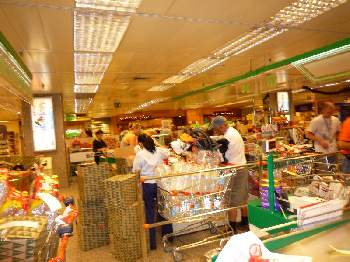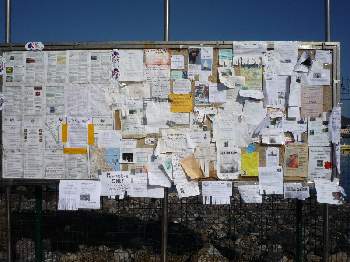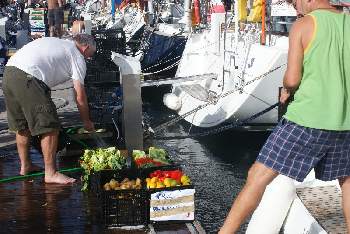 The activity around us is feverish. XAVANTE (Sweden) next to us had their generator redelivered to them last night and were unable to get it started despite working much of the evening. It finally burst into life 5 minutes ago, talk about leaving things till the last minute! NORTHERN CHILD (UK) was the first boat off the dock heading out for some practice starts I expect. We are heading to the Sailor Bar (internet cafe) for a last update and will be off in 3 hours. Sam's wife Camilla is safely home from her visit to Moonstruck and has updated her blogsite with her perspective on the preparations in Las Palmas here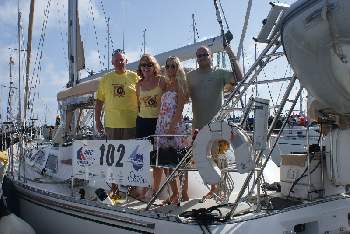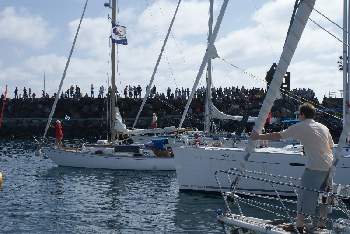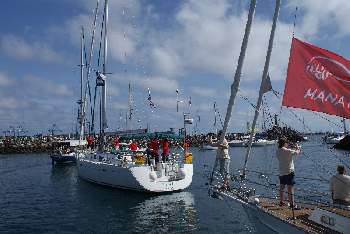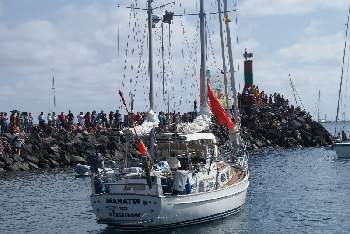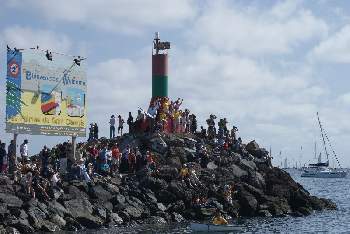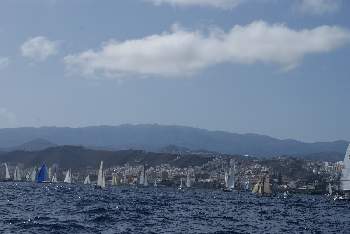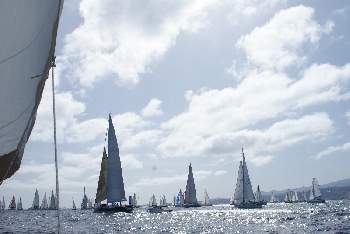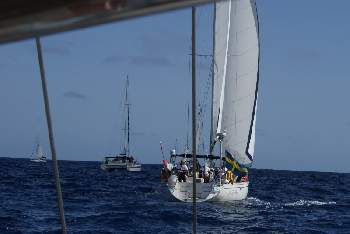 November 23rd 2009
Distance traveled: 178 Nautical Miles (at noon UTC)
Distance to go: 2,700 Nautical Miles (est.)
Position: 26.41N 17.11W
A PERSONAL BEST FOR MOONSTRUCK!

Two hundred and twenty yachts crossed the line yesterday at 1pm UTC. Half immediately set spinnakers and headed off down the coast of Gran Canaria while the other half including ourselves headed offshore to pick up more wind.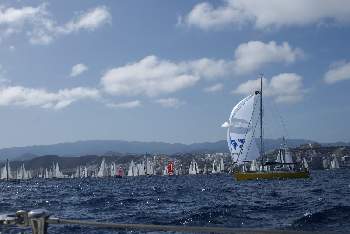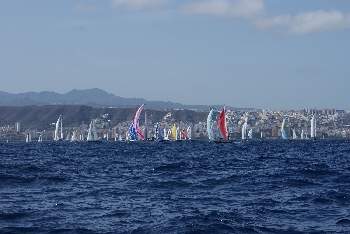 It took a while to settle down at sea after 6 weeks in the marina. The wind built during the day and night to around 30kts from astern before dropping to the more pleasant 20-25 knots that we are experiencing now. Our first 24 hour run was a personal best for Moonstruck of 186 Nautical Miles!

At night the stars are spectacular but are nearly matched by the numerous lights of other yachts surrounding us. Collision is a real possibility in the early days and radar is not much use in differentiating these small yachts from background scatter. The saving grace is that most of them are headed the same way as us so closing speeds are fairly small.
While Moonstruck is having a personal best day, conditions on-board are far from ideal, and a little closer to ordeal. Today is a Bone-breaker in my lily-livered estimation, holding on (for dear life, sometimes) is essential. We are getting hit on the beam by some pretty enormous waves, so we're getting tossed around pretty hard. Cooking is a challenge, but it's the least I can do to keep the crew happy. For breakfast I cooked bacon, eggs, and toasted baguettes with butter and strawberry jam and real coffee in the french-press, but believe me it was like cooking inside a carnival ride, if you get the visual. Trying to pour steaming hot coffee, while getting slammed from one side of the galley to the other isn't for the faint of heart. Later I had to medicate Lauren with Sturgeron, I hope it works. She is now sound asleep curled up in her nest.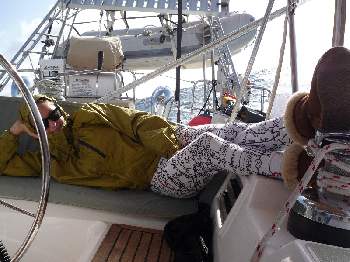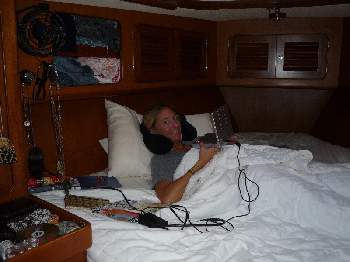 November 24th 2009
Distance traveled: 364 Nautical Miles (at noon UTC)
Distance to go: 2,560 Nautical Miles (est.)
Position: 24.26N 19.00W

WE MATCH OUR PERSONAL BEST AGAIN!
Day three and we matched yesterday's run with another 186NM today. Conditions have settled somewhat with the Atlantic swell filling in and no more large rogue waves or crosswaves. It makes for a much more comfortable ride and all the crew got some sleep last night. We listened to Herb last night. Herb Hilgenberg provides weather routing for transatlantic yachts from his HF radio in Toronto Canada and he came in pretty clear and told us to head south beyond 25 deg N to stay in the stronger winds.



November 25th 2009
Distance traveled: 538 Nautical Miles (at noon UTC)
Distance to go: 2,350 Nautical Miles (est.)
Position: 23.21.44W
WE BROACH....TWICE.
Much more pleasant sea-state today so the ride is less shattering, bright sunshine and warmer temps too! Lala is out of her nest, and looking chipper.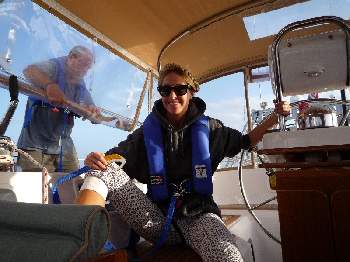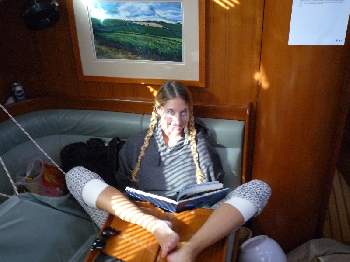 We are headed south to the Buttermelts. Where are the Buttermelts anyway, I can't find them on the chart? On a worrying note, a sail boat has been reported missing, and we have been listening to the search & rescue reports on the VHF. The position is about eighty + miles north of us, and we don't know yet if it is an ARC boat, although an ARC boat did hear the mayday call.
We broached this morning while I was on watch. We had the spinnaker up all night in 10 - 15 knot winds. When I came on watch at 6:00am the wind was increasing to about 18 - 20 (probably not a good time to flying the spinnaker) I was hoping we could take it down as soon as it was light enough. At about 7:30 the wind was stable at about 12 knots, so I thought I would leave the helm long enough to make a cup of instant coffee. Just as I was stirring my coffeee the boat started to heel severely, then it just laid over as a strong gust hit us. Everything went flying. The liquor cabinet door swung open and all the glass wine glasses (souvenirs from a wine festival in Malta) flew across the salon, shattering into thousands of pieces. Alan was up at the helm in a matter of seconds and got the boat under control. An hour later after I had finally cleaned up the mess it happened again, this time Alan was at the helm; it wasn't as severe but poof! the spinnaker blew apart.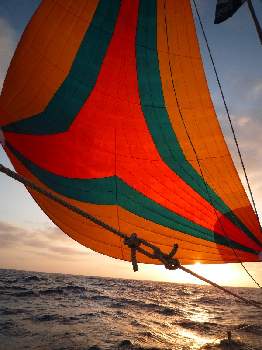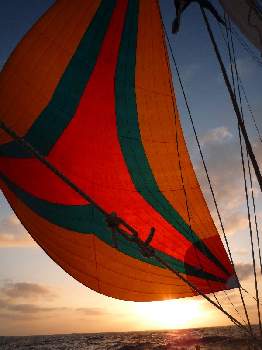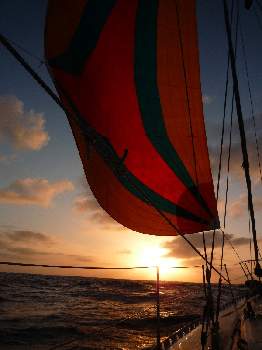 It took all of us several hours to sort out that mess. So no more spinnaker for this voyage. Now we are nicely making way under the main and a reefed jib, and I have retreated to my "Happy Place" with my magazines to calm my shattered nerves.
I decided to keep the spinnaker up until after breakfast. It was the wrong decision. I was still in my pajamas when it shredded near the halyard in a gust of wind. We were able to steer around it in the water and avoided running over it. It trailed out alongside and behind us like a burst balloon. Luckily we still had ropes attached to all three corners of it, and it was just a tedious task to slowly pry it out of the water and on deck where we could stow it down below. It is unrepairable onboard which is a shame. As Sam and I returned to the cockpit after bringing it in, Joan and Lauren were aghast...apparently I had also shredded my pajamas in the effort to recover its remains. Sadly they were relinquished to the deep.
November 26th 2009
Distance traveled: 717 Nautical Miles (at noon UTC)
Distance to go: 2,287 Nautical Miles (est.)
Position: 21.19N 23.14W
Got out of town on a boat
goin' to the southern islands
sailin' a reach
before a following sea.
She was makin' for the trades
on the outside
and the downhill run
to Rodney Bay.
Off the wind on this heading
lie the Cape Verdes
we got forty feet on the waterline
nicely making way.
I have my ship
and all her flags are a flyin'
she is all I have left
and Moonstruck is her name.
Happy Thanksgiving with love to all our American family and friends!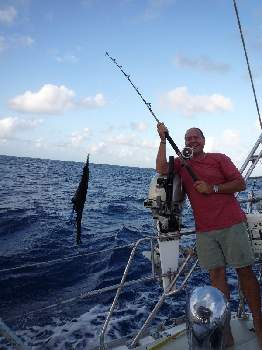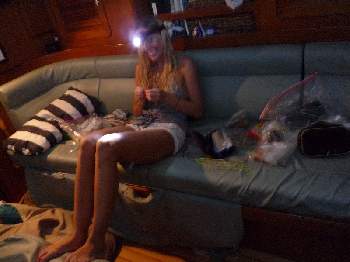 November 27th 2009
Distance traveled: 889 Nautical Miles (at noon UTC)
Distance to go: 2,115 Nautical Miles (est.)
Position: 20.52N 26.09W

WESTWARD HO!
Making great time on a beautiful sunny day, the waves are far more manageable today too.


November 28th 2009
Distance traveled: 1,072 Nautical Miles (at noon UTC)
Distance to go: 1,932 Nautical Miles (est.)
Position: 20.34N 29.18W
GALLEY GREMLINS!
More wind. Faster speed. Bigger waves. Cloudy in the morning but sunny by by noon. It's harder to move around the boat, getting knocked all over the place by the waves :0( We talked to John of J'SEA on the radio this afternoon. He is really close to us, just out of sight. Later we passed a beautiful old two-masted schooner.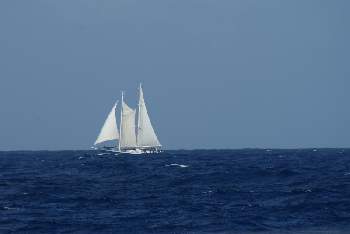 On a down-wind sail with the sails goose-winged there is one big disadvantage...the boat rolls! You could easily convince yourself that the boat is infested with mischevious sea-nymphs, especially in the galley area. It's like a scene out of the movie, "Poltergeist"; drawers fly open, knives and forks spilling out onto the floor. Suddenly you are flung from one side of the galley to the other. You open a cupboard and its contents fly out at you like frightened birds. You reach for the milk and it slides out of your reach, tips over and spills. Today adding insult to injury, I was standing in front of the stove cooking dinner, when about two gallons of cold sea water was thrown in my face through the porthole above the stove! I could just hear their howls of laughter!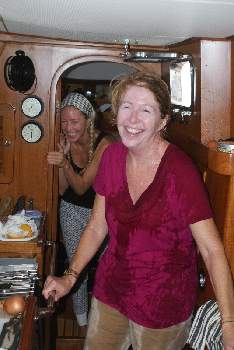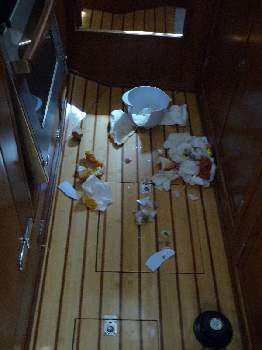 November 29th 2009
Distance traveled: 1,238 Nautical Miles (at noon UTC)
Distance to go: 1,766 Nautical Miles (est.)
Position: 19.59N 31.57W
SEWING CIRCLE
It is unbelieveable how quickly the sails start to deteriorate in the trade winds. Our Jib has a sunbrella (canvas) cover stitched to its borders which protects the sail from UV deterioration while the sail is furled (rolled up on the headstay). During the night the stitching for this cover started to give way and as the cover came free of the sail it started to flog which would quickly damage the sail itself if not attended to. So we hove to and pulled the Jib down. This took all four of us. Sam and I on the foredeck and Joan and Lauren steering and helping to haul the unruly sail back into the cockpit for examination and repair. All in about 20knots of wind.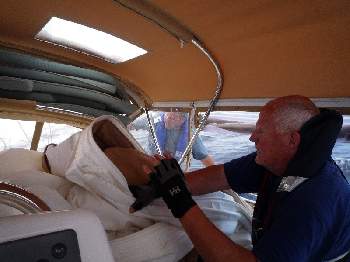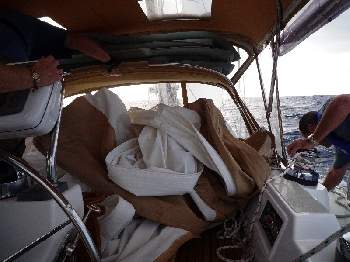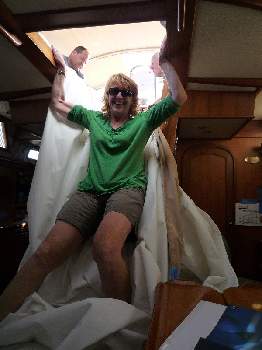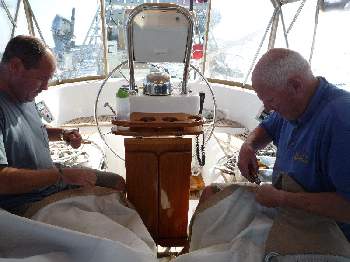 A few hours later we had sewn up the damaged portions of the cover, but in examining the sail it was quickly apparent that the remaining original stitches were wearing very thin and would not last much longer - particularly if the sail is allowed to flog at all. We put the jib back up. This time Lauren joined Sam and I on the foredeck and she hauled the jib back up. We then poled it out to give it more stability. The main is still looking good except for the aforementioned damage to the leech/leechline.

With the Genoa back up we were back to a brisk 7.5 knots + again and could put our minds to trying to regain some of the large amount of time we have lost.


Very difficult night, sleep came in ten minute intervals, as large waves rolled the boat. In the morning not only did we take down the massive jib and haul it into the cockpit, repaired it and put it back up, but we also dragged the stay-sail off the fore deck and into the cockpit and set the whisker pole to pole-out the jib. During all this activity the auto-pilot stopped for no apparent reason, which caused us to heel very steeply, catching Alan and Sam off guard. They both fell and hit their heads, Alan has a goose-egg over his left eye and a bruised thigh and Sam has a scape over his left eye. We are so thankful and lucky they were not seriously hurt. Our eighth day at sea, and not even half way there yet. I know I'm sounding like a whiner, but this not a pleasure cruise.
November 30th 2009
Distance traveled: 1,405 Nautical Miles (at noon UTC)
Distance to go: 1,525 Nautical Miles (est.)
Position: 19.40N 34.47W

NURSING THE SAILS
The good news. The repairs to sections of the bottom of the Jib have held so far and look like they will continue to hold. The bad news, the rest of the bottom section of the UV cover (not the sail itself) has come apart. As long as we can stop the sail from flogging we can continue indefinitely like this. If it flogs we will have to pull it in and sew the entire foot of the sail (about 30'). In difficult rolly conditions Joan cooked breakfast again this morning - sausages and pancakes. Its a huge ordeal just working in the galley, but one that is greatly appreciated by all on board.

Hard core rock and roll today on Moonstruck! and no I don't mean music.


December 1st 2009
Distance traveled: 1,584 Nautical Miles (at noon UTC)
Distance to go: 1,350 Nautical Miles (est.)
Position: 19.18N 37.52W
PAST THE HALFWAY POINT!
Last night was our second under goose-winged Main and poled-out Genoa/Jib. The boat continues to roll a lot as the 10' swells come up behind and slowly overtake us. Occasionally we will surf down the face of the swell/wave pushing our 27 ton boat at speeds up to 10+kts, but that imposes significant demands on the autopilot to maintain steerage control so we reduce canvas to keep our speed down to a safer 7.5-8.5 knots. This also reduces the velocity of the snap-rolls to a point that is, just, bearable. We overheard a conversation between two 40' Hallberg Rassy's BRINDABELLA and BLONDE MOMENT yesterday. They are both sailing extremely fast, and are ahead of many much larger boats, including ours. One of them was flying a spinnaker when she broached and heeled over 90 Degrees so that the spreader tips were in the water. It is not pleasant to think about all the stuff that would go flying about if that were to happen on board Moonstruck, so we are quite content without a spinnaker just under our working sails. Catamarans are of course much more stable, and we have been enviously thinking of our fellow sailors on the larger Cats. Apparently however even the cats are not immune to rolling. A few days ago we heard that TUCANON, a Lagoon 44', lurched suddenly sending a coffee cup flying across the saloon where it hit and set of the EPIRB emergency beacon.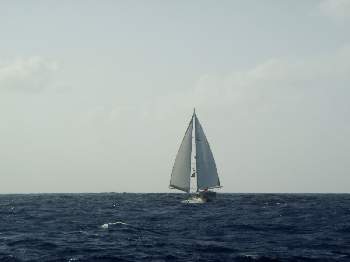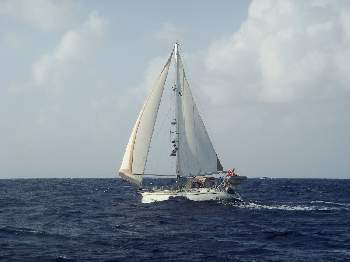 The fishing has been good for those boats who are trailing lines. Dolphin Fish (Mahi Mahi) are being caught at a rate of several a day by some boats. Others have stopped fishing because their freezers are already full of fish. We have not started fishing, mainly because we would have to take down a lot of sail to slow down and bring in a fish, if we were lucky enough to catch one, and with the rolling I do not want anyone out of the cockpit unnecessarily.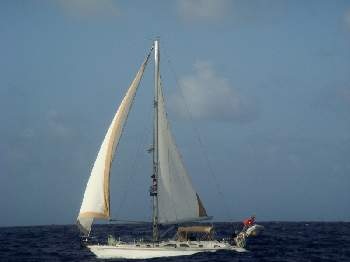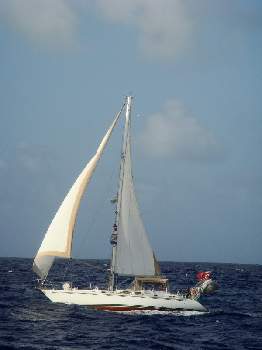 As today progressed and we had a chance to review the Synoptic charts/Grib Weather files we saw an opportunity to head on a more southerly course to avoid an area of light winds. A lot of work ensued while we manhandled the whisker pole down, stowed it and tacked the jib with all hands on deck. At the end however we are now headed on a broad reach (about 245 degrees) and the rolling has, for the time being, stopped.

December 2nd 2009
Distance traveled: 1,768 Nautical Miles (at noon UTC)
Distance to go: 1,187 Nautical Miles (est.)
Position: 17.46N 40.32W

SHIPS THAT CROSS IN THE NIGHT
In mid-atlantic sailing terms, last night was a busy one. We crossed paths with a Dutch container ship that was en route from South Africa to New York and chatted a while on the radio after they were kind enough to turn to pass behind us. Then as morning came we made radio contact with another ARC boat, SKYLARK, an Amel 54 also heading to St Lucia and we crossed wakes with a non-ARC boat EXOBAT heading to Antigua. SKYLARK's owner, Stephen Choi, a Malaysian, was a business associate of mine in the 1980's - small world. We made 184 NM Noon to Noon just 3 NM shy of our record.

When not on watch or cooking Lauren and I are reading like fiends, THANKGOD! I have recent magazines, actually many, many thanks to Camilla, Sam's wife, for bringing us Vogue, 2 Vanity Fairs, Marie Clair, AND Oprah! All American...and not easy for her to find since she lives in England. Also at the moment I'm glued to Water for Elephants, it has to be one of my favorite books of the year. Lauren escapes into her nest with The Girl with the Dragon Tattoo and our mini dvd player, watching every tv series and movie we have on the boat. Otherwise it's water, water, and more water to keep us entertained.


December 3rd 2009
Distance traveled: 1,928 Nautical Miles (at noon UTC)
Distance to go: 1,038 Nautical Miles (est.)
Position: 17.03N 43.01W
The wind dropped during the day and we changed tacks. We are now goose-winged again and heading straight for St Lucia in 10-15 knots of wind at a speed of between 5.5 and 7.5 Knots. So its rolly again, but not nearly as bad as our earlier goose-winged stint. HF radio reception with Herb is improving, not least due to my patented wearable HF antennae.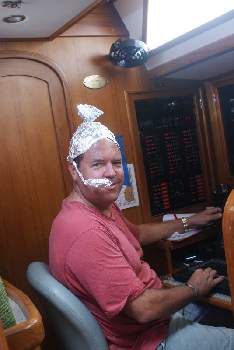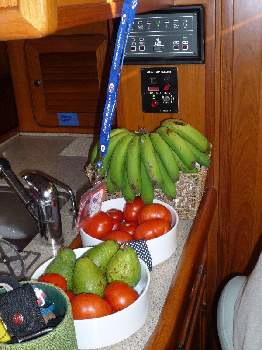 SLOWER THAN CHRISTMAS!

Been at sea now for one hundred and seventy-five days, only one hundred more to go :0/ Time sure flies when you're having fun.
December 4th 2009
Distance traveled: 2,081 Nautical Miles (at noon UTC)
Distance to go: 894 Nautical Miles (est.)
Position: 16.27N 45.20W


December 5th 2009
Distance traveled: 2,243 Nautical Miles (at noon UTC)
Distance to go: 750 Nautical Miles (est.)
Position: 15.42N 47.54W


BIG SKY SQUALL COUNTRY
Yesterday afternoon we figured out a way to exploit the windgap between the poled-out Genoa and the Main. I set the staysail on opposite tack to the Genoa and sheeted it to a block secured (outboard) to the preventer. This gave us the sheeting angle we needed (several yards outboard of the beam).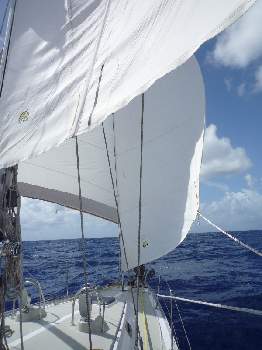 It proved effective. It gave us an extra .5 - .75 of a knot downwind although it reduced our course flexibility as it pretty much requires us to steer about 15 degrees off downwind to properly power it. Better yet it came in very handy as the squalls came through during the night. Normally we would roll up most of the main to eliminate the possibility of a gybe in a windshift and leave the Genoa out, but this always puts a strain on the helm. With the staysail deployed we were able to furl the main completely (leaving the preventer out) and track with a balanced rig making the ride straighter and considerably smoother on the sleeping crew.

We have been sailing in company with TUCANON for the past day or so. TUCANON is a 44' Cat and they had their Parasailor spinnaker up all day yesterday so we were pleasantly surprised to be able to keep up with and eventually pass them during the day with our working sails alone. As the day wore on the humidity went up considerably and the cumulous clouds indicated a squally night ahead. We came through pretty well. Joan was dog-tired yesterday evening so I took her watch then my own. During my watch we had our first big squall. It was impossible to avoid and, surprisingly, it contained no wind! I was faced with the ridiculous situation of bouncing around at zero knots while being pelted with rain. With no wind the squall was in no hurry to go away and eventually I had to turn on the engine (big penalty in the race to St Lucia for engine use) to motor out of it and back into the trade winds. Sam came on at 0300 and it didn't take long till he was hijacked by his first big Atlantic Squall. This one however was fully loaded. We were able to stay out of the center of the squall and winds on Moonstruck peaked at around 30kts, although TUCANON reported a gust exceeding 50kts from their position right in the middle of the same squall. Hopefully they had dowsed the Parasailor by then. Sam had the helm and had to cope with the autopilot suddenly switching off without warning. I stayed up for most of his watch to provide a little confidence and support but was eventually able to go below and put my head down for a few hours. We could well be faced with the same scenario tonight so I will try and catch up on sleep during the day today.

December 6th 2009
Distance traveled: 2,422 Nautical Miles (at noon UTC)
Distance to go: 578 Nautical Miles (est.)
Position: 15.17N 50.50W

THERE HAS TO BE A LITTLE BIT OF ORDEAL TO MAKE IT AN ADVENTURE...
We have been at sea now for exactly two weeks. Our emotions and moods have risen and fallen with the waves. For Joan and I this was always the last hurrah. Our voyage home after a three and a half year adventure taking us as far as Turkey and now returning us on Moonstruck to the USA. The end is now almost in sight and we fully expect to arrive in St Lucia on the 9th or 10th. It takes a significant amount of mental stamina to cross an ocean, even on a comparatively comfortable boat like Moonstruck. There are external setbacks to deal with: Contrary winds, failing or fraying gear and occasional electrical gremlins that only ever seem to plague one in the middle of the ocean. Then there are the internal issues: Tiredness, Crew relations, Fear of the unknown/dark/squalls etc. The external can affect the internal and vice versa. Holding it all together is Joan, the admiral. She has masterfully grappled with the internal issues and left me to occupy myself with the more pragmatic external ones.

This voyage contrasts with our physically much tougher voyage in the opposite direction in 2007. Oddly it has been harder on both Joan and I. But we were excited then, we had places to visit and adventures untold still to experience. We also had the bonds of a tight group of yachts on passage to provide support during the worst of the weather. Most importantly we had lifelong friends (Seabrook & Saltmarsh Silver Service) along as crew. We truly took a tank team to a knife fight back then! - But see below December 9th for the evolution of this theme.


December 7th 2009
Distance traveled: 2,609 Nautical Miles (at noon UTC)
Distance to go: 399 Nautical Miles (est.)
Position: 15.03N 53.58W
WE BREAK OUR 24 HOUR RECORD AGAIN WITH 187NM NOON TO NOON.

We have been trying to treat this like any other passage and not get drawn too much into the racing aspect of the ARC. But everyday we receive all the vessels positions by email and it is interesting to see how we are doing relative to other boats. After two weeks we can conclude that we gain positions when the winds are strong and the seas rough, while the more moderate conditions that we found in the early days favor the lighter fin-keel boats with light air sails (spinnakers/Gennakers etc.). As a result we have been gaining on our peer group in the stronger trade winds of the past few days, Our old friend John Cuzner on JSEA is only about 30 miles ahead of us in his Beneteau 50'; Stephen Choi has fallen back a bit in SKYLARK, an Amel 54'; Bengt Nylund on XAVANTE took a more southerly route in his Jeaneau 51' and seems to have fallen back also while Mads on GO BEYOND a Jeaneau 42' has leapt ahead and leads us by almost 240NM. John Simkins, on MAXIMILLION, a 48' Amel, is keeping pace with us but surprisingly two of the big Beneteau 57's are behind us, one just a few miles and the other 155MN back. More interestingly the courses of all these boats are now unerringly pointing towards St. Lucia like the spokes of a wheel approaching the hub, so we are all drawing closer together. We caught up and sailed alongside Guy Libens on a Lagoon 50' Catamaran KINTUKANEE yesterday afternoon as they proceeded under Genoa alone (having lost their mainsail halyard several days earlier). We had a good chat on VHF and must have fired up their competitive spirit as they hoisted a second headsail, ducked behind us, then drew level with us with much waving and taking of pictures. The pictures are shown above. They took a video of Moonstruck which really shows our 'rockin and rolling' across the Atlantic here. Then they eased off on a slightly tangential course and gradually disappeared into the twilight.

THE DEMON RUM IS CALLING!
Moonstruck is on a direct rum-line, oops! I mean rhum-line to St. Lucia! Spirits are higher today even though the rolling is as crazy as ever. Cooking is now a two person job, hell...pouring coffee is a two person job.
We are screaming along at seven and a half to ten knots, surfing down the fronts of waves, playing island music and we're only two days out!!! We can just taste those ice cold rum punches, yum!
December 8th 2009
Distance traveled: 2,784 Nautical Miles (at noon UTC)
Distance to go: 230 Nautical Miles (est.)
Position: 14.21N 56.48W

IT AINT OVER TILL THE FAT LADY SINGS
Our penultimate night (we hope) offshore and we had a favorable 15-20 knot wind from behind. The sails have been wing & wing now for 5 days straight and we periodically adjust the sheets and halyards (ropes) to reduce chafing of the lines. However we missed something because during Lauren's watch at about 11pm local she heard a loud bang and the Jib sheet parted, letting the Jib fly loose where it promptly wrapped itself around the forestay and tangled up the loose end and the other lazy Jib sheet in the furling mechanism and the anchors. An hour later we had untangled the mess and rerouted the remaining lazy jib sheet to take over from the parted line. We will set another lazy Jib sheet in the morning in daylight.

This morning we spoke with John on MAXIMILLIAN. His Amel 48' has been keeping pace with us for a couple of days now and we learned that they have overcome a realm of difficulties so far. Their generator stopped working early in the voyage and their engine (which was only reinstalled a week or two before we left Gran Canaria) will not properly charge their batteries so they are low on electricity, have no chartplotter and have had to hand-steer 24/7 for a number of days. Both their spinnaker pole-ends shattered and one pole speared through the cabin house just missing John's son;s head. They also lost the whisker pole topping lift putting their two main downwind sails out of action. With all this they still managed to pull a little ahead of us last night as we were dealing with the Jib sheet - not bad going!

Barring any other unforseeable developments we should arrive in St. Lucia at around 7pm local time tomorrow night.


December 9th 2009
Distance traveled: 2,953 Nautical Miles (at 12:24 UTC)
Distance to go: 88 Nautical Miles (est.)
Position: 13.52N 59.30W

LAST NIGHT AT SEA
This is the last night watch of this voyage and, for me, the last night watch for a considerable time. Night watch is my favorite time on a voyage. I am alone with my boat and the stars and the sea for company. I enjoy the purposeful sounds of Moonstruck as we surge through the waves and when that gets boring there is the ipod to listen to. More importantly it is a time for thinking. I had earlier fallen into the trap of comparing this voyage with our Transatlantic voyage in 2007, which is about as smart as comparing your first girlfriend with your wife. The circumstances are so different that each voyage must exist alone in its time and space. Our previous voyage was the bridge to our European adventure while this voyage marks a transition to our return home to Washington and the resumption of life and career with all the anxieties that entails.

For both of our previous long (8 & 30 days) voyages we have had our old friends Martin and Colin help as crew. They were not available for this voyage and I miss their company, but we are muddling along quite well without them. Sam has been a big help with the foredeck work and although I don't think Lauren has saltwater running through her veins yet, she has rallied and is becoming a competent crew.

Tomorrow it will all be over and we will pull into our slip in St Lucia and join in the post race festivities before heading home on the 19th. Joan can't wait to get home to our family and understandably is quite ready for this voyage to end. My feelings are different. I am looking forward to our arrival in St Lucia and returning home for Christmas, but there is a sadness that goes along with it, knowing that our adventure is inexorably grinding to a conclusion. I wonder if we will get to keep Moonstruck and have more adventures together on her?

Finally I would like to dedicate this voyage to my very good friend Kevin, who passed away while we were making our way homeward. Kevin, if you are somewhere out there with an ipod, take a moment and play "Old & Wise" by Alan Parsons. It says what I would like to have been able to tell you.

Eighteen days at sea, our all time record. We arrive sometime this evening, what a feeling! I'm giddy with anticipation.

I'll be honest in saying I haven't enjoyed this voyage, the days of endless rolling and tossing, combined with lack of sleep has tested me beyond my limits. But it hasn't all been bad, there have been some wonderful moments too. Like being alone in the cockpit, every morning, witnessing the birth of each new day, while the blank canvas sky gradually lights up and glows in shades of pink and cadmium red light swirling around and mixing with cerulean blue. Just me and my boat, my thoughts, the ocean and the sky. I've finally overcome my anxieties of deep water, rogue waves and sailboat sinking whales. Out here it's sink or swim, you have no choice but face your fears. I've had the privilege of sharing our last transatlantic with my daughter Lauren, knowing she has been empowered by the experience.

Alan has been steady as a rock, always focused, always supportive, always encouraging. He knows exactly the right words to bring me back to earth when I go into my freak-out routine. Together we have been able to share some quiet moments alone with our dear friend Moonstruck. She has been so good to us, she has safely carried us over 20,000 miles, she has given us so much. It's going to be very hard to leave her.