Siracusa, Sicily
Alan's Log:
Joan's Log:
July 1st 2009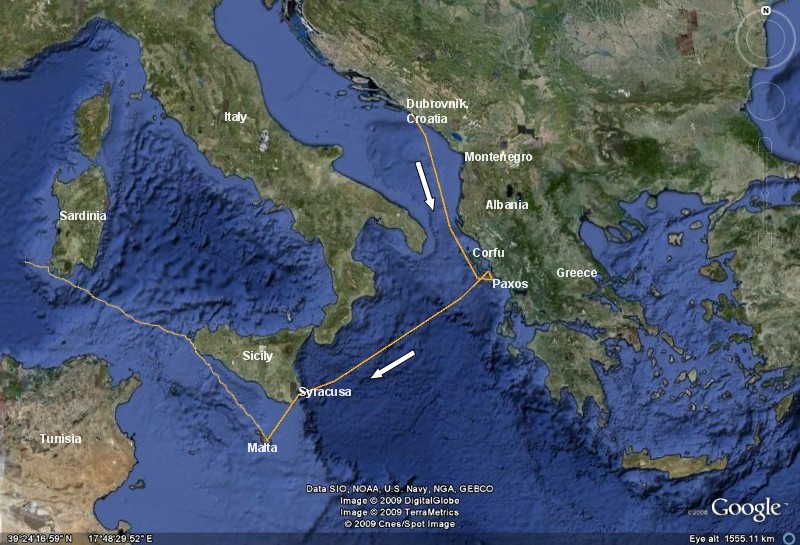 Not to be used for navigation
After saying goodbye to Abbie & Jess & Sarah and family in Dubrovnik we set sail for a downwind 255NM voyage to Paxos & then Corfu, Greece where we spent a lovely few days catching up with Wil & Jeanine on WINDSWEPT.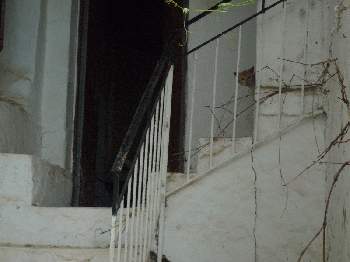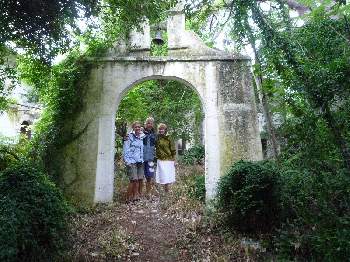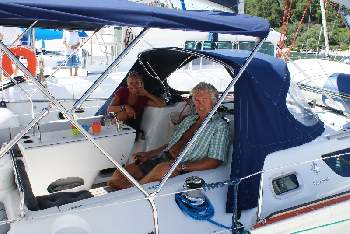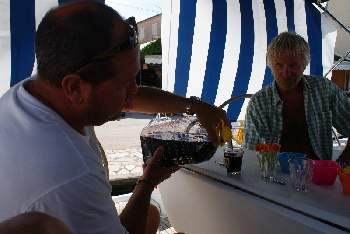 Then it was time to set sail for Malta, with a planned stop in Sicily enroute.  We decided to sail non-stop from Corfu to Sicily, a 280 NM voyage that took us 44 hours.  It was an uneventful sail except for some really nice dolphin visits.  One dolphin was showing off his barrel roll while another looked up to make sure he had our attention then did a tail slap nearly drowning my camera.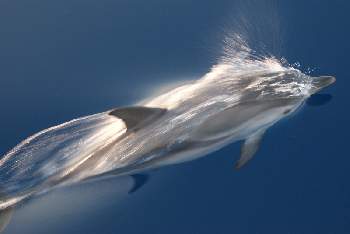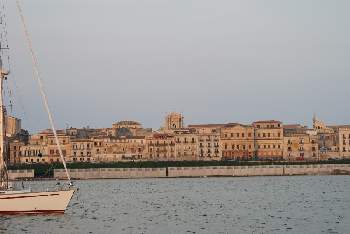 As we approached Syracusa, Sicily near dawn, we slowed down so as to enter the bay in daylight.  We needn't have bothered, it is a wide open approach and the anchorage area is vast.  We anchored in the large protected bay close to the old town of Ortigia with a couple of dozen other cruising boats.  Ortigia is an island separated from the new town by three short bridges. 

Every morning we dinghied in to town and tied up our dinghy by one of the bridges.  We walked and walked and walked.  Ortigia (Siracusa old town) is that kind of place.  It is an island, full of pedestrian streets and unencumbered with modern essentials such as gas stations and parking lots and perhaps because of this it manages to retain all of its character.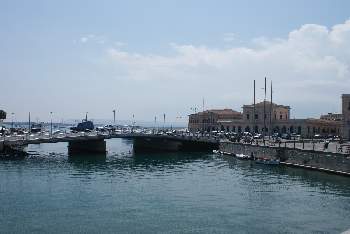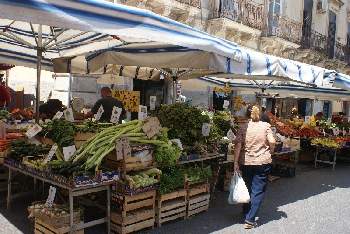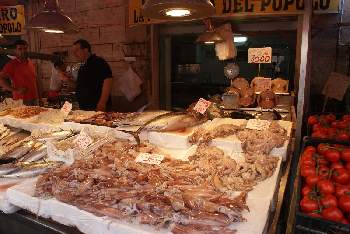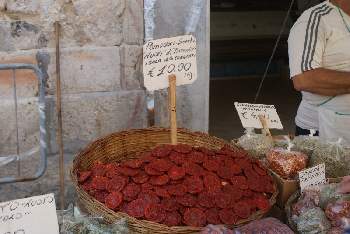 Our first stop was the daily morning market, where ebullient traders shouted out their offerings to the passers-by.  Old women in the apartments above the market looked down on the commotion below and sent down buckets on string for their daily supplies.  On the fish stands the swordfish, tuna and mounds of squid were fresh and glistening.  The zucchini were an improbably 4 feet long and the melons were bursting with sweet freshness.  The streets were full, the conversations animated and full of life.  Laundry flapped in the breeze overhead in the backstreets and neighbors chatted from one balcony to another three stories above the alleys.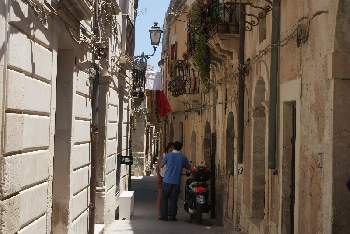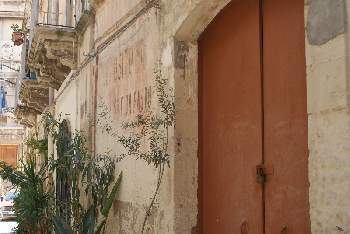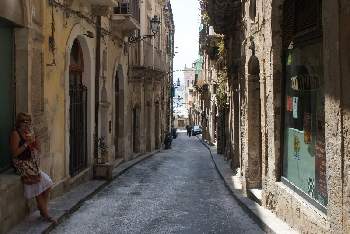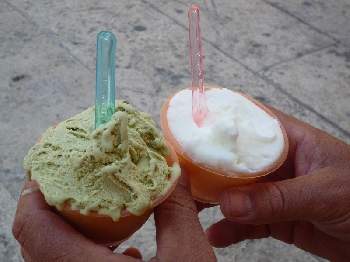 One woman belted out a song from her 3rd floor balcony between taking mouthfuls from a bowl of pasta.  The alleys were shrill with birdsong and the balconies were girded with antique, rusting wrought iron in elaborate patterns and festooned with old birdcages, freshly laundered sheets and precariously balanced flowerpots.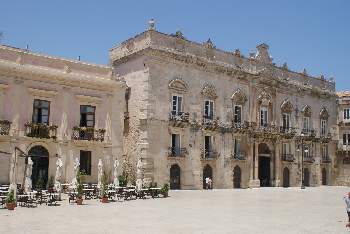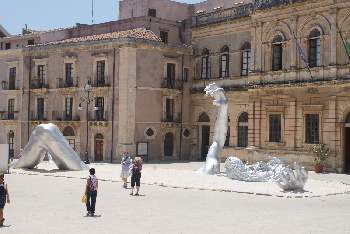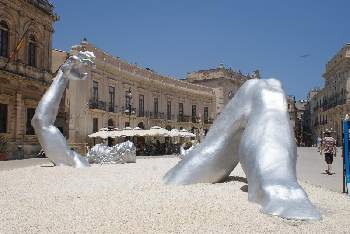 In the streets below several bridal groups were traipsing around near the cathedral exchanging greetings with friends,  neighbors and well-wishers.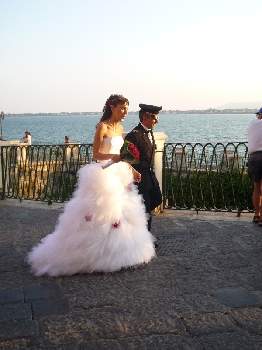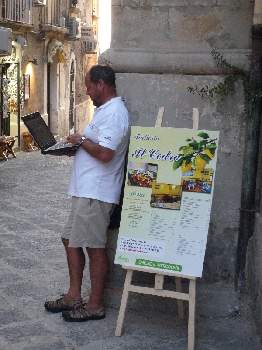 It was good to be back in Italy!  When we wearied of the sun we ducked down an alleyway into a shaded courtyard for a light lunch.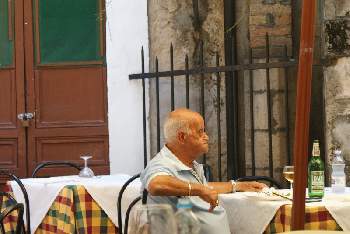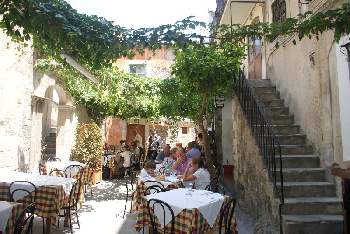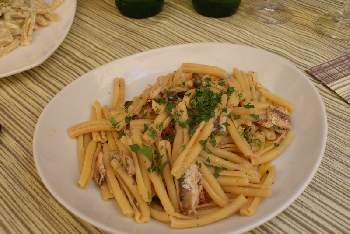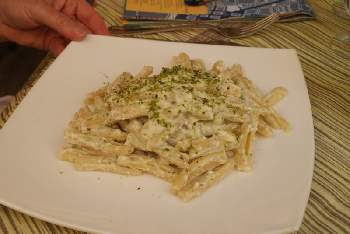 With a little persistence I was even able to pick up a good wifi signal to upload our page on Croatia, albeit while standing in the street, using a convenient scooter as a desk!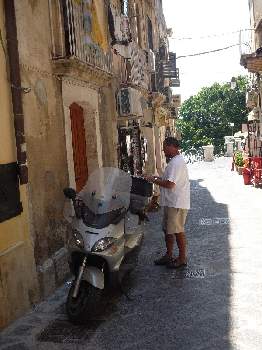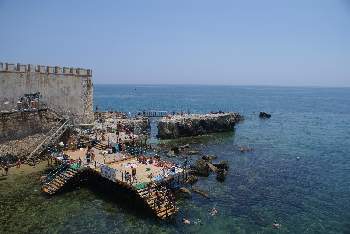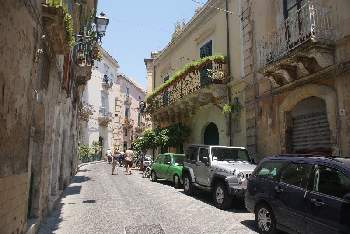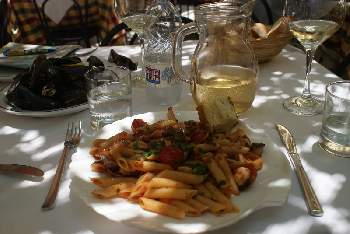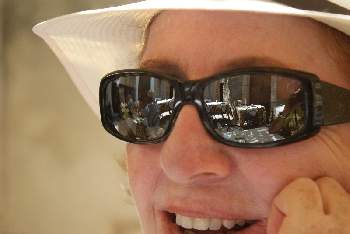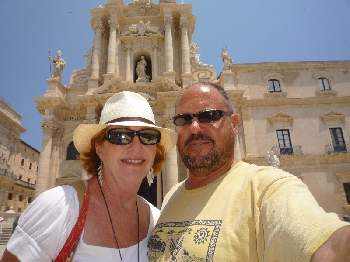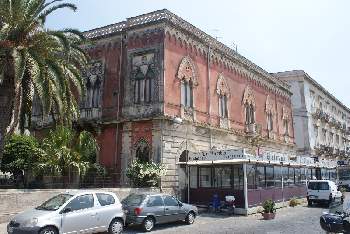 We shopped for cheese and salumis to take home as feature items in a mediterranean-themed party that will be part of the wedding weekend.  We scored some finocchiona which we hadn't seen since Florence, as well as a nice salami with pistacchio nuts, pecorino cheese with peppercorns and some really good local (and apparently nameless) creamy full flavored cheese sold in the round.

Joan found the perfect dress for Lauren's birthday present in Zara and then we set sail for Malta, just a long day-sail of about 80NM where we will leave Moonstruck for a month while we fly home for Courtney's wedding. 


I must say, and I know I have said this before but Siracusa gets a place on my Top Ten All-Time Fave Destinations list.  I love Italy and the old town of Ortigia had all the elements I love so much.  Stunning architecture, a maze of pedestian-only streets, a beautiful setting by the sea, a vibrant, bustling market, wonderful cusine, gelato, culture, personality, heart and most of all... soul. 
Malta
July 6th, 2009
In all our travels I have never seen a more heavily fortified, densely walled city.  Malta has had more than it's unfair share of raids, seiges, sackings and devastating bombings over the centuries, and the enormous fortifications explain why they are there.  But as we coasted through the inner-harbor of Valletta the searing heat was sucking the life out of us.  Malta is at the same latitude as North Africa, and it felt like it!  It was early July and we were only staying long enough to prepare Moonstruck to be left alone for a month.  As we went about our chores, we were startled mid-day by cannon blasts, which went on and on, like a fifty gun salute!  Then it continued at random intervals throughout the day, by the time it was dark the sky was filled with an enormous fireworks display, which went on for a few hours.  The next day, it all happened again!  We never got an explanation for it, but we did find out that Malta is fireworks crazy, it must have something to do with being the most bombed site during World War II.  All the "bombs bursting in air" must have become like second nature to the Maltese and now fireworks are a way of life.  That's my theory anyway.  So now they have fireworks for just about any excuse they can think of, and it seems they have a fiesta just about every other day.  Village and towns compete to out do each other with elaborate displays.  In order to keep up with the demand, firework factorys are all over the island as well.
Dejeuner en Paris!!!
August 7th 2009
Les Halles, The Belly of Paris, where the famous, bounteous, mother of all food markets once stood, feeding the citizens of Paris for centuries.  Sadly the market has moved to a soulless, cavernous hanger out in the Parisian suburbs, but the ghosts of the old market remain in the worn floor tiles and sensuous curves of the art nouveau window frames of the old food stalls, now converted into wonderful bistros, (one bistro, Le Pied Au Cochon doesn't even have a lock on it's door, as it has never closed once in sixty-five years !) cheese shops, boulangeries (bakeries), and trendy bars.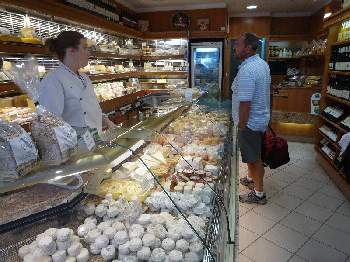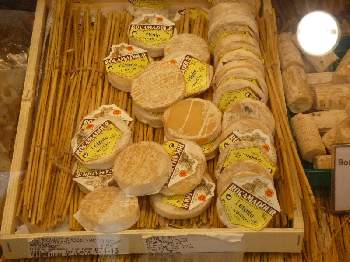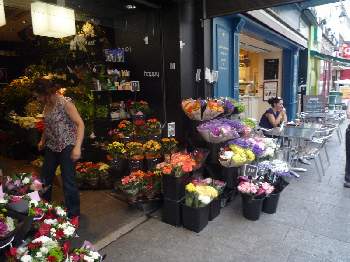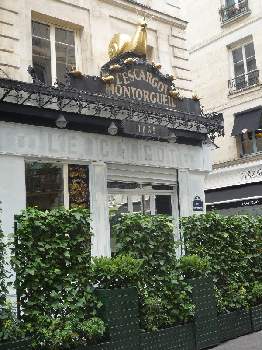 This is where Alan & I once had a never to be forgotten meal years ago,and with an eight hour layover in Paris; this is where chose to spend those few precious hours.
We arrived at Charles de Gaulle around nine in the morning on an overnight flight from Seattle.  Charles de Gaulle isn't exactly user-friendly, even for seasoned travelers like ourselves and it took a lot of toing and froing in order to find the train station, then the ticket machine threw a few curves at us, but it eventually spit out the tickets and just after we entered the turnstile, we were abruptly told to stop.  The trains had stopped running due to a security issue.  Okay... we don't question security issues and we headed to the taxi queue, for an expensive but worth every euro, ride into the city.  What a wonderful treat to be in the best, most beautiful city on the planet!  First stop, an adorable cafe where we sat outside facing the street, like all Parisians do and ordered cafe-au-lait and freshly baked, flakey crossants.  There are few things better, especially after a long night crammed into tiny seats on Air France.  Then we walked, and walked and window-shopped the deliciously intriguing displays of the Les Halles shops.  More cafe-au-lait and we're working up an appetite for lunch, but not any ordinary lunch...a very exraordinary lunch at a fantastic little unassuming bristro, very well known among the locals for what comes out of the kitchen.  Sssshhh don't tell anyone...Le Grille Montorgueil.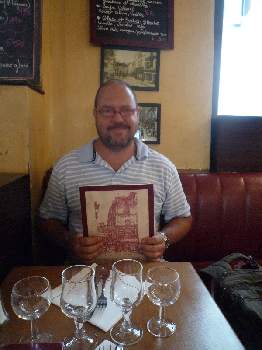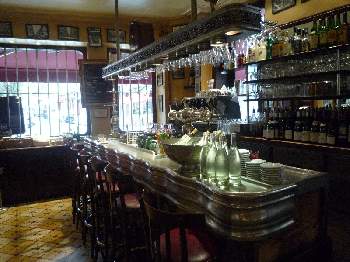 Alan ordered the wine, a french chardonay, while I studied the menu, simple, not too fussy and a nice range of daily specials.  The devil in me ordered the pate of foie gras as a starter, I couldn't help myself!  Julia would have ordered it too!  It came with toasted baguette slices and a perfectly dressed little side salad.  I honestly don't think I've ever tasted anything better in my life, silky and dense, like butter, with an almost sweet, deep richness that defies description.  Alan ordered the paper thin sliced carpacio.  For our main course neither of us could resist the mueles frites (mussels and french fries) off the special of the day.  They were steamed in cream and garlic and a little white wine, the succulent mussels, tiny and sweet, the frites, deep fried in duck fat giving them a golden perfect crispness.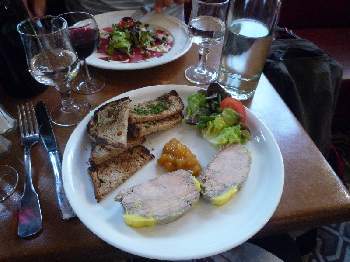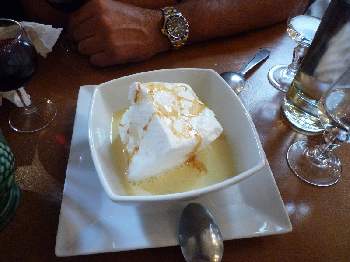 The angel in me ordered the Oeufs a la neige for dessert.   An ethereal puff of meringue as light as a cloud, poached in a buttery yellow custard sauce.  Heavenly!  One of my favorite desserts of all time!  The perfect lunch, we staggered out into the bright sunlight and headed to the train station, wondering if we could still squeese into those tiny Air France seats for the last leg to Malta!
Malta
August 13th, 2009
When we returned to Malta in August after the wedding (the most fabulous wedding of all time, I might add) the heat was even more intense and the fireworks were still exploding nightly.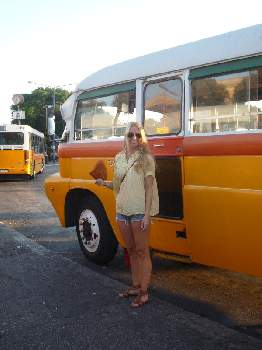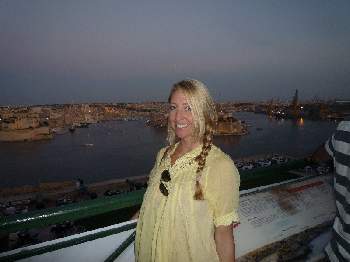 Our daughter and new crew member, Lauren, arrived on our second day there, and that evening we had a reunion with our good friends David and Lisa on their Tayana 38', Gyatso.  They sailed across the Atlantic with us in 2007 as a part of the ARC.  There is nothing like crossing an ocean together to seal a special friendship.  We had several enjoyable dinners together over the next few days and one fun evening attending the Delicata Classic Wine Festival.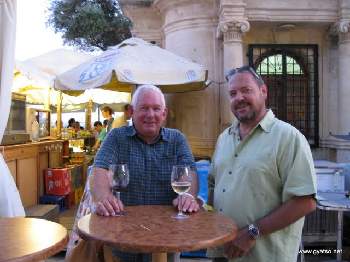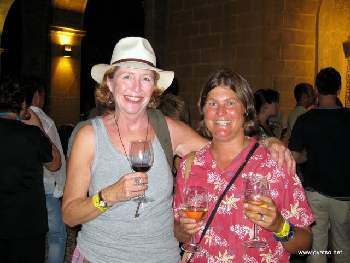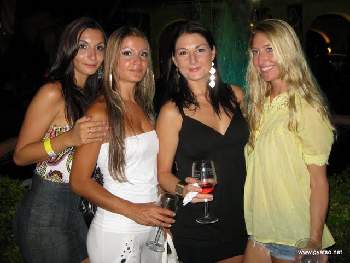 They are heading east and we are heading west, so we swapped books and exchanged all sorts of good information on places to visit.  Lisa shares my love for Italy, Italian cooking and the Slow Food philosophy.  A bottle of beautiful grass green organic olive oil, a precious bottle of red wine vinegar from a one hundred year old "mother" vinegar and a copy of The Slow Food Revolution by Carlo Petrini, were among the gifts she bestowed on me.  Soon my salad dressings will be elevated to Michelin star status!  Grazie mille, Mona Lisa! 
So, despite all our best intentions we never did explore any of Malta, even though it is loaded with significant historical and archeological sites, we were too overwhelmed by the heat and the dust and the overall grubbiness of the place to muster up the energy to get out.  No apologies, we can't be in love with every port of call.
But Sicily is another story altogether.  We figured that we had time for one last visit to the South west corner of Sicily before heading west.  Armed with tons of good advice from David & Lisa we set sail for Marsala and the Favignana Islands just 150 Nautical Miles away.
Marsala & Favignana Islands, Sicily
August 17th 2009
We traipsed around Marsala only to find it closed and everyone gone somewhere else.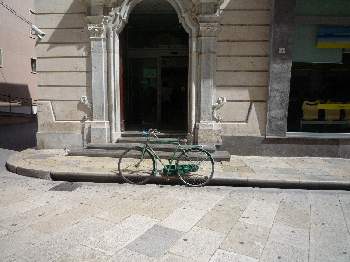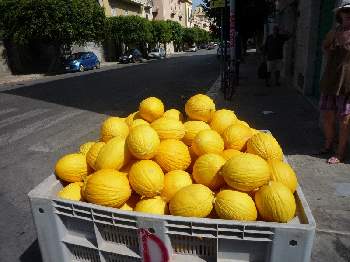 Even the tourist office was closed on a Saturday which did not auger well for the rest of the weekend.  We would have liked to stay a while and perhaps rent a car to drive around the interior but we were running out of time.  We had guests to meet in the Balearic Islands in a few days, so after one night we moved on and sailed over to the Favignana Islands just off the the west tip of Sicily.  Isola Favignano is the home of the annual tuna slaughter, a centuries-old tradition which takes place every May when huge schools of tuna run around the tip of the coast.  The fishermen corral the tuna into the harbor using large nets where they meet their unfortunate end, most commonly in a can!  When you visit the charming island of Favignana it becomes obvious that the tuna is the major industry.  The old warehouses and processing factories encircle the harbor, some still in operation, but most just crumbling reminders of the past. Offshore there is another enormous processing and canning factory between the coast of Sicily and Favignana.
We arrived in mid-August, on what seemed to be the busiest holiday weekend of the year.  As we motored across we were passed by a hundred or more motorboats.  Clearly everyone from Marsala was also headed to Favignana!  We left Marsala in the early morning to spend the day sunning and swimming in the transparent peacock-blue water of Cala Rossa.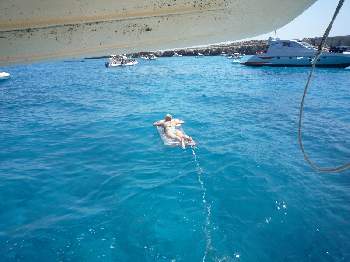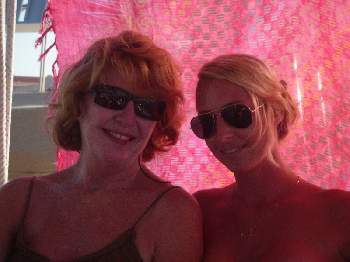 By the time we set the anchor the bay was rapidly filling with motor boats, jam-packed with vacationing Italians.  Sun screen and shade seemed to be the farthest things from their minds as all around us boat-loads of people baked in the blazing sun for hours.  By late afternoon we thought we should pull anchor and head into the harbor for the night.  Favignana, the only town on the island, has a small crowded harbour and a nice anchorage in the cala surrounding it.  Its a good thing we headed in early, as we were just able to grab the last available spot of vacant water for our anchor in the rapidly filling harbor.  For the next three hours we watched in amazement as boat after boat filed in, jostling for every available square inch to anchor or tie up on the crowded quayside.  Literally hundreds of boats crammed in and miraculously found a space in the most confused tangle of anchor chains and lines.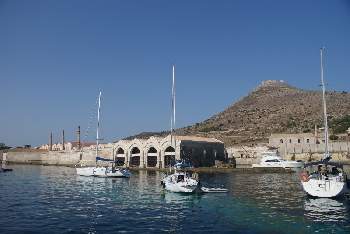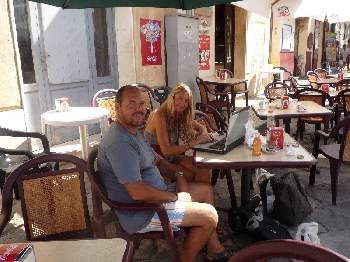 We dinghied into the town for dinner and a look around and try to find out what all the fuss was about.  Clearly something major was going on.  A large outdoor market had sprung up next to the quay and crowds of people packed every bar and cafe, the duomo was filled to capacity and spilled out the door onto the piazza, the streets were overflowing with sunburned and deeply tanned Italians, from elderly grandparents to tiny babies, everyone was pouring into the town.  Not a blonde or a redhead in sight, until we showed up!  Lauren's long flowing blonde tresses and movie star looks caused a collective gasp, chiselled Sicilian jaws dropped and the crowd parted as if Aphrodite herself was demurely drifting past.  We on the other hand, were far more interested in what was on the menus of the abundant trattorias that lined the piazza.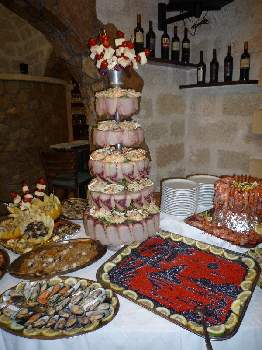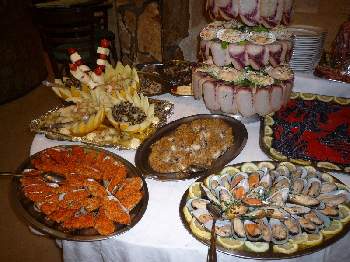 We scored the last table in a rustic little place overlooking the square.  A refreshing bottle of chilled prosecco for the three of us; a pizza for Lauren and Alan and a tuna fillet encrusted with sesame seeds with blood-orange sauce for me...oh yeah!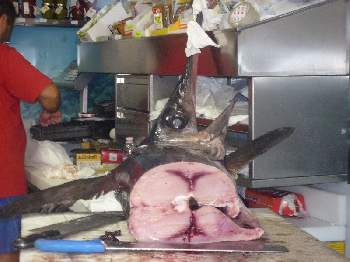 Back on the boat as we were winding down, the scene became more lively.  As we watched the seething mass of humanity from the safety of the cockpit it became apparent that something significant was going on.   Loud music blared from enormous speakers and a dense crowd swarmed up to an illuminated statue of the Madonna and Child which was being paraded above the heads of the crowd.  Madonna was ceremoneously placed on a brightly-lit fishing boat along with the priest, a very official-looking naval officer and a TV camera-crew, then they set off into the darkness followed by other fishing boats each over-laden with human cargo, we watched the floating parade until they disapeared into the night, at which time we continued to watch their progress around the island on a huge monitor screen set up in the square.
Fireworks continued long after we had retreated for the night.
We disembarked the following morning for a long (220NM) overnight sail to Sardinia, but not before stocking up on one last time on Sicilian delicacies; canned tuna, beautiful tiny anchovies, Bottarga di tonno (dried pulverized tuna roe, used as a spice sprinkled on pasta), pistachio pesto, homemade biscotti and frizante vino!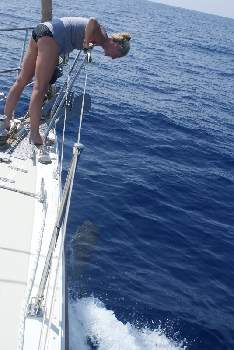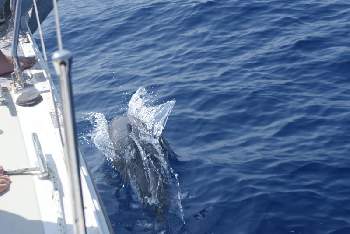 Carloforte, Isola di San Pietro, Sardinia
August 18th 2009
Carloforte is a convenient stopping point enroute from Sicily to the Balearics. It is on the extreme SW tip of Sardinia and it gave us another stab at Sardinia whose east coast had left us less than impressed a couple of years ago.  Carloforte is another town built on the fortunes of the tuna harvest and on this stifling August day the locals had rigged up a basketball court in the middle of the main street for a tournament. It was too hot to even watch the game so we kept to the shadows and walked the streets, it is an unnotable but attractive town, packed full of Italian holidaymakers and has a low-key vibe.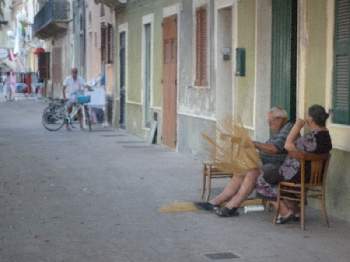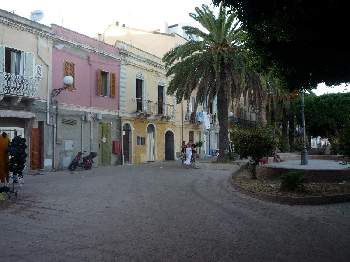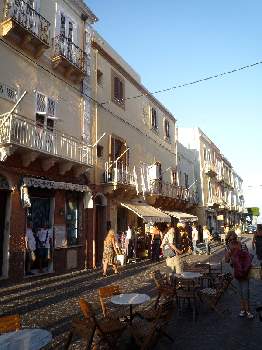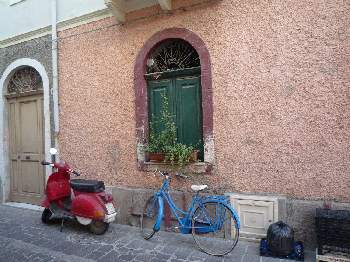 We made note of several promising looking restaurants for our last Italian meal of the voyage later in the evening and returned at 8:30pm to choose one. Our top pick restaurants were all full, no table available without a reservation, we kept walking, stopping now a little more urgently at every restaurant we came to. Each one was full for the evening - even though several were completely empty, they claimed to be fully booked and we kept on walking. Eventually we covered the entire town without success (avoiding only a very expensive looking restaurant on the seawall that looked too formal). This had never happened to us in 3 years in the Med! On our way back to Moonstruck we stopped at the least promising place we had seen all day a touristy looking restaurant attached to a small hotel.  It was literally the last restaurant in town and was nearly empty, whereas all the other restaurants were now full. We had an unmemorable meal and left the next morning for Menorca. 


Next...Onward to the Balearic Islands