Pointe a Pitre, Guadaloupe, FWI
Alan's Log:
Joan's Log:
April 30th, 2007
We decided to spend some time in Guadeloupe . Itís an all-day sail from Antigua. We like it a lot! It's bigger than any of the islands we have been to so far and more populated. Itís French and very few people speak English, so Alanís French has come in very handy. It is very mountainous with a tropical rainforest, a big volcano, and 2 huge waterfalls.
Our port of arrival was DesHaies. It is a small village in a deep-water bay and we ducked in overnight to save an overnight passage. While here we filled up the dinghy gas tank (we ran out of gas in Antigua and there was a gas shortage so we were unable to fill up our "car"). Rowing sucks!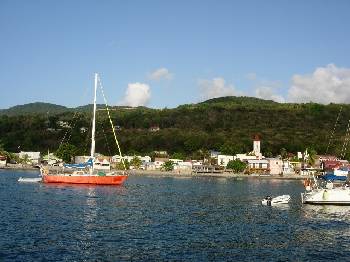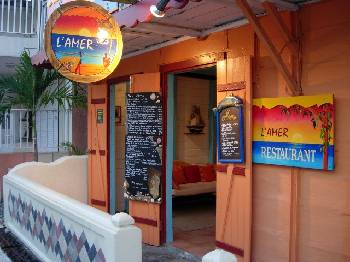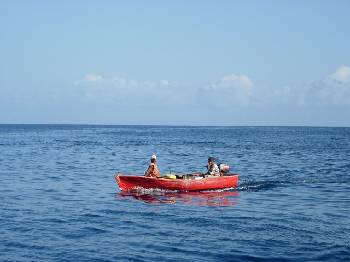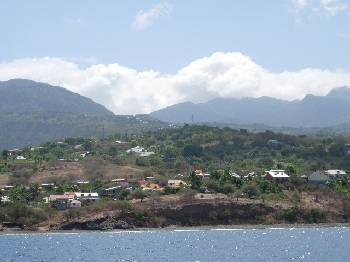 We are in a marina in the city of Pointe a Pitre, the main town in Guadeloupe, and have rented a car so we can tour the island.
Pointe a Pitre is not a pretty town. It has interesting architecture, but is congested and overflowing with parked cars so it is impossible to appreciate any of the buildings. We spent a morning looking around then headed out for the countryside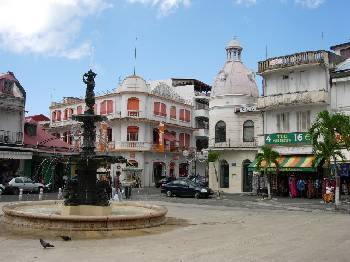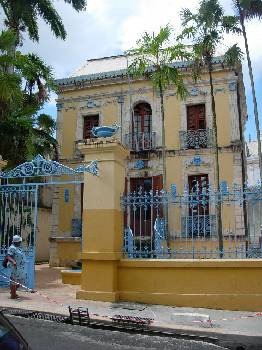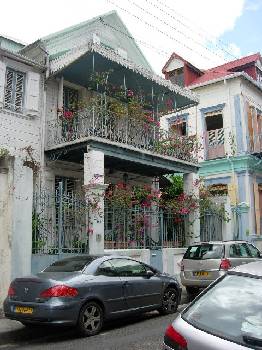 We ran into another couple that we met in the BVIís at the Bomba Shack. Mike and Linda, who live on "Aquila" their Hylas 49, are here too. So we have been hanging out with them for the past few days. They are from southern California and although they have only been sailing for 2 years they have already sailed from the Pacific to the Caribbean. On the first day we went to the Chutes du Cabret (the waterfalls) a hike up the side of the volcano through dense tropical jungle. The only trouble was, it was raining, with low clouds so we couldnít see the waterfalls!! But they sounded big. Anyway it was a good hike, and the rain felt lovely and cleansing. Then we had lunch in a tiny village on the side of the mountain, at a very rustic, primitive little restaurant.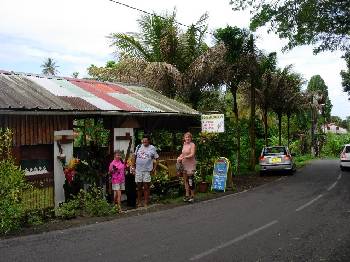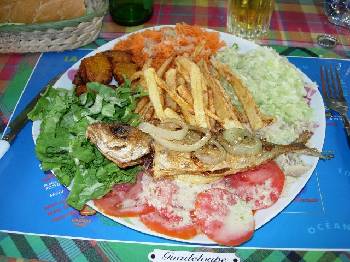 It had amazing atmosphere! It was open air, constructed of bamboo (which grows in abundance here), and palms, with about 5 tables and a small bar. Each table had a bouquet of fresh tropical flowers. There were roosters crowing, a cow mooing in the background, and lush tropical vegetation all around us. We were their only customers. We spent a lot of time reading the menu that the waitress/chef/owner hand-wrote for us in French before realizing that all the choices were in fact only one choice - but with all the ingredients listed. Shredded carrots, shredded cucumbers, sliced tomatoes, with a great French vinaigrette, shredded dried fish, fried plantain fritters, and (here comes the only choice) either fried or grilled fish (a small trout, we thought) and onions, pomme frites (French fries) and a fresh baguette! It was wonderful. We drank all of their beer! All 5 of them! When we asked if they had anything else to drink, our waitress said rum punch but would have to go to the house to get it. Instead she returned with a bottle of chilled syrah. I guess they were out of rum too... no problem. Then for dessert, she brought out a big platter of sliced fresh fruit. It was one of our best dining experiences in the islands.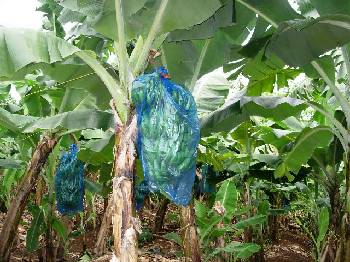 Yesterday we went on a hike up to the volcano (Soufriere) another, much longer, steeper hike, also through dense rainforest. But the weather was much nicer, and the trail was beautifully maintained. We climbed up above the tree line, to rocky, scrubby lava fields. Soufriere is currtnely sleeping, but is venting sulfurous gas, so once we got up there it smelled like rotten eggs! We didnít go up to the top because the path started getting really rocky and steep, and my knee was getting tired. (Alan said James would have romped up! AND would have run to the top too.) Also the people coming down would look at my knee brace and say ďallo, bonjour....bon courageĒ! So I thought discretion was the better part of valor! But we did go far enough to find a vent in the rocks that was seeping sulfur vapors and was hot to the touch!!! The hike down was a killer! I took it really slow.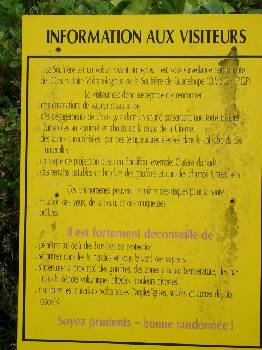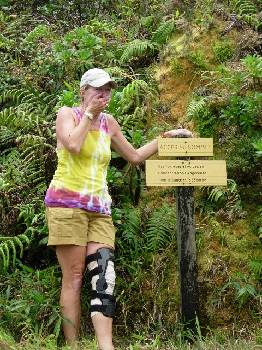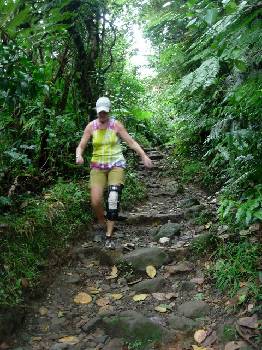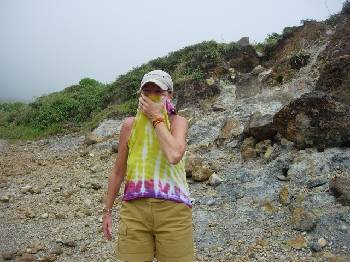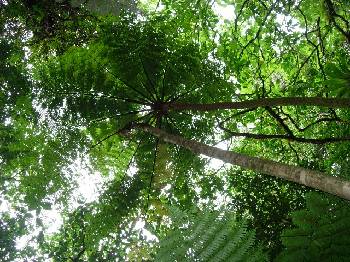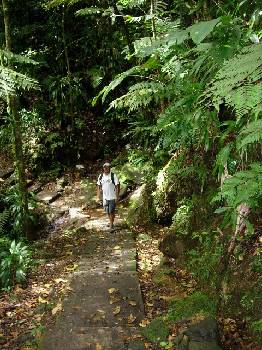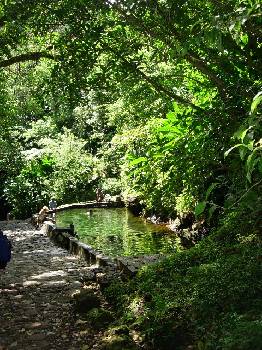 We were all worn out by the time we got down and were ready for lunch and a beer! We found a charming little restaurant in the tiny town of St. Claude. La Tamarinda, where we had another amazing meal! A salad of lettuce and flaked fish, with a wonderful, perfectly balanced vinaigrette, spicy, salty, tart, sweet! (Yum, my mouth is watering) Roasted chicken in coconut milk with herbes de provence , and sweet-potato gratin, and flambťed bananas for dessert! The service was attentive and friendly. Our waitress got a kick out of our pathetic attempts at French (excluding Alan, he is on the verge of being fluent!) and she enjoyed practicing her English on us. So as you can tell, we love the food here, a wonderful combination of French and Caribbean.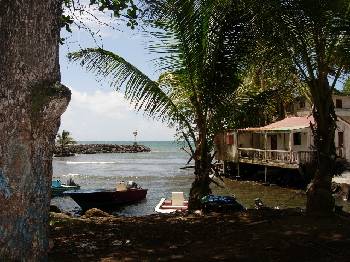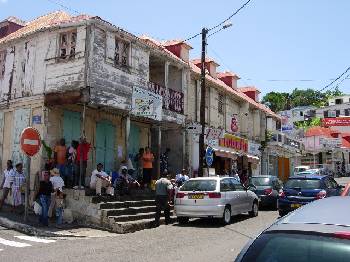 Despite everything (mostly negative) we have read on the internet and heard, we have found the Guadeloupians to be very open, friendly and helpful. The island itself is beautiful, with a lot of plantations and farming. We have seen banana, pineapple, guava, mango and sugarcane plantations in abundance. The colorful markets are open-air, like you would find in France, and loaded with local produce, fruits and vegetables, spices, homemade rums, and freshly caught fish! Very photogenic too.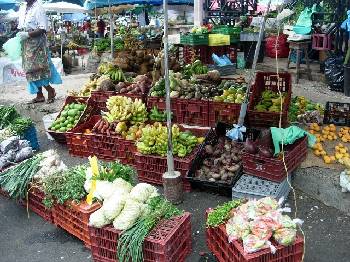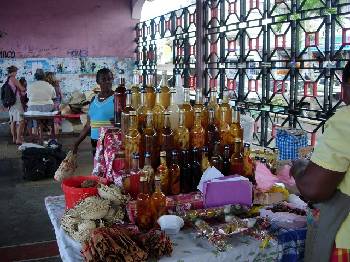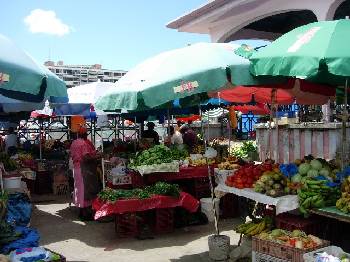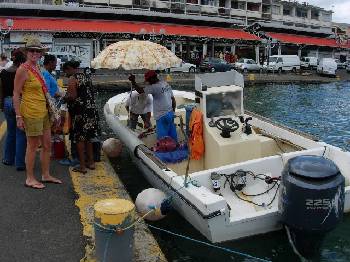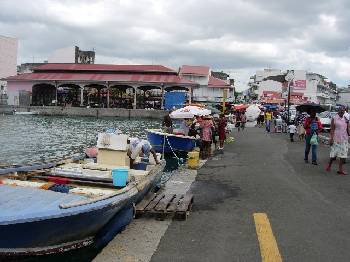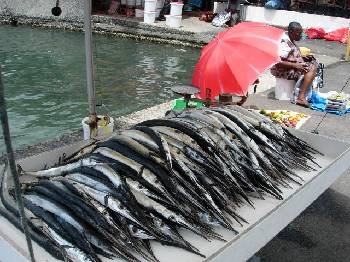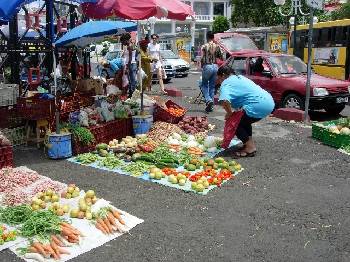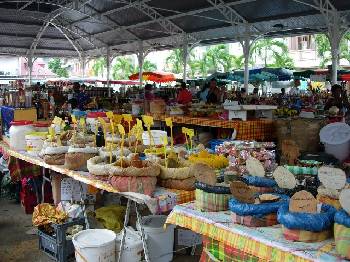 We are leaving the marina tomorrow for the Saints, another little group of French islands 30 miles from here, for a day or so and then weíll head back to Jolly Harbour, Antigua. Martin is flying in on the 5th and Colin will be here on the 6th, then we meet up with all the ARC boats, only 20 are going (disappointing) and weíll all leave Antigua for Bermuda on the May the 10th.


Iles des Saintes,Guadeloupe, FWI
May 3rd, 2007
I think itís kind of funny that the last place we will visit in the Caribbean has turned out to be one of our all-time favorites. We are in The Saintes, anchored in the tiny harbour of Bourg Des Saintes on the Island of Terre Díen Haut.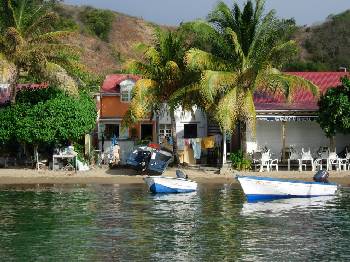 The Saintes are a group of 3 small islands just south of Guadeloupe, and are very French. If you havenít figured it out already, Iím a serious Francophile, I think Alan is too. Well, he speaks French, thatís proof enough! Terre Díen Haut and the village of Bourg Des Saintes is what St. Bartís and Gustavia had to have been like 40 years ago! This island is unspoiled and undiscovered. It is a sleepy, lovely little French fishing village, very Caribbean but with a definite influence of northern France. The darling little red-roofed houses and buildings all look as if they were plucked from a Normandy sea side village. The water is very clear, so there is great snorkeling too.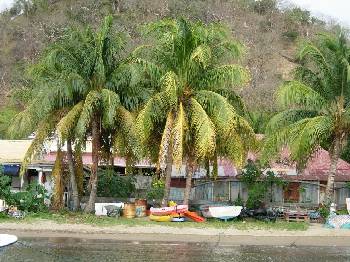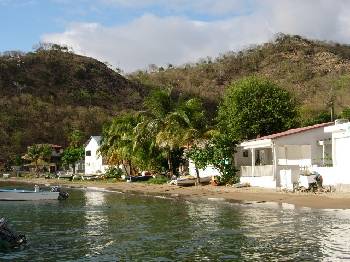 There are tourists here during the day, but not that many, most of them are French and they leave with the afternoon ferry. There are no mega yachts here at all, I canít help but wonder why (possibly because it's the end of the yachting season here in the Caribbean and they are all heading out), but Iím glad they arenít. One evening we took a walk down the long narrow street that borders the harbor, it is lined with shops, tiny restaurants, a few galleries and homes. It was the French Labor Day holiday, and there were many local people out enjoying the cool air. I couldn't help but notice the comraderie and closeness of the local people, everyone was laughing and having fun. The children were having a wonderful time, running up and down the streets; playing; riding bikes and scooters and just being kids, without parents hovering over them. It reminded me of what life used to be like back in the 50's and 60's in America for children, when they could run and play outside without fear of child predators or kidnappers.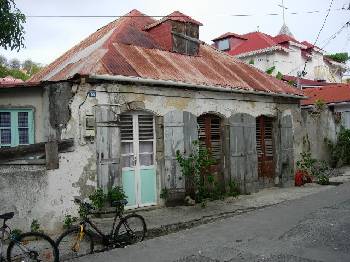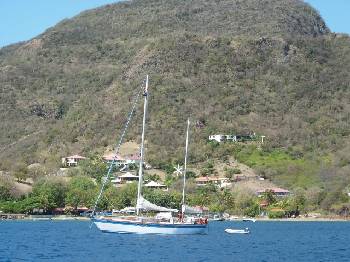 We ended up the evening with a wonderful meal, at Le Genois, a cute little seafood restaurant right on the water's edge, with the full moon shining down on us, and a little black kitty cat rubbing our legs. I had grilled Marlin, caught that day by the owners, Alan's dinner was marinated raw dorado (like ceviche). The dessert dujour was chocolate gateaux (cake) it was dark, dark, chocolate, moist and dense with a little scoop of vanilla ice cream!!!! When it comes to chocolate I don't play well with others, Alan only got one bite! A magical night for us, I have to blame it on the moon.
We finished up our time here cleaning the bottom of the boat, something really gross was growing all over it! It was a lot of work, of course Alan did most of it. He is getting really good at holding his breath for a long time. Then Mike and Linda sailed in on Aquila, and we all had a great dinner together on their boat!
We are now heading back to Antigua to prepare for the ARC. I highly recommend visiting The Saintes before it's too late!
Next......Back to Antigua to prepare for the Transatlantic Crossing