St. Barts, French West Indies
Alan's Log:

Joan's Log:
March 29th, 2007
Here we are back in beautiful St Barts. 
We have had a great week with Lauren.  She arrived in St Martin last weekend, we went to Orient beach, Friars Bay and Plum Beach.  We explored Marigot and met up with our friends Rex & Leslie, & Dan & Joanie.  This is us at Le Pub in Grand Case.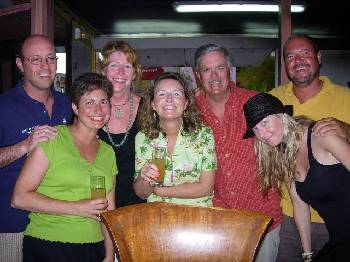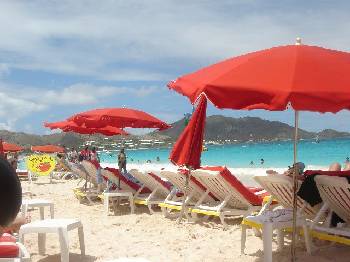 We then decided to head to St Barts. where we are now.   It's a 4 hour sail and Lauren proved to be quite the sailor, although we had to motor all the way with a head wind.  The harbor is completely full and we have been anchored off the beach at Public ( a small fishing village) just outside Gustavia Port in St Barts for the last 3 days.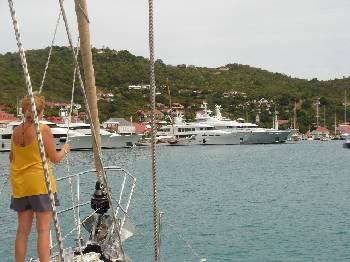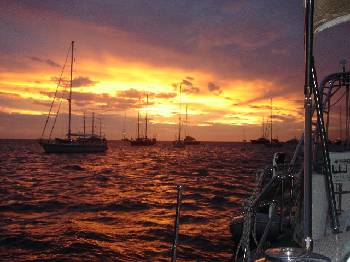 We visited Shell Beach, where the inevitable fashion shoot was setting up, but then had rain and clouds for 2 days so have hung out in Gustavia and Joan & Lauren shopped (for shoes).  

It was sunny again yesterday and we visited Saline Beach for some swimming and tanning.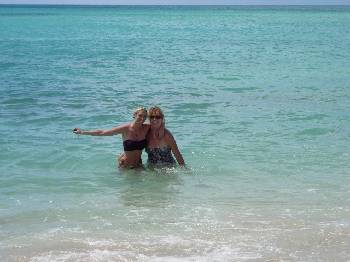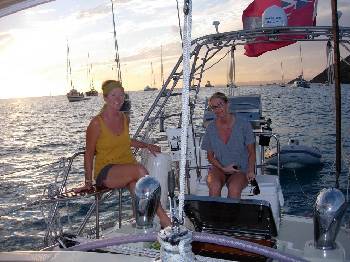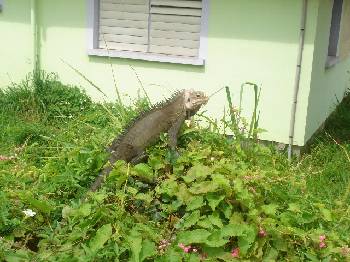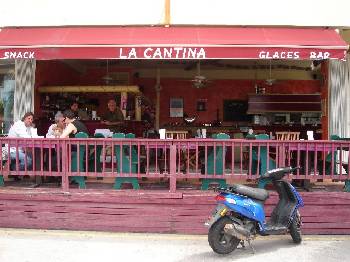 Last night we had dinner on board then dinghied over to the port where we had drinks at an elegant restaurant and then listened to a great band the Evan Goodrow Band from Boston at the Baz Bar.   Billy Joel stopped by with his new wife, but did not stay long.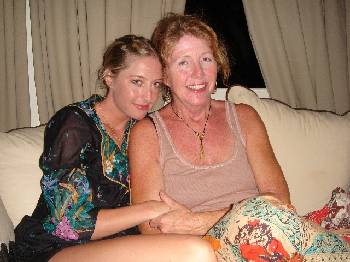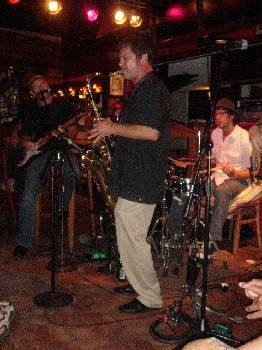 The mega sail yachts are gathering for the St Barts Bucket and you can feel the excitement in the air (The Bucket is a major race; three days of sail races for mega yachts only.  If you are less than 100' don't bother to apply!).  "Maltese Falcon" is here (289' in length and the largest sail yacht in the world).  There are over a dozen mega sail yachts anchored in our vicinity.  We have been hanging out with the crew of the "Maltese Falcon" and Lauren was invited on board the other day (how does she do that?) and met the captain, much to the envy of our yachting buddies several of whom are anchored nearby.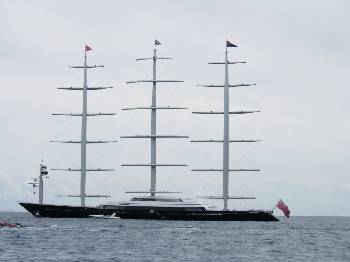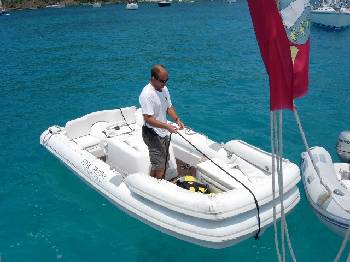 Another interesting ship anchored nearby is the "Lone Ranger" (Ice class mega yacht tug).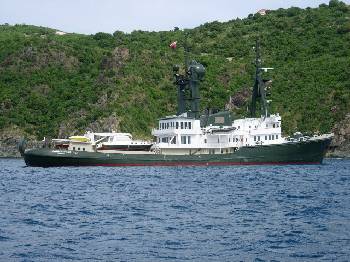 They have a crew of 22 to look after the owner and his wife.  Duncan, the crewmember I talked to had been on board for 10 years during which time they have circled the globe several times and visited both the Arctic and the Antarctic.  His favorite destination in 10 years of catering to the traveling whims of the owner is Croatia, which bodes well for us as that is high on our list of Med. destinations.  "Lone Ranger" is the yacht I would have with unlimited funds.  She is one of the largest tugs in the world.  8,850 HP, Built in the 1970's to Lloyd's Ice Class +A1, she can steam through 6' of pack ice.  She was converted from a working tug to a mega yacht in the early '90's (I think) and is the ultimate self-sufficient go anywhere yacht.  Lone Ranger has a Hinckley sail yacht on board as a deck toy. 

We were originally going to leave here on Thursday for Antigua, but with all the excitement surrounding the Bucket, it would be a shame to miss it all, so we are probably going to hang around and watch the first race of the Bucket which is Friday morning, then we will up anchor Friday evening and head to Antigua where we should arrive with the dawn on Saturday.  Courtney & James arrive in Antigua in the afternoon.  We can't wait to see them.

Its getting busy here as all the power mega yachts have had to leave the harbor (there are over a dozen) to make room for the mega sail yachts.  These (motor) yachts require tons of external assistance to do anything.  Their anchors are placed and raised by divers using bags of compressed air.  The crews don't break a sweat.


MARCH 30th, 2007
It is the St Barts Bucket.  We watched the race start from the deck of Moonstruck with friends Steve & Lili of Li-ward.  It was quite a spectacle although in deference to the risk of collision with the megadollars involved, the start was staged with at least 3 minutes between each of the larger yachts.  Maltese Falcon had the largest window of 12 minutes so it was not possible to get any pictures of a massed start.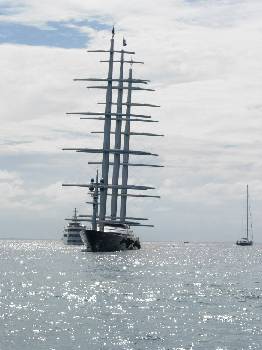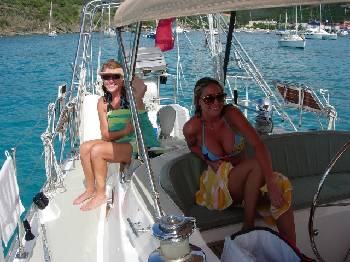 It is hard to overemphasize the size of MF.  It is only when she is close to another yacht (below behind a 60' sloop) that the difference in scale becomes obvious.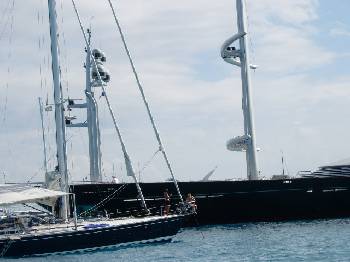 Lauren's friend came to pick her up in one of MF's toys and we spent the afternoon at Shell Beach, at anchor preparing for the voyage to Antigua.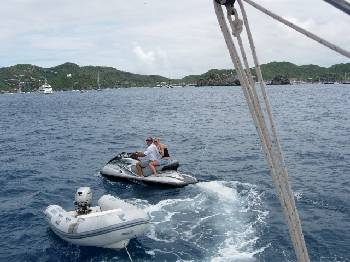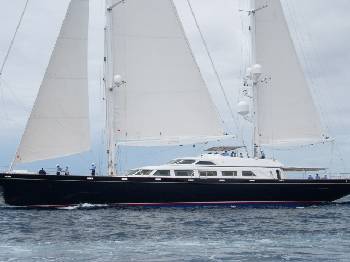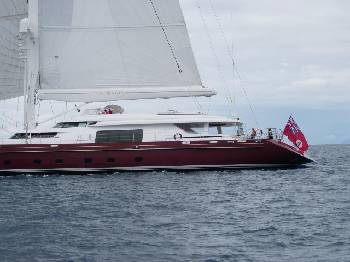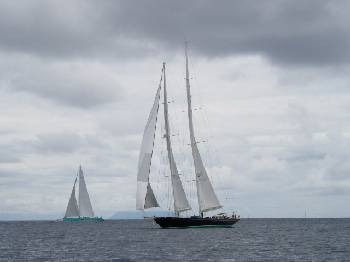 Next..............Jolly Harbor, Antigua. Great sailing, sucking immigration treatment and a truly bad day