The ARC Europe Transatlantic Rally
Moonstruck was a participant in the 2007 Atlantic Rally for Cruisers.
Making Way!
Alan's Log:
Joan's Log: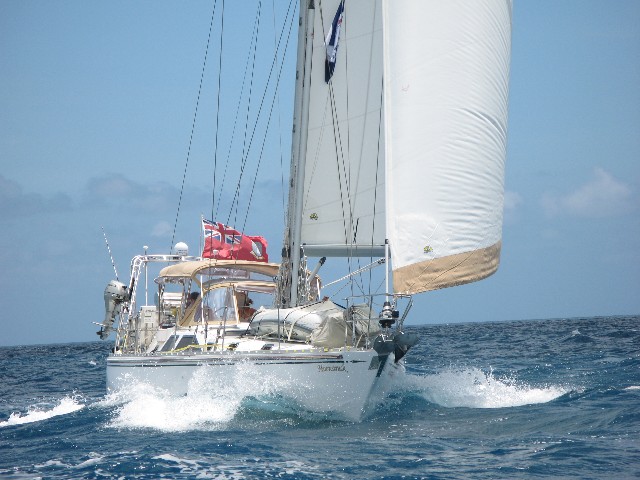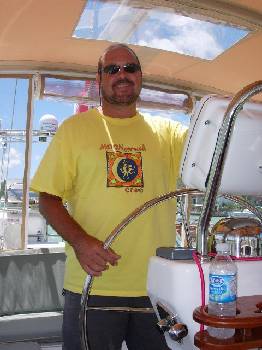 19 deg 59.92N
62 deg 16.35W
769 Nautical Miles South of Bermuda
MAY 11th, 2007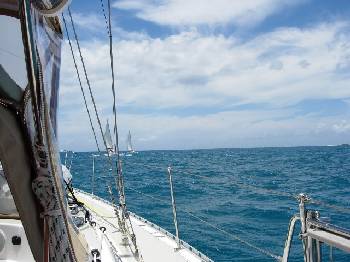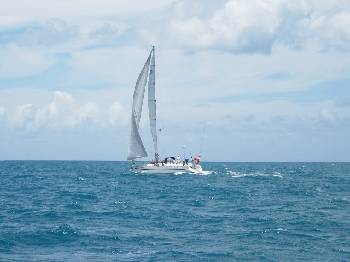 159 miles out from Antigua, heading North for Bermuda. 6.6 kts average speed, not too bad for our first day! After a busy morning of last minute preparations, and just one more trip to the well supplied Epicurian Grocery Store, the 14 ARC Europe boats left the start line off Jolly Harbour marina at 12:00 noon. Bermuda lay 927 NM ahead. After the confinement of the marina it was wonderful to be out in the cool ocean breezes. We had a lovely 13 knot wind from the east, and a nice beam reach at the start.
My partner Alan and I are on board our Hylas 49' "MOONSTRUCK". With us are Colin Saltmarsh and Martin Seabrook, (no I didn't make up their names) our good friends and crew for this voyage. It's their second lap as they were with us on our first offshore voyage from Baltimore to Virgin Gorda, BVI last November. That voyage started with a gale in the gulf stream, but so far this voyage has started well. It has been smooth sailing, the weather has been hot and sunny and we have a favorable wind, although this morning the wind has started to die and veer to the south. Genoa and Staysail have been dropped in favor of our cruising spinnaker. We are doing about 6 knots.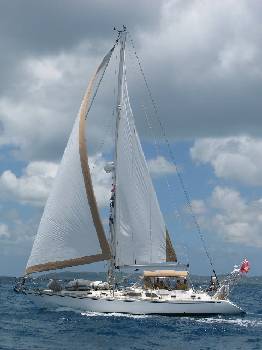 Yesterday, a few hours after the start, David from ROSARIO called to say they had already caught a tuna! So the pressure was on; Martin, our resident fisherman got the rod out and caught us a nice sized tuna just before dinner! Big enough for 2 meals for the 4 of us, plus a sashimi appetizer. The guys were able to get the fish on board and nicely subdued without the panic and hysteria we experienced with our first catch on our
last cruise together.
A generous amount of 160 proof rum sprayed in it's gills proved to be the secret. This cheap 'agricultural' rum from Guadaloupe is undrinkable, and we bought it for just this purpose. It also reduced the amount of crime scene gore on the aft deck, which was nice. I think they've got the hang of it.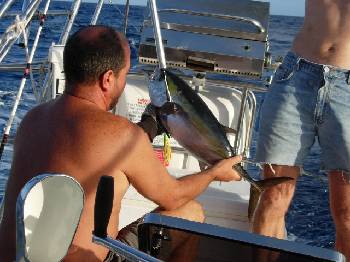 We are all tired today, we have found it is hard to sleep the first few nights at sea. So today we are taking it easy and napping. Bermuda, here we come! Only 768 miles to go.
22 deg 09N
62.29 degW
623 Nautical Miles South of Bermuda
Saturday May 12th, 2007
Very uneventful, just very hot. Lots of water consumed. Calm sea, light winds.
24.08 degN
62.37 degW
507 Nautical Miles South of Bermuda
Sunday May 13, 2007
Mother's Day in America. During my watch this morning 3:00 AM - 6:00 AM the weather began to change. We sailed into a band of showers, and then heavy rain. The rain has stopped and now the sea is building, hard to judge but 6 to 8 ft waves? The wind is up too (and our wind indicator just quit working) but is now coming from behind. Herb our weather guru has advised us not to go above Lat. 25 degrees today and 26 degrees tomorrow, due to a low pressure system which has gale force winds in it. So we have slowed down a bit and are also trying to get within close proximity of David and Tni on ROSARIO. We have all spread out quite a bit and decided to keep up with each other. This is a BIG ocean!!!! It fills me with awe and wonder, as I look around 360 degrees of just the waves and sky. What is beneath us? What is coming? Please be good to us Mother Ocean, happy Mother's Day!
Playing Hide & Seek with Rosario
All day we have been trying, mostly unsuccessfully, to find ROSARIO. They sailed past us in the night, we tried to catch up to them and then sailed right past them! Despite David giving us his position on the radio several times, we failed to get a visual on them. They won! They saw us before we saw them. As we were on the radio with them asking again for their position, their main sail came within obvious view! We are now sailing together, trying to keep the boat speed down.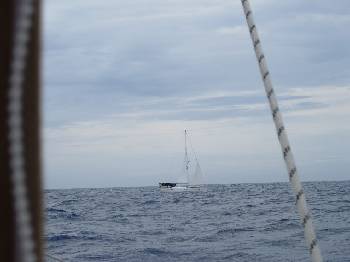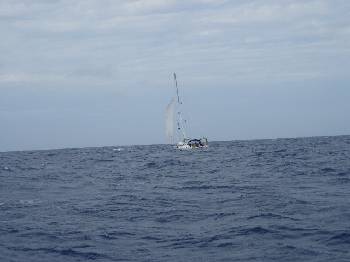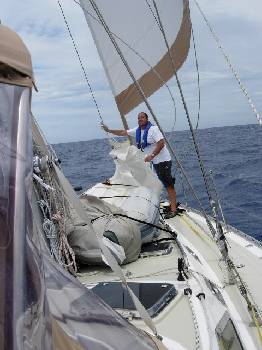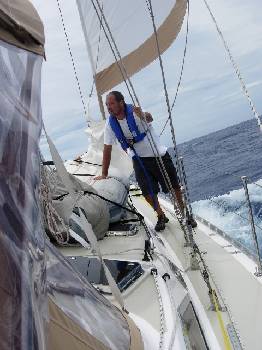 25.57 degN
63.09 degW
393 Nautical Miles South of Bermuda
Monday May 14th, 2007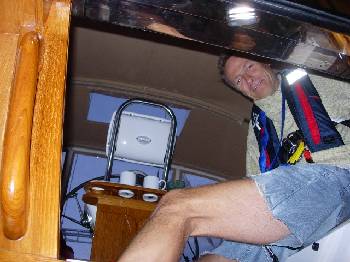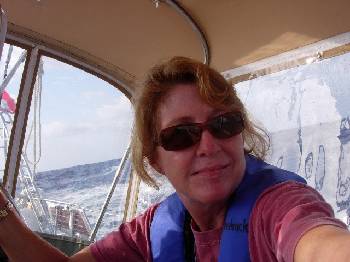 Oops Alan Wet the Bed!
We have been forbidden by Herb to NOT go any higher then 26 degrees North today due to a nasty weather system. We slowed way down, reefed the sails and bobbed around at 2.5 knots. At about 2:00 a.m. during Alan's watch, we ran into a helacious squall. I couldn't sleep in the aft cabin, because the rolling was so severe, so had moved to the main salon to try to sleep, which turned out to be impossible anyway. Suddenly the wind came up hard along with the rain. It started to pour, hard, to the point there was zero visibility. When it was over, Alan informed me he had left the aft overhead hatch open. Our bed was completely soaked!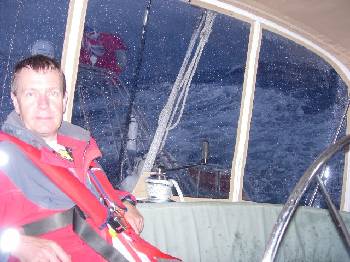 The Bermuda Triangle and Horse Sausages
Due to the stormy weather I thought it would be nice to have red beans and rice for dinner. I had found some Andouille sausages at the French supermarket in Guadalupe, and at the time I thought they would be great with red beans and rice. Well, this French andouille was nothing like what Emeril is always cooking up on the food channel. It looked good when it was cooking but had an odd aroma. A little voice told me to skip the sausage, but I served it to the guys. Colin wisely rejected his too. After taking a few bites, Alan said it tasted like HORSE! Also it had chopped up arteries in it, eeeoooouuuu!!!! Anyway, most of it went overboard!
So, as I was trying to sleep last night, I came up with a great idea for an amusement park ride. It would be a small compartment or pod about the size of a sailboat berth. The rider would lie down in this. Then it would toss; up and down; sway from side to side; lean over at severe angles; drop 10 or 15 feet abruptly. Oh yeah, it would be pitch black inside too, with sound effects, howling wind, waves crashing, and things banging and clanking together and it would be called The Bermuda Triangle!!!
The following pictures give a sense of the sea state and were taken by
ROSARIO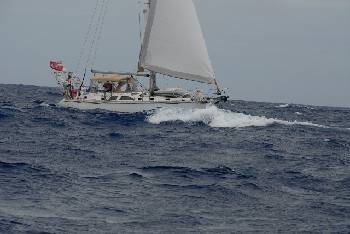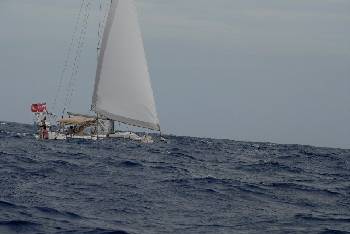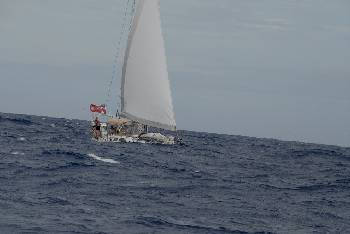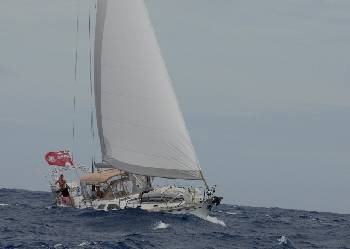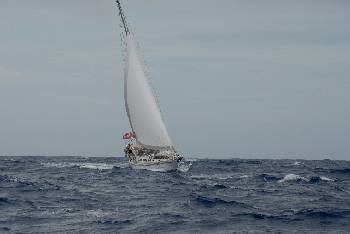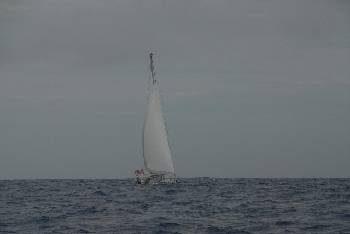 27.17 degN
63.47 DegW
308 Nautical Miles South of Bermuda
Too Tired for Tea :(
Tuesday May 15th 2007
You know the weather is rough when our British crew won't risk boiling water for tea! No coffee either. Tuesday morning was pretty crazy out there. We finally got the kettle going around 9:30 a.m. Martin was the pourer, he has the best aim. The whole day was spent bashing into big waves and getting beat-up inside the boat. The only one having fun was Moonstruck! I didn't even bother cooking dinner. Alan opened a can of beef stew and a can of beefy noodle soup, and created a...creation! Alan and Martin loved it, Colin was feeling a bit under the weather, and I gave it a miss. Herb has promised better weather for tomorrow, so we are keeping our fingers crossed. We will be in Bermuda by Thursday!
29.47 degN
64.44 degW
155 Nautical Miles South of Bermuda
Wednesday May 16th 2007
The winds shifted to our beam and as the seas gradually followed the wind around, the motion became easier on us all and Moonstruck romped towards Bermuda at 8-9 knots. This is truly her best point of sail.
0715 hrs Local Time Bermuda
Thursday May 17th, 2007

We just crossed the finish line for leg one of the Transatlantic ARC. It is a beautiful morning and Bermuda looks inviting and exotic with pretty white roofs and clear water. We slowed down to allow a cruise ship and two merchant vessels into the channel, then we crossed the line and started the engine for the first time in 4 days to motor to the customs dock.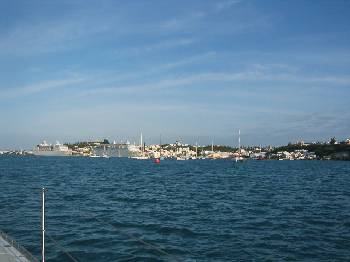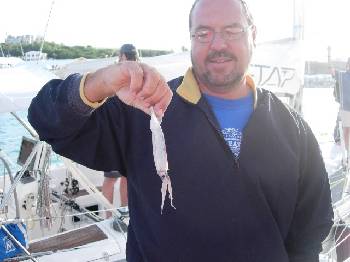 Here is the view of other transatlantic yachts also tied up at St. Georges Yacht Club. We all have a week layover here to catch our breaths, make essential repairs and get to know one another. ARC has organized several cocktail parties and events and we looking forward to getting to know the other voices on the radio.
Moonstruck damage report: Leg one
The only damage that we sustained on leg one was a bent stanchion on deck and a failed wind speed indicator. We were able to get the stanchion welded back into shape in Bermuda we also took delivery of a replacement windspeed indicator which we installed at the masthead. Our satellite phone was not operational for the first leg and we also had a replacement Satellite dome shipped to us which is now installed and functioning well. We should have satellite phone and email and even occasional website browsing capability on our next leg.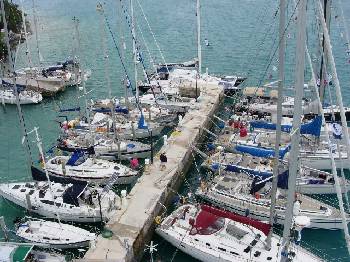 Next......Our stopover in Bermuda