Barcelona World Race, Joan's Spanish Classes & Mast Down!
Alan's Log:
Joan's Log:
Barcelona World Race
We decided to take the boat out last weekend for an afternoon to watch the start of the Barcelona World Race. This is a double-handed non-stop race around the world in 60' monohulls. Ellen McArthur is organizing the event and Barcelona has been host to the 8 competing teams for the past month and we have watched the crews preparing their boats as we cycle to and fro from the marina. We took some friends from Spanish School with us and had a pleasant afternoon, amid the mayhem of spectator boats.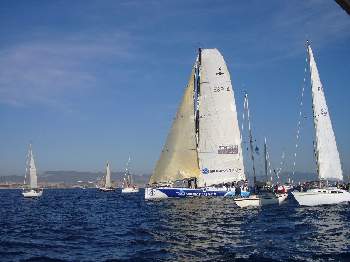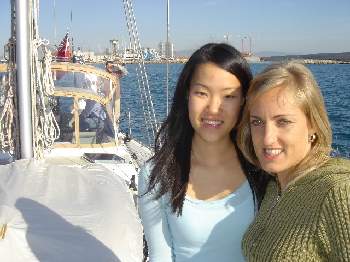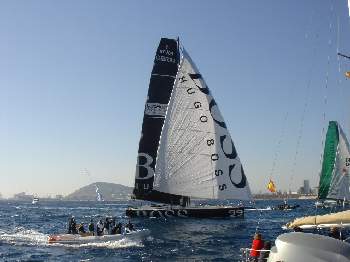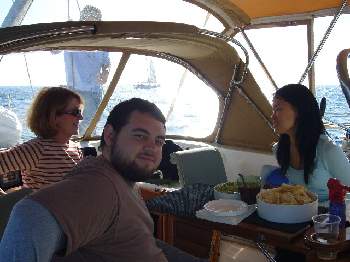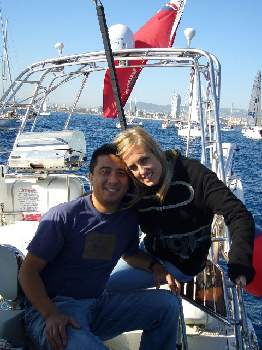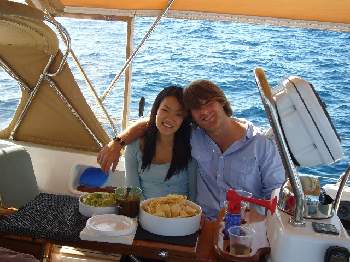 Immediately after the start half the racing fleet made a turn into the spectator fleet, causing complete havoc as racing yachts cleaved through the massed spectator boats. It was all pretty chaotic and no one seemed to be following, or even aware of, the rules of the road. I was relieved to get safely back to the slip undamaged.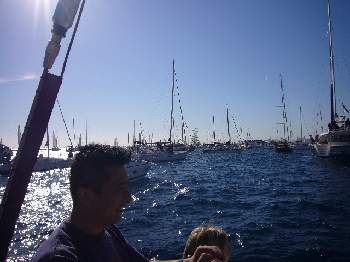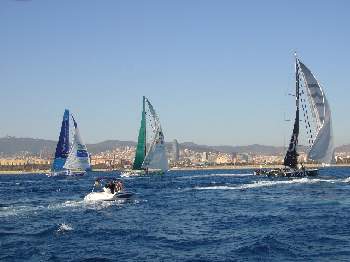 As the fleet headed off towards the Balearic Islands, we headed back to the marina and past some "welcoming" larger than life graffiti.


Me Talk Pretty One Day!
For the past 3 weeks I have been going to school every day to learn Spanish. It has definitely been a challenge and I leave class every afternoon with my brain hurting from the mental aerobics. Which is not a bad thing, if anyone has read the hilarious book, Me Talk Pretty One day, by David Sedaris you will understand the pitfalls of studying emersion language in a foreign country. While I have a long way to go, I have learned a lot! It has been all consuming, as my spare time seems to be spent doing homework, studying and practicing. Another bonus has been meeting all the fascinating people in my class from all over Europe and beyond, (Iceland, Sweden, Ireland, Germany, Holland and Jordan) who incidentaly all speak English, I am the only American. Even though I had a rough start, my first few classes were spent in a sort of sweaty panic, now I've calmed down and it has turned out to be a completely enriching experience and I highly recommend it!
Mast Down!
Last weekend we planned to finish our pre-departure chores and Joan was going to do some painting before we departed the boat for Washington U.S.A. for Thanksgiving on Tuesday.

These plans came to a crashing end on Sunday morning.

We are currently moored next to a Fountaine Pajot Catamaran of about 45'. It is a lightly built Catamaran. Sunday morning I was washing the seagull gifts off the deck and the Israeli crew on the Cat next door were working on their standing rigging, before leaving to cross the Atlantic heading for the Caribbean.

I heard a sound like a gunshot and then a crash over my head. I looked up and saw our two masts were touching, one leaning over at a crazy angle. I was convinced it was all coming down on top of me and I tried to run aft, but in my panic I tripped and fell headlong on the deck. Looking up, the masts were still touching with the Cat's mast balanced on one of my backstays, The Cat has a deck-stepped mast and only 3 stays (wires) holding it up (fore, port and stbd). By way of contrast our stronger keel stepped mast has 9 such stays. The port stay on the Cat had let go and all that was now keeping the mast up was the angle at which it was balanced on my backstay.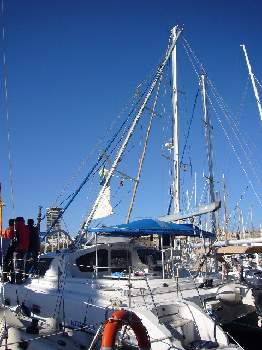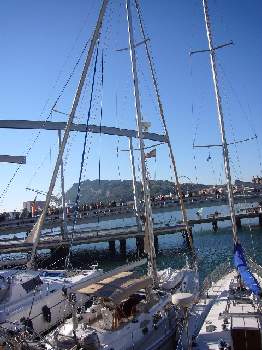 For a few moments panic ensued. The mast looked likely to fall to the deck at any moment. I was on the ground under the mast. The Israelis were in a state of disbelief.

I scrambled clear. I was bleeding from my foot. The Israelis were horrified at what had happened and a crowd began to gather on the bridge. It was a very precarious situation; our two boats were moving and rolling slightly with wakes from passing boats and with each movement the two masts rubbed on one another and random pieces of equipment fell down. It was immediately apparent that the whole rig would come down on Moonstruck if we moved, even slightly. Joan passed me my binoculars and I could see that the Cat's mast was actually secured to our backstay only by its VHF antenna bracket which was hooked on our backstay and preventing the mast from sliding down our backstay.

An hour later the situation was stable and looked much better. Using the halyards on their turning blocks and pulling aft, the mast came back up braced against the two remaining (forward and starboard) stays. It was only a temporary fix, the boat will have to go into the yard to have the mast remounted on its pedestal. The only visible damage was the loss of both masthead lights and masthead wind units. It turned out that while working on his rigging, the Cat's captain had neglected to replace a pin in the connection to the chainplate. As he tensioned the rig the port stay came free allowing the rig to fall to starboard. Of course the Cat's captain was devastated by the results of his carelessness and by what might have happened. His crew was similarly chastened, thinking no doubt of the long ocean voyage ahead.

In retrospect we were all incredibly lucky. If our boat had been a foot further aft (which it had been before I installed a pasarelle on our stern the other day), their mast would have landed on my forestay and nothing would have prevented it from falling completely down where it would have done tremendous damage to both boats and probably pinned me to the deck. If we had been a foot further away, or out of our slip, there would have been nothing to prevent the mast coming down on the adjacent boats.

I spent most of the day at the hospital with Joan, escaping with contusions, a broken toe and a painful bruise on my thigh.


POST SCRIPT
The mast incident prompted the RCMB marina

, to allow us to move us into our long-promised better slip, where we now have a side-tie at the end of a pier in an interior portion of the marina. It is far away from the madding crowds and therefore is a quieter and a more secure location. It is much better protected from wakes and hopefully far from falling masts! We just had time to make temporary repairs to the masthead and move the boat before leaving to return home to Gig Harbor for Thanksgiving & Christmas.

Thanks to everyone who has followed our adventure so far. We are always amazed to find that we have viewers from all over the world and we really appreciate your continued interest and especially the support from those who send us emails, keep them coming! We will update the site next when we return to Moonstruck in January. Till then Happy Thanksgiving, Merry Christmas, and best wishes for 2008.

A&J


Next....We are back in Barcelona and planning our 2008 voyages