Mallorca with Courtney & Lauren
Alan's Log:
Joan's Log:
Overview
September 14th, 2007
We spend time exploring Mallorca by land, then meet up with our daughters and sail back with them to revisit Ibiza, Espalmador and Formentera, before sailing on to our winter 07/08 berth in Barcelona.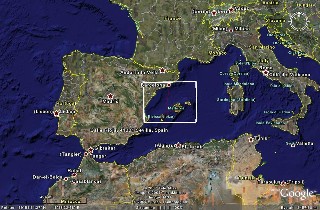 Not to be used for navigation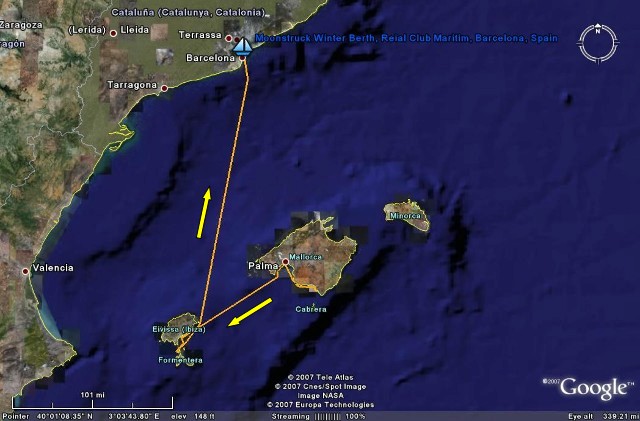 Not to be used for navigation.

This page has many more family pictures than most on this site, so please forgive the indulgence - we don't get to see them very often.


Palma, Mallorca
We returned to Palma briefly to celebrate our 13th wedding anniversary. I had read about El Olivo, located in Deia, in Bon Appetit Magazine a year ago. Having always trusted their reviews I thought it sounded perfect for a long lunch date. We rented a car and drove through a rugged terrain of hills, twisting through rocky groves of ancient olive trees with thick, gnarled and twisted trunks, reminding me of bent aged men. If I were a tree hugger, I would hug these old guys just to soak in a little Karma from centuries past. Deia is a small hillside town facing the Mediterranean on the rugged west side of Mallorca. Like almost all the towns on Mallorca, the buildings are stone in a golden honey color with bright green trim. The El Olivo is in the elegant La Residencia Resort overlooking the town with its steep high cliff on one side and the blue Mediterranean on the other. The day started out hazy and overcast but as we sat down the sun began to break through. I know I have a tendency to go on about food but I can't help it, I love it! We ate outside on a lovely stone terrace, shaded with elegant umbrellas.
I had the Foie Gras starter, amazing! I am ashamed to admit it but I love Foie Gras, as much as I am opposed to the methods used in raising the geese I indulge myself very occasionally and try not to think about it. I was not disappointed as it was silky and buttery!
For the main course I had roasted sea-bass with pomegranate sauce and finished with a small but perfect dessert of homemade cheesecake ice-cream with blueberries surrounded by Lychee soup.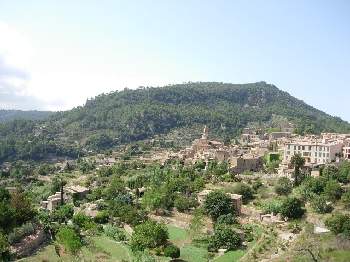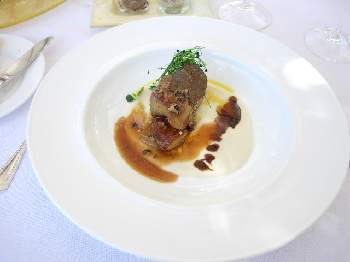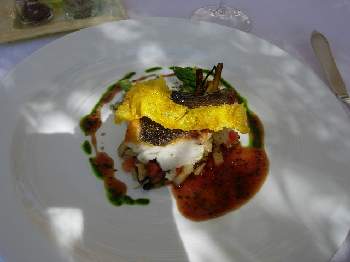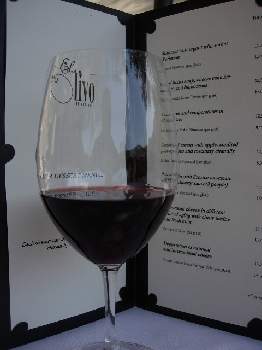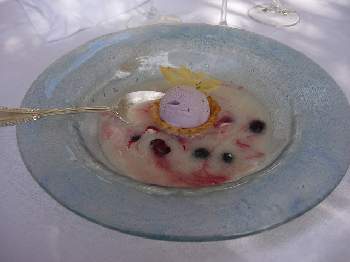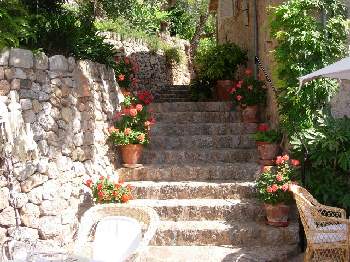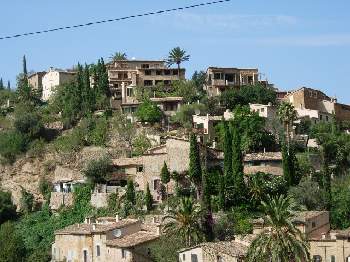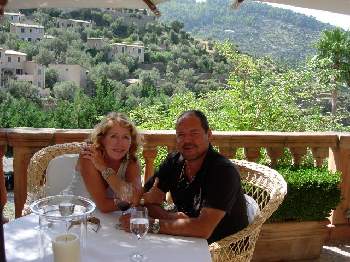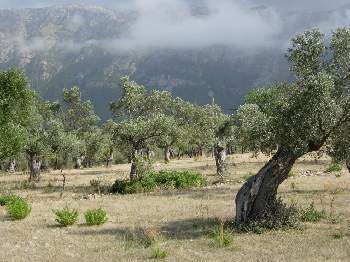 It was a memorable meal in a beautiful setting shared with the perfect person. What more could one ask for?

We did a little more exploring of the anchorages of the south west side of Mallorca, but they were all crowded and we had all kinds of trouble trying to get our anchor to hold in the sea grass. It just wouldn't set! We finally gave up and headed back to our tried and true anchorages at Es Trenc and Colonia St Jordi. where we spent just a few days before returning one last time to Palma to meet up with Courtney and Lauren.

ROUTE FROM PALMA TO ES TRENC BEACH AND COLONIA ST JORDI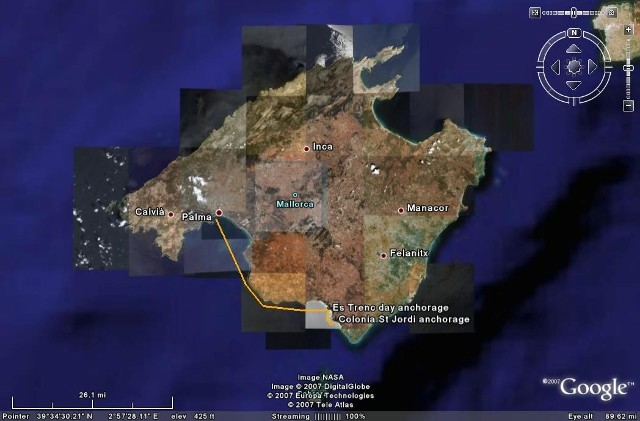 Not to be used for navigation.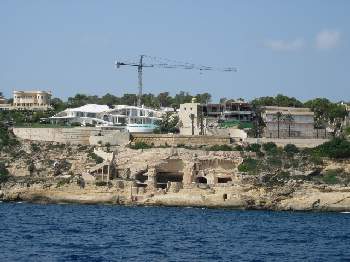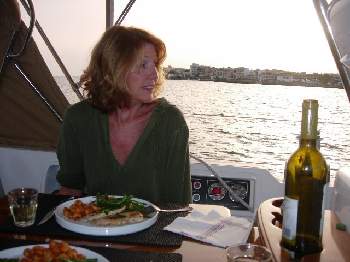 Courtney arrived in Palma late, around midnight, from London where she had spent a fun few days with Alan's parents and sister Vanessa and her family. We spent our first day riding bikes on the bike paths of Palma and exploring the city and took a car trip along the gorgeous west coast to Banyalbufar (moorish for house by the sea) and Deia.
In Banyalbufar we had one of those rare restaurant experiences. We walked through the steep streets, looking at and rejecting several touristy restaurants. We were starving and settled on an unpromising looking restaurant, that on entering had a few local family groups enjoying long lunches. Something just felt right and we were made very welcome. Our hostess/owner made it clear that we were privileged guests, coming from the land of Bruth Willis (she had just seen Die Hard 3 or 6 with her husband-muy macho no?!). We gambled and had probably the best Paella ever. It was slightly charred in places with roasted peppers and seafood of course. Alan took a picture of the front door so we would remember the name. It is "temporarily lost" hope we find it!
Lauren was due to arrive on Saturday night. We all went to the airport to meet her but she never materialized! Eventually we got a call, she was still in London and had missed her flight to Palma due to a delaying medical emergency on her flight to London, and would arrive Sunday afternoon.
Again we returned to Palma on Sunday (third trip to the airport this week!) and waited and waited as all the people from Lauren's flight walked through the gates. No Lauren, no Lauren. Finally! The gates spread open and a forlorn-looking Lauren appeared without her suitcase. After another hour of talking with the unsypmathetic Iberian airlines baggage people she threw in the towel and we returned to Moonstruck.
That evening, wearing a dress borrowed from Courtney and her beloved uggs (left behind on her last trip to see us!) we all made the best of the situation and cycled into Palma and walked the narrow alleys of Palma, stopping in Tapas bars here and there. Despite a drizzling rain we had a blast and spent a fun hour or so on the Passeig de Born, the main pedestrian thoroughfare which contains a number of statues of contemporary art. The art became the perfect backdrop for a a hilarious impromptu fashion shoot as you can see in the following pix. Even Alan and I got into the act.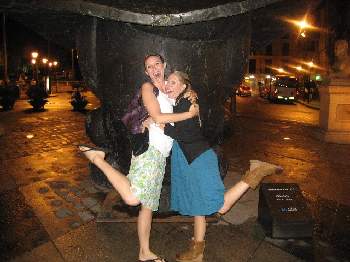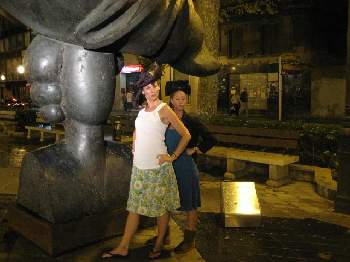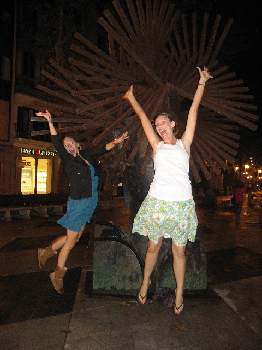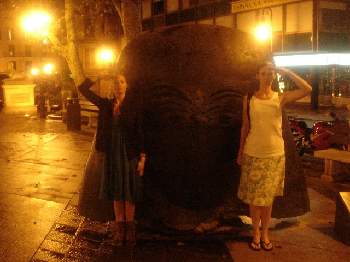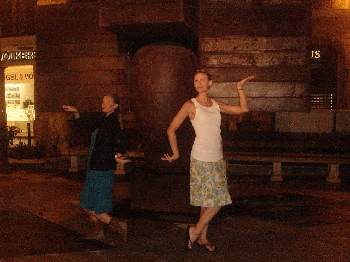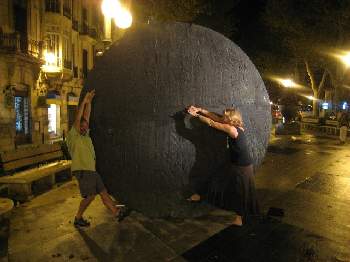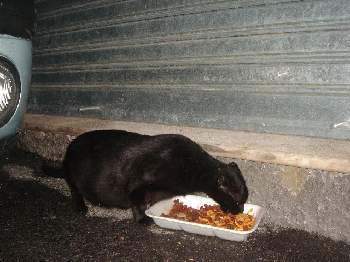 The following day the suitcase remained MIA so Courtney and Lauren made a quick emergency shopping trip into the city to find a swimsuit and other essentials for Lauren and we left Palma for the last time for Es Trenc beach

knowing the girls would enjoy the beautiful clear blue warm water before leaving Mallorca for Ibiza.


We said a sad goodbye to David and Tni in Palma, thinking we wouldn't be meeting up with them again for a long, long time as they were remaining in Palma to sell ROSARIO. As we neared the beach after a 23 NM sail, we heard a familiar voice on the radio. It was Tni and they were only a few miles behind us! As we left them in Palma they had just returned from a whirlwind weekend trip by night-ferry to Barcelona to see friends and to watch Football (FC Barcelona) and were exhausted. But they are young and resilient!! We were so happy that they made the voyage. We all spent a relaxing day on the beach and ended up having dinner together in Colonia St Jordi.

, at MARISOL our favorite Paella restaurant!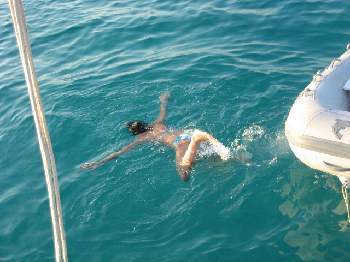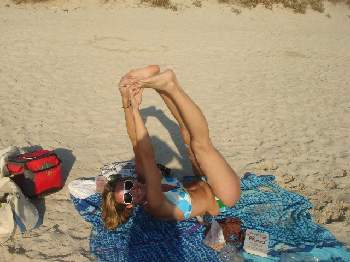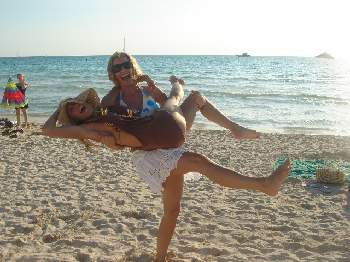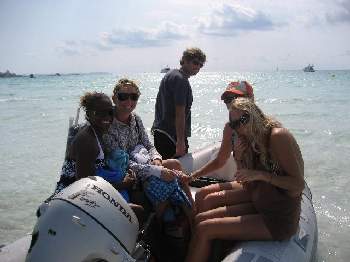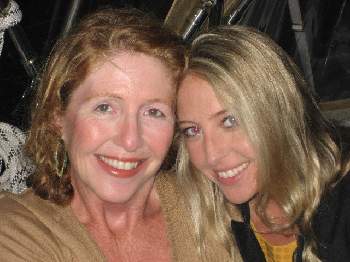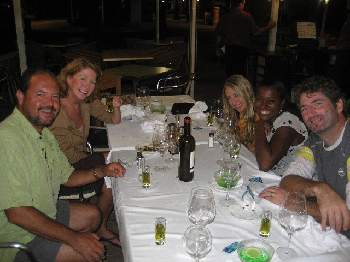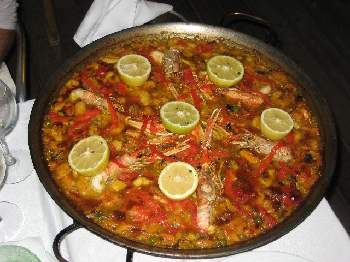 We were planning an overnight sail the next day to Ibiza, but were growing increasingly concerned about ever retrieving Lauren's bag. Finally around noon the call came that the bag was found and could be picked up at Palma airport. From Colonia St Jordi it was a dinghy ride and then a €40 ($60)taxi ride to the airport, but so worth it to get that bag back! At the Iberian customer service counter relief turned to frustration as Lauren was told the bag was not there! It had in fact been put on a flight to Ibiza which had just left 15 minutes earlier! Why? We never got an explanation. It was a good thing that we were actually headed for Ibiza. So after being absolutely, positively assured that the bag would be there when we got there we took another long €40 taxi ride back to the boat empty-handed : ( .
We set sail as dusk approached and sailed the 70NM to Ibiza (Eivissa) through the night.
ROUTE FROM ES TRENC TO EIVISSA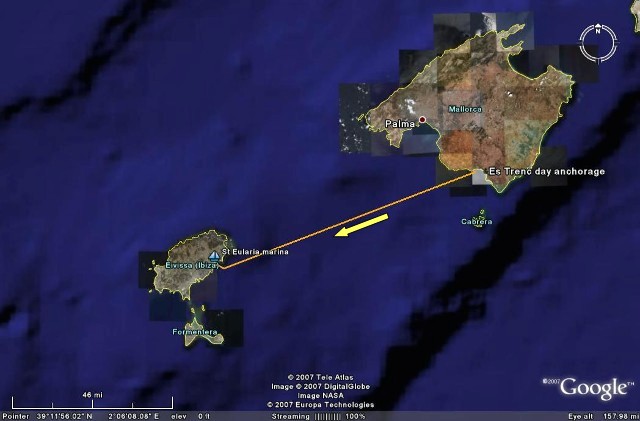 Not to be used for navigation.
We arrived in Ibiza before dawn in strong winds and slowed down to approach the marina at St. Eularia in daylight.
As soon as we arrived in Ibiza C&L made a beeline for the airport and returned triumphant!! Vintage clothing and designer shoes, all intact (and new clothes for me)! Whew! Let the good times roll!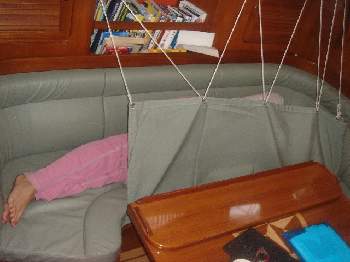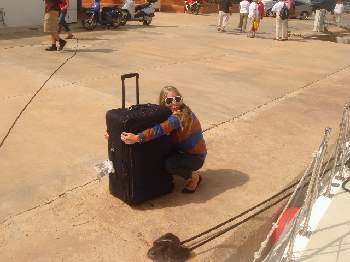 We all went out to the old town of Eivissa, a heavily fortified medieval city, twisted around a steep hill. It was a clear day and the views from the top were spectacular.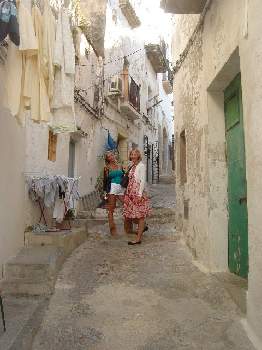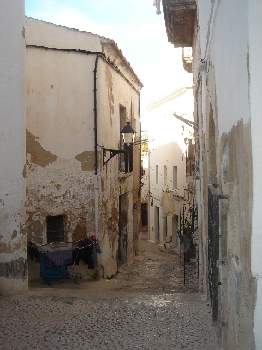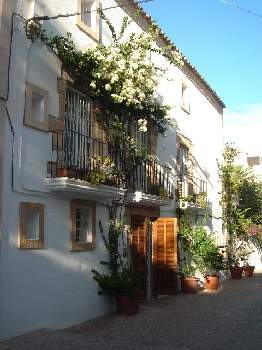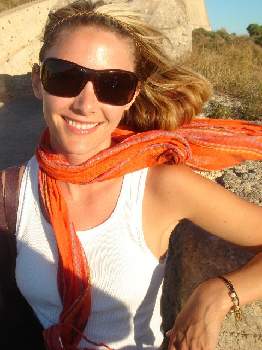 Late that afternoon we met up with Chris, whom Lauren had met last spring in
St Barts
. Chris had flown in from the Cinque-Terre region of Italy. He is a crew member on the
Maltese Falcon,
one of the largest, most luxurious private yachts in the world owned by billionaire tech financier
Tom Perkins.
He brought me sea-glass from Italy, including colors that I had never come across!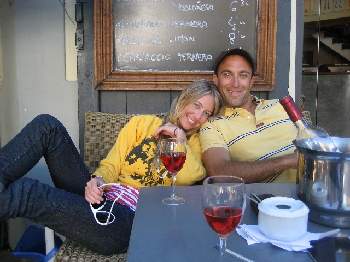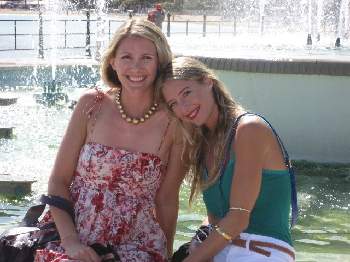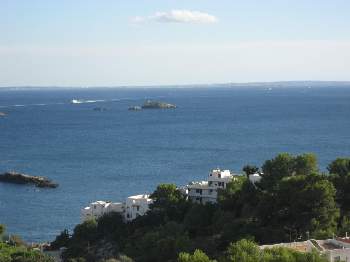 Eivissa is a laid-back, hippy, bohemian contrast to Palma's stylish sophistication. I loved the atmosphere there.
We spent one more day in Ibiza before heading over to nearby Espalmador

(C in the photo below) where we took a mooring for the night.


ROUTE ARRIVING EIVISSA FROM PALMA, THEN TO EXPALMADOR/FORMENTERA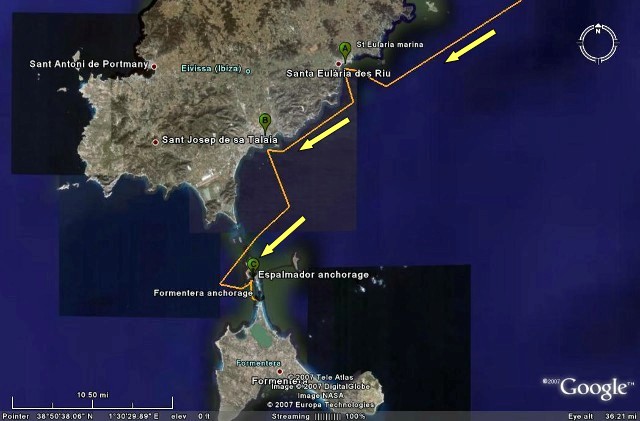 Not to be used for navigation.
We arrived after dark which normally is a no-no for us. But we had visited the anchorage earlier in the month and felt we knew the approach and locations of outlying rocks. Plus we used our GPS track from our prior voyage for the entrance to the bay.

Chris cooked us a delicious pasta dinner all with ingredients he brought with him from Italy, including a huge wedge of parmesan cheese and three wonderful bottles of Italian wine! For dessert C&L had picked up an assortment of pastries in Eivissa including the specialty of the Balearic Islands, the Ensaimada, a spiral of feather-light pastry dusted with powdered sugar. The aftermath in the saloon looked like a pastry explosion as flaky bits of pastry and cream covered the table and floor!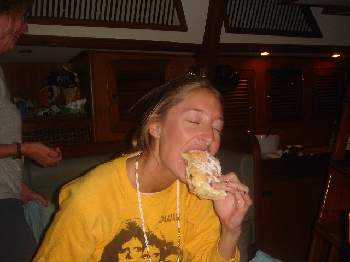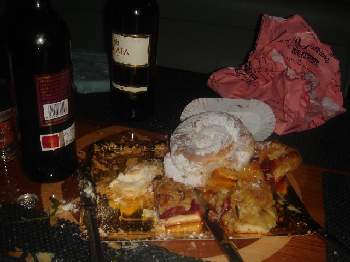 The next day was spent on the beach of Espalmador, where we enjoyed a picnic brunch on the beach and C, L, and Chris discovered the famous BLUE MUD!!!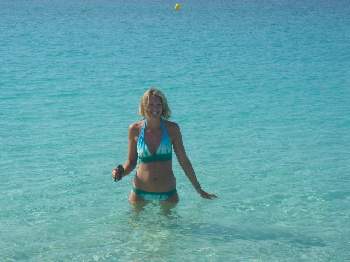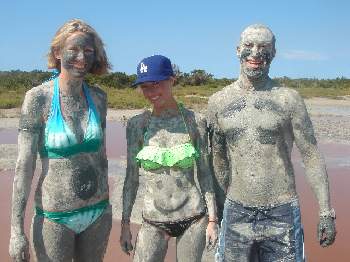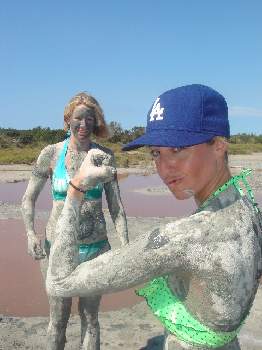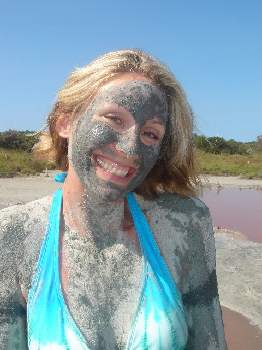 Next...... arrival in Barcelona and getting settled in for the winter.