Reial Club Maritim de Barcelona, Barcelona, Spain
Alan's Log:
Joan's Log:
Gypsies, Tramps and Thieves
(or how we became victims of a 24 hr mini-crime spree)
Wednesday, October 31st, 2007
As lovely as Barcelona is, it is not without its flaws. We knew, way in advance, that Barcelona is famous for its thieves (ladrones). As in many large cities drug addicts and the homeless lurk around the back streets and beggars are a common sight.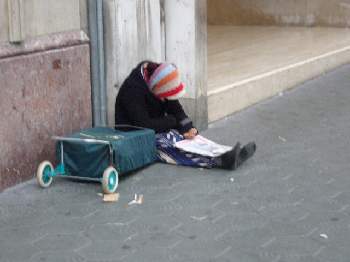 Gypsies....
There are the gypsy women on every other street corner in Barcelona. I would have more sympathy for them if they were more believable. They all seem to use the same tactics.
Typically the woman sits on the sidewalk, her head is always covered with a scarf, and is bowed low. Now that it is getting cooler, they are all barefoot. When it was warmer they all had shoes. One hand is held open, beseeching the passer-by for coins while in the other hand a battered photo of "her children" is displayed. Usually of 4 or 5 little ones. I find this part interesting because these women are middle aged or older, certainly too old to have a passel of tiny children. Also, I always wonder who is looking after them, while she is busy begging?
Another very common type of beggar, although so much sadder are the physically handicapped, missing one or more limbs, who put their poor and scarred stumps on display for all to see.
Tramps....
Just outside the barrier of the marina only about twenty yards from our boat, a homeless man comes every afternoon to sit in the sun and contemplate life. One day Alan took pity on him and gifted him some warm shirts and a pair of brand new white reeboks.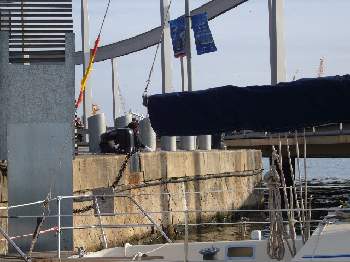 I wondered if it was a good idea or not, doesn't it just encourage them to come around more? But the man really needed them. It looked strange at first to see the pure white clean shoes in stark contrast to his dark dirty clothes. Now that he has "broken them in", every day they are getting grundgier every day, and seem to suit him better.
....and Thieves
We had heard that the pickpockets are very cunning and are so highly skilled you would never know or feel your wallet or whatever being removed. So....we try to be vigilant, especially in crowds and on the metro where I tend to eye people with suspicion and distrust while keeping a firm grip on my possessions.
All that said, in a little over 24 hours we became the victims of a mini-crime spree!
In the darkness just before dawn, I was sound asleep and dreaming.
In my dream I was 18 years old and lying in the pillowy, protective cocoon of my mother's unmade bed, drenched in sunshine and breathing in the comforting warm scent of her while gazing at the photographs on her bedside table. When suddenly the real world shifted and I was jolted into the reality of heavy, purposeful footsteps tramping across our boat.
A bum had boarded our boat and was in the cockpit before Alan could scramble up to confront him, shouting "GET THE **** OFF MY BOAT"!" He quickly jumped off but not without Alan's favorite pair of boat shoes. Alan could see he had shoes in his hands and shouted "drop them!" I could hear him yelling "they're mine, they're mine" as he squeezed through a narrow (6") gap in the barrier that separates the marina from the outside world.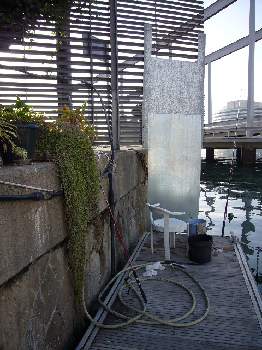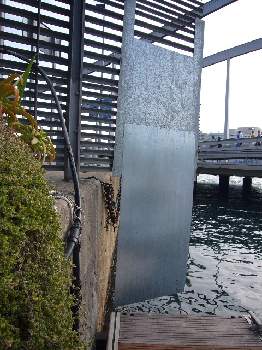 That same morning after reporting the incident to the marina, we got on our bicycles and took off to do the laundry. The laundry is modern and convenient, and is in the old historic Gottic Quarter which can be a charming place to visit, but it also has seedy areas with cheap youth hostels and bars; people sleeping in doorways, and long dark alleys smelling of urine. Our laundry is just on the fringe of such an area :-) As soon as we arrived I started to load the washers while Alan leaned the bikes up against the large plate glass window. I had assumed he had locked them, but he had decided since they were in plain sight he would just keep a sharp eye on them. We both became distracted for a moment as we unloaded a dryer, and in that moment someone walked (rode) off with MY bike!!!
The next morning we were both headed in separate directions, as I was going to the health club and Alan needed to pick up a few things at the boat chandlery about 2 miles from the marina, and then head off to Spanish lessons. He went to get our remaining bike from the communal marina bike rack, only to find it too had vanished! This time it WAS locked and was among 30 or so others, both locked and unlocked.
Undeterred he carried on, on foot to the chandlery only to find upon arriving that his back-pack had been completely unzipped! Luckily the contents were all intact, apparently the ladrone didn't find the Spanish/English dictionary too appealing!
Next....Alan's Spanish homework project