Lisbon, Portugal
Alan's Log:
Joan's Log:
Friday July 6th, 2007
We had a great sail from Cascais to Lisbon, only a few hours, but it gave Ben a chance to see how Moonstruck felt under sail. We again had to run the gauntlet of Olympic racing yachts.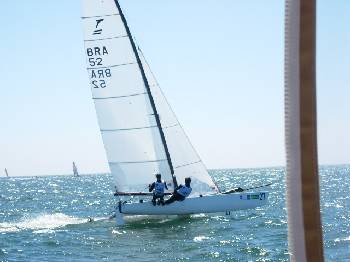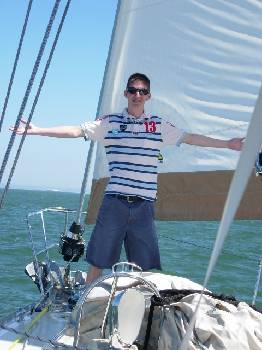 As we approached Lisbon we had a bird's eye view of the Monument to the Discoveries and the Tower of Belem, a fortification which reminded me of an intricate sand castle and at one time was a beacon for the returning navigators from the new world.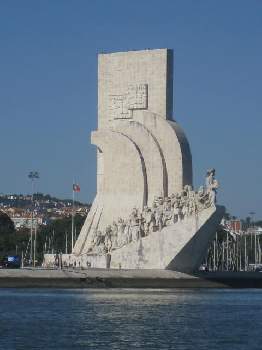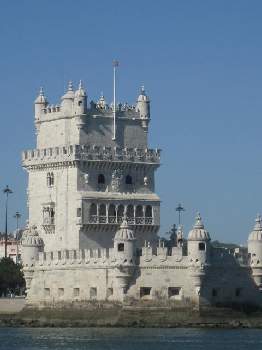 Med-Docking Nightmare
Coming in to the Doca do Alcantara (marina), we had our first taste of what I'm sure will be many more Med docking experiences. We had a 25 knot wind on the beam. We were under the impression that we were to drop an anchor and then back into our slip. I dropped the anchor, while Alan furiously tried to keep the boat under control and back-in against the strong wind, using the bow thruster to keep us straight. WRONG!
I can see the dock-master, waving his arms wildly and shaking his head "NO" at us. Okay, anchor up! Change the dock lines, now we're going in bow first. Didn't work, the wind is blowing us around too much. Okay, change the dock lines, we're going in stern-first. By this time there are about 8 people with alarmed looks on their faces, yelling at us in Portuguese and very heavily accented English. I had no idea what they were saying. Then, ohmygod, out of the corner of my eye, I notice there is a Portuguese Water Dog on someone's boat, my favorite dog breed! There is no time to admire it. Someone picks up a small mooring ball off a dock and waves it at us. I have no idea how to attach it to our boat. By this time our bow thruster quits!
Yey, this is really fun! There is no way we can go in stern first now, without the bow thruster and the wind blowing us dangerously close to expensive yachts! Okay, change the dock lines again, we're going in bow first. Someone is yelling at us to move our fenders lower! By this time, there are about 10 people on all sides with arms outstretched for lines to be thrown. I somehow managed to change the lines and toss them, and Moonstruck was wrestled into her berth, safely!
Ben just looked at us and shook his head.
The Alcantara Marina is conveniently located near downtown Lisbon, and the train and bus lines. We very quickly learned how to use them and the well organized metro and tram system too. Also how to use the ticket machines and that our expired tickets could be 'recharged' saving $$. A one day pass, which could be used all day on the buses, metro, and trams, was only 3.35 Euros! What a bargain.
Over the next week and a half we visited the Castle of Sao Jorge, once a Moorish castle and then home of Portuguese kings, the dramatic Monument to the Discoveries, the Tower of Belem, Ben and I explored the ornate Monastery Jeronimos and even witnessed an elaborate wedding taking place in the nave, while Alan shopped at a chandlery.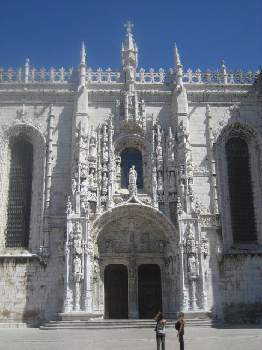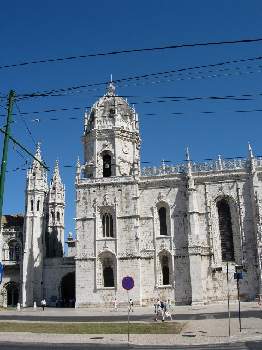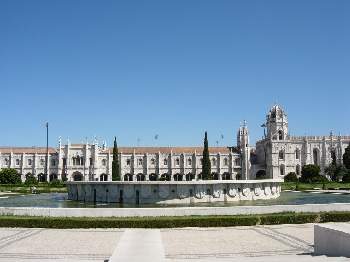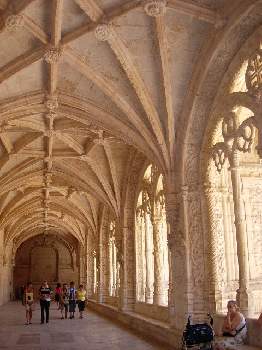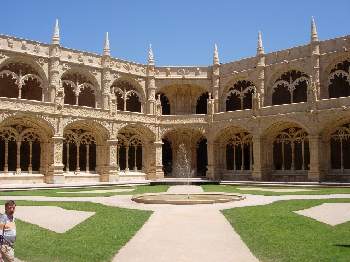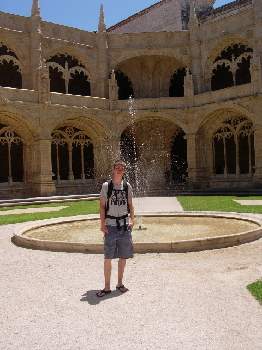 We walked for miles and miles through the shopping district of Barrio Alto, the long Restauradores, and the warren of narrow alleys and streets in the Alfama district.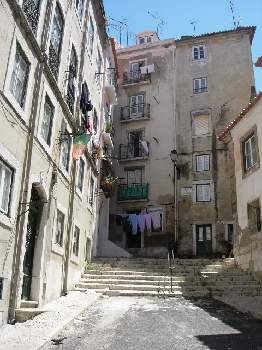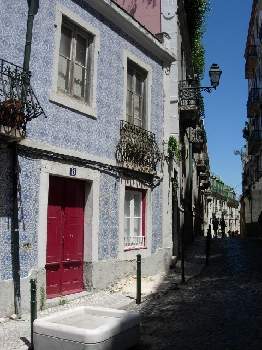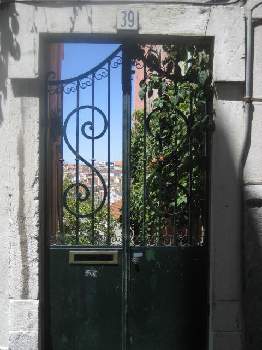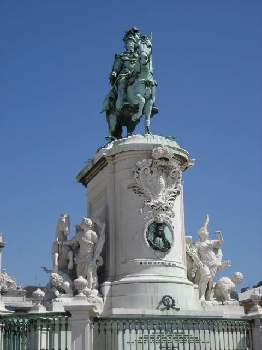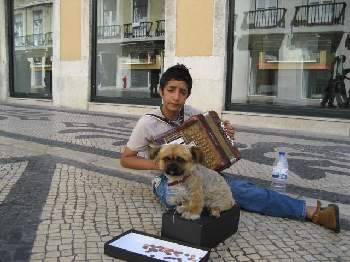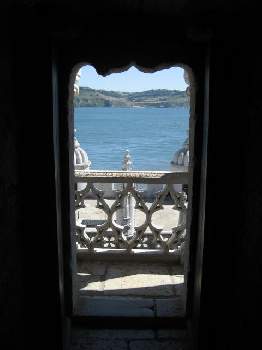 Then we walked up to the castle of Sao Jorge which overlooks all of Lisbon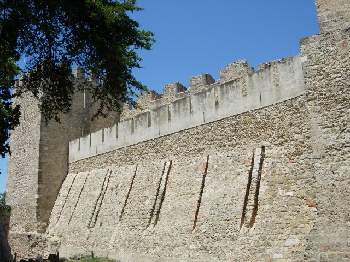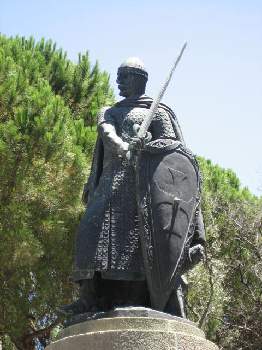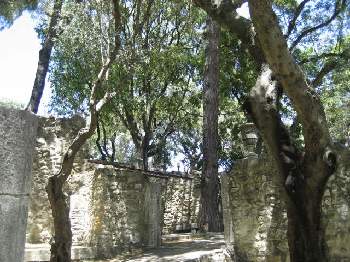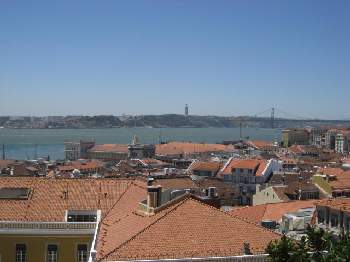 We decided that a visit to Lisbon would not be complete without going to hear Fado, a traditional Lisbon take on the blues. Fado is an expression of longing and sorrow and is sung with intense feeling and emotion. It is usually a female singer accompanied by a guitarra (Portuguese in origin and shaped like a mandolin) and an acoustic Spanish guitar. The Fado House we went to was in a beautiful old building deep in the heart of the Alfama district, with thick walls and an intimate atmosphere. They put on a great show, wonderful service and excellent food.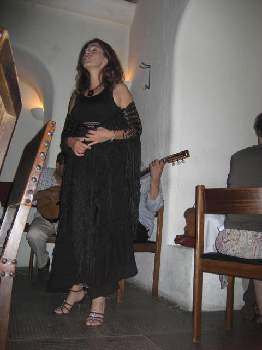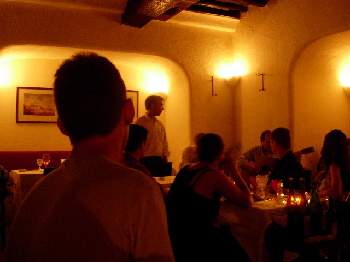 Ben surprised us by ordering a whole Polvo (octopus!) head and all, and ate all of it! He has come a long way from his Kraft Macaroni and Cheese days!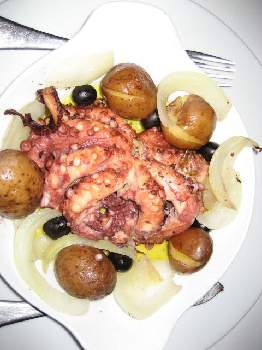 A few days later he ate snails, (check the video page) AND after discovering one still alive (I nearly fainted!) he continued to eat them!!!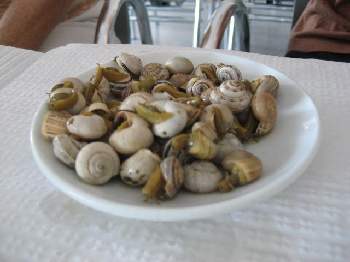 We also got a chance to visit the Aquarium in Lisbon, apparently it is the 2nd largest in world. At any rate very impressive!
This was by far the best Aquarium I have ever visited. It features an absolutely huge central tank, which is cleverly and invisibly segmented within (to keep certain species from eating one another) and externally (to provide a multitude of viewing angles/places and to minimize crowds). The effect is stunning. We were able to see schools of Tuna, sharks, rays, and a special treat for me was to see a fish that I had hoped to see crossing the Atlantic, the amazing Sun Fish. This example was about 5' in diameter, they can grow to 12'!


AND we spent an afternoon touring the Gulbenkian Collection, a wonderful collection of European, Egyptian, Islamic Art and Artifacts.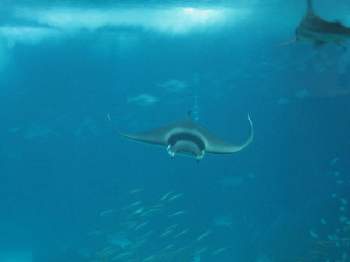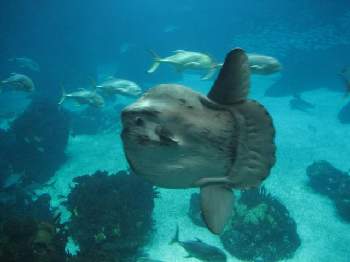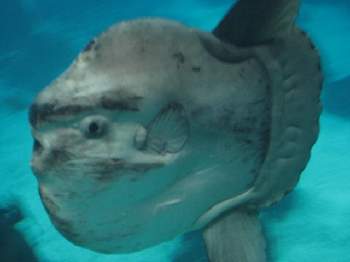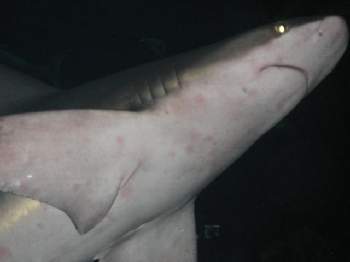 When Ben got bored hanging around us, he would hop the train back to Cascais to have time on his own at the beach. Ben had a super time and the whole experience was rewarding for him. He's a lovely young man and we miss having him around. Needless to say we saw all the major sites of Lisbon, and went to bed completely exhausted every night!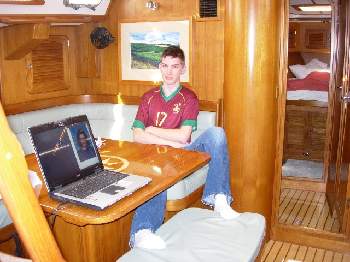 A few days before we left Lisbon, I bumped in to Chip and Helen of TANGENT GIRL just outside the marina office, they had just that day arrived in Portugal from their transatlantic voyage, which began in St. Martin. We first met them last November in the middle of the night. Alan and Martin spoke with Chip on the VHF radio, as we were within a few miles of each other on our voyage south from Baltimore to the British Virgin Islands and we later met them in person last December when we were in St. Martin. We had them over for some wine that evening and had a good time catching up with them. This is a crazy, small world, isn't it?
Next......A day trip to the countryside around Sintra.