Sintra Castles, Lisbon, Portugal
Alan's Log:
Joan's Log:
We rented a car for a few days and took a day-trip to enchanting Sintra, and the surrounding area. Luckily for us we were advised to go on a week-day as the weekends there are insane with crowds of tourists. We explored the remains of an 8th century Moorish castle built high in the hills above the town of Sintra, the walls still in amazingly good condition.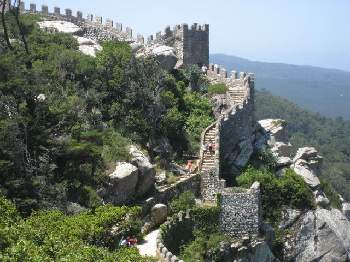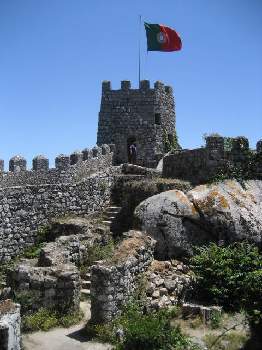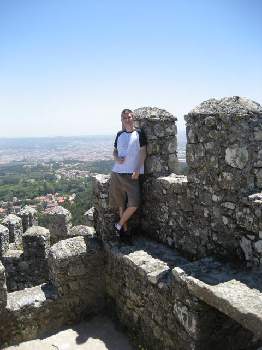 The views of the surrounding countryside were spectacular. We looked down at Sintra in the valley below and across to a number of mansions in the hills,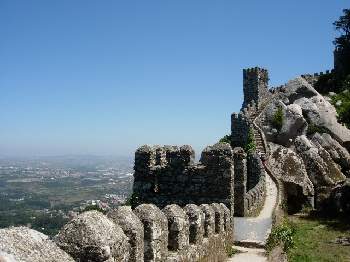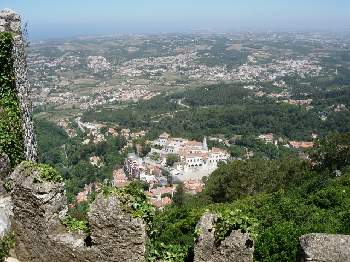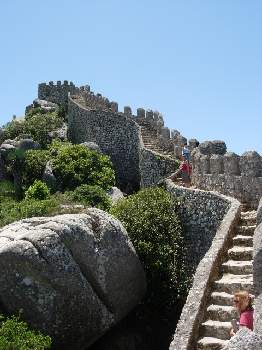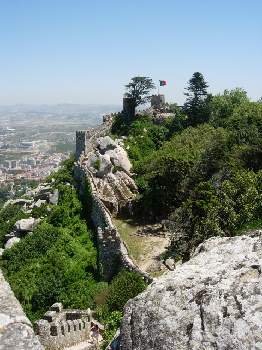 From this castle we we could also see the ornate (
some would say bizarre
) Palacio da Pena even higher on an adjacent hill. The young King Ferdinand (known as Dom Fernando II, the artist King) consort to Queen Maria II built this castle for his queen on the ruins of a Hieronymite monastery. The castle, built in the 19th century, had the look of a fairy tale. The approach to the castle is up an insanely steep driveway strewn with boulders. The horses must have been exhausted after pulling the carriages up the hill to the entry. The exterior was deliciously ornate with tile and sea creatures rendered in the stone. The interior rooms were furnished with all the original furniture and accessories and were fascinating. The day was perfectly clear and the views were fabulous.
Ferdinand's family had a history of "good" marriages, his cousin Albert, married Queen Victoria of England. Maria II died in 1853 and in 1869 Ferdinand married his mistress, an opera singer. His lifelong dream of completing the palace was achieved in 1885, the year he died.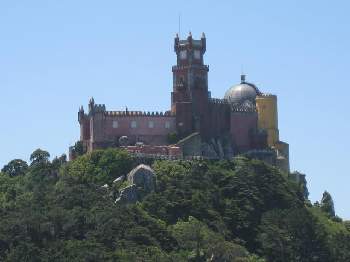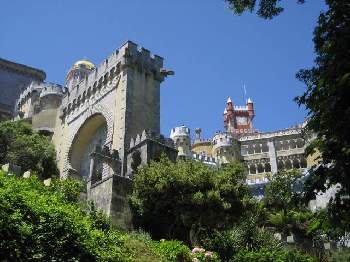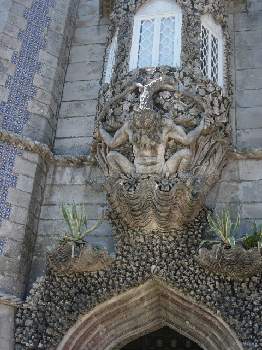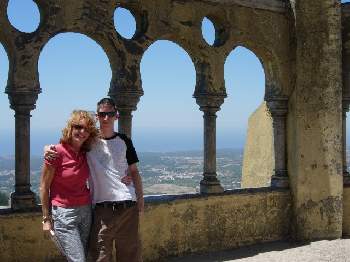 We drove through the wine country of Colares and came across the deserted dilapidated hall of the communal town wine cellars, lined with enormous dusty barrels (mostly empty) on either side of a central table over 300' long. Every 50' or so was a huge ornate standing candelabra burdened with years of candlewax. Then we drove out to the coast and stopped at the light house which stands on the most westerly point of the European mainland. You could almost smell the Starbucks on the wind! That evening we had a great, authentic Portuguese meal alfresco on a narrow alley in Sintra.
We returned to Lisbon for a few days and caught up on boat chores.
See how a simple oil change can go horribly wrong!
before heading south again, this time bound for Spain.
Next......Sailing past Faro to our great surprise we ran into 'old' friends David & Tni on ROSARIO.